Editor's note: Seeking Alpha is proud to welcome Biotech Buys as a new contributor. It's easy to become a Seeking Alpha contributor and earn money for your best investment ideas. Active contributors also get free access to the SA PRO archive. Click here to find out more »
Editor's note: Seeking Alpha is proud to welcome Biotech Buys as a new contributor. It's easy to become a Seeking Alpha contributor and earn money for your best investment ideas. Active contributors also get free access to the SA PRO archive. Click here to find out more »
Madrigal Pharmaceuticals (NASDAQ:MDGL) has seen an amazing run over the last year, rising from all-time lows of sub $20 up to over $300 on impressive data surrounding their flagship drug candidate MGL-3196 in the treatment of non-alcoholic steatohepatitis (NASH) and heterozygous familial hypercholesterolemia (HeFH). Most recently, Madrigal has been taking a hit on their share price in reaction to Viking Therapeutics' (NASDAQ:VKTX) positive release with VK2809 in a Phase II NAFLD study. However, the stock appears to be presenting a support at a share price of $200. Breaking under $200 just three weeks ago and again today, it has managed to close above $200 and might just be primed for a breakout towards a higher share price in anticipation of upcoming events and data. The chart also looks to be having a double bottom set up, coming off of that $200 level as well as being oversold on the RSI.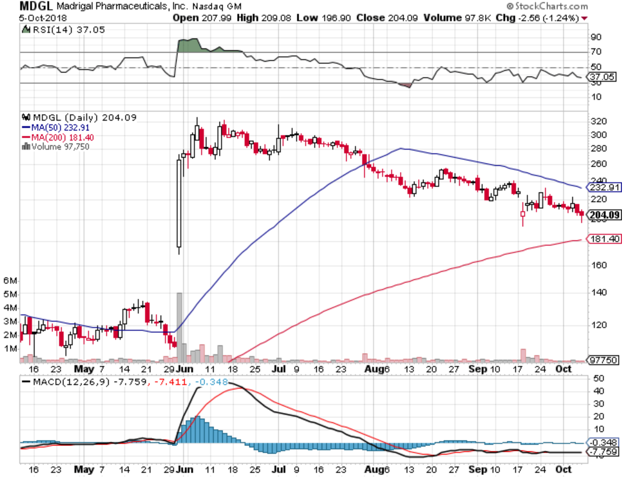 MGL-3196
MGL-3196 is a thyroid hormone receptor (THR) beta-selective agonist whose clinical trial data presents it as a safe and statistically significant treatment of NASH and HeFH. Unique to this compound that stands out from other NASH treatments is the THR-beta selectivity which boasts increased safety when compared to non-selective treatments. There is no reported suppression of the central thyroid axis, no THR-α effects on heart rate or bone, and no increase in liver enzymes which is typical of non-selective treatments.
In the Phase II clinical trial, MGL-3196 achieved statistically significant results (p<0.0001) in the primary endpoint at 12 weeks as well as multiple other endpoints at 36 weeks. The primary endpoint, reduction of liver fat on MRI estimated proton density fat fraction, showed that 56% of patients treated with MGL-3196 demonstrated a ≥ 2 point decrease in NAS and 27% saw NASH resolution. Liver fat was reduced by 36.3% in all 78 MGL-3196 treated patients, as compared with 9.6% median reduction in liver fat in 38 placebo treated patients, proving to be statistically significant (p<0.0001). Additionally, 75% of the high-exposure MGL-3196 treated patients showed liver fat reductions of ≥30%. MGL-3196 treated patients also showed significant reductions relative to placebo in multiple atherogenic lipids including LDL-cholesterol, Lp(A), Apo B and triglycerides. Meanwhile, 70% of patients treated with MGL-3196 with magnetic resonance imaging-estimated proton density fat fraction showed a ≥ 2 point decreases in NAS and 39% demonstrated NASH resolution. Compared to the placebo of 32% and 6%, respectively, MGL-3196 did not disappoint in its data.

Primary endpoints reached at 12 weeks include:
MGL-3196 patients with ≥ 30% fat reduction on MRI-PDFF showed significantly higher percent of NAS reduction and NASH resolution
NASH Resolution patients demonstrated a 35% response of MGL-3196 treated and no placebo patients had baseline NAS ≥5
In patients with NASH resolution, fibrosis also resolved in 50% of patients and was decreased statistically significantly compared to every placebo patient
Additional Week 36 endpoints:
Sustained, highly statistically significant (p<0.0001) reduction in liver fat compared with placebo on Week 36 MRI-PDFF
Sustained, statistically significant improvements in liver health from decreases in low-density lipoprotein cholesterol, triglycerides, and lipoprotein
Statistically significant reductions in fibrosis biomarkers in treated compared with placebo patients
Fibrosis was shown to be reduced by at least 1 point in 23% of placebo and 29% of MGL-3196 treated patients through liver biopsy
Very good all subject tolerability with mild and a few moderate AEs which were balanced between drug treated and placebo patients
An increase in incidence of a transient mild diarrhea at beginning of study, often a single episode, in MGL-3196-treated compared with placebo
The company is also seeking approval for the treatment of HeFH and a rarer form homozygous familial hypercholesterolemia (HoFH), which are genetic dyslipidemias that lead to early onset cardiovascular disease which affects up to 0.5% of the population, or 1 in 200 people. In a completed Phase II trial, MGL-3196 treated patients achieved highly significant (p<0.0001) LDL-C lowering of 18.8%, and 21% LDL-C lowering in those on an optimal dose of MGL-3196. LDL-C lowering was 28.5% in MGL-3196 treated compared to placebo patients who did not tolerate high intensity statin doses. Highly significant reductions relative to placebo were also observed with ApoB, triglycerides (25-31%), apolipoprotein CIII, and Lp (25-40%) in all MGL-3196 treated patients. With both indications showing such high significant data responses to treatment, Madrigal is poised to break upwards with upcoming FDA events.
NASH Market
According to Research and Markets, the global NASH market generated over $1 billion in 2017 with a projected CAGR of 58.4% leading up to 2025 to reach a market size of $21 billion. This disease which often goes un-diagnosed due to requiring a liver biopsy as well as side effects often going unnoticed until the disease has progressed significantly. Growth in NASH will be spurred by a growing global awareness of the disease as well as focus on therapeutic treatments, with growth being limited by the lack of diagnostic capabilities. It is estimated that between 20% and 25% of adults in the developed world have some form of fatty liver disease, the precursor to NASH, with a majority of the cases actually consisting of NASH. In the US alone, the National Institutes of Health estimates 12% of adults to have NASH, which equates to roughly 30 million individuals. In spite of its large patient population and potential life-threatening effects, no Food and Drug Administration approved treatments are on the market. This massive market with growing awareness has absolutely no approved treatment. However, the race to be the first is underway with dozens of clinical trials in various stages. Powerhouse companies such as Madrigal Pharmaceuticals, Gilead Sciences (NASDAQ:GILD), Allergan (NYSE:AGN), Genfit (OTCPK:GNFTF), and more are putting effort into making history to become the first successful treatment for NASH. Yet, despite this massive competition, it appears that approval and marketing are likely still 2+ years away.
Summary
Currently hovering just over the $200 mark, Madrigal is presenting a perfect buying opportunity. Madrigal's abstract "In a Placebo-Controlled 36-Week Phase 2 Trial, Treatment with MGL-3196 Compared to Placebo Results in Significant Reductions in Hepatic Fat (MRI-PDFF), Liver Enzymes, Fibrosis Biomarkers, Atherogenic Lipids, and Improvement in NASH on Serial Liver Biopsy" will be presented at The Liver Meeting® 2018 in San Francisco on Monday, November 12, 2018, at 8:15 AM. Leading to this event, we should expect to see a surge in price as positive data is expected with a spike in price following the presentation. MDGL responds extremely well to positive news, having multiple runs of more than 100% over a short time period.
With a recent dilution in shares through the public offering, the company is in good standings to not require further funding for quite some time. The company is thinly traded at an average daily volume of under 200,000 shares and trading at a market cap of $3.1 billion. The company now has $490.3 million in cash and cash equivalents, due mainly to the public offering this year. The company posted expenses through all channels (research and development, administrative, etc.) totaling $15.6 million for the quarter and income of $1.2 million through interest. The company should be able to continue operations for the next few years without having to raise additional capital. Madrigal does not expect to start generative revenues off of its products in the near future, and even with increased burn rates through higher administrative costs and research and development costs, the company has enough cash and cash equivalents to maintain operations for a year and a half minimum in my opinion. Posting a $0.45 loss per share ending June 2018, the company has improved from a $0.69 loss per share posted the same quarter last year 2017.
"We believe the 36-week data from our recently completed Phase 2 clinical study of MGL-3196 in patients with NASH suggest a high likelihood of success in a similarly designed Phase 3 study, for which we are actively preparing, pending regulatory agreement," stated Paul Friedman, M.D., Chief Executive Officer of Madrigal. "With our financial raise completed, which provided more than $300 million of additional capital, we are in a strong position to expedite the MGL-3196 development program in NASH and dyslipidemias."
Madrigal is a buy to me while it is under $225. This company has a drug that is posting amazing, statistically significant data while meeting all endpoints for two separate indications. In a market primed for growth with no FDA approved treatment, MGL-3196 is set to make an impact in the industry. The company is accruing interest income of was $1.2 million this past quarter compared to $0.1 million the same time last year due primarily to a higher average principal balance in the company's investment account. With the recent earnings report, the company has enough cash on hand to fund the company through a large scale, Phase III trial for the development of the NASH treatment. Due to the millions affected by NASH, the Phase III trial is likely to be expensive and require a large patient pool. I find value in the current empty marketplace for treatment of NASH and the continual validation of MGL-3196 as a successful treatment option. There is high probability of approval based on the current data sets, with Phase III trials being set to test a new treatment that has worked well for patients in the Phase II trial.
At this current discount from the highs of recent months and showing signs of consolidation around $200, Madrigal is a buying opportunity for anyone looking to expand their biotech holdings.
Disclosure: I/we have no positions in any stocks mentioned, and no plans to initiate any positions within the next 72 hours.
I wrote this article myself, and it expresses my own opinions. I am not receiving compensation for it (other than from Seeking Alpha). I have no business relationship with any company whose stock is mentioned in this article.