Introduction
Arbutus Biopharma (ABUS) is one of the many biotech companies focused on the research and development of Hepatitis B therapeutics. What helps make the company stand out from the crowd is its diverse pipeline and financial situation. The company has made great strides in developing a unique RNAi platform and patented lipid nanoparticle delivery technology, which have recently attracted investor dollars, strategic partnerships, and licensing deals.
Arbutus is currently positioned as the clinical leader in RNAi therapeutics for Hepatitis B. The company has been able to demonstrate that its RNAi drug, ARB-1467 was both safe and effective in phase 2a clinical trials. While the company continues to work on its RNAi program, it continues to explore a future with oral-based combination therapy regimens with novel drug classes such as RNA destabilizers and capsid inhibitors.
Biotech companies such as Gritstone Oncology (GRTS), Alnylam Pharmaceuticals (ALNY), and Roivant Sciences have all penned major licensing and partnership deals with Arbutus based on their work and success in RNAi. Most notably, the licensing agreement with Alnylam has proven to bear fruit with the FDA's approval of its LNP-based Onpattro. The agreement has not only shown that Arbutus' delivery platform is safe and works well, it will provide the company with a healthy stream of royalty payments. Its success in RNAi has also attracted an investment of $116 million from Roivant Sciences, who has recently formed a joint venture with Arbutus to explore RNAi therapeutics for non-Hepatitis B indications. Such deals have given the company a sizable cash hoard and has diminished the risk of near-term stock dilution.
Although the company appears to be riding on a high with a stream of positive pipeline developments, licensing deals, and anticipated royalty payments, investors are urged to exercise extreme caution as its rival, Arrowhead Pharmaceuticals (ARWR) may pose a significant near-term threat to its RNAi program for Hepatitis B. Although its long-term prospects are bright with a growing small-molecule pipeline, Arbutus is a hold until the company will decide the fate of its seemingly inferior RNAi program.
Hepatitis B and HBV
Hepatitis B is one of the most widespread and deadly infectious diseases, affecting approximately 1 in 3 people worldwide. The disease is caused by the Hepatitis B Virus ("HBV"), a double-stranded DNA hepadnavirus, and is spread via contaminated blood and bodily fluids. Despite effective global vaccination, the CDC estimates that there are anywhere between 850,000 to 2.2 million people in the United States and 240 million people outside the United States suffering from the chronic form of Hepatitis B. The World Health Organization has estimated that there were 257 million people afflicted with the disease, of which only 9% were diagnosed.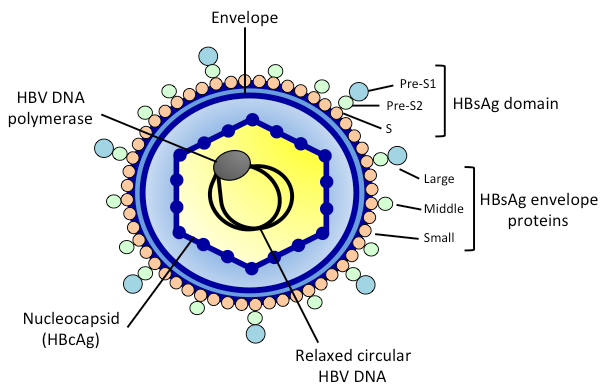 Figure 1: The Hepatitis B Virus. Source: Dr. Stevan Gonzalez. Antimicrobe.org
Once a person is immediately infected with the Hepatitis B virus, the condition becomes known as Acute Hepatitis B ("AHB"). In about 90-95% of acute infections, a host's immune system will either successfully eradicate or completely suppress the virus. However, in about 5-10% of infections, the host's immune system is unable to clear the virus and can lead to a condition known as Chronic Hepatitis B ("CHB"). CHB is defined as a continuous and persistent Hepatitis B infection for 6 or more months.
In some cases, patients afflicted with Chronic Hepatitis B will require medication to control the virus and inhibit its replication cycle. Approved medicines for Hepatitis B do not cure the disease and are required to be taken for prolonged periods of time in order to control viral replication. Without medication, the virus can replicate unabated and lead to potentially life-threatening conditions such as liver fibrosis, liver cirrhosis, and hepatocellular carcinoma. The Hepatitis B Foundation estimates that CHB is implicated in approximately one million deaths per year.
GBI Research has estimated that the market for Hepatitis B therapeutics will reach $3.5 billion by 2021, representing a compound annual growth rate of 2.3%. In 2015, Trendforce estimated the global Hepatitis B therapeutic market to be valued at $1.9 billion. The increased demand and market growth is believe to be primarily driven by the immigration of Hepatitis B-positive patients from high-prevalence countries such China, Vietnam, and the Philippines to North America, Western Europe, and Japan.
The Standard of Care and the Search for a Cure
Today, patients with CHB have two treatment options at their disposal: Nucleoside/nucleotide reverse transcriptase inhibitors antivirals ("NUCs") and interferon agents.
Nucleoside/Nucleotide reverse transcriptase inhibitors are a direct-acting class of antiviral drugs which prevent the reverse transcription of viral pregenomic RNA into viral DNA. Reverse transcriptases are only found in viruses and are critical for the replication of RNA viruses and the Hepatitis B virus. Despite the necessity of prolonged use, today's approved NUCs such as Gilead's (GILD) TAF or Bristol-Myers Squibb's (BMY) Baraclude are generally considered safe, well-tolerated, have excellent resistance profiles, and are highly effective at lowering the serum HBV DNA levels.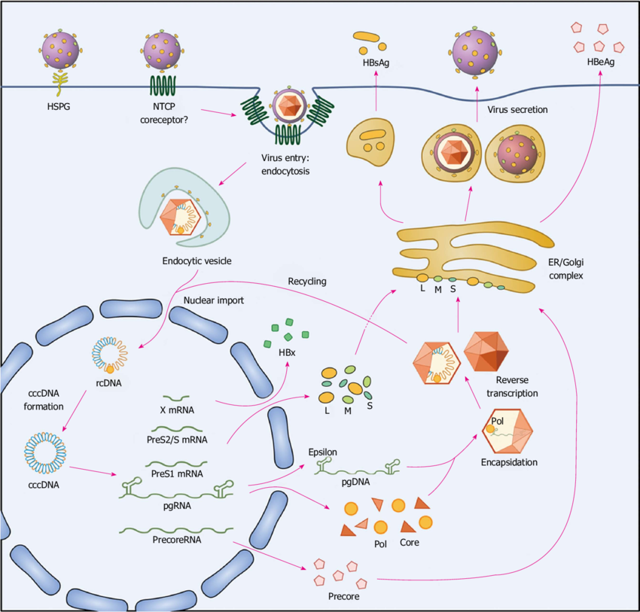 Figure 2: The HBV Replication Cycle. Source: World Journal of Gastroenterology (2016).
Interferon ("INF") drugs are immunotherapy agents that work by recruiting the host's immune system to fight the virus. Unlike NUCs, which directly inhibit viral enzymes from properly working, INF agents interact with host cellular receptors, which invoke an overwhelming immune response. Although effective, they are not as well-tolerated as NUCs, must be administered by a professional, should not be taken during pregnancy, should not be taken for prolonged periods, and are not recommended for patients already diagnosed with liver disease. Interferon agents are notorious for their severe side effects such as flu-like symptoms, fatigue, and nausea.
Patients taking either of these agents, however, are rarely cured despite demonstrating a significant reduction in serum HBV DNA during the course of therapy. It was found that even if medication could bring the levels of viral DNA to the point where it was undetectable, the patients were still not cured in the vast majority of cases. HBV DNA levels are an excellent marker of the extent and activity of the disease but were found to be unreliable as a marker for disease status. Therefore, researchers began to use a biomarker known as the Hepatitis B Surface Antigen ("HBsAg") in order to diagnose patients and to gauge whether or not the infection was resolved during a course of therapy. Although highly effective at clearing the level of HBV DNA in the blood serum and ceasing the progression of the disease, the current standard of care (NUCs and interferon) is unable to clear significant levels of HBsAg from the blood serum. Researchers believe that suppressing both the HBV DNA and HBsAg can increase the sustained virologic response rate ("SVR") for Hepatitis B.
The sustained virological response rates following today's standard NUC or interferon therapy have been found to be extremely low (<5%). Even with undetectable on-treatment HBV DNA, the viral load will, in most cases, rebound after the cessation of therapy. Furthermore, long-term use of HBV medications has been associated with bone and renal toxicities and a potential for the emergence of drug-resistant viral mutations. A dismal sustained virologic response rate, long-term toxicities, and the threat of drug-resistance mutations has left the door open for new classes of Hepatitis B therapeutics with the potential for better safety and efficacy profiles.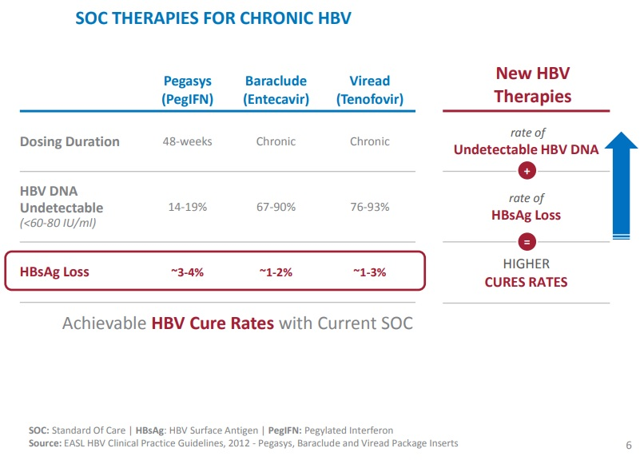 Figure 3: SOC cure rates as marked by HBsAg loss. Credit: Arbutus Biopharma.
With only two classes of therapeutics approved for the treatment of Chronic Hepatitis B, many biotech and pharmaceutical companies have seized upon the opportunity to explore the inhibition of other viral and host targets which may potentially improve the cure rate in what is estimated to be a $3.5 billion market by 2021. Many new entrants and current HBV Pharmaceutical powerhouses have been hard at work to develop the next best thing in HBV therapeutics.
Arbutus Biopharma, a small cap biotech focused on the research and development of HBV therapeutics has decided to take a multi-faceted approach to treating Hepatitis B. From the development of the tried and true small-molecule direct-acting antivirals to newer biotech platforms such as RNAi, Arbutus Biopharma continues to pursue a variety of pathways to a potential cure. Its diversified pipeline, advanced biotechnology programs, and antiviral expertise makes Arbutus a potential force in the Hepatitis B space.
Arbutus Biopharma and Its Current Financial Position
In July 2015, Tekmira Pharmaceuticals became known as Arbutus Biopharma after completing a reverse merger with OnCore Biopharma. The union of the two companies created a well-funded and star-powered biotech whose sole focus would be to research and develop game-changing Hepatitis B therapies.
At the time of writing (October 9, 2018), Warminster, Pennsylvania-based Arbutus Biopharma's stock traded at approximately $7 per share (due to a significant price dip from recent news) and, as of July 31, 2018, had 55,404,298 shares outstanding, equating to an estimated market cap of just over $387 million. In Q2 2018, the company reported $157,769,000 in current assets, of which approximately $10.2 million was in cash on hand.
On October 2, 2017, Roivant Sciences announced a $116 million strategic investment in Arbutus. In April 2018, Arbutus and Roivant Sciences entered into an agreement to form a joint venture company called Genevant Sciences. The joint-venture will focus on the research and discovery of RNAi applications outside of Hepatitis B and will rely on Arbutus' Lipid Nanoparticle delivery technology ("LNP") and RNAi platform. As of June 30, Arbutus owns 41% of Genevant's common shares and is entitled to single-digit royalties from Genevant from product sales enabled by its delivery platform.
The company also has standing partnerships with Alnylam Pharmaceuticals (ALNY), Gritstone Oncology (GRTS), and Spectrum Pharmaceutics (SPPI). Alnylam Pharmaceuticals had licensed Arbutus' LPN technology to develop its recently-approved TTR-mediated amyloidosis drug, Onpattro. The approval of Onpattro marked a significant milestone for both companies as the drug become the world's first approved RNAi therapy on the market. Arbutus is expecting to receive low-to-mid single digit royalty payments from the sale of Onpattro.
In October 2017, Arbutus and Gritstone Oncology entered in a licensing agreement whereby Arbutus granted Gritstone worldwide access to their LNP products and intellectual property for the development of RNA-based neoantigen immunotherapy products. Genevant will be entitled to 50% of milestone and royalty payments that will be payable by Gritstone.
Furthemore, Arbutus Biopharma had previous out-licensed its Philadelphia chromosome-negative acute lymphoblastic leukemia drug Marqibo to Spectrum Pharmaceuticals. Arbutus is currently receiving mid-single digit royalties from the sale of Marqibo.
Arbutus' Unique and Evolving Pipeline
Since its inception in 2015, Arbutus' clinical pipeline has experienced substantial changes as the company explored various classes of antiviral and immune therapies for the treatment of Hepatitis B. Over the course of its short history, novel HBV drugs such as cccDNA formation inhibitors, cccDNA epigenic modifiers, TLR9 agonists, cyclophilin inhibitors, and STING agonists have been retired from the pipeline and have been replaced with newer experimental compounds such as GalNAc RNAi, PD-L1 checkpoint inhibitors, and next-generation small-molecule cccDNA-targeting drugs.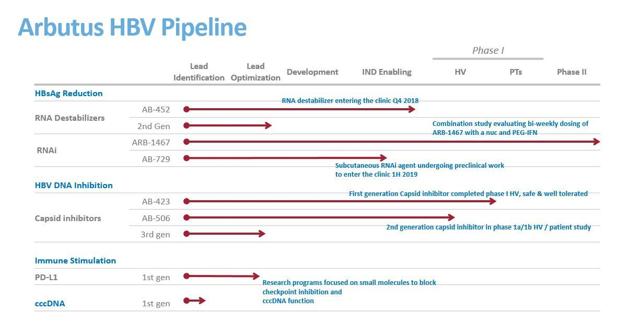 Figure 4: Arbutus Biopharma's drug pipeline. Source: Arbutus Biopharma.
In 2016, the company signed a licensing and collaboration deal with Saint Louis University to research and develop Ribonuclease H ("RNaseH") inhibitors for HBV. The viral RNaseH is an enzyme that is essential to the transcription of pgRNA to rcDNA. It has been shown to be utilized by the virus to degrade pgRNA following the synthesis of the negative-strand viral DNA. Although considered to be a promising viral target, no RNaseH inhibitor drug candidates have announced by Arbutus to date.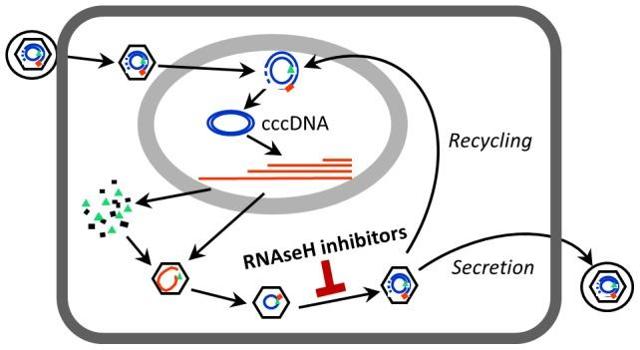 Figure 5: RNAseH inhibitors as potential drug targets. Source: Tavis et al., PLOS Pathogens.
Today's clinical pipeline consists of RNAi candidate ARB-1467 and two Capsid Inhibitors, AB-423 and AB-506. Preclinical assets include AB-452, a small-molecule RNA destabilizer, an unnamed second generation RNA destabilizer, GalNAc RNAi agent AB-729, an unnamed 3rd generation capsid inhibitor, an unnamed PD-L1 checkpoint inhibitor, and an unnamed cccDNA inhibitor.
RNAi
RNA interference (RNAi) was discovered in 2006 as a type of defensive cellular mechanism which was used to fight off the proliferation of double-stranded RNA viruses or transposons within the cellular environment. Unlike traditional small-molecule drugs which target the viral proteins, RNAi attacks the source of those proteins, messenger RNA ("mRNA"). RNAi utilizes microRNA ("miRNA") or small interfering RNA ("siRNA") to suppress or cleave, respectively, the viral mRNA, preventing the transcription of viral proteins or enzymes.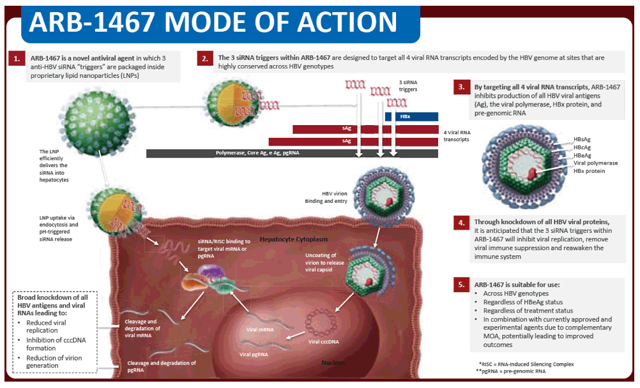 Figure 6: ARB-1467 Mechanism of Action. Source: Arbutus Biopharma.
ARB-1467, formerly known as TKM-HBV, is a silencing RNA ("siRNA") drug originally developed by Tekmira for the treatment of Hepatitis B. ARB-1467, delivered intravenously ("IV") utilizes Arbutus' lipid nanoparticle delivery technology to reach its intracellular target. ARB-1467 works by silencing the three Hepatitis B mRNAs and the pregenomic RNA ("pgRNA"). Currently undergoing mid-stage clinical trials, ARB-1467 is not only Arbutus' most clinically advanced drug but is also the most clinically advanced RNAi drug candidate for Hepatitis B therapy. ARB-1467 was shown to be safe and effective at reducing serum HBsAg in a dose dependent manner. In their phase 2 trial, Arbutus was able to demonstrate that all 12 patients in the bi-weekly high dose cohort (0.4mg/kg) had reductions in HBsAg levels, with a mean HBsAg reduction of 1.4log10 and a maximum HBsAg reduction of 2.7log IU/mL. The company is now evaluating ARB-1467 in a longer-term bi-weekly study in combination with NUC therapy followed by pegylated interferon. The interim results of the trial are expected by the end of 2018.
Arbutus' work on a second-generation LNP-based RNAi drug, ARB-1740 was discontinued following a corporate announcement on August 3, 2017. The announcement came as Arbutus research efforts found that ARB-1740 did not possess any significant advantages over ARB-1467.
Arbutus is also anticipating an IND in the first half of 2019 for their subcutaneous ("SC") N-acetylgalactosamine ("GalNAc")-conjugated RNAi drug, AB-729. According to Arbutus' preclinical findings presented at EASL in April 2018, AB-729 was found to have longer and more durable siRNA activity versus ARB-1467. The drug demonstrated a dose-response relationship and has been shown to reduce all viral antigens, HBV DNA, and HBV RNA in preclinical mouse models.
Capsid Inhibitors/Core Protein Allosteric Modulators
Capsid inhibitors, also known as core protein allosteric modulators ("CpAMs") are a new class of direct-acting therapeutics designed to target the Hepatitis B capsid/core at various stages of the viral replication cycle. There are currently two classes of CpAMs that are being developed at various stages by a wide array of biotech companies. Class I CpAMs are heteroaryldihydropyrimidines ("HAPs") compounds which form aberrant linear non-capsid polymers. Class II CpAMs, which constitute the majority of compounds under clinical research, are either propenamides ("PPs") or sulfonylbenzamides ("SBAs"). Class II CpAMs work by forming empty capsids which are devoid of pgRNA. By inhibiting the encapsulation of pgRNA and the polymerase enzyme, HBV pgRNA is prevented from being reverse-transcribed into relaxed circular DNA, which in turn prevents the production of intranuclear cccDNA. Furthermore, empty capsids are unable to go on to infect health cells with HBV DNA. It is also presumed that Class II CpAMs also work by inhibiting the uncoating of the capsid from any nuclear-bound viral particles.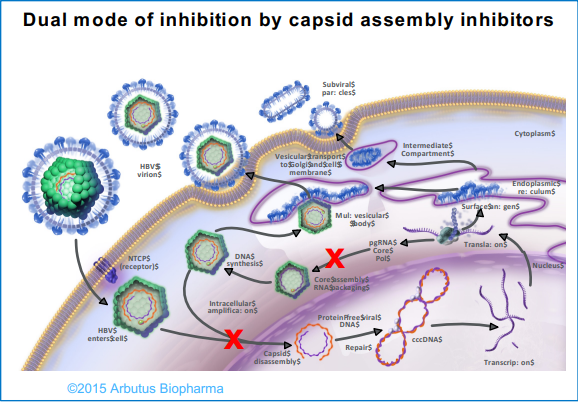 Figure 7: Dual mode of inhibition by capsid assembly inhibitors. Source: Arbutus Biopharma.
Arbutus is currently investigating two CpAMs, AB-423 and AB-506 in early clinical trials. The company is also developing a yet-to-be-named 3rd generation CpAM in the lab. AB-423 and AB-506 have been shown to be synergistic and complementary to NUCs, driving the HBV DNA to lower levels than monotherapy. Furthermore, AB-423 has been shown to be safe and tolerable in human volunteers and was shown to be HBV-specific with no effects on other viruses. AB-506 is being advanced into the clinic by the end of 2018. Arbutus hopes to incorporate AB-502 in a potential curative oral combination therapy regimen which will likely include RNA destabilizer agent AB-452 and a NUC agent.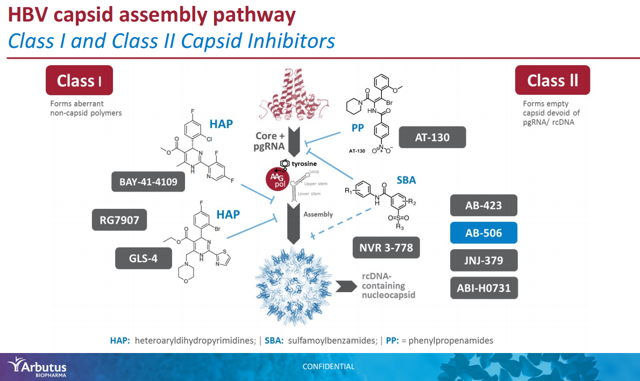 Figure 8:Class I and Class II capsid inhibitors for HBV. Source: Arbutus Biopharma.
RNA Destabilizers
AB-452 is a novel class of oral therapeutic dubbed as an HBV RNA Destabilizer by Arbutus Biopharma. The compound was initially developed as a "surface antigen secretion inhibitor" but retitled as an RNA destabilizer after it was found to inhibit not only HBsAg but HBV DNA and other antigens. Although the drug's mechanism of action remains somewhat obscure, it appears to work by destabilizing the pgRNA and viral mRNAs prior to translation.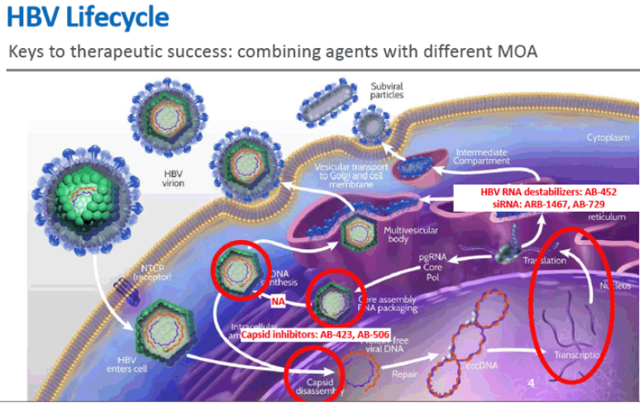 Figure 9: Combining multiple drugs with different MOA for Hepatitis B therapy. Source: Arbutus Biopharma.
Although not yet tested in humans for safety and efficacy, Arbutus had previously shown that in preclinical models, AB-452 appeared to be additive or synergistic when combined with marketed NUCs such as ETV, TDF, or TAF as well as experimental therapies such as Arbutus' 2nd generation capsid inhibitor, AB-506, and RNAi candidate ARB-1467. Although Arbutus had previously expected AB-452 to enter the clinic in Q4 2018, a recent development update revealed that the Phase 1 trial would have to be pushed back due to the "emergence of nonclinical safety findings". Arbutus has not made it clear what the preclinical safety is or how serious it is to development of the AB-452 but it is not believed to be significant enough to warrant the clinical termination of the first-generation compound. The company is also currently in the process of developing an unnamed 2nd generation RNA destabilizer.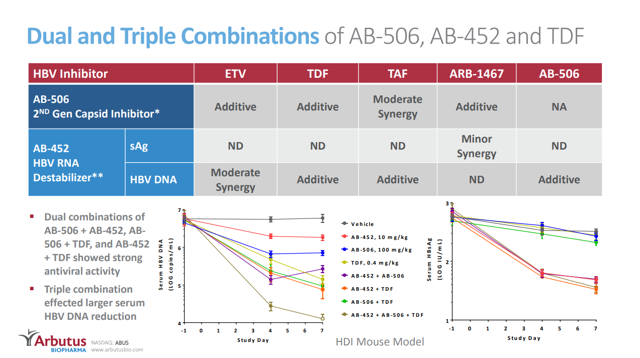 Figure 10: Dual and triple combinations of AB-502, AB-452, and TDF (Viread). Source: Arbutus Biopharma.
Immune stimulation agents
Researchers at Arbutus are also working to develop small-molecule immune stimulation agents for Hepatitis B such as PD-L1 checkpoint inhibitors and cccDNA inhibitors. Although the work on these compounds is in the embryonic stage of development, the company hopes to use these agents alongside small-molecule direct-acting antiviral agents and RNAi drugs in order to boost cure rates.
The company has not released any information pertaining to these compounds but it is expected that their PD-L1 checkpoint inhibitor's mechanism of action will be the same as marketed immuno-oncology drugs such as Roche's (OTCQX:RHHBY) Tecentriq, Pfizer's (PFE) and EMD's Bavencio, and AstraZeneca's (AZN) Imfinzi.
The programmed death-ligand 1 is a ligand that is expressed on the surface of some normal and cancer cells and works as an "off-switch" to an immune attack. When the PD-L1 ligand successfully binds to the programmed death 1 receptor (PD-1) that is expressed on the surface of T-cells, the T-cell receives a signal to suppress a cytotoxic attack. The goal with PD-L1 checkpoint inhibitors in the realm of Hepatitis B is similar to that of Oncology- to initiate an effective immune response to remove diseased cells.
It may be some time until Arbutus releases more information regarding their preclinical immune stimulation agents. Furthermore, potential investors should not rely on the progression of these compounds into the clinical setting.
The Good
Despite solely focusing on Hepatitis B therapeutics, Arbutus Biopharma is a well-rounded company that is financially and scientifically diversified. Its cash burn is partially offset from a stream of royalties from Spectrum's Marqibo and upcoming sales of Alnylam's Onpattro. With estimated peak global sales reaching $2.1 billion, Alnylam's Onpattro could potentially bring in a minimum of $21 million in peak royalties to Arbutus. The company may also anticipate some royalties from Gritstone Oncology and its joint venture enterprise, Genevant. Furthermore, with $10.2 million with cash on hand and over $157 million in current assets, Arbutus continues to be well-funded for continuing operations and possible mergers and acquisitions. Investors are unlikely to experience a secondary public stock offering in the near-term.
Arbutus' pipeline development has also been seen as a success as it was able to demonstrate ARB-1467's clinical safety and efficacy in phase 2a trials and remains the clinical leader in the Hepatitis B RNAi pack. Arbutus' RNAi competitors include Arrowhead Pharmaceuticals (ARWR), Alnylam Pharmaceuticals (ALNY), Benitec Biopharma (BNTC), Arcturus Therapeutics (ARCT), and Dicerna Pharmaceuticals (DRNA).
Its LNP delivery technology has been shown to work not only in mid-stage ARB-1467 trials but also in the newly-approved Onpattro. Although Arbutus has yet to prove whether ARB-1467 and its LNP delivery platform are safe and effective in large-scale trials for Hepatitis B, it has not stopped other biotech companies such as Roivant Sciences, Gritstone Oncology, and Alnylam Pharmaceuticals from expressing a great amount of interest in their technology.
As ARB-1467 continues to push its way forward in the clinic, Arbutus has been diversifying its pipeline with a series of promising small-molecule drug candidates. Among these candidates is a first-in-its-class RNA destabilizer, AB-452 which has been shown to be synergistic with other Hepatitis B therapies and offers a unique mechanism of action that specifically targets HBV RNA. Interestingly, Roche has begun exploring the use of RNA destabilizers as a potential class of therapeutics for HBV but has been unable to show RG7834's efficacy in destabilizing HBV pgRNA. Roche was only able to show that the compound reduced HBsAg but not HBV DNA, concluding that RG7834 only destabilized HBV mRNAs. With a promising novel mechanism of action and oral availability, Arbutus' AB-452, if shown to be safe and effective in humans, may potentially be Arbutus' next crown jewel.
The Bad
It goes without saying that any of Arbutus' preclinical or clinical-stage drugs have the potential to fail due to a lack of safety and/or efficacy. Although the company's pipeline continues to grow and diversify, the risk of clinical failure remains a looming threat. Any setback or drug failure may weigh heavily on Arbutus' stock price and market cap.
What is also worrisome is the market's anticipated reaction to a series of upcoming drug discontinuation announcements. With two drug candidates in the RNAi space, three generations of RNA destabilizers, and three generations of capsid inhibitors under concurrent development, Arbutus is likely to select only the most potent and promising candidate in each therapeutic class. Although the market's reaction to the discontinuation of Arbutus' second-generation RNAi compound ARB-1740 in August 2017 was rather muted, it is does not guarantee a similar reaction for other drug candidates. I believe the reason why the market did not react to the news of ARB-1740's discontinuation with a major sell-off is because ARB-1740 was in earlier stages of clinical trials and was not shown to be superior to their first generation RNAi candidate, ARB-1467. However, I believe that if Arbutus were to announce the discontinuation of the first generation capsid inhibitor AB-423 in favor the second-generation AB-502 or the discontinuation of ARB-1467 in favor of the GalNAc candidate AB-729, the market is most likely going to react with a significant stock sell-off due to the anticipated setback in getting a marketed drug the market. Arbutus' forward looking statement on AB-502 as a "best-in-class" capsid inhibitor and the lack of any mention of AB-423 on their October 2018 corporate overview presentation, leads me to believe that Arbutus is likely to announce the discontinuation of the first generation capsid inhibitor candidate in favor of AB-502 in the near future.
While the decision to proceed with the second-generation capsid inhibitor may set the company back in terms of time to get to the market, competition in the capsid inhibitor space is also heating up. Companies such as Assembly Biosciences (ASMB), Johnson and Johnson (JNJ), Roche (OTCQX:RHHBY), Bayer (OTCPK:BAYRY), and Enanta Pharmaceuticals (ENTA) are researching and developing their own capsid inhibitors/CpAMs. As some of these compounds have already entered clinical testing and have posted positive results, Arbutus must be able to demonstrate that its capsid inhibitors can stand their ground. Currently, it is not clear which company or capsid inhibitor compound is likely to come out on top but Arbutus investors should note that competition in this arena is likely to be fierce.
The Ugly
On September 6, 2018, Arrowhead Pharmaceuticals announced the results of their on-going clinical trial. The results presented at the 2018 World Gastroenterologists Summit was from its two lowest-dose ARO-HBV cohorts. Arrowhead was able to show that patients receiving three monthly doses of 100mg ARO-HBV demonstrated a mean HBsAg reduction of 2.0log10 on day 85. The 200mg cohort showed a mean HBsAg reduction of 1.4log10 on day 71. All eights patients in the study achieved over 1.0log10 reduction in HBsAg. The maximum HBsAg reduction in the study was 4.0log10.
According to the data from its phase 2 trial, Arbutus had previously shown that the high-dose, bi-weekly ARB-1467 cohort (cohort #4) had a response rate of only 58.3%. With only 7 out of 12 patients showing an HBsAg reduction of greater than 1.0log10, ARB-1467 now appears to be at a significant risk of being outclassed by ARO-HBV efficacy profile. The news of Arrowhead's relative success sent Arbutus' stock from $11 per share on September 5, 2018 to approximately $9.30 on September 17, 2018. Furthermore, on October 4, 2018, Arrowhead announced a licensing deal with Johnson & Johnson for ARO-HBV worth up to $3.7 billion.
On October 9, 2018, Arbutus provided a pipeline update which included information regarding the ongoing ARB-1467 phase 2b combination therapy trial with tenofovir and pegylated interferon. In the update, Arbutus had stated that while six patients had been enrolled, only 4 were able to be evaluated at this time. The results were once again disappointing, showing that three of the six patients (50%) did not meet the response criteria at week six and were unable to move onto the pegylated interferon treatment of the protocol.
While Arrowhead's promising ARO-HBV drug may already have stolen some of Arbutus' thunder, I believe that the worst is yet to come for Arbutus' RNAi program. Although Arbutus' shares are off-their recent highs, the market hasn't fully digested the news of ARO-HBV's superiority. While Arrowhead's partial and early study results are not enough to call the fight in Arrowhead's favor, it appears that the odds are still very much stacked in their favor as even the low-dose monthly cohorts had demonstrated greater HBsAg reductions than ARB-1467's high-dose bi-weekly cohort. Results from the high-dose ARO-HBV cohorts is not likely to make the situation better for Arbutus.
Although Arbutus may not decide to cease the clinical trials for ARB-1467 based on the results from the ARO-HBV study, the market will likely force their hand to abandon drug as investor money will likely flow out of Arbutus and into Arrowhead. With the market's eyes on Arrowhead and ARO-HBV, Arbutus' only hope to save itself in the RNAi space would be to demonstrate that its GalNAc candidate AB-729 possesses, at a minimum, similar efficacy and safety to that of ARO-HBV. Unfortunately, with an IND filing expected in the first half of 2019, Arbutus may find it very difficult to play catch-up and the bar set by ARO-HBV. Therefore, Arbutus investors are cautioned to be prepared for significant downside risk associated with Arbutus' RNAi program.
Arbutus' Future and What Investors Could Expect
Since its inception, Arbutus has been a significant player in the Hepatitis B therapeutics research space. The company's unique and diverse pipeline, sizable current assets, and a growing stream of royalty income has drawn plenty of investor attention to Arbutus as of late. With the news of Roivant's investment in company, the formation of the Genevant joint venture, and anticipated royalty payments from Alnylam's Onpattro sales, Arbutus' stock price was catapulted to a 52-week high of $12.60 per share on August 2, 2018. Although the stock price has recently pulled back to the $7 levels, partially due to the recent news of AB-452's clinical delay, it is a far cry from the $2.30 price levels seen in early 2017.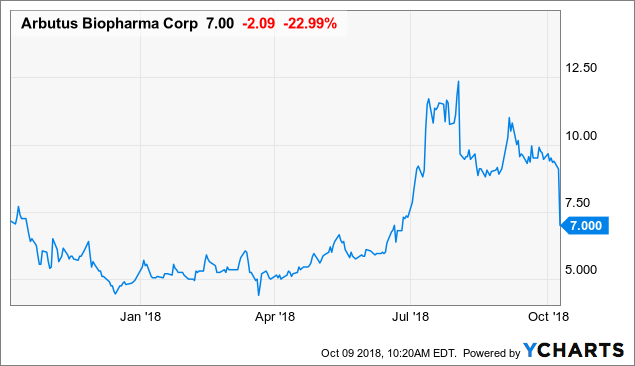 While I believe that Arbutus is not at risk for near-term stock dilution and holds plenty of promise in Hepatitis B therapeutics, it remains a hold due to the potential collapse of its RNAi program.
RNAi has been a critical part of Arbutus' foundation and has been deeply ingrained in the company's DNA. The company has devoted significant resources to its RNAi program and has shown that ARB-1467 was both safe and effective in several clinical trials. Unfortunately, with Arrowhead roaring back to life after the termination of their ARC-520 and ARC-521 programs, Arbutus may find itself in a defensive position. If Arrowhead continues to post excellent study results from the ARO-HBV trial, Arbutus will have to decide whether it is worth their time, efforts, and resources to develop a drug that is seemingly inferior. With an unproven safety and efficacy profile, it is unclear whether AB-729 can save Arbutus' RNAi efforts in Hepatitis B. Therefore, I believe that Arbutus is likely to either discontinue its RNAi program for Hepatitis B or license the compounds to other biotech companies in the near-future in order to conserve its resources.
I believe that Arbutus's true strength is not their RNAi platforms or drugs but rather their small-molecule antiviral compounds. Although Arbutus has plenty of competition in the capsid inhibitor space and may not be able to show that its CpAM agents are the best-in-their-class, the ability to combine two distinct classes of oral-based therapies gives their pipeline more flexibility and gives the company a tremendous advantage over their rivals in the field.
Oral-based combination therapy regimens has been the gold-standard of HIV therapeutics for two decades and has lead to an effective and safe cure for Hepatitis C. Arbutus CSO Michael J. Sofia is no stranger to direct-acting antiviral combination therapy. In fact, as the former Senior Vice President of Chemistry at Pharmasset, he lead the discovery for a Hepatitis C NS5B inhibitor that would revolutionize Hepatitis C therapeutics. Named after Mr. Sofia, Sofosbuvir went on become Gilead's shining star in its Hepatitis C program and curative regimens which followed their acquisition of Pharmasset. Following the sale of his former Hepatitis C-focused company, Mr. Sofia went on become the President, CSO, and co-founder of Oncore Biopharma in the hopes of finding a cure for Hepatitis B.
With inferior RNAi candidates for Hepatitis B and a potent small-molecule pipeline, Arbutus will likely shift strategies to focus on the development of an oral-based curative regimen for Hepatitis B. Investors are likely to experience short-term downside due to its RNAi program but will be rewarded in the long-term as Arbutus will free its cash and resources to focus on oral combination therapy.
Even if Arbutus cannot show that its CpAMs are superior to those of their rivals in the industry or that its RNA destabilizer agents as effective as they had hoped, the advantage afforded to the company by combining these synergistic agents may prove to be more valuable. With combination therapy, the inferiority of the individual agents will not be a great concern for investors in the long-term and will give Arbutus the flexibility to fine-tune the dosages for all the individual compounds being evaluated for combination therapy. Furthermore, with more resources to focus on its small-molecule pipeline and a growing stream of royalties, Arbutus may consider mergers and acquisitions in order to diversify its combination therapy-focused pipeline.
If Arbutus decides to place more focus on their small-molecule programs, they may not be able to rely solely on two unproven classes of therapeutics (RNA destabilizers and capsid inhibitors). The company will have to find a way to diversify their small-molecule portfolio with other classes of synergistic antiviral drug candidates such as Nucleot(s)ide analogue reverse transcriptase inhibitors or cyclophilin inhibitors. In fact, Arbutus has already demonstrated that its RNA debstabilizer compound, AB-452 and capsid inhibitor agent, AB-506 have been shown to be synergistic and led to better therapeutic results with the addition of a NUC agent. Furthermore, Dr. Sofia's previous, yet unsuccessful preclinical work (due to safety concerns), with cyclophilin inhibitors in 2015 leads me to believe that these host-targeting antivirals such as ContraVir Pharmaceuticals' (CTRV) CRV431 may pique their interest as well. The company may also look into Spring Bank Pharmaceuticals' (SBPH) RIG-I agonist, Inarigivir, which acts as an interferon-inducing immunotherapy agent and viral replicase inhibitor, as a potential candidate for oral-based combination therapy.
Conclusion
Arbutus is a company with lots to offer investors: a diverse pipeline, a biotech platform and delivery system that has shown clinical success, and a stream of royalty income. While the company has continued to attract investors and partners, its short-term future looks uncertain. With its RNAi rival Arrowhead Pharmaceuticals appearing to offer a more potent drug for Hepatitis B, as shown by its superior HBsAg knockdown, Arbutus may find itself on the fence regarding its own RNAi program. I believe that the company is likely to discontinue or possible license their RNAi program for Hepatitis B, causing a potential threat of downside in the near-term. However, its strong oral-based small-molecule antiviral drug candidates may be enough to save the company in the long-term. Therefore, I rate Arbutus a hold until the company makes a decision on the fate of its RNAi program for HBV.
Disclosure: I am/we are long CTRV.
I wrote this article myself, and it expresses my own opinions. I am not receiving compensation for it (other than from Seeking Alpha). I have no business relationship with any company whose stock is mentioned in this article.
Editor's Note: This article covers one or more stocks trading at less than $1 per share and/or with less than a $100 million market cap. Please be aware of the risks associated with these stocks.