"Right now I'm having amnesia and déjà vu at the same time. I think I've forgotten this before." - Steven Wright
The other day I got a question from a Seeking Alpha follower on a small biopharma that just went public a few years. Just over a month ago, we published exclusive research on this same name for Busted IPO Forum members. We have updated our investment analysis with the latest news and data and are now sharing it with the larger Seeking Alpha community in the paragraphs below.
Company Overview:
Minerva Neuroscience (NERV) is a Waltham, Mass., clinical-stage biopharmaceutical company that was founded in 2007 and went public mid-2014. The company is focused on the development and commercialization of a portfolio of products centered on treating the central nervous system. The stock trades near $11.00 a share and sports a market capitalization of just north of $400 million.

Pipeline:
The company has identified, acquired, and in-licensed a portfolio of proprietary compounds that the management team thinks possess innovative mechanisms of action. The company's pipeline consists of 4 product candidates, with their lead product candidate being Roluperidone for negative symptoms in schizophrenia. Seltorexant for insomnia and major depressive disorder and MIN-117 for major depressive disorder are the company's mid-stage assets and MIN-301 is an early-stage asset for Parkinson's disease.
In recent news, the company released findings from a recent pre-clinical study showing the effect of Roluperidone on brain-derived neurotrophic factor. This particular neurotrophin is the most widely distributed member of its class of proteins in the brain, has been associated with such things as memory and learning, and its involvement in schizophrenia has been described. Roluperidone has been observed to significantly increase the release of BDNF in cultured brain hippocampal neurons in a dose dependent manner. More specifically, an administration of Roluperidone increased the level of BDNF by approximately 20%. Management's take on the study is that it complements the Phase 2b results nicely and helps to suggest the potential of their drug to profoundly affect schizophrenia. They also stated that BNDF findings are illuminating the path forward to explore Roluperidone in other indications.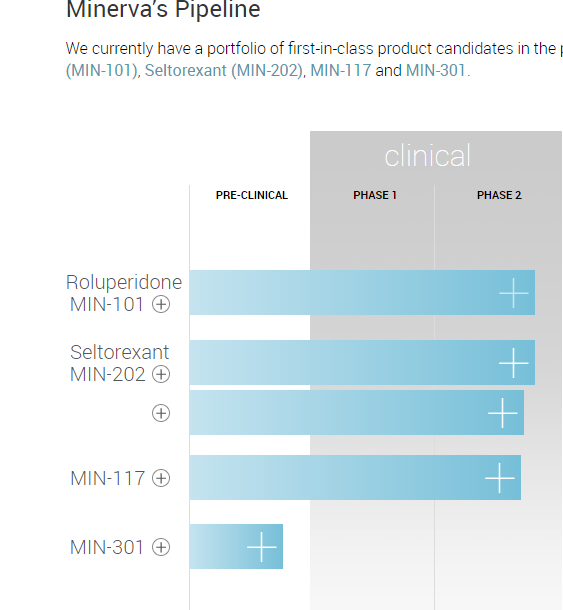 Source: Company Investment Presentation
Roluperidone:
Roluperidone is designed as a treatment for the negative symptoms of schizophrenia and was originally a product of Mitsubishi Tanabe Pharma. There are currently no approved drugs for the indication and based upon the current outlook Roluperidone appears to have a lead of at least a couple years toward being the first product on the market. Roluperidone has been shown to block serotonin receptors and sigma receptors, which are involved in the regulation of mood, cognition, sleep and anxiety. More specifically, the drug is meant to block a specific subtype of serotonin receptors called 5-HT2A. The blocking of these receptors can help to minimize certain symptoms like hallucinations, delusions, agitation, thought and movement disorders, and the side effects associated with antipsychotic treatments.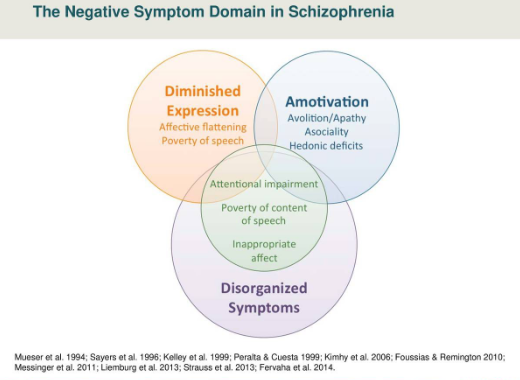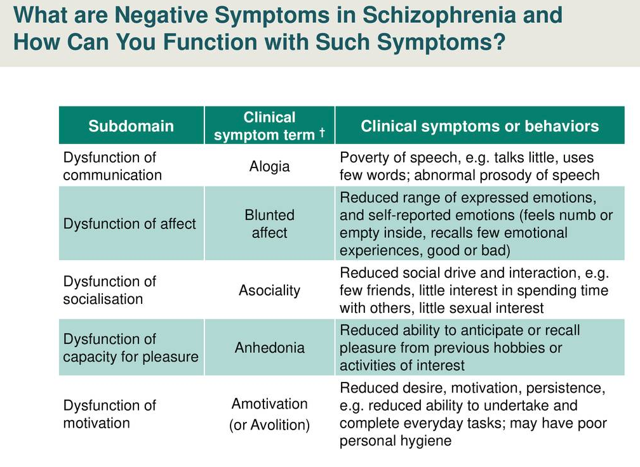 Source: Company Investment Presentation
The drug is currently in a Phase 3 trial to study it as a monotherapy for negative symptoms in patients diagnosed with schizophrenia. The trial is a multicenter, randomized, double-blind, parallel-group, placebo-controlled, 12-week study to evaluate the efficacy and safety of 32 mg and 64 mg of Roluperidone in adult patients. Approximately 500 patients will be enrolled at approximately 60 clinical sites in the U.S. and Europe. In December 2017, the company announced the screening of the first patient in the trial. Phase 3 data is expected in the first half of 2019.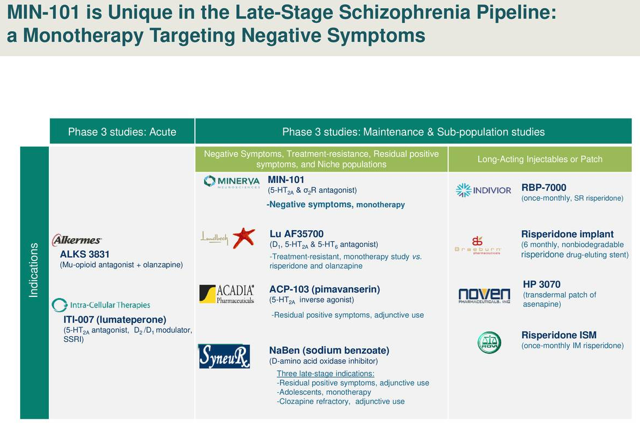 Source: Company Investment Presentation
Seltorexant:
Seltorexant is a selective orexin 2 receptor antagonist under development for the treatment of insomnia and related mood disorders. The orexin system is involved in the control of several key functions, which includes metabolism and wakefulness. The drug is designed to inhibit the activity of the neurons that promote wakefulness by selectively blocking the orexin 2 receptor. Recent research also shows that the orexin system affects the secretion and control of stress hormones.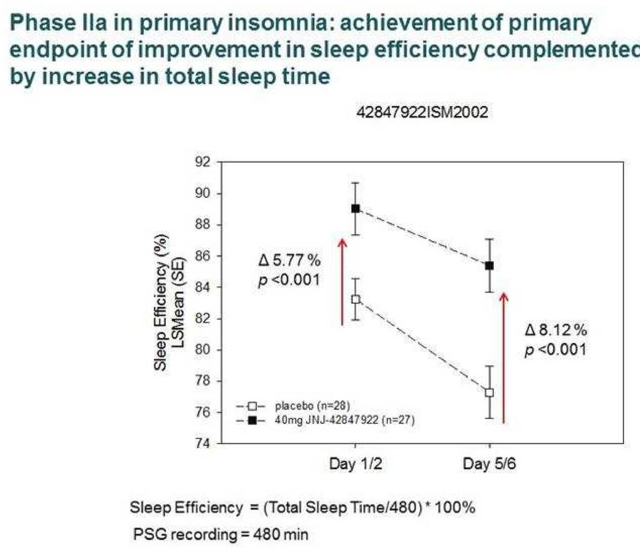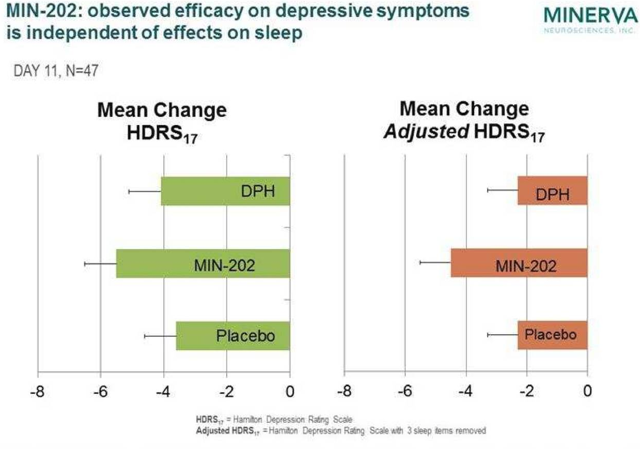 Source: Company Investment Presentation
The drug is being developed under a co-development and license agreement with Janssen Pharmaceutica N.V., a Johnson & Johnson (NYSE:JNJ) company. Per the terms, Minerva gains global strategic control over the development of the drug for insomnia and retains the current rights to the drug as an adjunctive therapy for MDD. Payments by Janssen to Minerva include: $30 million upfront, $20 million at start of the Phase 3 trial for insomnia, and $20 million when 50% of patients are enrolled in the insomnia trial. Further details are included in the image below.

Source: Company Investment Presentation
Currently, the drug is in three Phase 2b trials. There's two Phase 2b adjunctive therapy trials to treat patients with major depressive disorder and results are expected in 2019. Also, there's one Phase 2b monotherapy trial to treat patients with insomnia disorder and results are also expected in 2019.
MIN-117:
MIN-117 is designed to treat major depressive disorder and has a differentiated mechanism of action targeting adrenergic alpha 1a, alpha 1b, 5-HT1A, 5-HT2A receptors, serotonin and the dopamine transporter. People with MDD experience feelings of sadness, loss, anger and/or frustration that interferes with their ability to enjoy life. Suicide is the leading cause of death in those with MDD, but other negative externalities such as changes in immune function and susceptibility to disease also lead to early mortality.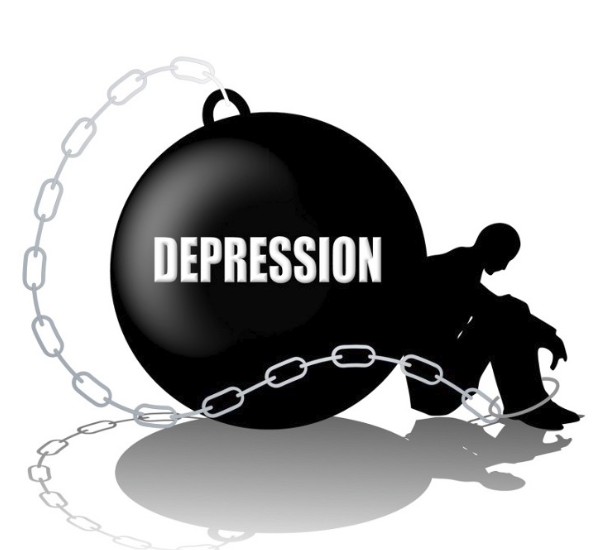 The drug is currently in a Phase 2b monotherapy trial to treat patients with major depressive disorder who also have symptoms of anxiety. Top-line results are expected in the first half of 2019. In April of 2018, it was announced that first patient was screened. The primary objective of the trial is to evaluate the efficacy of two fixed doses of MIN-117, 5.0 mg and 2.5 mg, compared with placebo in reducing the symptoms of major depression as measured by the change in the Montgomery-Asberg Depression Rating Scale over six weeks of treatment.
Analyst Commentary and Balance Sheet:
As of June 30th, 2018, Minerva Neuroscience had cash and cash equivalents of approximately $68.7 million. Research and development expenses for the second quarter of 2018 were $9 million, compared to $7.1 million for the same period last year. The increase in R&D expenses was primarily due to higher development expenses for the Phase 3 clinical trial and the Phase 2b clinical trial of MIN-117. General and administrative expenses for the second quarter of 2018 were $3.8 million, compared to $2.6 million for the same period last year. The increase in G&A expenses was primarily due to an increase in non-cash stock-based compensation expenses and costs related to increased staffing to support pre-commercial activities.
The company guided that these expenses will continue to go higher as they turn their attention towards creating the infrastructure needed to grow the company. Overall, the net loss in Q2 of 2018 was $12.5 million, or a loss per share of $0.32, as compared to a net loss of $9.8 million, or a loss per share of $0.27 for the same quarter in 2017. On the latest conference call, the company stated that their current cash, cash equivalents, restricted cash and marketable securities will be sufficient for at least the next 12 months and possibly into 2020. However, it's worth noting, on August 10th, 2018, the company filed a preliminary prospectus for a $200 million mixed shelf offering.
Analyst coverage on Minerva is sparse. The consensus price target currently is just below $20.00 a share. The latest recommendations came from Citigroup on Aug. 3rd, 2018. The institution boosted its price target from $11 a share to $19 a share. The analyst stated that he believes that the company is being overlooked by Wall Street and others as it's a SMID-cap biotech with a differentiated Phase 3 schizophrenia drug. Furthermore, he believes that the Phase 3 trial of Roluperidone is likely to be successful. In fact, the raise in the price target comes as the result of him increasing the probability of success of Roluperidone in the Phase 3 trial from 50% to now 65%.
Verdict:
There are some things to like about this concern, most notably multiple "shots on goal," upcoming potential catalysts and some analyst support. That said, the company is years away and at least one capital raise from commercialization. It portfolio also seems to consist of cast offs from other companies. Therefore, we are passing on making any buy recommendation on Minerva at this time.
"Our memory is a more perfect world than the universe: it gives back life to those who no longer exist." - Guy de Maupassant
Bret Jensen is the Founder and author of articles on The Biotech Forum, The Busted IPO Forum, and The Insiders Forum. To receive these articles as published on Seeking Alpha, just click the appropriate link and hit the orange follow button.
Disclosure: I/we have no positions in any stocks mentioned, and no plans to initiate any positions within the next 72 hours.
I wrote this article myself, and it expresses my own opinions. I am not receiving compensation for it (other than from Seeking Alpha). I have no business relationship with any company whose stock is mentioned in this article.