Water utilities are among the safest investments. With their low beta, they are perfect investments to hedge against a recession. Because they operate in a regulated business environment, they have very reliable cash flows. In fact, 7 out of 127 dividend champions (companies that have increased their dividend for 25+ years) are water utilities. In this article, I will decide whether Aqua America (WTR) is a good fit for my portfolio. I will look at the company's ability to grow the top-line and bottom-line. I will also discuss the company's balance sheet and income statement. The article will end with a look at the valuation, which seems pricey with a P/E ratio of 26.45.
Reasons for owning the stock
As I have written in previous articles, I am looking for defensive stocks because I want to hedge my portfolio against the next recession. In my previous mission to find a recession-proof stock, I compared three electricity companies. Water utilities may even be a more safe investment than electricity utilities. While Robert Riesen argues that rapidly decreasing cost of solar is a reason to not buy an electricity utility, PendragonY claims that the risk is over-blown. I think the truth is in the middle. In the short run, the threat of home solar installations will be minimal. However, in the long-run, I think it will have a significant impact on the amount of electricity households buy. Because I am a Millennial, and have a long investment horizon, I do feel more comfortable holding water utilities.
Recession-proof
Aqua America is a recession-proof stock for two reasons. The company provides water to its customers. I do not think I need to explain why people keep consuming water while being in a recession. People will first cut other expenses, like their Netflix subscription, before they stop showering. Aqua America also performs well because they operate in a regulated environment. This allows them to pretty much make a guaranteed profit on investments.
Inflation-proof
Because the company operates in a regulated environment, an investment in Aqua America is also inflation-proof. Aqua America has 870k water connections, most of them are regulated. Because they are regulated, Aqua America cannot increase prices without permission. Therefore, one could argue that inflation can be a threat to the company. I disagree. It is true that inflation causes input cost to increase. However, most of the time you actually see that regulators allow water utilities to increase prices at the same rate at which inflation increases. This sounds pretty logical to me. Why would other goods increase in prices, but your water company is not allowed to increase their prices?
Beta
Another proof of how recession-proof Aqua America is, is the beta of just 0.18. This means that the stock is theoretically 82% less volatile than the S&P 500. However, one should notice that the beta of Yahoo Finance is calculated using data from the last 5 years. Since there has not been a major crash since then, investors should not take the 82% too literally. What we can see with this chart, is that the SPY dipped almost 53% in the last crisis, while Aqua America dipped only 22% over the same period.
Top-line growth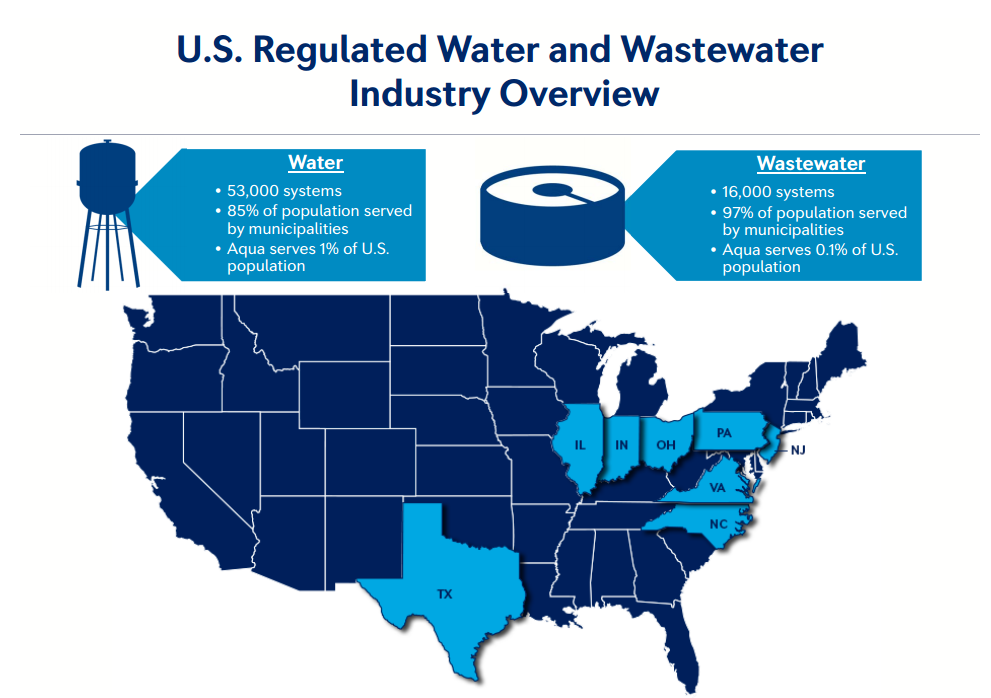 Source: Google images
Aqua America has grown its top-line 9 out of the last 10 years. Growth has not always been organic. Management has demonstrated its ability to grow the top-line through steady acquisitions of smaller municipal water companies. Growing revenues over time is a key requirement for me. Companies cannot keep cutting costs forever, therefore they need to increase revenues. To see the broader picture, American Water Works (AWK) has also grown its top-line 9 out of 10 years, while American States Water (AWR) has increased it 8 out of the last 10 years. Smaller water utilities have more problems posting consistent revenue growth because they are geographically less diversified. Drought and the resulting decrease in water consumption can be a threat for water utilities. As you can see in the map represented above, Aqua America is quite diversified. This decreases the geographical risks and is one of the reasons I prefer the company over San Jose Water (SJW).
Dividend
This top-line growth has resulted in a dividend increase streak of 26 years. Therefore, WTR is a dividend king. Although 26 years is certainly impressive, it is definitely not as good as American Water States, which has increased its dividend for 64 years. I would like to point out that, even though Aqua America does not have the longest dividend streak, the dividend is still extremely safe. With a pay-out ratio of just 62.67%, two percentage points lower than American Water Works, I would even argue that the dividend is just as safe.
| | | | | |
| --- | --- | --- | --- | --- |
| Dividend Increase | 1 year | 3 years | 5 years | 9 years |
| Average dividend increase | 6.80% | 7.80% | 7.90% | 7.30% |
Source: Author created table
Aqua America has increased its dividends by 7.3% on average over the last 9 years. As you can see, the last dividend increase of 6.80% was below average. However, I am not too worried about that. This seems like a one year thing, which is pretty common. As soon as the company increases the dividend by less than 6%, I would become worried.
Balance Sheet
| | | | | |
| --- | --- | --- | --- | --- |
| | WTR | AWK | AWR | SJW |
| Debt/Equity | 1.09 | 1.11 | 0.74 | 0.93 |
Source: Author created table
As you can see in the table represented above, Aqua America has a debt to equity ratio of 1.09. This is a roughly in-line with its peers. As mentioned before, Aqua America has finished plenty of acquisitions over last couple of years. This is one of the reasons why its long-term debt has increased from $1,248 million in 2008, to $2,008 million in 2018. I am not worried about the debt at all and feel like Aqua America has plenty of room to increase it if management sees attractively priced acquisition opportunities.
Income Statement
Growing the top-line 9 out of 10 years itself is impressive, but it will not help the bottom-line if the company cannot keep its margins up. Fortunately, Aqua America has increased its gross profit margins 8 out of 10 last years. This allowed EPS to grow consistently over time. I am confident that the trend of increasing EPS will continue, even during a recession.
Valuation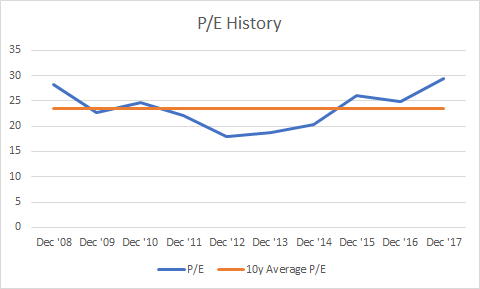 Source: Author's created table
As you can see in the chart represented above, Aqua America's P/E ratio is currently above its 10 year average. One of the reasons for this may be because I am not the only investor looking for safe investments. We have experienced a bull market for quite some time now, but this cannot last forever (unfortunately). However, as you may have noticed, Aqua America with its safety has a lot of bond-like characteristics. With the 10 year treasuries yielding 3.22%, 5+ year highs, there is a risk of investors selling Aqua America to instead buy bonds. I see this as one of the biggest risks for water utilities in general.
Conclusion
Aqua America is definitely a safe investment. However, because of the company's rich valuation and the threat of increasing interest rates I am not going to start a full position yet. Because I do not want to stay on the sidelines either, I will initiate an 1/4th position. I also decided to buy water and electricity utilities in a 2:1 ratio. This means that I will buy $2 of water utility stocks, for every $1 I spend on electricity utilities. This will provide me with the bigger yield that comes with electricity utilities, but will also give me the additional safety that comes with water utilities.
Disclosure: I am/we are long WTR.
I wrote this article myself, and it expresses my own opinions. I am not receiving compensation for it (other than from Seeking Alpha). I have no business relationship with any company whose stock is mentioned in this article.