Investment Thesis
This article marks the 11th month that I've been keeping track of John and Jane's Taxable portfolio and continued to discuss the dividend raises that continue to benefit the income produced by the portfolio. I have to admit that I am pretty excited to see the final results of the Taxable portfolio after its first full year of action.
The story over the last month has changed as the market experienced turmoil in the first week of October (this was related to increases in the Prime rate and a significant rise in the 10-year treasury yield). Although it can be tiresome to write these articles after working a full day, I still believe it is incredibly important to help show the "average investor" that a dividend growth portfolio doesn't need to be complicated and when set up correctly, can produce strong results with minimal effort.
The only changes being considered at this point is to dispose of select positions in favor of adding short-term CDs which can offer a reasonable yield while we wait to see how things pan out with regard to the impact of rising interest rates on the equity side.
Although this may sound repetitive, I would like to include a disclaimer that this article is based on an actual portfolio for clients of mine. The goal is to build a portfolio of dividend-paying stocks, bonds, etc., that will continue to produce a growing and long-lasting income stream and simultaneously preserve capital. Capital appreciation is the least important characteristic of this portfolio. It is important that you do your own research when creating a portfolio that meets your needs!
Dividend And Distribution Increases
Companies that increased their dividend or paid a special dividend include:
British Petroleum - BP's dividend has remained stagnant at $.60/quarter since it was last increased at the end of 2014. Investors have waited for nearly 4 years as BP navigated the fallout from the Deepwater Horizon oil spill and the record low oil prices of the last few years. Those who have been patient have seen both capital appreciation, and in some years, a 6% yield to top it all off. As prices stabilize we can expect to see continued growth as free cash flow continues to move back to levels seen in late 2014.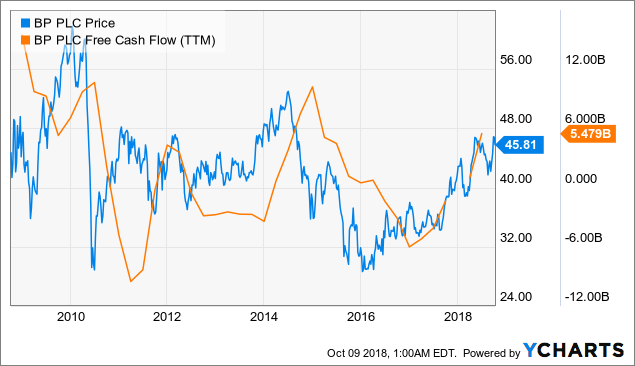 BP's dividend was increased from $.60/share per quarter to $.615/share per quarter. This represents an increase of 3.4% and a new full-year payout of $2.46/share compared with the previous $2.40/share. This results in a current yield of 5.29% based on a share price of $45.81.
Cummins - There is no doubt that CMI's share price has suffered over the last several months (tariffs appear to be the big driver behind this), but that just means that now is an excellent time for investors to capitalize and establish a position or add to an existing one. CMI's Board of Directors has stated that the plan to return to 75% of operating cash flow to shareholders in 2018 via dividend payments and share repurchases. Analysts see significant EPS growth going forward with 2018 mean at $13.33 annually and 2019's mean at $15.09/share. Given the company's current dividend payments of $4.56/share annually, this provides CMI with plenty of room for dividend increases assuming they want to maintain a payout ratio of approximately 40%.
CMI's dividend was increased from $1.08/share per quarter to $1.14/share per quarter. This represents an increase of 5.6% and a new full-year payout of $4.56/share compared with the previous $4.32/share. This results in a current yield of 3.01% based on a share price of $152.84.
J.M. Smucker - Food stocks have struggled as of late and Smucker is no exception. Smucker's current problem is that it maintains a portfolio of aged products with little to no sales growth. In addition to poor organic growth, food companies across the board are beginning to see the input cost of their products put pressure on margins. While we don't expect to see any major share price appreciation (in the near future), we are also confident in what appears to be a bottom at around $100/share.
SJM's dividend was increased from $.78/share per quarter to $.85/share per quarter. This represents an increase of 9.0% and a new full-year payout of $3.40/share compared with the previous $3.12/share. This results in a current yield of 3.30% based on a share price of $104.40.
August Income Chart And September Income Estimates
I have created the following chart to assist with keeping track of John and Jane's taxable portfolio. I built these tables so that we can easily compare month-to-month and YoY changes.
Green represents when dividends were actually received.

Yellow represents dividend estimates.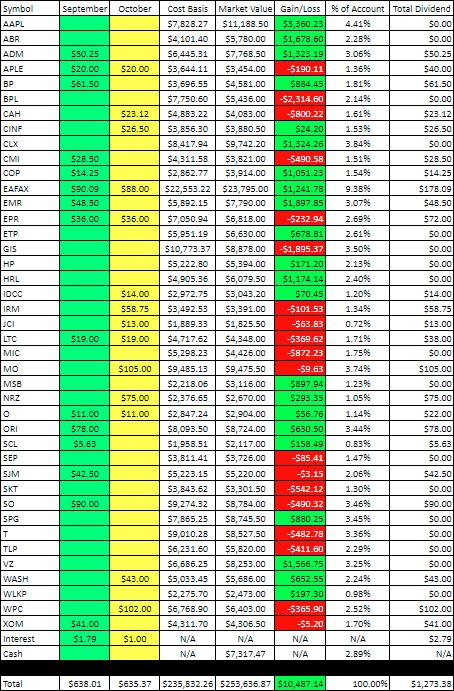 **Please note that cash reserves have dropped slightly as we decided to add another 25 shares of Cardinal Health (CAH) @ $53.56/share and that those shares were bought before the ex-date of 9/28 but that it was not included in the October dividend estimates above.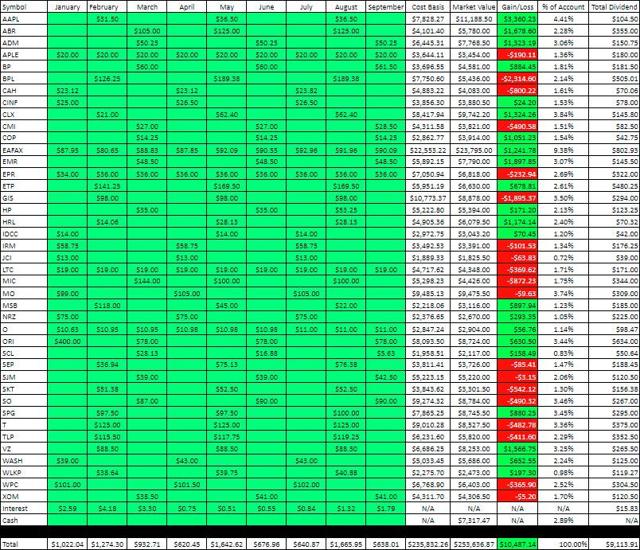 I think it is important I reiterate the following:
Dividends are not reinvested. John and Jane are at the point where they don't need the money, but we also want to build a cushion that allows us to purchase additional stocks in case the market drops and equities become more attractive.
Since dividends are not reinvested, the only time payments increase is when the dividend is raised or when additional shares are purchased with excess cash.
Conclusion
The stocks held in John and Jane's Taxable Portfolio continue to maintain high valuations while also generating over $9,100 in dividends in the first 9 months of the year. This means that the portfolio is still (on average) generating more than $1000/month ($1011.11 to be exact). We expect to see the same monthly average through the end of the year, which means we are right on target for exceeding our estimate of $12,000 in dividend income.
Using our cost basis of $235.8k, we can estimate that dividends are returning a consistent and safe yield on cost of 5.1%.
We expect John and Jane to receive a total of $635.37 of dividend income in their Taxable account during the month of October.
Final Note: If you enjoy my articles, please take the time to follow me. While I enjoy performing analysis, following me is the best method for showing me that SA subscribers are finding my work useful. I welcome all meaningful feedback and I enjoy using the Seeking Alpha platform to enhance and improve my own knowledge as well. My promise to readers is to be as open and transparent as I can be. The numbers presented are accurate as of the time I wrote this article.
In John and Jane's Taxable account, they are currently long the following mentioned in this article: Apple (NASDAQ:AAPL), Arbor Realty (ABR), Archer Daniels Midland (ADM), Apple REIT (APLE), BP (BP), Buckeye Partners (BPL), Cardinal Health (CAH), Cincinnati Financial (CINF), Clorox (CLX), Cummins (NYSE:CMI), ConocoPhillips (COP), Eaton Vance Floating-Rate Advantage Fund A (EAFAX), Emerson Electric (NYSE:EMR), EPR Properties (EPR), Energy Transfer Partners (ETP), General Mills (GIS), Helmerich & Payne (HP), Hormel (HRL), InterDigital (IDCC), Iron Mountain (IRM), Johnson Controls (JCI), LTC Properties (NYSE:LTC), Macquarie Infrastructure (MIC)), Altria (MO), Mesabi Trust (MSB), New Residential (NRZ), Realty Income (O), Old Republic International (ORI), Stepan Co. (SCL), Spectra Energy Partners, J.M. Smucker (SJM), Tanger Factory Outlet Centers (SKT), Southern Corp. (SO), Simon Property Group (SPG), AT&T (T), TransMontaigne Partners, Verizon (VZ), Washington Trust (WASH), Westlake Chemical, W.P. Carey (WPC), and Exxon Mobil (XOM).
Disclosure: I am/we are long GIS, T. I wrote this article myself, and it expresses my own opinions. I am not receiving compensation for it (other than from Seeking Alpha). I have no business relationship with any company whose stock is mentioned in this article.
Additional disclosure: This article reflects my own personal views and is not meant to be taken as investment advice. It is recommended that you do your own research. This article was written on my own and does not reflect the views or opinions of my employer.