Thesis
Verizon (VZ) is investing in its 5G business heavily, which will make it a more attractive provider for its customers. These investments should start to pay off during the next couple of years.
Verizon continues to generate strong cash flows, and its inexpensive valuation and high dividend yield could lead to above-average total returns over the coming years.

Verizon's growth investments are positive for the company's future earnings and cash flow growth
The two biggest telecom companies in the US - Verizon and AT&T (T) - have gone two different ways to grow their top and bottom line. AT&T has decided to move towards content creation and entertainment (with its takeover of Time Warner), Verizon has decided to move towards a more technology-driven business model.
The next technological breakthrough in the telecom industry is 5G. 5G technology promises a much wider bandwidth and a lower latency compared to current wireless technology. Both wider bandwidth and lower latency are important factors for many technologies we will be using in the future, among them the Internet of Things (IoT), vehicles that offer autonomous driving, etc. 5G will also allow for a better experience when users stream videos or movies when they use their smartphones for gaming or video chats, when they use augmented or virtual reality devices, etc.
In short, 5G technology will allow for progress in many other technologies, which are currently held back by a bandwidth that is too small, or by a latency that is too high.
Verizon is the self-proclaimed leader in the 5G-race, as the company has been the first to turn on a 5G network. Verizon's 5G technology has been rolled out in several markets, including Houston and Sacramento. A couple of days ago (October 1st), Verizon has finally launched 5G Home in several new markets across the US.
The new technology requires a new (or updated) infrastructure, which is why Verizon has been increasing its capital expenditures over the last couple of years:

Source: Verizon's latest 10-K filing
Verizon spent $19.4 billion on investments during 2017, a significant increase versus $11.0 billion during the previous year. During the first half of 2018, Verizon has spent $9.0 billion on capital expenditures and the acquisition of wireless licenses, so spending remains at a relatively high level (although the pace has declined somewhat over the first half of 2018).
These investments will decline at one point, as spending will only be elevated until the required infrastructure is in place. At that point, Verizon should start receiving the rewards for its spending activities. A well-functioning 5G network will be a key selling point for Verizon, it seems likely that technological leadership in this space will attract new customers.
AT&T is spending heavily on 5G network technology as well, so Verizon possibly will not be ahead by a wide margin. The smaller players, however, i.e. Sprint (S) and T-Mobile (TMUS), don't have the financial firepower to build out competitive 5G networks.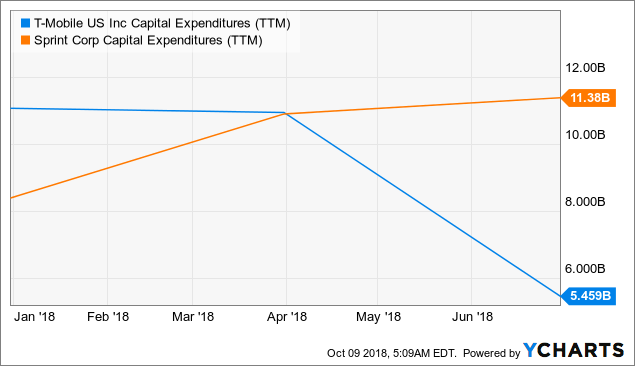 These two don't have the cash flows that are required to build out a sizeable 5G network, even together they spend less than Verizon alone. So, even if the merger between these two gets allowed down the road, they likely would still be left behind by AT&T and Verizon in terms of 5G network investments.
This will, I believe, result in customers moving from T-Mobile and Sprint towards Verizon and AT&T. Once the infrastructure is in place, there are only low variable costs for carriers such as Verizon for each additional customer, so higher customer numbers that drive Verizon's revenues could also positively impact its margins.
Earnings and cash flow growth outlook is solid, driven by cost-cutting efforts
Higher revenues and gross profits thanks to an increasing customer count that will be attracted by Verizon's technological progress is not the only way to grow profits. Verizon is also trying to cut expenses, which will positively impact Verizon's margins and earnings as well.
Verizon plans to cut $10 billion in operating expenses, among other measures management's plans include trimming the workforce. Verizon has not made such a move in more than 10 years, but it has recently announced an early-retirement program that has been offered to more than 40,000 of its employees.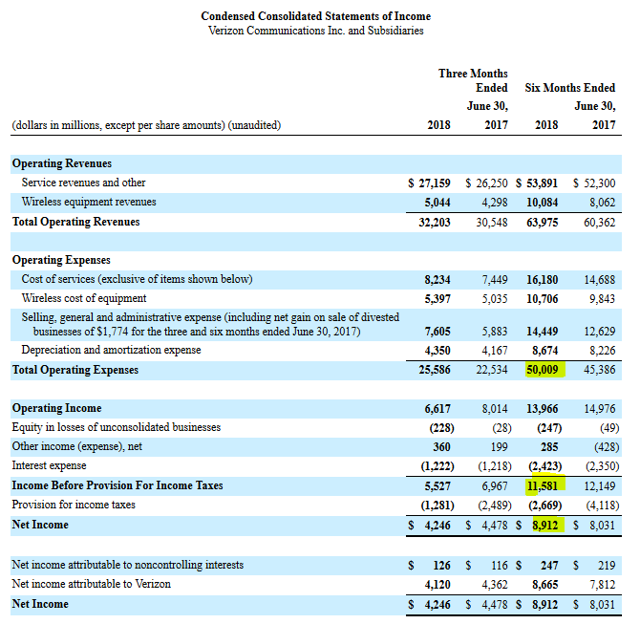 Source: Verizon's 10-Q filing
Verizon had operating expenses of roughly $50 billion during H1, so the annual run rate is ~$100 billion. Cutting $10 billion in expenses, therefore, means lowering costs by 10%. This is a somewhat aggressive target, but not an impossible one.
Verizon has earned $11.6 billion before taxes during H1, which equals a run rate of roughly $23 billion. If management is successful in lowering expenses by $10 billion, annual pre-tax profits would rise to $33 billion, all else equal. When we apply Verizon's tax rate of 23% (during H1 2018), we would get to ~$25 billion in annual net profits.
Verizon's investments into 5G networks, as well as the roll-out of the new technology, will likely lead to additional expenses, which is why I believe that the $25 billion net profit estimate is too optimistic. The combination of higher revenues thanks to new customers and lower expenses, coupled with the impact of a lower tax rate will nevertheless increase Verizon's profits substantially going forward.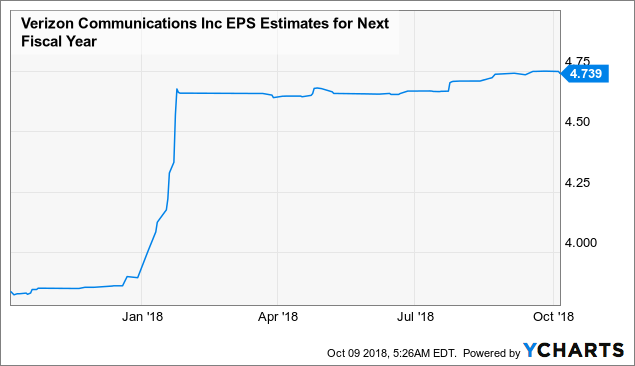 Analysts are forecasting $4.74 in profits per share during 2019, which equates to about $20 billion in net profits during 2019, based on a share count of 4.14 billion. Even if Verizon does not reach its $10 billion cost-cutting target, Verizon will still earn a lot of money over the coming years.
High dividend yield and a compelling total return outlook
The $4.74 target for Verizon's earnings per share seems realistic, and it implies two things. First, the dividend would be well covered, as the payout ratio would be just 51% (based on the current dividend of $2.41 a year). Second, Verizon's shares do not look expensive at the current level: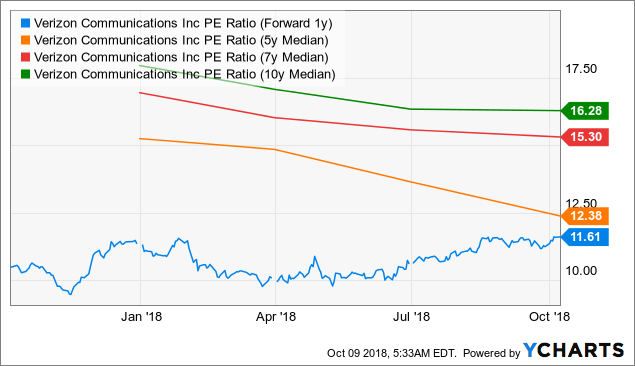 Shares trade with a P/E ratio in the low-double-digits, which is lower than the historical valuation. Even if Verizon's valuation rises to just 12.4 times annual earnings, its share price would still see a 7% tailwind over a little bit more than a year. If Verizon's valuation expanded more towards the 7- or 10-year median earnings multiple, its share price gain potential would be even larger.
A combination of a 7% share price gain over the coming 15 months (through the end of 2019), coupled with a dividend that yields 4.4%, would provide for an annual return of just above 10%. Verizon will not make you rich overnight, but returns like that are still compelling for long-term oriented investors. Due to Verizon's low volatility (the beta is just 0.65) and due to its inexpensive valuation, the downside risk seems limited as well, I believe.
Final thoughts
Verizon's strategy of investing in technology to establish a leadership position will pay off handsomely in the future, I believe. Cost-cutting efforts will be a bonus for Verizon's earnings growth.
The 4.4%-yielding dividend looks quite safe and due to an inexpensive valuation and the expected earnings growth over the coming quarters, Verizon has some share price gain potential as well.
Right here Verizon could be interesting for income investors as well as for total-return oriented investors, I believe.
Author's note: If you enjoyed this article and would like to read more from me, you can hit the "Follow" button to get informed about new articles. I am always glad to see new followers!
Disclosure: I/we have no positions in any stocks mentioned, and no plans to initiate any positions within the next 72 hours.
I wrote this article myself, and it expresses my own opinions. I am not receiving compensation for it (other than from Seeking Alpha). I have no business relationship with any company whose stock is mentioned in this article.