I never like to work too hard to understand an investment. So if a potential investment is too complicated or difficult to understand, I'd rather skip it and find something easier to figure out. That's why this area, partial spinoffs, is so attractive to me. Here is an area where boning up on first-grade math skills (especially subtraction) is the key to success.

Joel Greenblatt about Partial Spinoffs in You Can Be a Stock Market Genius
The Understanding
Sonae SGPS (OTC:SGPMY) has just published the announcement and prospectus for admission to trading of its subsidiary Sonae MC.
The price at which the shares will be sold is between EUR 1.40 and EUR 1.65, which evaluates the Sonae group's retail company between EUR 1.4 billion and EUR 1.65 billion (total shares outstanding will be 1.000 million shares).
The price at which the shares will be sold will be known on October 18 and the shares will be floated on the stock exchange on 23 October.
Sonae SGPS will sell 217.36 million shares, which corresponds to 21.7% of the share capital of Sonae MC. A percentage that could rise to as much as 25 percent, "if the over-allotment option is exercised in full," the release said on Thursday. In addition to this amount, Sonae also has the possibility to dispose of a further 87 million bonds, which, if confirmed, will increase Sonae MC's float to 33.7%.
Sonae MC intends to pay dividends between 40% and 50% of the profits obtained.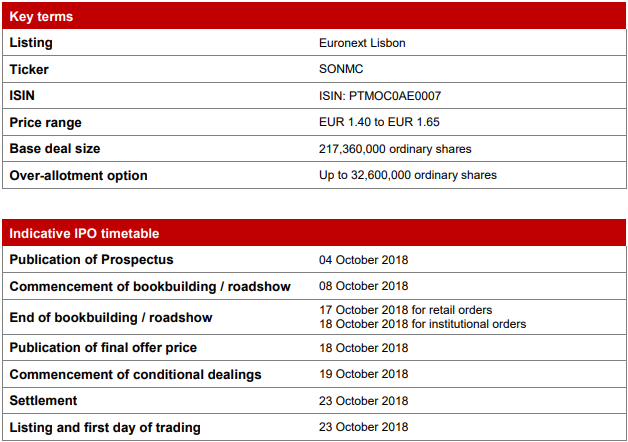 You can find the most recent roadshow presentation of Sonae MC here.
The Math
From the prospectus we can see that net debt of Sonae MC is 816 million euros. With an EBITDA of 301 million euros, Sonae MC will trade at an EV multiple of between 7,36x and 8,19x. These are reasonable multiples when compared with the 7x and 8x average of competitors.
But, if current market cap of Sonae SGPS is 1.609B and Sonae MC will have a market cap of between 1.400 and 1.650 million euros, what's the current discount of Sonae SGPS to its total NAV?
Sonae SGPS "Other Assets"1

Sonae Sierra (50% of current NAV)2

706

NOS (23,4% of Market Cap)

595

Worten, S&F and FS, IM (conservative valuation)

382

Net Debt (excl. Sonae MC Net Debt)3

451

Valuation for Sonae SGPS "other assets"

1.232

Sonae MC Est Market Cap

1.400

1.650

Sonae SGPS NAV

2.632

2.882

Sonae SGPS NAV per share

1,32

1,44

Sonae SGPS current Market Cap / per share

1.609 / 0,86

Current Market Cap to NAV

0,61

0,56
1 - Please check the valuation details in the former article.
2 - Sonae has recently increased in participation in Sonae Sierra to 70%, but to maintain calculations simple I have made no adjustments to Value and Net Debt.
3 - Sonae SGPS Net Debt (1267 mln) - Sonae MC Net Debt (816 mln)
Conclusion
Current market cap of Sonae SGPS is almost equal to the expected valuation of its subsidiary Sonae MC, which means that all of the other investments of Sonae SGPS are not being valued at zero. In total, this represent a discount to current NAV of between 39% to 44%.
Disclosure: I am/we are long SGPMY.
I wrote this article myself, and it expresses my own opinions. I am not receiving compensation for it (other than from Seeking Alpha). I have no business relationship with any company whose stock is mentioned in this article.
Editor's Note: This article discusses one or more securities that do not trade on a major U.S. exchange. Please be aware of the risks associated with these stocks.