Investment Thesis
The Recent correction in the share price of Dollarama may be a good entry point for rational investors. Although the stock price still looks expensive based on valuation multiples, we believe that it offers sufficient margin of safety for long-term investors. Our analysis is based on relatively conservative estimates compared to the Company guidance and Consensus estimates.
Our bullish view is based on Dollarama's ability to grow its revenue at a high pace by maintaining robust operating margins. We are confident over Dollarama's operating strategy to increase the number of stores over next decade. Given the current number of Dollar stores across Canada, we believe that there is still scope for a significant growth in overall Dollar stores in Canada. Given the market leading position and Retailing expertise of Dollarama, we expect it to capitalize the most on this potential. The next critical factor is the average revenue per store. The increasing product portfolio will lead to an increase in the average revenue per store. In addition, the acceptance of credit cards for payment will also boost the average revenue per store over near term.
We forecast the revenue growth to be c9% (compounded annual growth rate) over next 3 years, compared to the revenue of c12% (compounded annual growth rate) over 2015-18. Dollarama should be able to maintain robust operating margins driven by its asset light business model and efficient supply chain management.
Company Description
Dollarama is a leading discount retail operator in Canada. Currently It has around 1178 stores across the 10 provinces in Canada.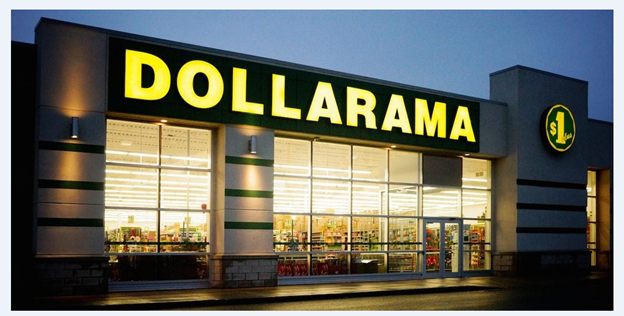 Confident yet Cautious on the operating strategy
We are optimistic about the growth outlook of Dollarama over the next decade. The revenue growth of Dollarama mainly hinges on its ability to grow the number of stores and the average revenue per store.
Currently Dollarama has around 1178 (by the end of July 2018) stores across Canada. It intends to increase the store count to 1700 by the end of 2027 implying an annualized growth of 4.7% over 2018-2027. Based on the performance history of Dollarama and potential for further growth in Western Canada, this does not look unreasonable. Dollarama has increased the number of stores at an annualized growth rate of 8.7% over last 7 years (2011-28).
Despite our confidence in Dollarama's ability to execute its operating strategy, we prefer to remain cautious while forecasting the growth in stores. We assume an annualized growth of around 3.7% for the growth in number of stores over the next decade. Our conservative view is based on the factors related to the competitive outlook (discussed later in the article).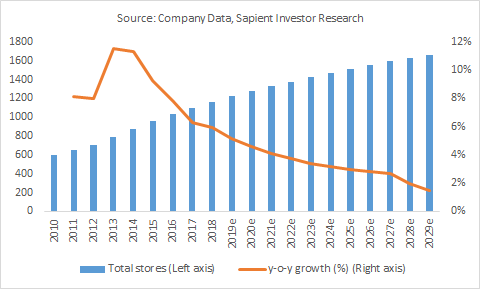 The average revenue per store grew by an annualized growth rate of 3.6% over last 7 years (2011-18). We assume the average revenue per store to grow at c3% over the next decade. This is based on several factors. Dollarama's acceptance of credit cards will boost the average revenue per store. Dollarama is catering to some Latin American markets through Dollar City stores. Currently Dollar City has 15 stores in El Salvador and Guetemala. Dollarama does not own the Dollar city stores. Dollarama supplies merchandise to these stores. This additional revenue will boost the average revenue per store for Dollarama.
The ability to increase the prices will also impact the growth in average revenue per store. Dollarama has been successful in increasing the price pints from around 1 dollar to 4 dollars over last decade. However, we believe this ability to increase prices to be limited by competition over long term due to competition.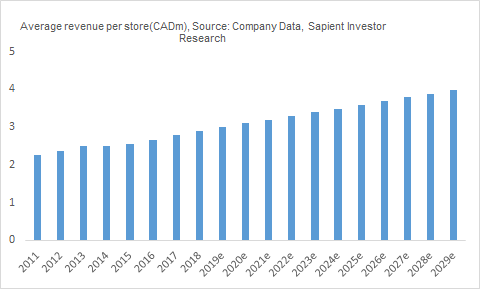 We do not see any major competitive threat to Dollarama from large discount retailers like Walmart given Dollarama's flexibility in operating with small store sizes. Walmart failed to compete with the Dollar stores in the USA due to its limitations in handling the supply chain management at a local level. The online discount retailers too did not pose any threat to Dollarama, so far. We observe that Dollarama still offers a better value for money for most of the price sensitive customers compared to Online retailers like Amazon. We believe that its prudent for Amazon not to compete with Dollarama as it will impact Amazon's margins negatively. Given the lean business model and supply chain efficiency, Dollarama has been able to maintain robust gross margins despite selling merchandise at a price below 4 Dollars. This segment of products priced below 4 dollars may not be an attractive market for online discount retailers. In addition, most of the customers in this segment will have a preference to visit the store and purchase the goods selling at a lower price.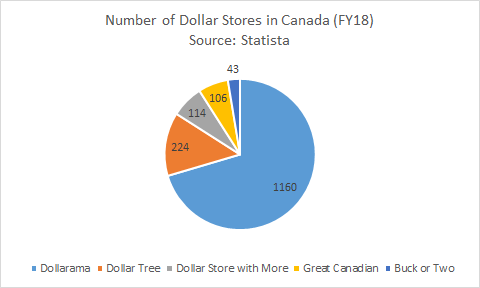 However, the expansion plans of other discount retailers like Dollar Tree and Miniso may be a threat for Dollarama's growth. Dollar Tree which is a major discount retail operator in USA, intends to increase its stores to 1000 (from around 200-300) in Canada over next few years.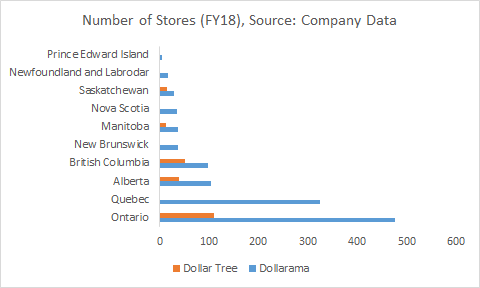 Another discount retailer Miniso has plans to rapidly expand over the next couple of years. Since the competitive advantage of all these companies lies in offering merchandise at low prices, it may be tough to improve the gross margins further. Therefore, we have been very conservative while forecasting the gross margins for Dollarama.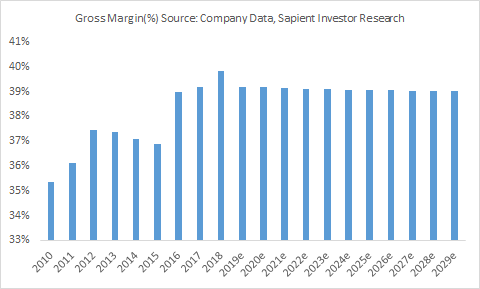 Dollarama has been successful in improving the EBITDA margin to 25.3% in FY18 compared to EBITDA margin of 15.3% in FY10. This shows the efficiency of Dollarama in managing the warehouses and distribution centre. Dollarama should be able to maintain robust operating margins over next decade as well.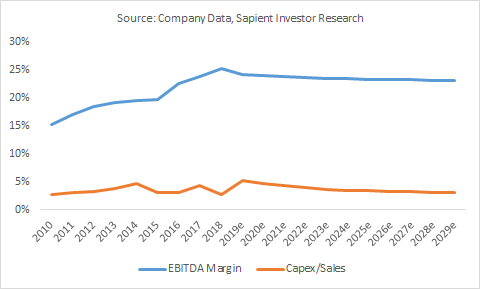 Valuation
Based on DCF, we derive a 3 year Forward Target Price of CAD60 (by the end of 2021) for Dollarama. This does not include the dividend payments. Our Target price implies an annualized yield of c15% over next 3 years. Our DCF is based on a WACC of 8.9% (Cost of Equity of 9.7% and Cost of Debt of 4%). Cost of Equity is determined based on Capital Asset Pricing Model. We used a Risk Free Rate of 2.5%, Beta of 1.3 and MRP of 5.5%.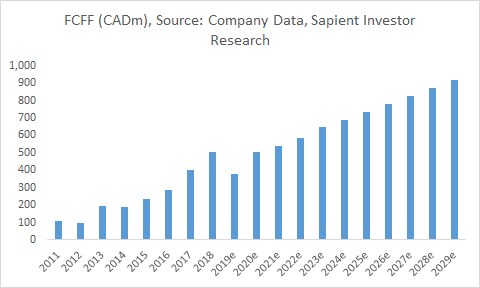 Risks to our Investment thesis
In the worse case scenario, the competitors may pose a serious threat to the gross margins of Dollarama by engaging in a price war. Exchange rate fluctuations may affect the profitability of Dollarama as weaker Canadian dollar may increase the prices of some imports.
Advice to Investors/Conclusion
Dollarama has grown at a very high pace over last few years. It has exceeded the consensus estimates consistently until last few quarters. So, majority of the investors of this stock may have very high expectations over the growth of this company. However, the past high growth may not be possible over future given the stage of the industry. You may be disappointed if you invest in this stock by expecting Dollarama to grow at its historical pace.
It is essential to have a long-term horizon and reasonable expectations while investing. We expect Dollarama to offer an annualized return of c15% over the next 3 years. However, given the unreasonable expectations of some investors, this stock may correct even more if the earnings results disappoint them. It is important to be patient and rational. The stock offers sufficient margin of safety below the share price of CAD45.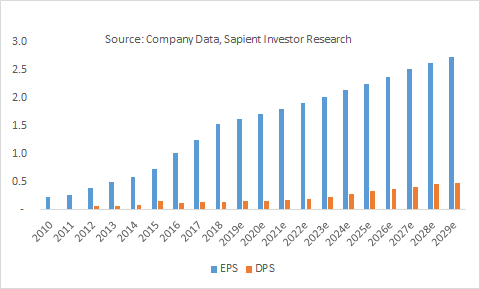 Disclosure: I/we have no positions in any stocks mentioned, and no plans to initiate any positions within the next 72 hours.
I wrote this article myself, and it expresses my own opinions. I am not receiving compensation for it (other than from Seeking Alpha). I have no business relationship with any company whose stock is mentioned in this article.
Editor's Note: This article discusses one or more securities that do not trade on a major U.S. exchange. Please be aware of the risks associated with these stocks.