REIT Rankings: Office
In our REIT Rankings series, we analyze each of the commercial and residential real estate sectors. We rank companies within the sectors based on both common and unique valuation metrics, presenting investors with numerous options that fit their own investing style and risk/return objectives. We update these rankings every quarter with new developments.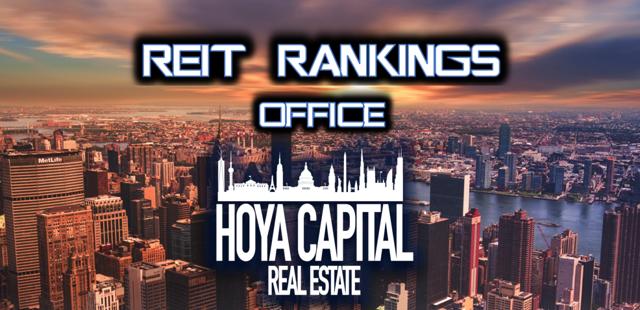 We encourage readers to follow our Seeking Alpha page (click "Follow" at the top) to continue to stay up to date on our REIT rankings, weekly recaps, and analysis on the REIT and broader real estate sector.
Office Sector Overview
Office REITs comprise roughly 10-15% of the REIT Indexes (VNQ and IYR). Within the Hoya Capital Office REIT Index, we track the 18 largest office REITs, which account for roughly $110 billion in market value: Boston Properties (BXP), Vornado (VNO), Alexandria (ARE), SL Green (SLG), Kilroy (KRC), Douglas Emmett (DEI), Hudson Pacific (HPP), Highwoods (HIW), JBG Smith (JBGS), Cousins (CUZ), Equity Commonwealth (EQC), Paramount Group (PGRE), Brandywine (BDN), Empire State Realty Trust (ESRT), Corporate Office (OFC), Piedmont Office (PDM), Washington REIT (WRE), and Mack-Cali (CLI).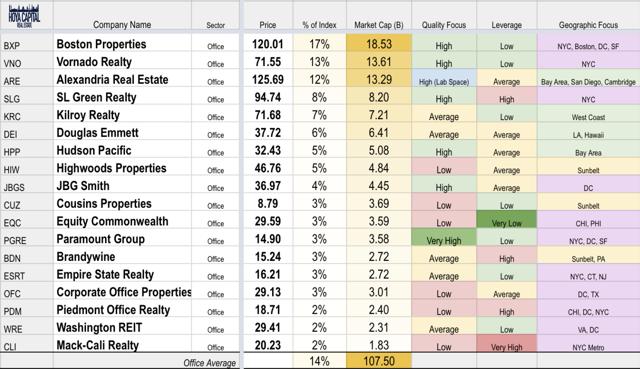 Office REITs tend to hold assets in the higher-tiers of this quality spectrum relative to the national average, holding nearly a quarter of all Class-A office buildings in the United States. As a whole, office REITs tend to be concentrated in coastal "gateway" markets, where post-recession job growth has been strongest. Office REITs are classic Growth REITs, exhibiting a lower degree of interest-rate-sensitivity and higher degree of economic sensitivity than the REIT sector average.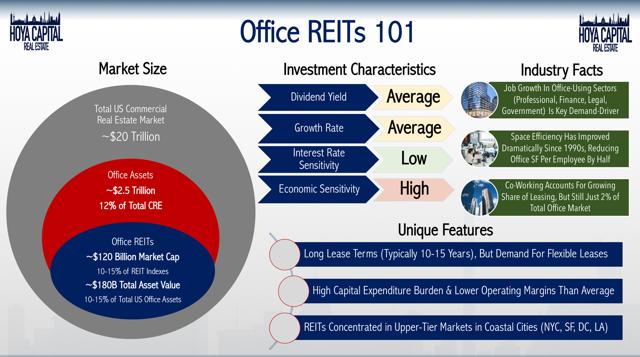 Leases for high-quality office space tends to be relatively long-term at 5 to 15 years, so the office REIT sector tends to outperform later in the cycle as below-market leases get reset to higher rents. Office ownership is a tough, capital intensive business with relatively low operating margins and high capex needs as tenants tend to have quite a bit of negotiating power relative to landlords, particularly given the ample available supply. Given the high degree of fixed costs incurred in managing an office property- whether fully occupied or mostly vacant- operating leverage is quite high. Thus, small changes in occupancy and market fundamentals can have significant positive or negative impacts on performance.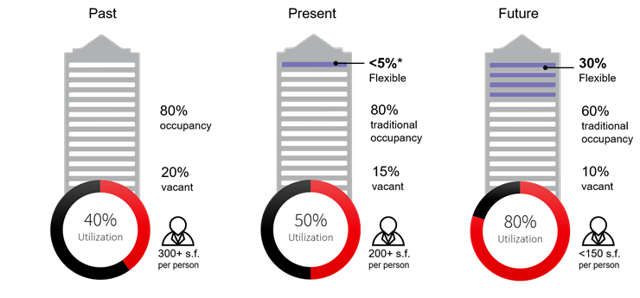 (Source: JLL Co-Working Report)
Gains in space efficiency per work has been the most significant headwind for the office REIT industry over the last three decades. Since the 1990s, the amount of square footage per worker has been cut in half, a function of improvements in communications technology and changes in work culture and floor layouts. Co-working firms like WeWork dominate the headlines, their impact had been largely irrelevant until just the past several quarters, still accounting for less than 2% of the total office market. Flush with venture capital cash, however, many co-working firms have been on a leasing spree in 2018, accounting for half of total leasing volume so far this year, helping to buoy an otherwise lackluster year for office absorption. Co-working and other forms of "flexible workspace" is generally expected to grow as a share of total office square footage over the next decade but will likely be a net positive for office owners and lead to lower "natural" occupancy rates in high-quality buildings.
Bull and Bear Thesis for Office REITs
Job growth as historically been the most significant determinate of office market fundamentals, and we're in the midst of the best labor market recovery in US history. Because of their long lease terms, office NOI growth tends to lag the broader economy and outperform later in the real estate cycle. NOI accelerates late in the cycle as leases are reset to market rates, captured by a leasing spread that can exceed 30%. As a result, office REITs are finally beginning to feel the full effects of the post-recession period of strong job growth. Demand for office space has been strong since 2013, a result of the solid employment growth in the US, particularly in the office-using services sectors.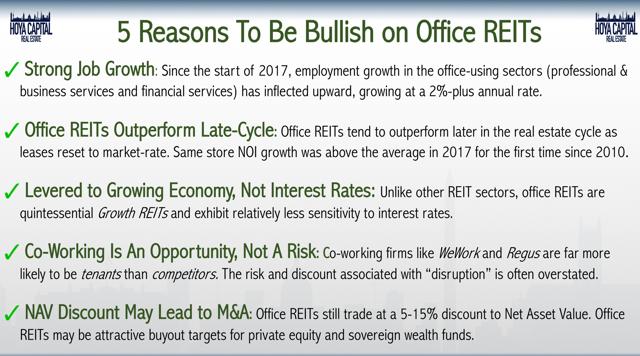 The other side of the supply/demand pendulum has been less favorable for office REITs. The 'bear' thesis for office REITs tends to focus on high-levels of recent supply growth, the sector's historical underperformance, and idiosyncratic issues that are specific to the sector. Construction of new office assets essentially shut down in the aftermath of the recession but has come roaring back since 2014. Supply growth is expected to peak between 2017 and 2018 and should average 2% of existing supply per year. Unfortunately for office REITs, oversupply has emerged as a significant issue in recent quarters as a sizable percentage of this new supply is specifically concentrated in the coastal gateway markets. Naturally, office projects tend to face less "political" resistance than other commercial projects during the permitting and zoning process, removing a key regulator of new supply growth that has benefited other real estate sectors. Efficiencies in office layouts and the increased use of remote working have also decreased the average space leased per worker.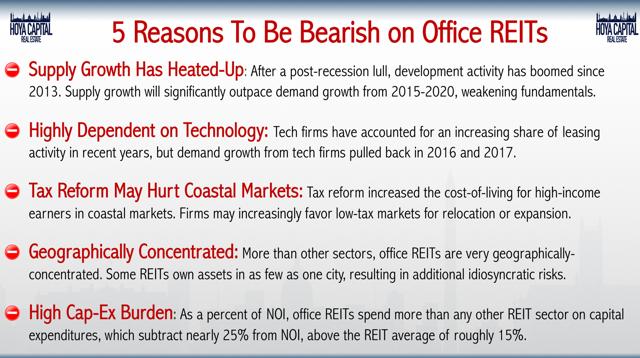 Recent Stock Performance
The post-recession period has been unkind to the office REIT sector, which has outperformed the REIT index in only one year since 2009. Since the start of 2007, only the shopping center sector has produced a lower total return. The combination of disappointing internal growth and a persistent NAV discount has left the sector with a limited toolbox on which to grow the business. REIT investors now also have a greater awareness of the negative impacts of capital expenditure needs that encumber the office sector. Office REITs produced a total return of 5% in 2017, matching the return of the broader REIT index.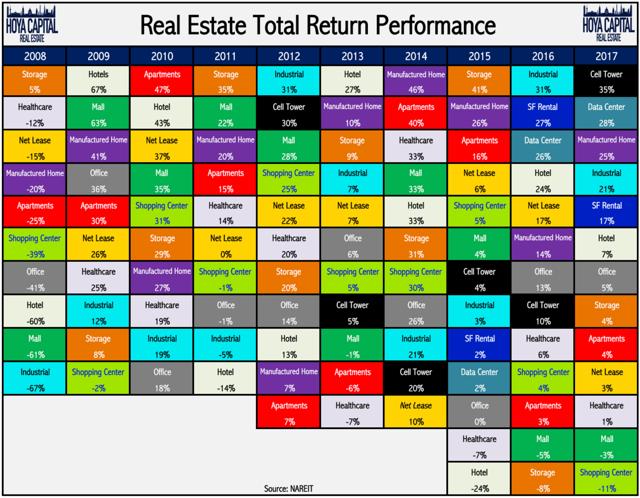 Despite a record 94 consecutive months of job growth, office REIT performance continues to be lackluster. The sector, which theoretically should outperform other real estate sectors during periods of rising rates and strong economic growth based on historical trends, has actually underperformed the broader REIT average this year despite the surge in the 10-Year yield. The sector has declined nearly 5% this year compared to the 4% decline in the real estate average.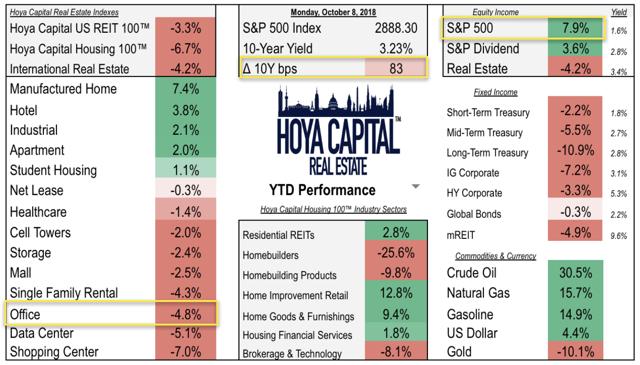 The top performer within the sector has been JBG Smith, which benefited from speculation that Amazon (AMZN) will choose the DC region as their home for their "HQ2." Each of the other seventeen office REITs are in negative territory in 2018, led to the downside by Empire State Realty Trust and Brandywine. Positively, over the last month, the sector has outperformed the REIT average by nearly 200 basis points amid a jump in the 10 Year yield.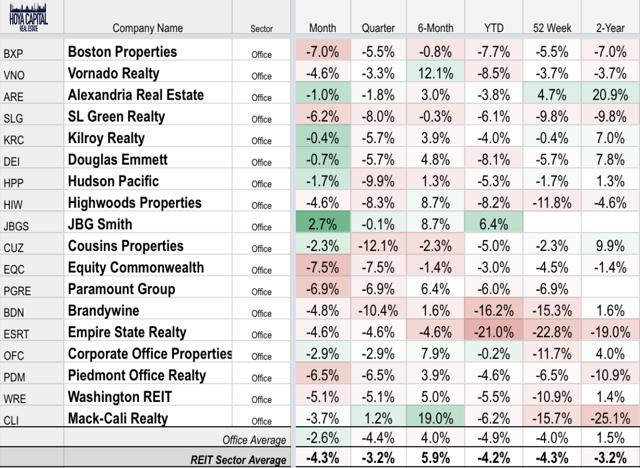 Quarterly Earnings & Recent Developments
Reflecting the trends seen in the broader commercial real estate sector, the war continues to be waged between high levels of demand and even higher levels of supply. Job growth continues to exceed expectations across nearly every metric, yet fundamentals continue to be disappointing as supply growth overwhelms any and all demand gains. The story of 2018, surprisingly, has been the impact of co-working. Largely irrelevant until this past year, flexible workspace providers accounted for more than half of leasing volume in the first half of 2018. The expansion of this still small segment of the office market has provided a much-needed tailwind after net absorption peaked in 2015 and has gradually tailed off over the last three years.
2Q18 earnings were generally in line with expectations. Overall, same-store NOI growth and leasing spreads continue to moderate after peaking in 2016 as supply growth has put upward pressure on vacancy. Bucking the national trends in the office markets, however, same-store occupancy stayed firm at 93%. Tech-focused West Coast markets continue to outperform, producing SSNOI growth 5.1% compared to the East Coast/Midwest at 3.1% and the Sunbelt at 1.1%. Despite recent improvement, DC and NYC fundamentals continue to be soft due to the supply overhang.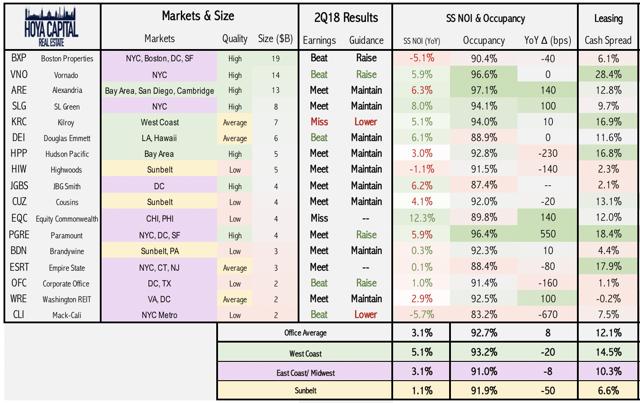 A result of longer-than-average lease terms, the later stages of the economic cycle is typically the time in which office REITs outperform. Seven years into the recovery, office REITs finally outperformed the REIT sector last year on the same-store NOI growth metric, but the good times didn't last long. Per the NAREIT T-Tracker, same-store NOI growth averaged 1.7% in 2Q18 on a trailing twelve month basis, slowing from the 3.5% rate in 1Q18 and is now back below the REIT average of 2.7%. That said, we do expect office REIT same-store NOI to modestly outperform the broader sector over the next several years on as well-below-market leases that were signed during the recession are reset to prevailing rates.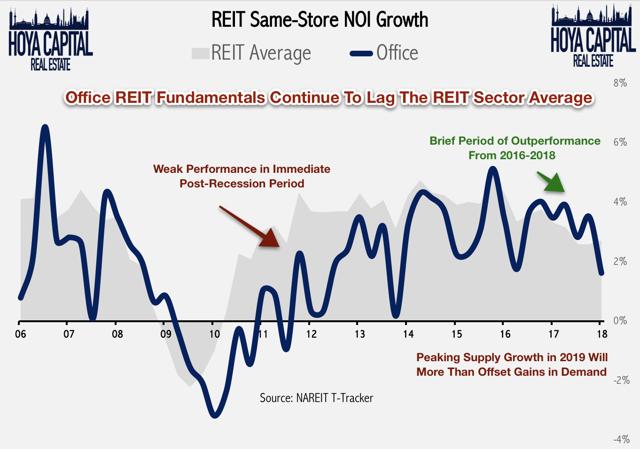 As discussed, individual office REITs tend to be more geographically-concentrated than REITs in other sectors, so there is significant variability in the performance of each REIT. Over the last seven years, West Coast and tech-focused REITs have averaged nearly 6% SSNOI growth compared to 2.2% in the East Coast and Midwest markets and 5% in the Sunbelt market.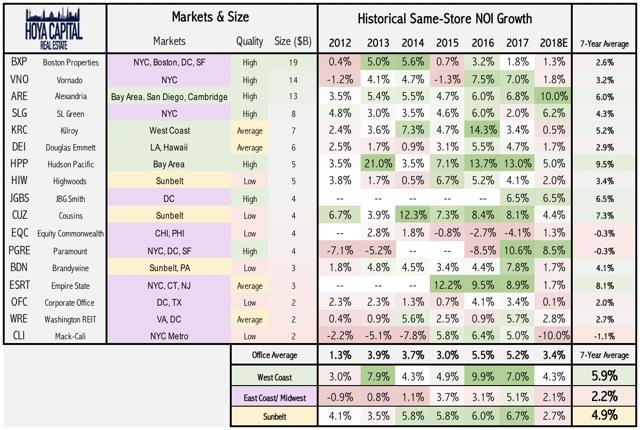 Deeper Dive: Supply & Demand Fundamentals
Demand has been powered by strength in the US labor markets, as job growth continues to exceed even the most optimistic of economists' projections. The private "white-collar economy" has outpaced the broader economy in terms of employment growth over the past five years. Employment in the "professional and business services" category has increased nearly 20% since the start of 2012 and "financial activities" has increased more than 10%. That said, public/government hiring, another key source of office-using jobs, has seen stagnant growth since the start of the recession, particularly impacting the DC market.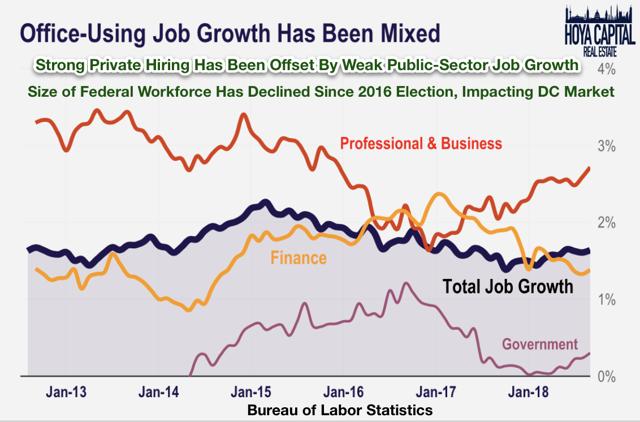 While demand has been solid, relentless supply growth over the past several years has weakened fundamentals. According to JLL's Q4 2017 Office Outlook, new supply will outpace incremental demand from 2016 until at least 2019. More than 60 million square feet of space will be delivered in 2017 and 2018, the highest quantity of supply growth on record. Developers are finally pulling back from new projects, however. In 2017, new starts were 30% lower than the prior year, which indicates that supply growth should begin to tail-off by 2020.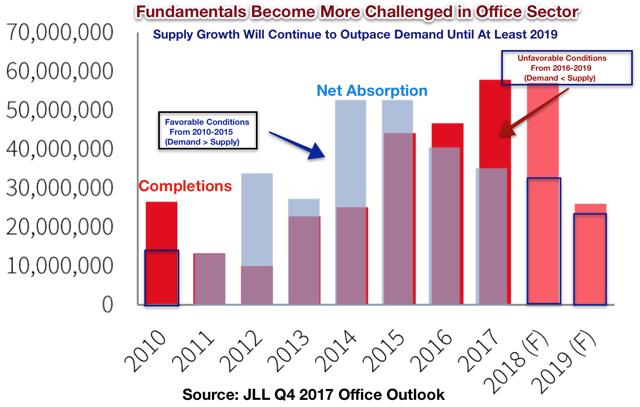 Capital Markets & External Growth
The internal development pipeline from REITs themselves illustrate the boom in construction activity that began in 2013 and is expected to continue until at least 2019. Development yields continue to be favorable as private market valuations have remained steady despite the significant selloff in the REIT markets. According to T-Tracker data, the office development pipeline stands at nearly $12 billion, up sharply from the 2012 level of $2 billion. As same-store fundamentals moderate, development yields will be an increasingly important source of AFFO growth for many REITs as these projects reach completion in 2018 and 2019.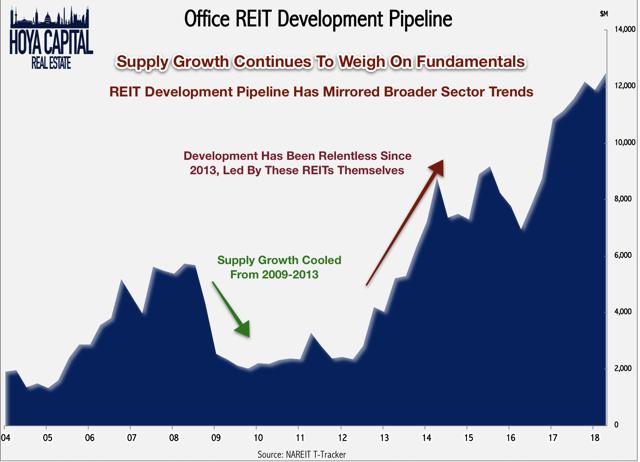 Buoyed by the so-called "wall of capital" of private equity and sovereign wealth funds, private market valuations of office assets in gateway markets remain firm despite the selloff in REIT markets. Office REITs have been net sellers of assets since the start of 2016 as NAV discounts have widened and persisted into 2018. Office REITs are attractive M&A targets for large private equity funds that are seeking a "turn-key" office portfolio rather than buying individual assets.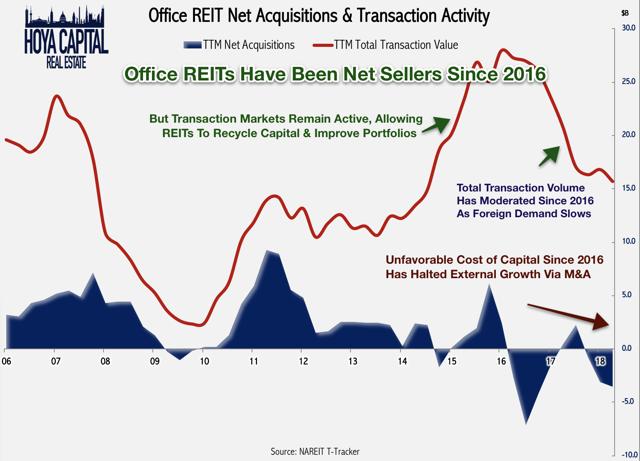 Valuation of Office REITs
As has been the case for most of the past five years, Office REITs are one of most expensive sectors across most cash flow metrics. Based on current and forward Free Cash Flow multiples (aka AFFO, FAD, CAD), office REITs are the third most expensive REIT sector. When we factor in two-year growth expectations, though, the sector appears slightly more attractive. As discussed above, office REITs now trade for a 5-15% discount to NAV, still near the widest discount of the post-recession period.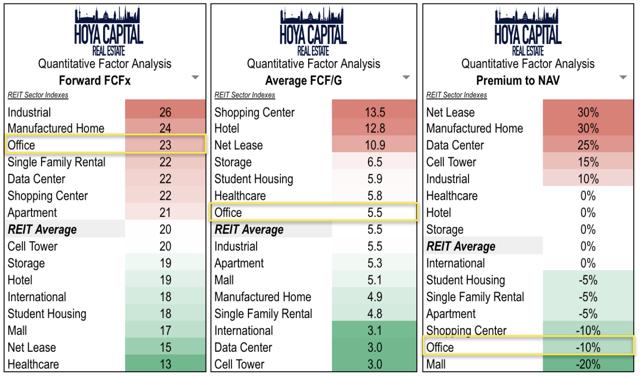 Sensitivities to Equities and Interest Rates
As a sector, office REITs are quintessential Growth REITs. Office REITs are one of the most equity-like REIT sectors, historically exhibiting very limited interest rate sensitivity and responding instead to movements in the broader equity markets. This level of pro-cyclicality is fairly unique within the REIT sector, shared by the hotel, single-family rental, and mall sectors. As discussed, the underperforming this year amid rising interest rates and strong equity markets is a bit perplexing based on historical trends.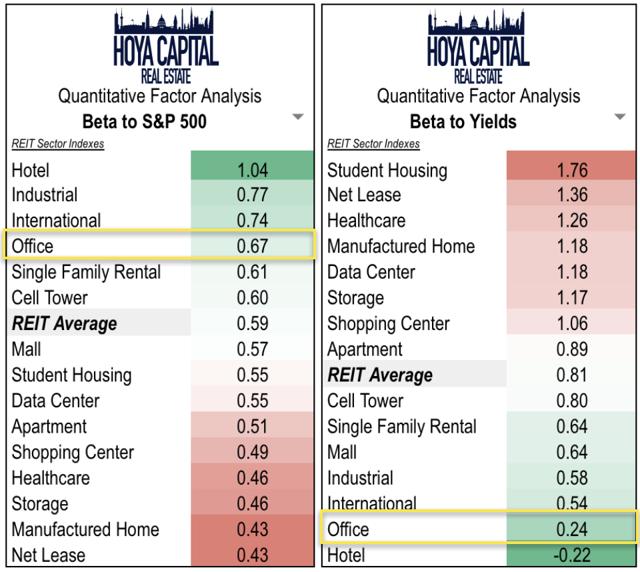 Twelve of the eighteen office REITs fall into the Growth REIT category, while Highwoods, JBG Smith, Equity Commonwealth, Empire State Realty, Piedmont, Washington REIT, and Mack-Cali fall into the Hybrid or Yield REIT category.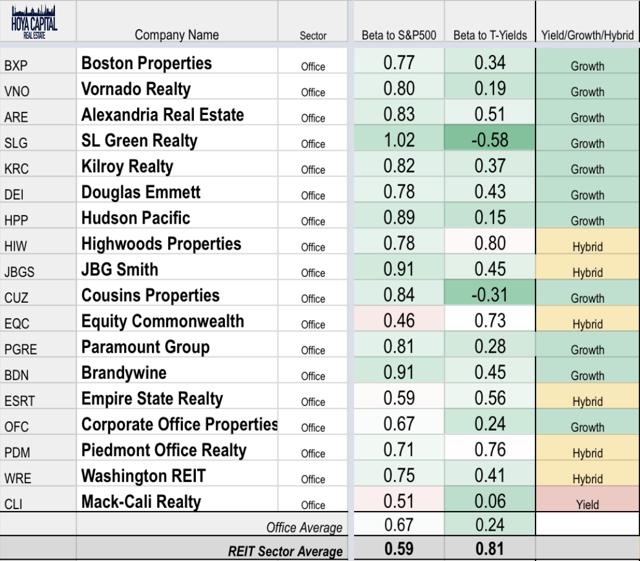 Dividend Yield and Payout Ratio
Based on dividend yield, office REITs rank towards the bottom, paying an average yield of 2.6%. Office REITs pay out 77% of their available cash flow, leaving a sufficient buffer for potential external growth if or when the NAV premium is restored.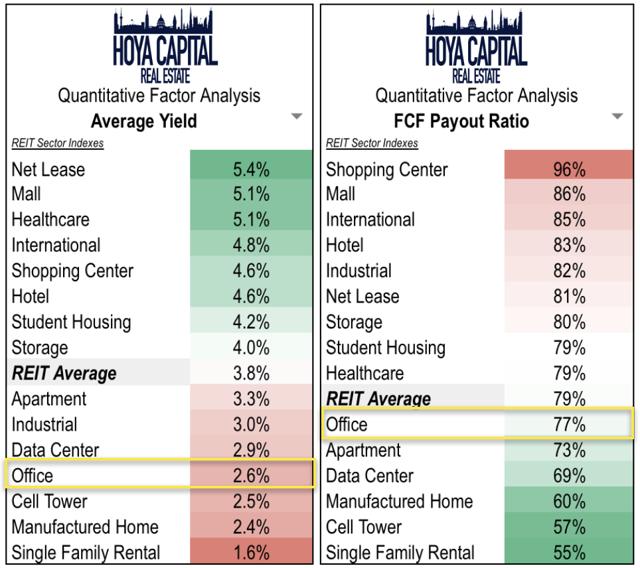 Within the sector, we note the varying strategies of the eighteen REITs. In general, the smaller REITs pay heftier dividends than the larger REITs. Piedmont, Washington REIT, Mack-Cali, and Brandywine are the only REITs paying a yield higher than the broader REIT average.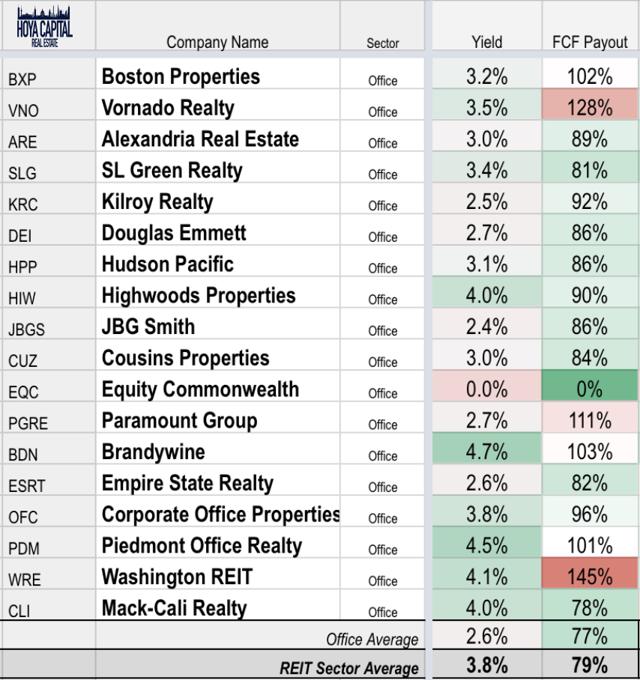 Bottom Line: WeWork To The Rescue
Given the backdrop of 94 consecutive months of job growth, office REITs should be having their time in the sun. Instead, fundamentals remain disappointing as supply growth negates solid demand. Spurred by sky-high valuations, developers have added supply at a frenetic pace since 2013. Supply growth continues to be an issue in coastal markets after rent growth peaked in 2015. Supply growth will significantly outpace net absorption over the next two years, further pressuring occupancy and leasing spreads. Positively, supply growth is poised to drop tail off significantly after 2019.
Second quarter earnings were broadly in-line with expectations as occupancy and rent growth held firm. West Coast REITs continue to be the bright spot for the sector. Co-working continues to be the sector's "boogyman." Ironically, the rapid expansion of these firms has provided a much-needed demand tailwind, responsible for half of total office leasing in 2018.
To see where office REITs fit into a diversified REIT portfolio, be sure to check out our other REIT Rankings: Healthcare, Net Lease, Malls, Industrial, Single Family Rentals, Data Center, Apartments, Cell Towers, Manufactured Housing, Industrial, Shopping Center, Hotel, Office, Industrial, Storage, Homebuilders, and Student Housing.
Please add your comments if you have additional insight or opinions. Again, we encourage readers to follow our Seeking Alpha page (click "Follow" at the top) to continue to stay up to date on our REIT rankings, weekly recaps, and analysis on the REIT and broader real estate sector.
Disclosure: I am/we are long VNQ, SPY, BXP.
I wrote this article myself, and it expresses my own opinions. I am not receiving compensation for it (other than from Seeking Alpha). I have no business relationship with any company whose stock is mentioned in this article.
Additional disclosure: All of our research is for educational purposes only, always provided free of charge exclusively on Seeking Alpha. Recommendations and commentary are purely theoretical and not intended as investment advice. Information presented is believed to be factual and up-to-date, but we do not guarantee its accuracy and it should not be regarded as a complete analysis of the subjects discussed. For investment advice, consult your financial advisor.