Perhaps it's because of my background having spent 6 years working in manufacturing in my early 20s, I tend to view the employment reports from a different perspective.
In manufacturing, there are short-term booms and busts and there are longer-term trends of boom times and bust times. I experienced them all when working at what was America's largest privately held printed circuit board manufacturer, Photocircuits.
Note: The company went out of business in 2007.
In the short term booms and busts, the rate of overtime swung substantially. In the longer term booms and busts, it was hires and layoffs that would swing.
It was always the manager's job to best manage the hours required for the work to be done. Work was always measured on a total hours basis.
At the same time, it was the manager's job to constantly find ways to increase the productivity of work that could be done per hour and for the least amount of cost.
So with that said, whenever the employment report comes out, I want to take the total number of employees and multiply that by the average weekly hours worked to come up with a rate of change in the aggregate hours worked.
Average Weekly Hours
Cutting right to the chase, average weekly hours for all private workers were as follows:
September 2017 Not seasonally adjusted: 34.3
September 2018 Not seasonally adjusted: 34.8
The average workweek increased a half hour year over year.
This is a blatant short-term boom in the economy as hours worked are jumping fast.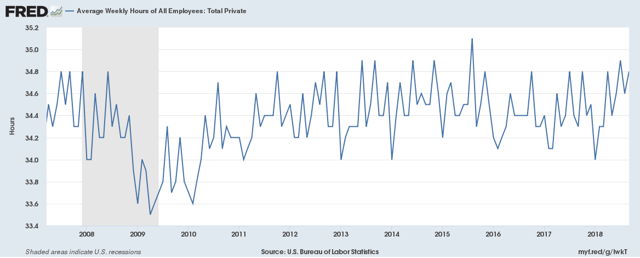 Note: Not seasonally adjusted
The change from a year ago is as follows: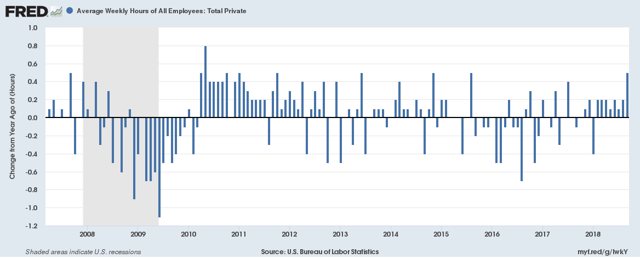 We have been seeing increases in weekly hours worked year over year since February. September saw the biggest jump this year yet.
From a quarterly perspective, the rate of change was the highest in 6 years!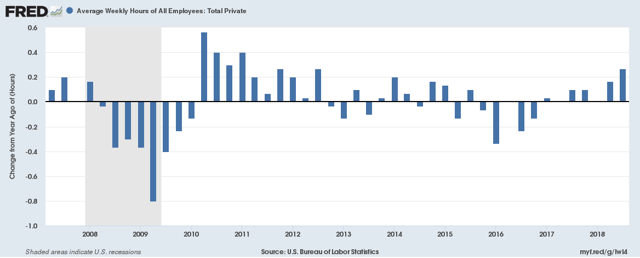 The strong growth in average weekly hours is an unsung economic metric that deserves more attention in the employment reports.
Combining Hours And Employees
It's important to also account for the combination of the number of employees working to get an aggregate number of hours worked.
We get this by multiplying the total number of Nonfarm payrolls by the average weekly hours worked (not seasonally adjusted) and then calculating the percent change from a year ago.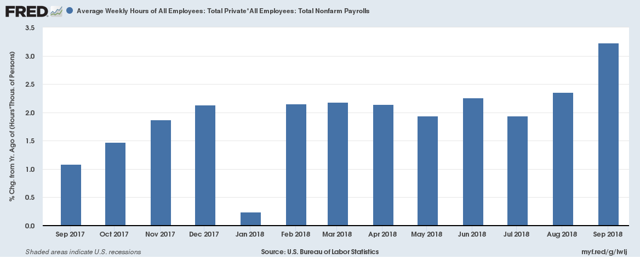 Just look at how much September has stood out from a percent change year-over-year basis in terms of aggregate work hours done.
I trust that managers across America were asking their employees if they could stay late or come in early in September. Perhaps they still are.
10-Year Treasury Yield
When viewed from this perspective, our economy is humming and demand for capital should follow.
That demand should be met with higher rates of interest that would be willing to be paid for the opportunity to invest in the current economic environment.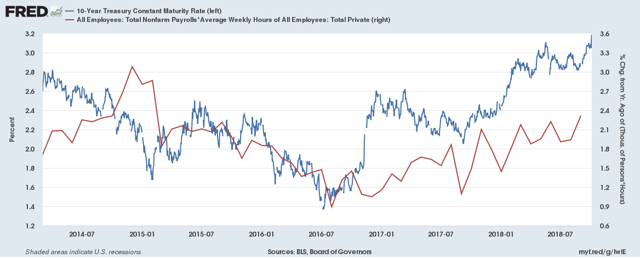 In the chart above, the 10-year treasury yield is in Blue and on the left scale. The rate of interest is currently 3.22% and rising.
The rate of change in aggregate hours worked (seasonally adjusted), in Red and on the right scale, is also on the up and shown to reflect that both have more or less trended up and down together over the last 4 years or so.
Until the employment growth slows down, expect rates to continue to potentially move higher still yet.
Weekly Earnings
Anyone who works for a wage knows full well, the more hours you work, the higher your paycheck is going to be.
So as weekly hours have been rising year over year every month since February, American's weekly paychecks have been growing at a faster rate than their wages.
Weekly earnings (Red Line) grew 3.35% in September year over year while hourly wages (Blue Line) grew 2.75%.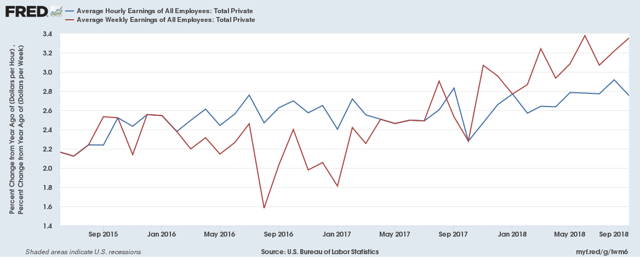 Conclusion
Higher yields in the 10-Year Treasury are warranted. While stocks are pulling back on concerns over higher interest rates, stocks should also remain strong and elevated on account of the strong economy.
I would be more worried about the US share market for corrections if and when both labor growth slows and yields start falling that would reflect less demand for capital.
Have high expectations for 3rd quarter GDP growth. The other factor that contributes to GDP growth is our output per hour worked. I'll discuss that in my next article.
Disclosure: I/we have no positions in any stocks mentioned, and no plans to initiate any positions within the next 72 hours. I wrote this article myself, and it expresses my own opinions. I am not receiving compensation for it (other than from Seeking Alpha). I have no business relationship with any company whose stock is mentioned in this article.