We were of the opinion last May and June that the Atlantic hurricane season would be weaker than normal and that no major hurricane would impact Florida agriculture this year or be a detriment to oil and natural gas refineries in the Gulf, like it was a year ago with Hurricane Harvey. We have sort of been half right. Cool ocean waters off the coast of west Africa combined with a potential weak El Nino have prevented a major hurricane from hitting the U.S., until now (Hurricane Michael). Of course, Florence brought catastrophic flooding to the Carolinas, but luckily was only a category one at landfall.
The reason for the explosive development of Hurricane Michael has to do with two climatological features: 1) The MJO; 2) The Loop Current.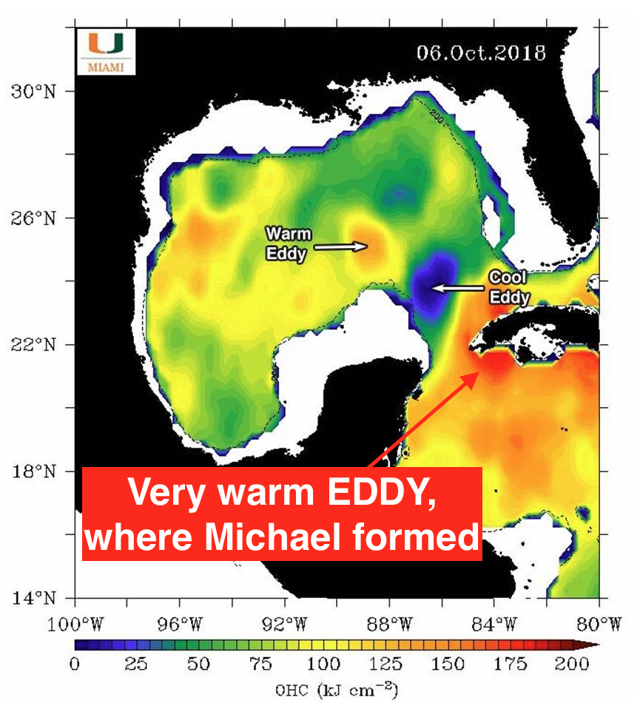 Loop current (above)
SOURCE: WEATHERUNDERGROUND AND JIM ROEMER
As far as impacts on commodities and equities, I see little effect on both the crude oil (Co) or natural gas market (UNG). These two commodities have been exploding in part due to tighter supplies and technical considerations. Natural gas supplies are the lowest since 2005 when prices soared to over $15. Hence, traders are "building in" winter premium. With well under 4.0 trillion BCFs in natural gas ahead of winter, this reality has created a stellar rally the last few weeks. Recent extreme heat in the south and cold weather coming to much of the Plains, Midwest and eventually the Northeast has helped this market soar. However, Hurricane Michael will weaken demand in the short term, so prices of natural gas could top out soon. Our Climatelligence weekly report will soon have a winter outlook that will be "critical" to both the natural gas market and for heating oil spreads. Cotton (BALB) could be a market that will explode further, not just on the hurricane but also due to potential crop damage from too much rain in west Texas and a potential lower Indian crop. You can find out a lot more about Hurricane Michael here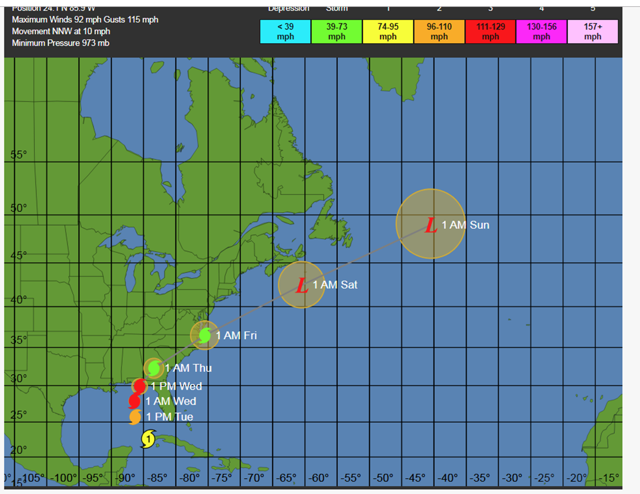 HURRICANE MICHAEL TRACK AND PROJECTED WIND SPEED
SOURCE: WEATHERUNDERGROUND
One of the biggest commodity movers over the last couple of weeks has been coffee (BJO). In fact, in our last Seeking Alpha report a couple of weeks ago, we mentioned a buy in this market and that prices should bottom soon. Our sentiment of a reversal in this market was due to our feeling of a lower Brazilian crop this next year and our expectation of a bottoming in the Brazilian Real. The Brazilian Conservative party candidate Bolzonaro rose to victory last weekend, even though he was sitting in a hospital recovering from stab wounds. Nuts. Though, weather is only a partial factor in coffee currently and we painted a more bullish outlook. The MJO weather phenomenon has not only helped to strengthen Hurricane Michael, but will also bring much more important rains to Brazil coffee areas next week. Hence, for now, we are happy with the run up in coffee and suggest short-term traders book profits per our buy recommendation a couple of weeks ago.
Disclosure: I/we have no positions in any stocks mentioned, and no plans to initiate any positions within the next 72 hours.
I wrote this article myself, and it expresses my own opinions. I am not receiving compensation for it (other than from Seeking Alpha). I have no business relationship with any company whose stock is mentioned in this article.