Full Disclosure First
Motorhead, as the pseudonym suggests, is mainly an investor specialized in automotive stocks, and has written several articles on Seeking Alpha about Tesla. We are not pharmaceutical experts, but have invested in certain healthcare stocks over the past 14 years. With that in mind, please forgive (or correct) any misconceptions in our assumptions within this report.
However, do note the details we have gathered for this report from our frequent visits to Japan, where the EPA-based drug, Epadel (sold only in Japan, but similar to Amarin's (NASDAQ:AMRN) Vascepa), developed by Mochida Pharmaceutical (4534 JT), has been used by Japanese dyslipidemia patients for the past 28 years. America and the rest of the world is just beginning to realize the benefits of EPA-based dyslipidemia treatments (see the Mayo Clinic's review here). Much of the information below is probably not factored into the Street's estimates, and possibly not in US institutional investors' forecasts.
Why The Street's 2019 Estimates Are Misinformed And Too Low
On Amarin's September 24th conference call, CEO John Thero said that fish-oil EPA supply is the most important factor in rolling out Vascepa in greater quantities after the strong Reduce-It trial results were announced. This is obvious, as the key ingredient in Vascepa, is fish-oil EPA. The Reduce-It trial results showed 25% risk reduction (versus 20% to 25% for Pfizer's (NYSE:PFE) Lipitor) and zero safety risks (versus roughly 6% for Lipitor).
Amarin's patent on Vascepa is good until 2029. Our estimates discussed below are based on peak sales of $10.7bn by 2022, as the drug is already on the market and simply got ratified by the powerful Reduce-It trial results.
On the September 24th conference call post-data announcement, Amarin's CEO John Thero noted that, as of now, the three suppliers from which Amarin sources its fish-oil EPA have enough supply for roughly $1bn worth of sales in 2019. Nevertheless, 2019 consensus revenue estimates for Amarin are only $413m. What John Thero did not mention on the call is that Nippon Suisan (1332 JT), or better known as "Nissui" in the Japanese stock market, has 420 tons worth of annual high-grade EPA supply, solely aimed for the further roll-out of Amarin's Vascepa. This is public information in Japan.
Nissui spent $82m over the past two years to build a second EPA factory for the sole purpose of supplying Amarin with high-grade fish-oil EPA for Vascepa. They took the risk of plunking down this amount of investment (20% of total capex at Nissui over the past two years) before last month's Reduce-It trial results were announced, because they knew the results would be better than expected.
This is because Nissui supplies Mochida Pharmaceutical with pharmaceutical EPA for its Epadel treatment (much like Vascepa, but only sold in Japan) and Mochida held a Japan-only trial, called JELIS, where results showed that healthy Japanese patients (who have a higher fish intake in their diets than non-Japanese patients), showed a 19% risk reduction. Amarin's Reduce-It trial showed a 25% risk reduction on mostly American patients.
Nissui now has two EPA factories in Japan and, given our talks with Nissui, they could provide enough high-grade EPA supply to get Amarin's revenues up to $2bn in 2019 or early 2020, versus the Street's estimates of only $413m in 2019 and $664m in 2020.
Japan Has Been Using Vascepa-Type Treatment for 28 Years
Japan's Mochida Pharmaceutical developed the drug Epadel, which uses fish-oil EPA to treat patients with high risks of cardiovascular events, much like Vascepa. Mochida's Epadel is only sold in Japan because it didn't have the money to conduct clinical trials in the US or other larger countries, but was co-developed by Nissui. In the fiscal year ending in March 2012, Mochida's Epadel had peak sales of $481m, before the government began cutting its price (socialized medicine in Japan leads to annual price cuts) and generic makers entered the market after patent expiry. Keep in mind that Vascepa's patent is good until 2029.
Because of the Japanese government's annual price cuts and the advent of generics, sales of Epadel in Japan have halved, as have Nissui's sales of pharmaceutical EPA. Nissui's Fine Chemical Division, where the EPA for Mochida's Epadel is produced, also produces non-pharmaceutical EPA for supplements and health food products. This factory has annual EPA production capacity of 400 tons, but during peak sales of its pharmaceutical EPA to Mochida, used 51% of its capacity to ship pharmaceutical EPA to Mochida.
Nissui no longer discloses its pharmaceutical EPA sales, but Table-1 below shows both Epadel sales during the time Nissui did disclose its pharmaceutical EPA sales data, and the percentage of Epadel revenues made up by Nissui's sales to Mochida for Epadel. It coincides with Mochida's peak sales of Epadel and, in other words, translates into the cost of sales for Mochida's Epadel treatment based on Nissui's pharmaceutical-use EPA sales to Mochida.
This could be a clue as to roughly how much Amarin could be paying for its EPA supply, albeit, prices of Epadel at the time were quite high, as the JELIS trial results in 2005 (conducted on over 18,000 Japanese-only patients, who had higher fish intake in their diets than non-Japanese and mostly had low cardiovascular risks) expanded prescriptions of Epadel in Japan due to the 19% risk reduction data from the JELIS trial results (Reduce-It, showed 25% risk reduction).
Table-1: Mochida's Epadel Sales And Nissui's Pharmaceutical EPA Sales (In Yen, Millions)

Source: Company data
The Math Behind Our Estimates Of $2bn In 2019 Amarin Revenues
At current exchange rates, Epadel's peak sales in fiscal March 2012 (FY3/12) came to $337m, while Nissui's pharmaceutical EPA sales amounted to $119m. At the time, Nissui only had 400 tons of annual EPA capacity. Pharmaceutical EPA sales that year amounted to 51% of Nissui's total EPA revenues (49% of which was non-pharmaceutical EPA for supplements and health food products), so one could assume that 204 tons (51% of 400 tons/year) of the factory's capacity generated $119m in sales of EPA. This amounted to 35% of Mochida's Epadel sales of $337m that year.
Using this formula, i.e. 204 tons of EPA supply translated to $337m of Epadel sales, we can estimate how much Amarin's Vascepa could actually sell if and when it taps Nissui to start supply. The math goes something like this: $119m of Nissui's pharmaceutical revenues were based on 204 tons of production capacity, so the average price per ton produced per year comes to $583,333.
Nissui's brand new EPA factory has 420 tons of annual pharmaceutical EPA production capacity ready to go, so, at $583,333/ton in average revenues, translates to $245m in EPA sales. If the formula is like that in table-1 above, i.e. EPA sales at Nissui made up 35% of Epadel sales, then Nissui's new factory could translate to $700m in Vascepa revenues at Amarin, which is already 69% higher than 2019 consensus estimates of $413 in revenues.
Given that Amarin's John Thero confirmed on the last conference call that Amarin has enough EPA supply to generate $1bn in 2019 revenues, this would add another $700m to that estimate, making $1.7bn in 2019 revenues totally realistic. Now we're 311% above 2019 consensus revenues of $413m. But there's more.
Let's imagine that, after the November 10th review of the Reduce-It results at the American Heart Association's (AHA) presentation in Chicago, most doctors choose to prescribe Vascepa for their patients suffering from cardiovascular risks, and demand spikes to more than $1.7bn in 2019 Amarin revenues. In that scenario, it could be very likely that Nissui converts half of the 400 tons of annual EPA capacity at its first EPA factory over to pharmaceutical EPA, which adds another 200 tons of supply.
Now we're looking at another $116m of EPA sales to Amarin, which at the 35% cost ratio, would translate to an extra $312m in Vascepa sales. All told, it is very likely that, if the demand is there - and we see no reason why there shouldn't be, given the 25% risk reduction of Vascepa and zero safety issues - Amarin could see $2bn in 2019 revenues.
Why Nissui Will Become A Key Supplier To Amarin
Currently, Amarin uses three suppliers of high-grade EPA, including Nisshin Pharma (Japan), Novacep (France) and Chemport (Korea). According to Nissui, its EPA is of higher quality due to using sardine oil, while Amarin's current suppliers tend to use a mix of either sardines only, or sea cucumbers. Nissui gets some of the best quality fish oil due to its large fishing operations in Peru, where it catches its supply of sardines which have a higher purity of EPA.
Rivals don't have the fishmonger advantages that Nissui has. While many analysts covering Nissui question how Nissui can edge its way into Amarin's supply base, it is exactly because of Nissui's fishing business and 28 years of experience in manufacturing high purity EPA for Mochida that Amarin will be compelled to use Nissui in its EPA supply base.
Alliance With Mochida Pharma Is Also Beneficial
In mid-June, Amarin and Mochida Pharmaceutical agreed to collaborate on expanding the use of EPA drugs worldwide. Currently, Mochida's EPA-infused Epadel drug is only used in Japan. From our discussions with Mochida, our view is that since Mochida's treatment has already gone off patent in Japan - the only country where it sells its drug, due to the lack of funds to conduct clinical trials for it in other countries - and sales have declined due to the entry of generics, Mochida could use Amarin for marketing purposes outside of Japan.
Amarin could benefit from Mochida's intellectual property and expertise from having manufactured Epadel for 28 years. Amarin already paid Mochida $2.7m for the rights to the use of Mochida's special chemical ingredient which helps EPA absorption into the bloodstream.
Vascepa's Demand Scenario And How $10bn+ in Revenues Is Highly Possible
Motorhead's first thought - as a total neophyte when it comes to the pharmaceutical industry - is why can't Vascepa see peak sales of $13.7bn like Lipitor did, given that the overall data from the Reduce-It trial was marginally better than Lipitor's, and was dubbed by Amarin's CEO as the "highest risk-reduction trial result for an 'on-top-of-statin-use' drug."
Rival generic drugs - priced higher than Amarin's Vascepa - have 25% to 35% risk reduction, however, are not as widely prescribed due to their 65% increase in safety risks. This is a huge success for Amarin.
The patient population in the US alone is estimated to be around 40m to 70m. The Middle East, where Vascepa has already received approval by the local authorities, has a population of 254m people, but the percentage of patients with high cardiovascular risks is nearly double that of the US (see this link).
In our prior talks with Amarin's CEO John Thero, he said it was very likely that most European countries would "fast-track" approval of Vascepa if the Reduce-It data provided risk reduction of 20% or more. The percentage of high-risk cardiovascular patients in Europe is slightly higher than the US (see this link). The EU's population is 518m people, or roughly 62% larger than that of the US.
It is therefore, in our view, that Amarin's presentation package, which states that the addressable market is over 100m patients in the top 7 developed nations, is very conservative.
Road Map To $10bn+ In 2022 Revenues And Our Target Price Of $83
Based on Amarin's Q2 product revenues of $53m on the back of 430,000 prescriptions during the quarter, one can assume that each prescription came to an average price of $122 in the three months between April and June. Assuming only the countries where Vascepa already has approval (the US and the Middle East), there could potentially be 100m patients who begin using Vascepa, with 60m in the US and 40m in the Middle East, where the percentage of high-risk cardiovascular patients is nearly twice that of the US due to the higher level of smokers and the less healthy diet.
Assuming the EU does fast-track Vascepa and has the same ratio of its population use Vascepa as the US does (19% assumption), then you get another 98m new patients, as the EU's population is 518m. With these 3 regions alone, there are potentially 198m patients that could use Vascepa. Multiply this by an average prescription price of $122, and you get to annual revenues at Amarin of $24bn by 2022.
But let's be a bit more conservative. Let's assume that by 2022, only 80% of Amarin's estimated 100m patients in the 7 most developed nations sign up for Vascepa treatment, and the average prescription price goes up by only 10% to $134 (could be more, given that Vascepa is currently cheaper than generic versions of similar drugs).
This gets you to $10.7bn in revenues. CEO John Thero believes that gross margins should be 80% and R&D will come down dramatically. Nevertheless, we use the same 40% SG&A/sales ratio (which includes high R&D outlays for next-generation drugs) that most pharmaceutical companies generate. This gets you the following numbers on Table-2.
Table-2: Amarin 2022 Earnings Forecasts (All In $Mil Unless Specified)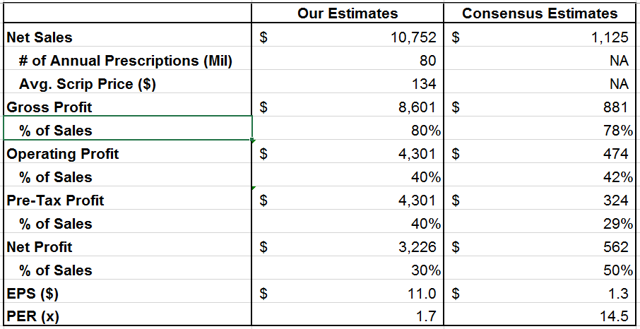 Source: Company data & Bloomberg
Why Is Consensus So Low?
Motorhead has looked at several of the sell-side's reports on Amarin post-Reduce-It data announcement. The average peak sales estimates for Vascepa on the Street is currently around $5bn by 2030. We cannot for the life of us, understand why it's so low and why it would take so long to ramp up sales to only $5bn for a drug that is already on the market (any comments on this front would be most welcome by Seeking Alpha readers).
To be sure, Amarin does need to hire a large sales force, and it plans to increase its current team of medical representatives from 150 to 400 in the near future. This is one possible reason why consensus estimates might be so much lower than ours. But this also implies that Amarin is a strong takeover candidate, as it has just launched the first blockbuster drug in the field of dyslipidemia since Pfizer's Lipitor nearly two decades ago.
Citigroup estimates that Amarin, if taken over by a larger rival, could command a price of $55. Our target price is $83 based on the estimates above. Either way, while the stock chart looks parabolic, there should still be huge upside in Amarin's shares, especially if the cardiovascular expert from Harvard MedSchool gives the Reduce-It data glowing reviews on November 10th at the AHA conference.
Who Would Take Amarin Over? Three Prime Candidates
Citigroup also mentioned that three of the most likely candidates that could take over Amarin are Amgen, Regeneron (NASDAQ:REGN), and Sanofi (NYSE:SNY). All have significant cardiovascular product portfolios that could benefit from a blockbuster drug like Vascepa, and all have cash to pull it off.
At our target price of $83, Amarin would have a market cap of $24bn. The way we derive our $83 is simple: we took the average 2022 consensus estimates for Amgen, Regeneron, and Sanofi, and discounted the PER by 50%. Our 2022 earnings estimates may be over-bullish, but the 7.5x PER assumption is quite conservative, given the potential takeover candidates trade at an average PER of 15x. And at such a low multiple of 7.5x and the similar operating margin of 40% at Amarin, an acquisition of this sort would be accretive. See Table-3 for the comparisons.
Table-3: Amarin Versus Potential Takeover Candidates Based On 2022 Estimates

Source: Company data, Bloomberg, and Motorhead estimates
Disclosure: I am/we are long VIA CALL OPTIONS.
I wrote this article myself, and it expresses my own opinions. I am not receiving compensation for it (other than from Seeking Alpha). I have no business relationship with any company whose stock is mentioned in this article.