Procter and Gamble (PG) has performed badly over the last five years. However, improved pricing should increase profitability and long-term strengths should lead to stronger sales and profits. Procter and Gamble preaches the value of superior products, superior packaging, superior marketing and dramatic gains in productivity. In the last 5 years employee headcount was cut by 29,000 (25% lower). New more cost effective plants are being built and new products are being introduced. However, earnings declined. P&G's markets are weak. An investment in P&G five years ago would produce 78% lower gains than the S&P 500. Earnings declined in the last year. Yet, the likelihood of profit growth from the trough makes it a buy.

Earnings Comparison
The following chart illustrates P&G's investment compared to the consumer staples index and the S&P 500.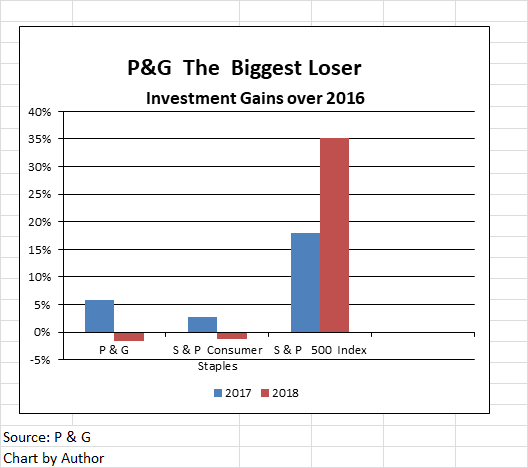 Since 2016, the S&P 500 index earned 35% while P&G lost 2%. This is not a P&G problem alone. The S&P consumer staples index also lost. Dividends are included in this comparison. Therefore, P&G stock declined in this period. P&G underperformed its industry in 2013 and 2014 when the restructuring impact was heavy, but it has tracked the industry since 2015. The consumer staples industry outperformed the S&P 500 from 2013 to 2016. It will do so again.
P&G restructuring
The changes to P&G were dramatic. The company divested brands and a complex matrix organization. The reduction in brands and sectors is shown below: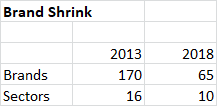 This meant the divestiture of 105 brands and 6 sectors with lower market share and lower margins. P&G's ideal is to get brands not just with the highest market share, but those with high relative market share. For example, Gillette has 66% of the US razor market. It is five times higher than its largest competitor. Therefore, it had great pricing advantage and lower manufacturing costs. In this case, P&G pushed prices too high and lost market share before cutting prices to a more competitive level. Still, after the price cuts, Gillette's margins are unusually high.
Consultants love high relative market share but the benefits are smaller in a low-ticket item where a consumer can easily switch to a competitor. That said, relative market share is very powerful. While P&G has fewer brands, they use brand extension. For example, P&G introduced a new all natural laundry pod. They called it Tide Natural, so the Tide buyer will feel safe because they are buying a familiar brand.
Financial results
P &G in fiscal 2017 earned $5.2 billion from discontinued operations, which are not in the 2018 data. Earnings on the continuing operations were $9.8 billion down $0.4 billion. The net margin declined 1.1 percentage points. This decline is a reflection of the strained market conditions.

Pricing Environment
The fight between Walmart and Costco and the supermarket chains is intense. Amazon has made this all the more competitive. Private label brands are proliferating. The supermarket same day delivery program costs are heavy and sales are lost to on-line retailers. The retail organizations believe they are fighting for their lives.
P&G
P&G charges premium prices for higher quality. One example of this was the Gillette razor blades where P&G prices were extraordinarily high. This brought competitors like "Harry's" into the market. As the technology became available, it forced a price cut in the US market. This was a substantial cut, which led to a net price reduction for P&G.
The following chart illustrates the changes to gross margin and selling general and administrative costs in the 2018 fiscal year that ended on June 30.
P&G reduced manufacturing cost by 2 percent. After the 0.3 % additional product cost, the net manufacturing cost reduction was 1.7%. P&G is half way through their second $10 billion cost reduction effort. Commodity costs rose by 0.9%. Instead of recovering, these cost prices were lowered by 0.5%. Larger packages were introduced which was an additional 1.0% price reduction. Thus, the total unrecovered product cost and price cuts were 2.4%. In addition, manufacturing was hit with one-time restructuring costs and exchange rates totaling 0.6%. Productivity in SG&A was 0.3% positive. The sum total of these costs was $361 million.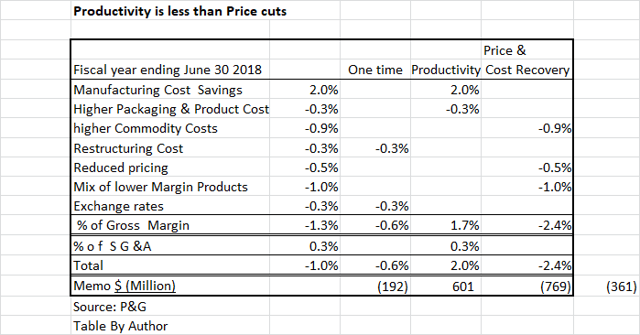 In the current fiscal year, the situation promises to be much more favorable. P&G's CFO, in the September 6, 2018 Barclays conference, stated that a modest price increase is planned that will recover current cost increases but not past increases. Assuming no increase in the mix of larger sizes, this makes net cost and pricing zero. With the same productivity and no negative exchange, the gross margin and SG&A should be a half billion.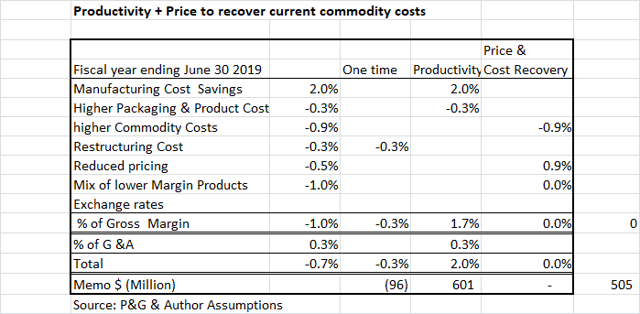 The favorable pricing will not occur in the first quarter. This quarter should see lower taxes compared to the prior year on the 44% of volume affected by the U.S. tax cut.
Conclusion
P&G is restructuring with deep cuts in brands and staffing. It is a bold move that will make the company more profitable in the long term. The restructuring plan probably called for no down years, but that was not achievable. With all the staff cuts, they still increased spending for new products to $1.9 billion. They believe their plan for the current fiscal year of growth of 2 to 3 % maybe too optimistic in the current environment, but 1% is the worst case. Longer term it could be above 3%. The dividend yield is 3.4% and stock buyback is 2% so the shareholder gets 5.4% gains with no growth. P&G is more profitable than its competitors and it will be even stronger when the restructuring is completed in 2020. The consumer durables industry will return to a period of more reasonable cost recovery and P&G will prosper. This is a strong buy.
Disclosure: I/we have no positions in any stocks mentioned, and no plans to initiate any positions within the next 72 hours.
I wrote this article myself, and it expresses my own opinions. I am not receiving compensation for it (other than from Seeking Alpha). I have no business relationship with any company whose stock is mentioned in this article.