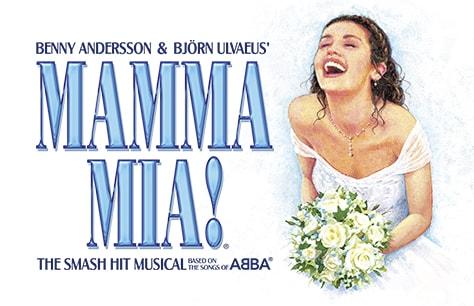 If you hear an Italian saying "Mamma mia! Che Macello!" ("My Goodness!, What a mess!") you know something isn't right.
Just to be clear: It's a (real) Mess, not (Lionel) Messy!...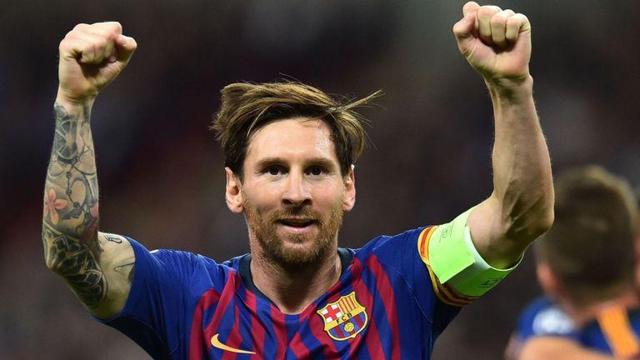 We already started the morning with negative news, and (by the way) this is actually becoming a non-welcome habit.
First, it was the IMF cutting the 2018 world GDP growth forecast, from 3.9% to 3.7%.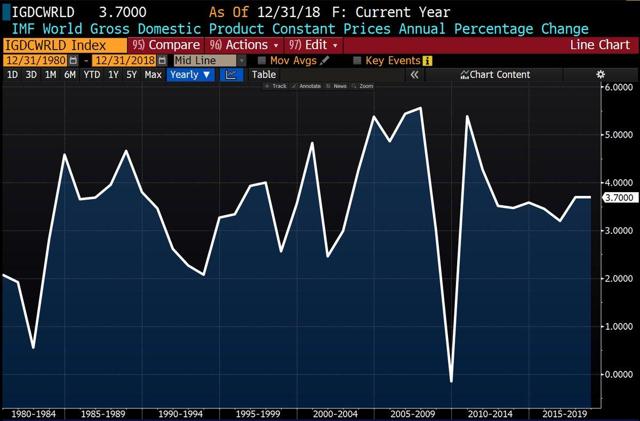 Then, we saw German imports down 2.7% (that's a lot!) in August.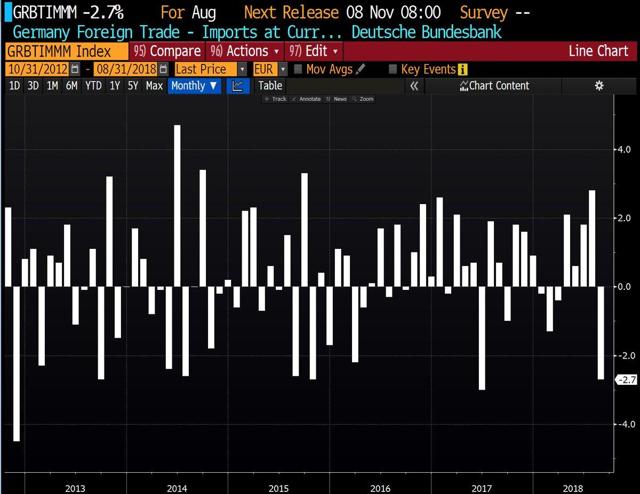 Finally, the MSCI Emerging Markets Index (EEM) hits new low for the year.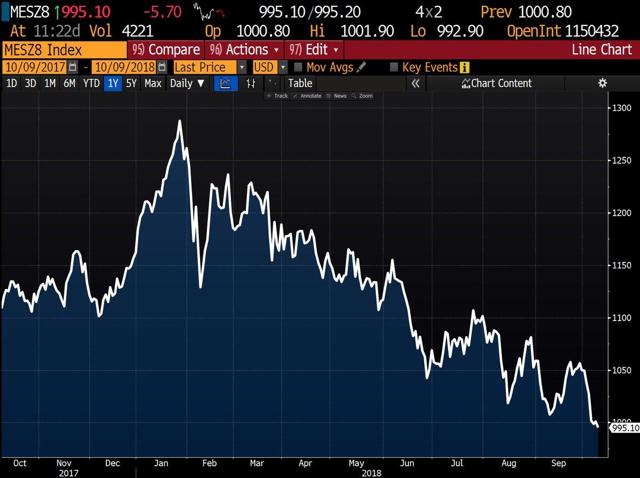 Can it get any worse? Well, in Italy (EWI), it can!
So much so that, as a matter of fact, it's happening on a daily basis nowadays.
Welcome to the 70s. No, I don't refer to that seventies (1970s) but to the two digits that follow the "3.xx" in the Italian government 10-year bond yield.
We were first paying attention to the yield when it made a new 52-week high at 3.25%. Then, we were amazed when it crossed the 3.40% mark, just to be shocked when the yield touches 3.60% the following day...
Guess what? It is over 3.70% now - a 5-year high!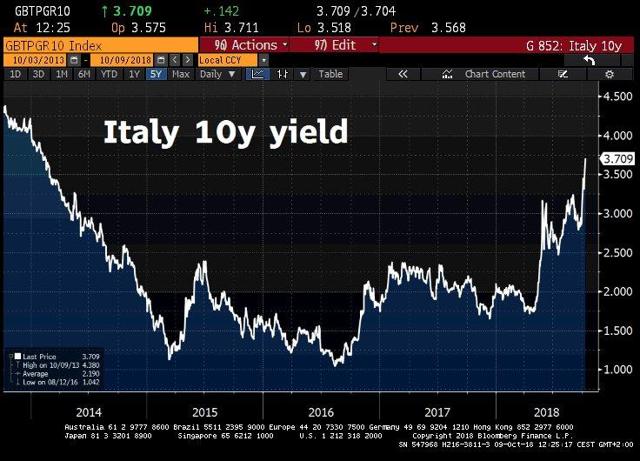 What's behind this (just another daily?) spike in yields? The "credit" this time round goes to Giovanni Tria, an Italian economist and university professor, who is currently serving as the Italian Minister of Economy and Finances.
This morning, Mr. Tria addressed the Italian parliament about the economic situation and the budget deficit conflict. He actually said that "Economic forecasts are cautious." Really, Mr. Tria!? As far as I recall, it's the exact opposite of "cautious".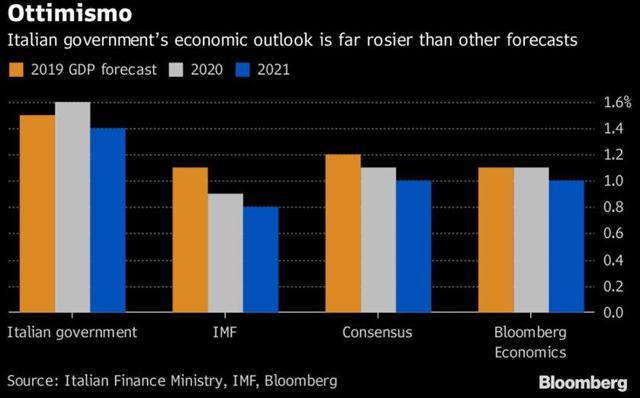 Since most everyone else (that includes about any respectful economist on the planet) think the Italian forecasts are way too optimistic, it shouldn't come as a surprise to anyone that the market is punishing stupidity and arrogance. (Apologies for not being politically correct here, but I rather call things just the way they are)
The only good news, perhaps, is that so far it seems like the contagion is contained. The spread between Italy's to Spain's (EWP) 10-year bond yields has jumped to over 200 bps, the highest level since 1997!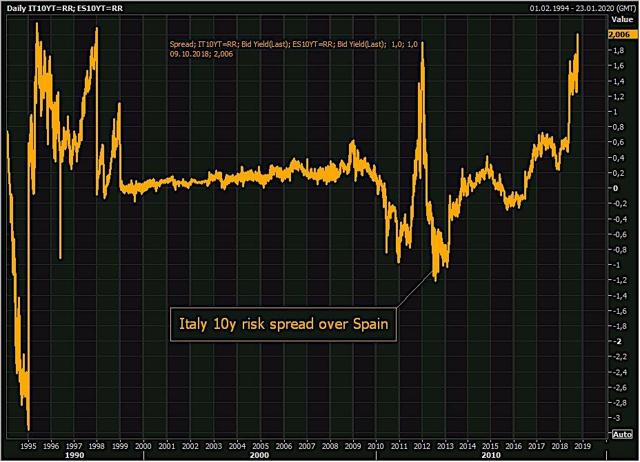 Still, Italy is undoubtedly on diverging paths with both Germany (EWG) and Spain (EWP). The respective government 10-year bond yield's spreads have risen to a 20-year high.
The market is now requiring more than 200 bps in additional yield to hold Italian rather than Spanish public debt, up from only 30 bps in late 2017.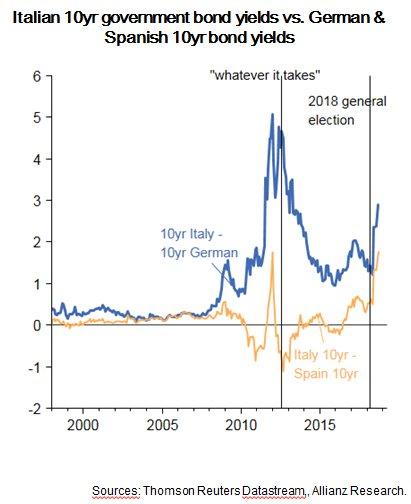 Italian debt is at about €2.451T - that is €2,450,000,000,000 - and it's "ticking up" by the second (as is the case with every debt.)
When bond yields rise by, say, 0.50% (and they rose by much more in reality), interest costs alone increase by €12.25B - that is €12,250,000,000. That is the cost of nationalism and fiscal stupidity (apologies for not being politically correct) for Italy.
With Italy's 10-year sovereign bond yield rising by about 2% in six months, from 1.70% in April (prior to elections) to 3.70% now, many are wondering could Italy be the next Greece (GREK) or, even worse (?) Turkey (TUR) for that matter? As you know, none of those is, how to put it nicely?, an Eastern Mediterranean Titan ...
After all, on the world stage, Italy's 10-year bond yield comes in 5th, right after Greece. These are the two European countries that are, by far, paying the highest rates on their debts.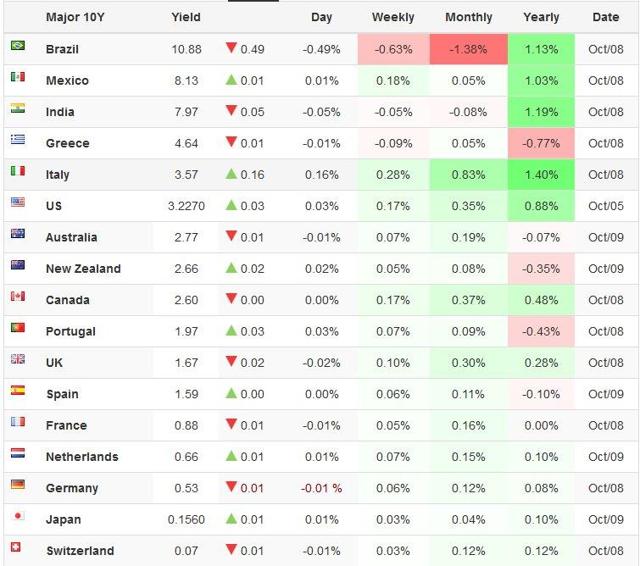 Source: Government Bond 10y - Countries - List (note that above data reflects the previous day's closing yields)
Note that a further rise in Italian yields means (additional) great trouble for Italian banks. The widening spreads is further deteriorating the quality of banks' balance-sheets and threatening their overall stability. Banca Carige (OTC:BCIGY), Unione di Banche Italiane, aka UBI (OTCPK:BPPUF, OTC:BPPUY), Banca Monte dei Paschi di Siena, aka BMPS (OTCPK:BMDPY, OTCPK:BMDSD) are the ones seen as most exposed. Intesa Sanpaolo (OTCPK:IITOF, OTCPK:ISNPY, OTCPK:IITSF), UniCredit (OTCPK:UNCFF, OTCPK:UNCFY, OTCPK:UNCRY), and Banca Popolare dell'Emilia Romagna, aka BPER (OTCPK:BPXXY) are seen in a better-safer condition. For now...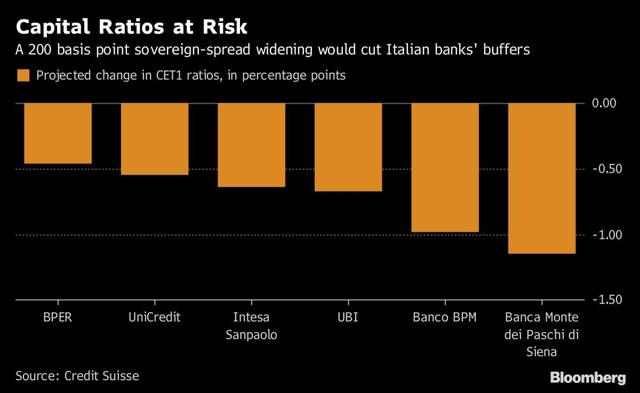 Apart from the effects on European (EUFN) and/r Italian-domestic banks, Italian life insurers are major holders of BTPs. The 47% of their AuM in 2016 is likely to be much higher today.
Does the man in the below photo looks angry and/or concerned to you? So it seems.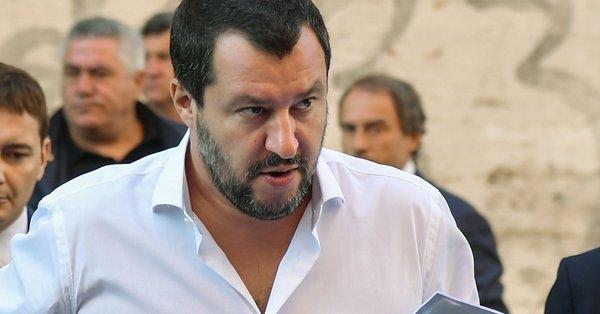 Source: TIZIANA FABI | AFP | Getty Images
Do you know who he is? This might be a tough cookie for most people. Therefore, allow me to turn this into a multi-choice question and give you four possible answers to choose from:
1. Italy's Interior Minister (looking at a pissed-off Italian investor)
2. A pissed-off Italian investor (looking at Italy's Interior Minister)
3. Trapping Value (looking at me when realizing that I already published 18 articles in October alone; this is the 19th)
4. Me, when seeing Conor McGregor getting severely beaten up by Khabib Nurmagomedov earlier this week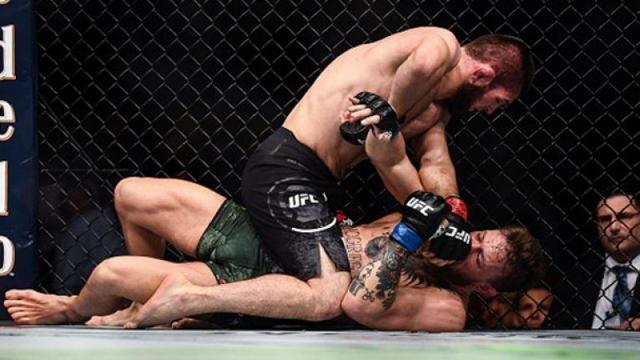 Ok, stop guessing/writing...
In the above photo, you can see Matteo Salvini, the Italian deputy prime minister, arriving to the headquarters of the Unione Generale del Lavoro (UGL, General Union of Labor) trade union in Rome.
Why do I end this article with his photo?
Because he is the person that paved the way for this Italian saga in the first place, when he voted in a favor of a budget that aims at a 2.4% deficit (and even that - under unrealistic growth assumptions).
Because Goldman Sachs (GS) found out that "Italy's debt has an average maturity of 6.8 years; seven-year yields above approximately 2.7 per cent would make funding costs unsustainable"
Well, Mr. Salvini, guess what? Your country's 7-year debt is already trading at 3.4% (...) and yet, you believe the budget and deficit are sustainable!?
Since he is the one who started this witch-hunt, he is also the one who needs to end it. For the sake of Italians, capital markets, and all the "mamma mias" out there.
Author's note: Blog post notifications are only being sent to those who follow an author in real time. In order to receive notifications for both articles and blog posts, go to Author Email Alerts, which lists all the authors you follow, and turn on "get e-mail alerts" (see below).


The Wheel of FORTUNE is one of SA Marketplace's most comprehensive services. We view our service as a "supermarket of ideas" with an emphasis on risk management and risk-adjusted returns.
We cover all asset-classes: common stocks, preferred shares, public debts, baby bonds, options, currencies, and commodities.
With Trapping Value on-board, you're getting two leading authors for the price of one.
Before committing to the service on a long-term basis, take advantage of the two-week free trial.
Disclosure: I/we have no positions in any stocks mentioned, and no plans to initiate any positions within the next 72 hours.
I wrote this article myself, and it expresses my own opinions. I am not receiving compensation for it (other than from Seeking Alpha). I have no business relationship with any company whose stock is mentioned in this article.
Editor's Note: This article discusses one or more securities that do not trade on a major U.S. exchange. Please be aware of the risks associated with these stocks.