Is Nike Overvalued?
Recent price: $80.12
Bull case price target: $97
Bear case target: $62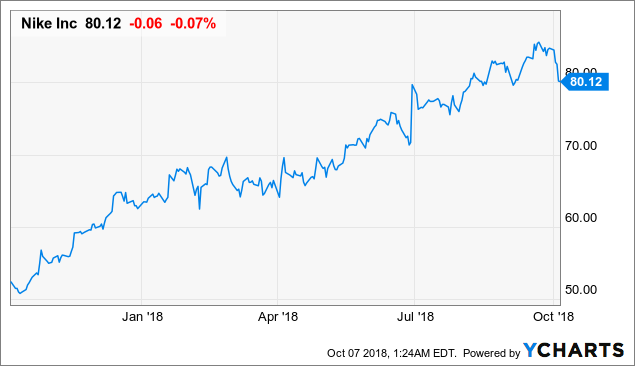 For some investors, one of the best sports apparel brands in the world may have run too fast on Wall Street. Nike has had a great year so far, rising 37% year-to-date. This rise may appear to have been too much for the cautious investor as their Price to Earnings ratio has increased from 26.72 on December 31, 2017, to 32.07 on October 4, 2018. However, the reasoning as to why Nike has had this great run and transformation is based on the success of Nike's Consumer Direct Triple Double strategy that started in June 2017. This program has created innovation in their products through three platforms, 2X Innovation, 2X Direct, and 2X Speed. By doing so, Nike has become closer to the consumer and their desires.
To double innovation, Nike has launched a new cushioning revolution in ZoomX, Air VaporMax, and Nike React platforms. To give you an idea of what these platforms are and the success of these platforms, the ZoomX air platform has created a new running shoe with ultra-lightweight foam that provides an average four percent improvement in running economy.1 In 2017, this new technology led to 19 top podium spots in six major marathons. These platforms have already generated an aggregate $2 billion in revenue for Nike's retail segment as of the Q1 2019 earnings conference call.
To double direct connections with consumers, Nike has focused on the relationship of smart retail with its customers. Nike has launched the Nike Direct organization that aims to connect with consumers digitally. The company has created several mobile channels that help the customer understand and purchase the most in-demand apparel. For instance, Nike's recently launched SNKRS app has become the world's number one footwear shopping app and the company targets a launch of the SNKRS app in Brazil, Mexico, and Southeast Asia next quarter (Q2 2019). In the first quarter of 2019, Nike also created the Nike Live retail concept which it launched in its first digital store in Los Angeles, Nike by Melrose. Essentially, the Nike Live concept tells the Melrose store what to stock on its shelves based upon the most current trends of its local NikePlus members. Management has stated that the member activity in the Melrose store has increased 48% since last year.2 And, in the Q1 2019 earnings conference call, management stated that Nike's digital platform grew 34% year over year and was the fastest growing segment to its business.
To double its speed of production, Nike is on pace to cut production time cycles in half. Nike has created a new Express Lane which creates, updates, and fills orders based on consumer demand. By ramping up their innovation and direct to consumers platforms, Nike has created a more efficient and timely speed of production so that their product line will be able to meet the fast-paced changing demand of its most loyal consumers. "The Express Lane is becoming an important competitive advantage," Mark Parker, CEO of Nike, said on the Q2 2017 earnings call. "We've always given consumers high energy product in the right place at the right time. We're now leveraging and creating capabilities on a much larger scale. The investments we make in manufacturing revolution and throughout the supply chain are going a long way in helping us realize that. Editing to amplify and driving speed and agility are keys to winning now."
From these strategic platforms, one can see the growth opportunities for Nike that are being priced into the stock. The management of Nike believes that the company is at the beginning of a new digitally direct era that will create new opportunities for growth and innovation. Indeed, in a best-case scenario in which Nike transforms itself into a new sports apparel company driven by technology, one could argue that Nike should be valued using a higher Price to Earnings (P/E) multiple in the second stage of a two-stage earnings valuation model. Therefore, in a best-case scenario, we are using a P/E ratio of 26.8, a 25% premium to Nike's median long-term P/E ratio, when calculating Nike's value in perpetuity. In Nike's first growth stage, we assume a fifteen percent earnings growth rate for five years. We also assume a discount rate of seven percent (taken from a CAPM model with a beta of 0.64, a market return of nine percent, and a risk-free rate of three percent). These assumptions result in a price target of $97, an 18% price increase from its current price of $82.50 on October 3, 2018.
However, contrarians may say that Nike is far too overvalued considering its 20-year median P/E ratio is 21. The naysayers might say that Nike's global operations will slow due to the U.S. trade wars that the great growth in China is close to an end given a possible upcoming recession, that the growth of Nike's digital marketing campaigns will not be as strong throughout the nation and the rest of the world. These reasons might lead investors to believe in a base-case scenario where Nike trades back, closer to its long-term median P/E ratio of 21. If we change the P/E ratio to 21 and the five-year earnings growth to 10% while keeping the rest of the assumptions the same, the resulting stock price of Nike is $62, a 25% price decline from its current price on October 3, 2018.
So, where does Nike head from here? Will the growth continue? Or, will it slow? One could make the case for either situation. The company is, after all, just another shoe company with Lebron James and Michael Jordan as their sponsors. We believe that the downside will prevail and have entered a Short position on NKE. As the market digests the prospects of higher interest rates ahead, the negative impact on high P/E stocks such as Nike is stronger now than future growth expectations.
---
[1] The Year in Innovation, 12/26/2017.
[2] Nike's New Store Was Located And Stocked By You, Los Angeles, 7/12/2018.
Disclosure: I am/we are short NKE.