I'd be remiss if I didn't pen something for this platform about the IMF's decision to cut estimates for global growth this year and next.
On Tuesday, at a press conference in Indonesia ahead the fund's annual meeting, Maury Obstfeld, the IMF's Economic Counsellor and Director of Research, offered a detailed rationale for downgrading the outlook.
I imagine most readers aren't particularly interested in a lengthy exposition and/or a granular take (those who are can read the details here) so what I wanted to do instead is highlight what Obstfeld said about the U.S. economy and provide some hopefully useful context for his comments.
Over the course of the last nine months, I've repeatedly warned that the sugar high from late-cycle stimulus in the U.S. is likely to prove ephemeral. Indeed, inherent in the "sugar high" characterization is the notion that the euphoria will be fleeting.
To be sure, there's nothing "wrong" (per se) with engineering a short-term economic boost via expansionary fiscal policy. Rather, the problem with fiscal stimulus in its current incarnation is that it's ill-timed and deficit-funded.
The U.S. economy was already doing well. Unemployment was low by any historical standard, growth was decent (if not particularly "robust") and corporate profit growth was strong after slipping a bit in 2015/2016.
In short: The U.S. economy didn't need fiscal stimulus. Piling expansionary fiscal policy atop a late-cycle dynamic risks overheating the domestic economy.
That might have been fine had Janet Yellen remained Fed chair. In remarks delivered during a Brookings Institution conference last month, Yellen said this:
By keeping interest rates unusually low after the zero lower bound no longer binds, the lower-for-longer approach promises, in effect, to allow the economy to boom. The FOMC needs to make a credible statement endorsing such an approach, ideally before the next downturn.
That is Yellen explicitly calling for pro-cyclical monetary policy or, more simply, keeping rates low even as the economy accelerates.
It's by no means clear that Jerome Powell is on board with that approach or if he is, not to the extent Yellen clearly is. Powell is inclined to data dependence, which means the hotter the economy runs, the more likely he is to endorse further rate hikes.
When you consider that with the fact that the Trump administration's fiscal stimulus is deficit funded, you end up with what Jeff Gundlach has variously described as a "suicide mission." As a reminder, here's what Gundlach said in a June webcast:
It's pretty much unprecedented that we're seeing this level debt expansion so late in an economic cycle. Increasing the size of the deficit while we're raising interest rates almost seems like a suicide mission.
Treasury needs to borrow more to fund the stimulus, but that same stimulus is forcing the Fed to hike. Those rate hikes serve to increase the cost of the debt that's being issued to fund the stimulus. It's an insanity loop; a nightmarish collision of fiscal and monetary policy at the tail end of one of the longest economic expansions in U.S. history.
Complicating this immeasurably is the fact that the Fed is pulling its support for the U.S. debt market (i.e., running down the balance sheet). That puts more of the onus on private, price sensitive investors to absorb new Treasury supply. But because the fiscal position is deteriorating, those investors are likely to demand more compensation to fund U.S. deficits. That means the cost of borrowing rises, exacerbating the dynamic.
Let me show you what I mean. Have a look at the following chart which shows you the U.S. budget deficit plotted with the unemployment rate (left-hand side, inverted):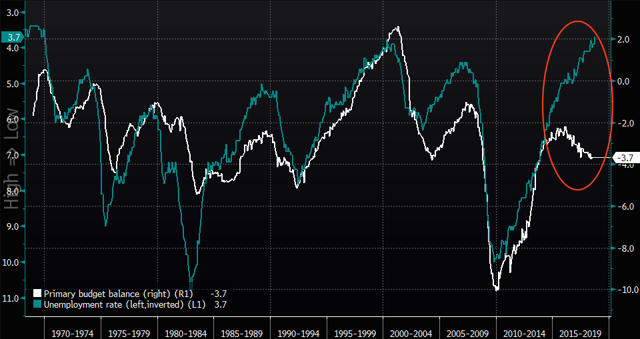 (Bloomberg)
That is a historical anomaly. And not in a good way. There is no compelling reason to expand the deficit at a time when the unemployment rate is the lowest in 48 years.
Last week, the CBO was out with their budget deficit estimate for the full 2018 fiscal year and it's not pretty. To wit:
The federal budget deficit was $782 billion in fiscal year 2018, the Congressional Budget Office estimates, $116 billion more than the shortfall recorded in fiscal year 2017. The 2018 deficit equaled an estimated 3.9 percent of gross domestic product.
That is widest deficit since 2012 and again, it comes at a time when the U.S. economy is hitting on all cylinders.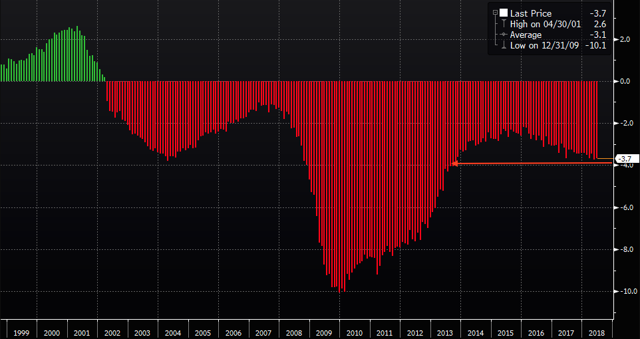 (Bloomberg, monthly data)
Meanwhile, Treasury reported on Thursday that the U.S. spent a record $523 billion on interest in fiscal year 2018, up 14% from 2017.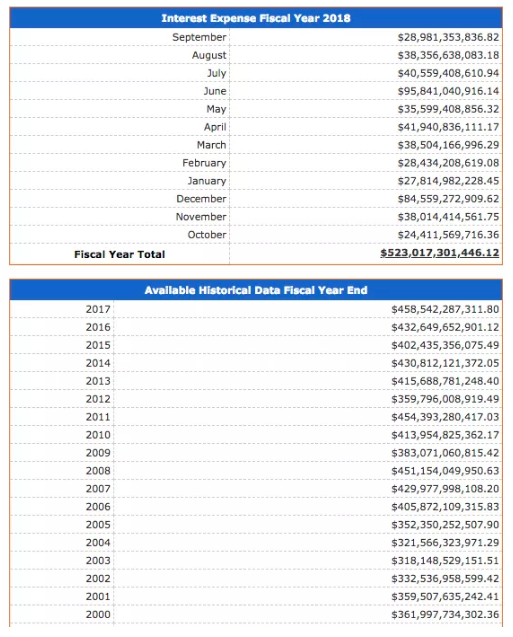 (Treasury Dept.)
Hopefully you can understand why so many people (whether economists, analysts or, in some cases, lawmakers), think this is a dangerous path to go down. Suggesting the above is precarious isn't a partisan statement. In fact, Republican orthodoxy calls for fiscal rectitude. The idea of expanding the deficit to boost an economy that doesn't need boosting is theoretically anathema to Republican dogma.
Ok, now let's get back to the IMF. Here's what the above-mentioned Maury Obstfeld said on Tuesday:
Growth in the United States, buoyed by a procyclical fiscal package, continues at a robust pace and is driving US interest rates higher. But US growth will decline once parts of its fiscal stimulus go into reverse. Notwithstanding the present demand momentum, we have downgraded our 2019 US growth forecast owing to the recently enacted tariffs on a wide range of imports from China and China's retaliation.
I don't want to broach the tariff subject here. Rather, the point is simply to note that Obstfeld has just become the latest high profile individual to warn that the effects of these policies are going to be short-lived. That raises questions about what happens when ebullient soft data in the U.S. comes face to face with the inevitable hangover as a waning of the stimulus effects pulls the rug from beneath the hard data. Remember, there's already a disconnect between "soft" and "hard", as it were: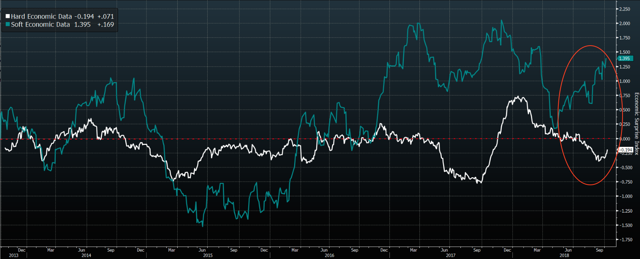 (Bloomberg)
Consider also that the midterm elections aren't likely to alter the fiscal trajectory. That is, no matter how things shake out in November, the fiscal boost is going to wane. Here's Goldman, from a note dated October 7:
The midterm election result is likely to influence fiscal policy but in any scenario we expect the positive boost to growth from the tax cut and spending hike that were enacted over the last year to fade.

In a scenario where Republicans maintain control of the House and Senate—probably with diminished majorities—we would expect a slightly more positive fiscal effect on growth than under our baseline scenario. The current "Tax Reform 2.0" proposal would reduce tax receipts by only a few billion dollars in FY2019 and FY2020, with nearly all of the estimated $650bn cost through 2028 attributable to the extension of the personal tax cuts past their scheduled expiration after 2025.

By contrast, if control of Congress is divided or under Democratic control, tax legislation looks very unlikely to be signed into law. We do not expect Democratic support for additional tax cuts and we do not expect President Trump to sign any changes to last year's tax reform into law.
Again, neither of those outcomes will materially change things, but it sounds to me like things could get worse at the margins. Tax receipts go down in one scenario and if you assume we've reached the point of diminishing returns from tax cuts, that decrease in tax receipts is even less likely to pay for itself than the initial tax cuts, which means the math will entail wider deficits. In the second scenario, more tax cuts don't become reality, in which case whatever juice you might have squeezed out of the economy from further supply-side reforms won't materialize, while the "savings" from not implementing the cuts won't do anything to ameliorate the existing budget shortfall.
Meanwhile, the robustness of the U.S. economy in 2018 has helped push U.S. equities (SPY) to new peaks and with retail investors seemingly gun shy after February, you're left to cite buybacks as one of the controlling factors in the ongoing rally.
Of course the buybacks are a product of the tax cuts (i.e., a product of deficit-funded stimulus). What happens when the buyback bid fades? Well, nothing good, probably. Consider this rather concise assessment from a SocGen note dated September 13:
It seems that even the most critical investor voices against Trump's economic policies have now capitulated and a massive reallocation into US assets has already occurred. Equities are now back to September 1929 valuation levels and the Nasdaq is 60% above its previous 2000 peak, so we are not joining in the hunt for equities. Buybacks are expected to reach USD1,000bn in 2018, virtually twice as high as last year, but this is clearly a one-off. And next year US growth should quickly converge to global standards; SG's growth forecast is one full point below the consensus for 2019.
That's pretty blunt. In the same piece, the bank goes on to note the obvious, which is that the twin deficit issue is a long-term negative for the dollar. At the same time, SocGen thinks the Fed is correct to keep hiking in the face of the overheating economy. There's just one problem: Debt. And not just public sector debt, but corporate debt. To wit:
A late pro-growth fiscal policy has led to some overheating of the economy, with twin deficits widening fast, a clear indication that the USD is fragile. And the Fed is right, in our view, about the need to continue gradually tightening, creating new risks at a time when corporate debt is growing at a rapid clip.
The bank's conclusion is that November might be seen in retrospect as the beginning of the end:
The US mid-term elections on 6 November might, in the end, prove to be the peak of this atypical US market cycle, with fund managers starting to focus on the risk of a standstill for the US government with no key reform agenda until the end of Trump's mandate.
All of that reinforces the IMF's assessment that once the effects of the stimulus wane, the U.S. economy is going to decelerate. The worry, of course, is that the Fed misjudges things and exacerbates that deceleration by not knowing when to quit. Timing is always critical and the Fed has a long history of getting it wrong.
Coming full circle, it seems entirely likely that once a downturn materializes, the Fed will be forced to immediately do an about face and start cutting rates because fiscal policy will be exhausted. You can't very well pile more deficit-funded fiscal stimulus on at a time when everyone is already concerned about the fiscal trajectory. So it will be left to Jerome Powell to cut rates. But what happens to the dollar (and, by extension, to investors' willingness to sponsor the long end of the U.S. curve) against a backdrop defined by deficits and a central bank that's easing policy aggressively?
Think on that.
And as you do, note that in the second quarter of this year, the share of RMB holdings in international reserves surged by 0.44%. That's the largest QoQ jump in recorded history.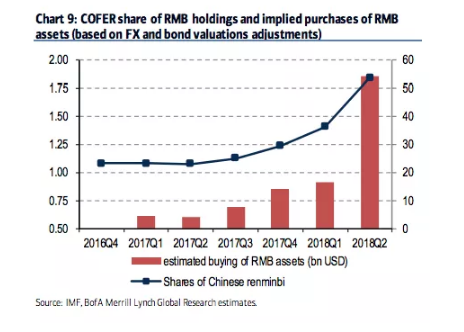 (BofAML)
Disclosure: I/we have no positions in any stocks mentioned, and no plans to initiate any positions within the next 72 hours. I wrote this article myself, and it expresses my own opinions. I am not receiving compensation for it (other than from Seeking Alpha). I have no business relationship with any company whose stock is mentioned in this article.