Currently trading at 0.52x its book value per share after several equity transactions, Altimmune (NASDAQ:ALT) seems a bit undervalued as compared to peers. The company sold large amount of warrants that investors should not appreciate. With that, other peers are trading at 1.95x-4.4x book value per share. So, a share price rebound could be possible on this name. An affiliate of Novartis invested in the company, which the market should appreciate.
Business
Founded in 1997 and headquartered in Gaithersburg, Maryland, Altimmune, Inc. is a clinical stage immunotherapeutics company developing robust and durable immune responses intended for the prevention and treatment of several illnesses.
The company's lead candidate NasoVAX, a flu vaccine, obtained 100% seroprotection at two of the three dose levels assessed. That's not all. The results are very promising. New trials released in September 2018 showed dose-dependent protective immune response, significant mucosal immune response, and a clean safety profile. With the clinical trial still at Phase 2 of development, new trials will be necessary in 2019.
Investors need to follow the developments of NasoVAX very closely since the stock price jumped quite a bit after data is released. As of October 5, 2018, the share price increased more than one-third after results were delivered. The image below provides further details on this matter.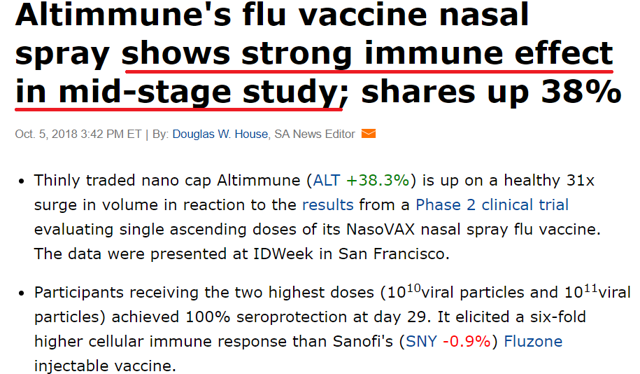 Source: Seeking Alpha - Data Released In October
The market opportunity is quite large. Converged Markets notes that the global influenza vaccine market should grow from $4.9 billion in 2017 to $11.4 billion by 2025, showing a CAGR of 11.0%. With this large market size in mind, if the FDA approves NasoVAX, the share price reaction should be very significant.
Additionally, the company is working with NasoShield and SparVax-L, which are funded by the government. NasoShield, which is being developed by the Biomedical Advanced Research and Development Authority, is an anthrax vaccine. The company commenced a Phase 1 trial in the first quarter of 2018. SparVax-L, which is being developed by the National Institutes of Allergy and Infectious Diseases, is a recombinant protein-based anthrax vaccine, which is still at a preclinical stage.
The company has other preclinical programs. The image below provides the pipeline given by Altimmune on its website: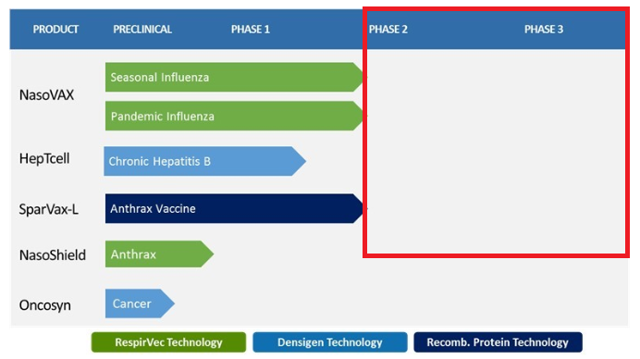 Source: Company's Website
Revenues From Contracts With Governmental Agencies, But Impairment Risk And Negative CFO.
The revenue growth has been very impressive in the last two years. Altimmune reported $4.6 million, $3.23 million and $10.73 million in 2015, 2016 and 2017 respectively. Investors need to understand that revenues are not the result of products sold. The company receives money from governmental agencies. The lines below provide further information on this subject:
To date, substantially all of our revenues have been derived from grants and contracts with governmental agencies, primarily our BARDA contract for our anthrax vaccine product candidate." Source: Prospectus
With that, the company is losing money at a fast pace, which may scare investors. In 2017, the company lost $46.42 million with research and development expenses of $18.4 million and goodwill impairment of $35.91 million. With this information in mind, investors will need to remember that there is significant impairment risk on this name.


Source: Prospectus
On the cash flow statement front, the cash flow from operations seems a bit better than the income statement. However, the CFO is also negative. It was equal to -$20.21 million and -$6.35 million in 2017 and 2016 respectively. With the company burning cash at a fast rate, investors should expect several capital raising transactions. In addition, they should remember that the sale of new stock is usually followed by share price depreciations. The image below provides the cash flow statement reported in the last annual report:

Source: 10-k
Balance Sheet And New Convertible Securities
The balance sheet reported before the equity raising that occurred in October 2017 shows cash in hand of $4.17 million. Taking into account that CFO equals -$20.21 million, it does not seem a lot of cash.
The total amount of assets equals $52.10 million with intangible assets equal to $38.34 million, 73.6% of the assets. It is a bit worrying. As said, the company seems to have large impairment risk. If accountants believe that the intangibles are not worth that amount of money, their value will be reduced. As a result, investors could suffer share price declines. The image below provides the list of assets:

Source: Prospectus
What are these intangible assets? In May of 2017, the company merged with PharmAthene, Inc. As a result, the company registered large amount of intangible assets in its balance sheet. The net assets acquired were equal to $44.74 million with goodwill of $16.06 million and in-process research and development ("IPR&D") of $22.38 million. This means that 85% of the total amount of assets acquired were intangible assets, which seems large and risky. Keep in mind that assessing the valuation of intangible assets is most of the times very difficult. Investors without detailed information about these assets may not appreciate the balance sheet of Altimmune. The image below provides a list of assets acquired in the transaction:

Source: Prospectus
The amount of total liabilities does not seem that high. Total liabilities equal $15.78 million with accrued expenses of $5.3 million and convertible notes payable equal to $1.31 million. With this information in mind, the company does not seem to have large financial risk.
Altimmune does not seem to appreciate financing from banks. Instead, the company prefers to finance its activities with convertible preferred stock and warrants, which may represent a risk for shareholders. Investors will need to be careful in this regard. There seems to be dilution risk, which could push the share price down in the long term. As of June 30, 2018, there were 12,177 preferred stocks issued and outstanding, but as of October 8, 2018, new convertible securities were announced. More precisely, approximately 4.629 million warrants, which could be converted into new shares. The day these new warrants and shares were announced, the share price lost more than one third of its total value.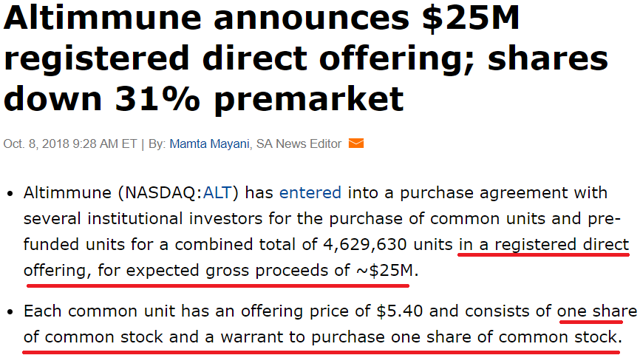 Source: 10-K
The image below shows the list of liabilities and the equity structure as of June 30, 2018.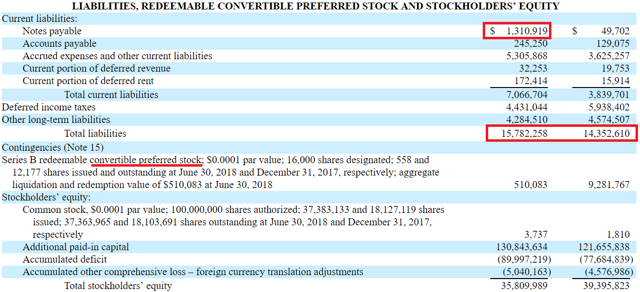 Source: Prospectus
Novartis Bioventures Ltd. Owns 16.46%
It is very beneficial that Altimmune was able to seduce two institutional investors, Novartis Bioventures Ltd., an affiliate of Novartis (NVS), and Truffle Capital, a venture capital firm with $450 million under management. The list of shareholders is shown in the image below:

Source: 10-K
Valuation
The annual report reads that the product candidate of Altimmune competes with that of other large and small corporations. Take a look at some of its competitors:
AstraZeneca (AZN)

GSK (GSK)

Johnson & Johnson (JNJ)

Sanofi (SNY)

Novavax (NVAX)

Inovio Pharmaceuticals (INO)

Emergent BioSolutions (EBS)

PaxVax

Pfenex (PFNX)
Among the competitors, NVAX, INO, and PFNX seem to be companies of small size, which could be compared with Altimmune.
NVAX seems to have too much debt to be compared with Altimmune. Additionally, its book value per share is negative.

INO trades at 4.4x its book value per share with an enterprise value of $262 million.

PFNX trades at 1.95x its book value per share with an enterprise value of $65 million.
The net assets as of June 30, 2018, equal $36 million. Adding $46.8 million in cash from the recent sale of stock and warrants and assuming 8.74 million shares outstanding, the total net assets should be $82.8 million. With this in mind, the book value per share should be equal to $9.47 per share. As of October 9, 2018, the company trades at $4.94, which seems very undervalued as compared to peers. The stock is trading at 0.52x its book value per share with peers trading at 1.95x-4.4x book value per share.
Raising The Capital- The Use Of Proceeds And The Market Reaction
In September and October 2018, Altimmune executed several equity transactions intended to finance the new clinical trials. The company needs $1.5 million to pay debt holders. However, this amount is very small as compared to the total amount raised. The following lines provide further details:
We intend to use the net proceeds from this financing for the continued advancement of development activities for our clinical-stage product pipeline, general corporate purposes, strategic growth opportunities and repayment of our outstanding $1.5 million in aggregate principal amount of convertible notes." Source: Prospectus
The company sold shares and warrants in different deals with institutional investors. The warrants give shareholders the right to acquire shares at $5.40 per share and $6.00 per share. Investors should be concerned about the number of convertible securities issued by Altimmune. If the warrants are converted into shares, stock dilution could lead to large share price declines. The risk is large. The images below provide further details on this matter:

Source: Press Release

Source: Press Release - September 28, 2018
The stock price of Altimmune declined, which makes sense. The number of shares outstanding increased quite a bit, so the book value per share decreased and the stock price declined as a result. With that, the market is too pessimistic right now. The shares are trading at 0.52x its book value per share as investors decided to sell stock. With this in mind, the chances of a share price rebound are significant.
Conclusion
Trading at 0.52x its book value per share but with large amount of convertible securities, Altimmune does seem a bit undervalued as compared to peers. The company needs money to finance its research activities, thus investors need to understand that equity transactions are necessary. Finally, the fact that Novartis decided to invest in this name is very beneficial. With this information in mind, many institutional traders should revise the research done by Altimmune.
Disclosure: I/we have no positions in any stocks mentioned, and no plans to initiate any positions within the next 72 hours.
I wrote this article myself, and it expresses my own opinions. I am not receiving compensation for it (other than from Seeking Alpha). I have no business relationship with any company whose stock is mentioned in this article.
Editor's Note: This article covers one or more stocks trading at less than $1 per share and/or with less than a $100 million market cap. Please be aware of the risks associated with these stocks.