Over the past twelve months, the shares of eXp World Holdings Inc. (EXPI) are up about 340%, and I think investors would be wise to take the money and run at this point. I'll go through my reasoning below by looking at both the financial history here, along with the stock itself. If there were options that trade on this name, I might recommend switching to calls (depending, of course, on the relative premiums), but there are none. For that reason, I'm forced to conclude that there's one reasonable choice open to investors: sell now. I'll go through my reasoning below.
The Company
eXp World Holdings Inc. is a holding company that owns a cloud-based international residential real estate brokerage that operates across the United States and in the Provinces of Alberta and Ontario up here in Canada. The company's strategy involves developing an international brokerage that is not burdened by physical brick and mortar offices or redundant staffing costs.
The company seems to be growing its agent base, given that the number of brokers rose from 2,401 in December 2016 to 6,511 in December of 2017. To put the 6,511 number in context, according to the Toronto Real Estate Board, the city of Toronto currently has about 48,000 brokers. This stark contrast offers some sense of the scale of the market, and thus the potential here.
I think it's also interesting to note that the company is dedicated to fostering an "agent ownership" culture. In furtherance of that goal, they have initiated a program whereby agents can receive up to 5% of their commission payable in the form of common stock, which is issued at a 20% discount to the overall market price. As of December of last year, this program resulted in 1,464,997 shares being issued (i.e. 2.8% of the total).
Financial Snapshot
A quick review of the financial history at eXp reveals that the company is obviously growing rapidly. In particular, over the past five years, revenue has grown at an eye-popping CAGR of 71%. Unfortunately, that's where the good news ends. As sales have grown, so too have losses. Net loss has grown at a CAGR of about 81% over the same period. In fact, I ran a correlation on revenue and net income and found the strongest negative correlation (r=-.99) I've come across in a financial statement. For more than five years, the more the company sells, the more it loses. This prompts a series of obvious questions, including 'if growing sales lead to ever-growing losses, what exactly is the point of growing sales?' Also, 'what future state will turn this from loss to net income?' Nowhere is the negative relationship between revenue and net income more fully on display than in the most recently published 10-Q. In spite of the fact that revenue is up 218% in the first six months of 2018 relative to the same period a year ago, losses continue to balloon. Specifically, the loss has expanded 149% in spite of the massive increase in revenue. This prompts a very relevant question: if more than doubling revenues don't grow net income, what will?
In addition to the troubling relationship between revenue and net income, the share count has increased at a CAGR of about 1.8% over the past 5 ½ years. I suspect that this trend will continue as share sales are a critical source of cash for the business.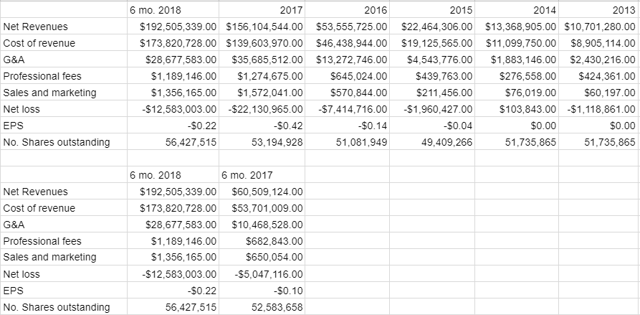 Source: Company filings
The Stock
Although it's obvious that I think this business is troubled, I must spend some time talking about the stock as a thing distinct from the company itself. The reason, as I've said before, is that a troubled business may be an excellent investment if the price is right. At the same time, a wonderful business can be a terrible investment if an investor overpays. In my view, the price paid is one of the, if not the most important, variables in determining whether an investment is a success or not. Price paid determines the risk of the investment in my view. For example, if you expect a company to generate $1 of free cash next year, but your expectations are dashed and the business only generates $.80, your risk is by definition lower if you paid $10 than $20.
All that said, terms like "price is right" are hardly instructive, so I need to put some analytical rigor around my review of stock price. I employ a host of methods to determine whether the stock is expensive or cheap, two of which I talk about on this forum.
One of these ways is rather simple, uncontroversial price to free cash flow. In this regard, it seems that eXp has improved over the past few years but is still very expensive in my estimation.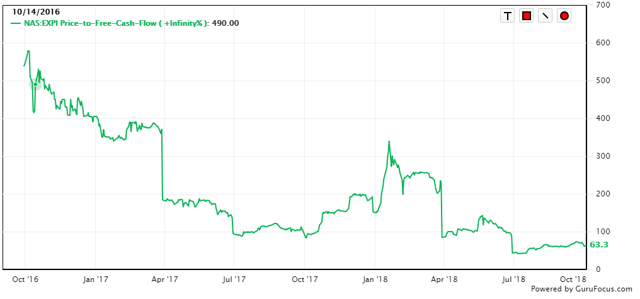 Source: Gurufocus
In my view, paying 64x next year's free cash is a very risky proposition. That valuation, coupled with the operational problems already cited suggests to me that it makes sense to stay away.
Conclusion
In my opinion, eXp World Holdings represents a bad combination of expensive stock, dilution, and ongoing losses. I think investors who have benefitted from share ownership over the past year would be wise to sell out at these levels as I think there's far more downside than upside at this point. In my estimation, when shares are priced for perfection (as these are), investors are faced with poorly skewed risk-reward payoffs. If the company executes perfectly, shares may not do much as great expectations are already "baked in." If, as is more likely, the market receives a negative surprise at some future date, the shares will suffer. Price and value inevitably intersect, but it may take some time to bring them together. My advice to investors is to sell now before price and value inevitably intersect.
Disclosure: I/we have no positions in any stocks mentioned, and no plans to initiate any positions within the next 72 hours.
I wrote this article myself, and it expresses my own opinions. I am not receiving compensation for it (other than from Seeking Alpha). I have no business relationship with any company whose stock is mentioned in this article.