BlackRock (BLK) is the world's largest asset manager with $6.29 trillion in assets under management as of December 2017.
I spoke with Jonathan Diorio VP of BlackRock Closed-End Funds and Stephen Minar VP of BlackRock Closed-End Funds today in response to my Open Letter To BlackRock CEO, Larry Fink on Seeking Alpha.
Mr. Diorio acknowledged I was at the BlackRock annual meeting of its closed-end funds and I spoke with Richard Cavanagh, Chairman of the Board of Directors of BlackRock Closed-End Funds and John Perlowski, Director, President, and CEO of BlackRock Closed-End Funds there. He said Mr. Perlowski wrote me last month regarding my Suggestions For BlackRock After Discussion With Chairman which I wrote about on Seeking Alpha. Mr. Diorio wanted to keep the dialogue open with me and read my letter to Mr. Cavanagh which I gave to Mr. Cavanagh at the BlackRock Closed-End Fund annual meeting and read my open letter to Mr. Fink. He said Mr. Cavanagh took my points in my Suggestions For BlackRock After Discussion With Chairman to the BlackRock Board of Directors. Vice Chairman Rieder saw my letter as well. Mr. Diorio said they acknowledge it is hard times with the discounts to NAV widening on their municipal closed-end funds and my thoughts would again be addressed at the next board meeting in November. Hopefully, it won't result in the so-called can getting kicked down the road again with nothing being done by BlackRock to control all the panic and thus far huge discounts to NAV for its municipal closed-end funds including BlackRock MuniHoldings New Jersey Quality Fund (MUJ) and BlackRock MuniYield New Jersey Fund (MYJ). Environments such as the current one are not beneficial for either BlackRock or the shareholders of its municipal closed-end funds and they can be controlled by BlackRock.
I asked how can BlackRock be more proactive with discounts to NAV of up to 17.24% on its municipal closed-end funds and options to reduce the discount? Yesterday was another post-2008 market crash high in discount to NAV for MUJ and MYJ with no end in sight, and in the word of Peter Hayes, Head of BlackRock Muni Bonds in Why Municipal Closed-End Funds, and Why Now? on Seeking Alpha and in the BlackRock Blog, year-end tax loss selling may drive discounts even deeper before the current trend reverses.
Data and Charts below from cefconnect.com
Overview
MYJ As of 10/5/2018. NAV as of 10/8/2018.
Price

NAV

Discount

Current

$12.85

$15.24

-15.68%

52-Wk Avg.

$14.49

$15.67

-7.75%

52-Wk High

$16.32

$16.16

2.45%

52-Wk Low

$12.85

$15.24

-15.68%

Regular Distribution Type†

Income Only

Distribution Rate

5.69%

Distribution Amount

$0.0605

Distribution Frequency

Monthly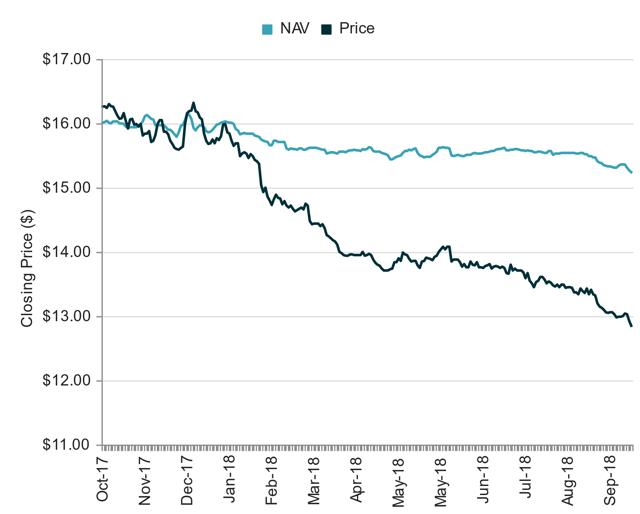 Last Year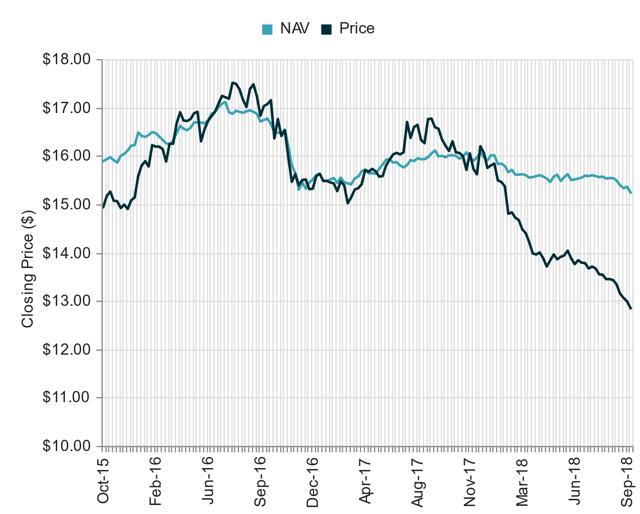 Last 3 years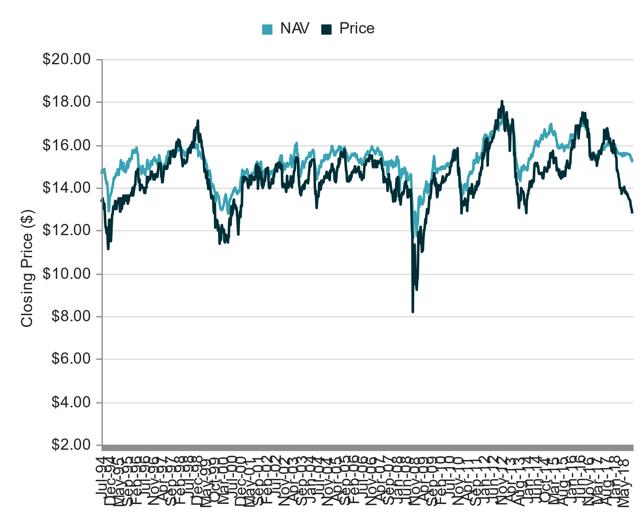 Life of Fund
In John Perlowski's letter to me, he said:
"BlackRock and the Board, as part of their ongoing oversight of the BlackRock closed-end funds, regularly monitor the market price of each fund's common shares and consider whether any action is appropriate in light of discounts or premiums to net asset value, considering the long-term interests of the fund's shareholders and the funds investment objectives and policies. As part of this ongoing process BlackRock and the Board have evaluated many things from time to time, including fund reorganizations, share repurchases, tender offers and the structure of a fund in light of its investment objective and policies. Where the Board has concluded that action would be in the best interest of a fund and its shareholders, the fund has pursued such action."
I asked what would be the downside of BlackRock buying back shares at such high discounts to NAV?
Mr. Diorio couldn't comment on this but said BlackRock evaluates discounts to NAV and said there have been no new share repurchase programs on its municipal closed-end funds. I asked how do the BlackRock municipal closed-end funds differ from the taxable closed-end funds in terms of their leverage? I brought up again how there were buybacks on their taxable closed-end funds which were beneficial to shareholders. He said BlackRock municipal closed-end funds buy additional shares based on the purchase of preferred shares. I couldn't get the rate they pay on these preferred shares. He said BlackRock taxable closed-end funds get leverage from repos or credit facilities.
I asked Mr. Diorio if BlackRock needs to use all their leverage on their municipal closed-end funds if rates are rising and there isn't any real incentive to borrow short term and invest long term in a slumping municipal bond environment? He said:
BlackRock municipal closed-end fund investors benefit from leverage which enhances return and yield. There were only a few days which were back in 2008 where rates were inverted. The curve front vs. back end can change. If leverage is no longer beneficial, we can bring down leverage. There was lots of talk like this after the taper tantrum and rates went back down."
I asked Mr. Diorio does BlackRock has any concern about activists? I mentioned activists are taking notice of discounts now of 16.21% MYJ and 17.24% MUJ. MYJ is now down 15.52% YTD market return and .93% NAV return. Morningstar rates MYJ top 1 percentile in category 3 mo., YTD, 1 year, 5 years, 10 years, and 15 years, and 34 percentile 3 years. I have heard from activists in response to my BlackRock articles on Seeking Alpha. I said if BlackRock does the right thing for shareholders of its closed-end funds in the first place, it could save them a lot of headaches at BlackRock and it would be a win-win for BlackRock and shareholders. He couldn't say much in response to this.
I mentioned that activist Bulldog Investors buys back shares of its Special Opportunities Fund (SPE) when their discount widens above 10% and this has been successful in limiting the discount to NAV.
I said to Mr. Diorio, speaking of corporate responsibility, at the BlackRock annual meeting, Richard Cavanagh the Chairman of the BlackRock Closed-End Funds gave me the impression he feels the pain with the BlackRock NJ CEFs dropping a lot in terms of market price. Mr. Cavanagh owns a small number of shares of MYJ, MUJ, and other BlackRock closed-end funds from what I see here.
Mr. Diorio said what I am seeing with MYJ, MUJ, and other BlackRock municipal closed-end funds are short term and sentiment driven. He said BlackRock will do what is best for engaging with shareholders like me and we will stay in contact. I appreciate the interaction with BlackRock leadership.
Disclosure: I am/we are long MUJ AND MYJ.
I wrote this article myself, and it expresses my own opinions. I am not receiving compensation for it (other than from Seeking Alpha). I have no business relationship with any company whose stock is mentioned in this article.