Four months ago, I looked at the state of the toy market after the demise of Toys 'R' Us and basically said that the long-term effect on toy sales would be transient and minimal. You can read the article here.
Firstly, let's look at how the toy market has evolved this year based on sell-through reports from 30 retailers in 17 major countries:

(Source: Klosters Retailer Panel)
Note that the Toys 'R' Us sales quoted above were taken from their quarterly SEC filings between fourth quarter 2016 to the third quarter of 2017 - the last twelve months in which Toys 'R' Us was in business before going bankrupt. The assumption is that the sales at stake equally applied to the periods shown above.
What this tells us that the amount of Toys 'R' Us sales that migrated to other retailers in the U.S. went from 0% in the first quarter to 95% in the fourth, and in the case of International markets, this went from a peak of 65% in the second quarter to 95% in the fourth. In other words, whilst the transition was painful at times, it will be pretty much complete by end of this year.
Also, the overall negative effect in terms of lost dollar sales both in the U.S. and internationally was pretty small: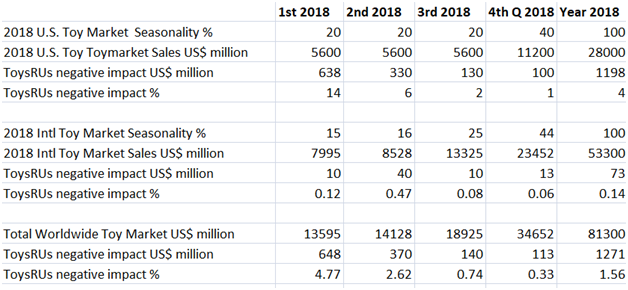 (Source: Klosters Retailer Panel)
In other words, the negative impact of the Toys 'R' Us closures on the total U.S. toy market was for the whole year - about 4-14% in the first quarter and going down to 1% in the fourth. Internationally, which was much less affected - since only the U.K., Australia and the Middle East closed down - was about 1.5% for the whole year. This went from a negative 4.77% in the first quarter to 0.33% in the fourth.
Not quantified in the above numbers is the fact that consumers stormed the Toys 'R' Us stores in the U.S. and the U.K. to take advantage of the pre-closing discounts of up to 70%. The amount of hoarding that took place was very significant and clearly had an impact on consumer demand in the months that followed, particularly between June and August. However, a recent NPD study suggests that 83% of the toys so bought were given away by end of September and that the remaining 17% would be used during the fourth quarter. In reality, there will be virtually no impact on worldwide sales after September.
Yes, the large U.S. toy manufacturers were clearly and significantly affected by these developments, and this in particular in the first and second quarter. However, given the overall toy market growth this year of 4% both in the U.S. and internationally, things should start looking up for their third- and fourth-quarter numbers.
This does not mean that there are no consequences. One is that leverage has shifted decisively from the vendors to the retailers, particularly on the brick-and-mortar level. There is now an inordinate scramble on for shelf space at Walmart (NYSE:WMT) and Target (NYSE:TGT) by both existing vendors as well as new ones to compensate for the space they had at Toys 'R' Us. A comparison between August 25 last year - which was the last month before TRU declared bankruptcy - and August 25 this year demonstrates the loss in shelf space:
| | | | | | | | | | |
| --- | --- | --- | --- | --- | --- | --- | --- | --- | --- |
| Category | | 2017 | | | | | 2018 | | |
| | WMT | TGT | TRU | Total | | WMT | TGT | TRU | Total |
| Fashion Dolls | 107 | 209 | 466 | 782 | | 90 | 255 | 0 | 345 |
| Action Figures | 53 | 146 | 702 | 901 | | 99 | 131 | 0 | 230 |
| Construction Toys | 40 | 424 | 587 | 1419 | | 236 | 389 | 0 | 625 |
| Total | 568 | 779 | 1755 | 3102 | | 425 | 775 | 0 | 1200 |
(Source: Klosters Retailer Panel)
Note that these measurements are in linear feet and taken at a TRU Side-by-Side store, a Walmart Supercenter and a regular Target store. What this tells you is that Walmart has, in fact, reduced toy shelf space, at least for these three very important categories, whilst Target stayed at the same level as last year.
What this means is that the two retailers can now pretty much dictate the terms at which they are willing to accommodate shelf space requests. These terms include longer credit terms, tougher penalties for even the slightest infraction in shipments, greater promotional allowances and stiffer conditions governing excess inventory. This may less affect the large existing vendors - Mattel (NASDAQ:MAT), Hasbro (NASDAQ:HAS), Lego - than the small fry who were totally dependent on Toys 'R' Us to showcase their wares and are now knocking at Walmart's and Target's doors.
However, this is not quite as bad as it looks. Firstly, both retailers have vowed to massively increase shelf space devoted to new toys for the holiday reset after Halloween. Secondly, there are a number of significant retailers who are actively entering the toy space or expanding their activity in it - Michaels (NASDAQ:MIK), Party City (NYSE:PRTY), Kohl's (NYSE:KSS) and J.C. Penney (NYSE:JCP) are good examples for this.
The other consequence is the disappearance of trust between vendors and retailers, particularly those retailers that are teetering on the edge. I asked one of my friends, a senior exec at a smallish toy manufacturer, as to what he would do in the event that Sears (SHLD) went Chapter 11:
No, I would not ship Sears/K-Mart or any other retailer on a DIP basis. Cash or have the account insured, if the rates were not exorbitant. I still am quite angry over the way Vendors were and still are being treated by TRU management. Many will not make it, and others will suffer financially for many more years before they recover. Management of TRU were told to lie to vendors, but thought nothing of paying themselves.
I have asked some other senior executives about this and their reaction was pretty uniform. Firstly, they would no longer take the word of any retailer executive as gospel. Secondly, they would, at the first sign of trouble, cut back shipments and insist on faster payment. Thirdly, any retailer declaring Chapter 11 could no longer count on shipments being made under DIP (debtor in possession) terms. These vendors were screwed by Toys 'R' Us and they are not going to be screwed again. The motto will be "cash in advance, and we ship once the check has cleared." The last wrinkle in the Toys 'R' Us saga is the avowed intent by the distressed asset investment groups, including Solus Asset Capital Management and Angelo Gordon & Co., to retain the Toys 'R' Us brand names and intellectual properties and use them to create new stores in the United States.
This is not going to work. For one, the consumer will have moved on by the time this resurrected Toys 'R' Us is operational. Secondly, the investment people behind this effort have absolutely no expertise in toy retail, and their motivation is simply to make money as quickly and easily as possible. This does not make for a successful store. Lastly, if they count on support from the vendors, they are sadly mistaken. Nobody in his right mind would sell this new Toys 'R' Us any product except on a cash-and-carry basis. Isaac Larian, the owner of MGA Entertainment, one of the most successful toy companies in the world, took it a step further. He said that "MGA for one will never give them credit or do business, because they're not reliable people." He added that he won't sell his toys to them even if they pay cash in advance. "For me, it's a matter of principle," he said.
Well said. He will not be the only one.
Disclosure: I/we have no positions in any stocks mentioned, and no plans to initiate any positions within the next 72 hours. I wrote this article myself, and it expresses my own opinions. I am not receiving compensation for it (other than from Seeking Alpha). I have no business relationship with any company whose stock is mentioned in this article.
Editor's Note: This article covers one or more microcap stocks. Please be aware of the risks associated with these stocks.