Investment Thesis
Amazon (AMZN) has fallen below their 50-day moving average for the first time since April 2018. The stock is down 9% off their all-time highs reached at the beginning of September. What has changed investors view of this growth story? With the stock trading at levels last seen two months ago, we believe this is merely a cash of profit taking and a sell-off in tech stocks overall, which at times can be overdone and provide opportunities for buyers to enter. AWS and Advertising are two of the biggest growth drivers for the company, and both segments operate with extremely high margins. Taking a long-term approach, nothing has changed with this growth story, as such, we believe current values are attractive at these levels near oversold territory.
Stock Has Fallen Fresh Off Solid Q2 Earnings
For those of you who follow us, you know we tend to only invest in dividend growth stocks as we look to supplant our future by building long-term positions in companies generating safe sources of income over time. However, Amazon and Google (NASDAQ:GOOG) (GOOGL) are two of the stocks we own that do not pay dividends. We believe these two giants contain huge long-term growth potential in their respective industries. In this piece, we will focus on Amazon, as we feel they are currently trading at a price that cannot be overlooked. As we alluded to above, AMZN shares have fallen 9% since the beginning of September.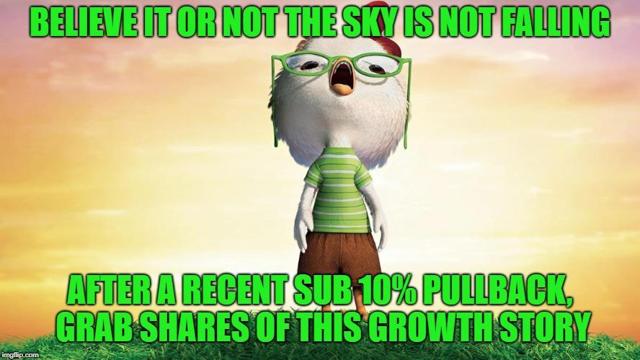 Let's begin by taking a quick look at the company's most recent Q2 earnings: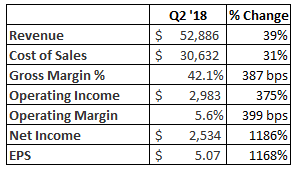 Chart created by author
As you can see, the company continues to fire on all cylinders with sub 40% revenue growth during the quarter. This is fresh off 2017, which saw 31% revenue growth for the year. Through the first two quarters of 2018, sales are up over 41%. AWS continues to see the largest growth, as revenue has increased 49% each of the first two quarters for this segment. AWS now accounts for over 11% of total revenues for the company, after accounting for only 4% of revenues five years ago. The company saw its highest quarterly operating margin to date, which tends to vary depending on timing of certain expenses, but none the less moving in the right direction.
AWS Growth Is Superb
Amazon Web Services, or AWS, is the company's cloud computing business which has 70%, 55%, and 49%, each of the last three years. As we stated above, through the first two quarters, the segment has grown 49%. This segment of the business continues to have huge growth potential as it consumes a larger piece of the overall business. Currently, AWS accounts for 11% of total revenues, but this high margin business accounts for 62% of the company's total operating income through the first two quarters of 2018. AWS is the company's second fastest growing business and second most profitable, trailing only Advertising in both categories, which we will touch on below. Between 2017 and 2021, analysts believe the cloud computing market will double in size to over $300 billion, which adds to the potential for Amazon's AWS.

The growth in AWS has been superb and makes a strong case for this stock being a long-term holding for years to come. Amazon launched AWS back in 2006, one of the first in the industry, and continues to be the leader in market share. The company has grown their customer base in recent quarters by acquiring business from names such as: Twenty-First Century Fox (FOXA), Verizon (VZ), and Ryanair (RYAAY).
This segment will continue its upward trajectory as new and current clients continue to tap into its leading services. Through the first two quarters of 2018, AWS added 800 new services to its market leading platform.
Advertising Segment Hitting Its Stride
Another segment garnering a lot of attention lately is the company's advertising segment, which primarily makes up the "Other" reportable segment on the company's financials. This segment grew 132% year over year in Q2 and 139% in Q1. This segment has been the fastest growing and most profitable for the business. Due to the amount of traffic Amazon sees on a daily basis, with the help of Artificial Intelligence, they are able to gather massive amounts of data on their customers. According to a recent article from CNBC, some advertisers are moving "more than half" of their annual marketing budget from Google to Amazon.
In a recent study conducted by Raymond James in 2017, they found that 52% of people use Amazon as their first choice for product searches. Google and Facebook (FB) continue to be leaders in the space, but Amazon is making a strong case for consumer ad dollars. A recent Bloomberg report stated that Amazon "will generate $4.61 billion in US ad sales this year, which represents 4.2% of the total digital ad market." For comparison purposes, GOOGL and FB have 58% of the $111 billion market, so still a ton of potential growth for Bezos and company.
As we alluded to earlier, Amazon's advertising segment is its most profitable business. According to analysis conducted by Piper Jaffray, Amazon's operating margins could be as high as 75%. Comparing these margins to the likes of GOOGL and FB, who have margins of 28% and 44%, respectively, Amazon is performing quite well. The current 75% margin is due to efficiencies the company gains with its retail business. In the same Piper Jaffray analysis, they predict $20 billion in advertising by the year 2021, which would make the advertising segment the largest source of profits for the company, assuming the profit margins remain intact.
Investor Takeaway
Due to the stock's recent pullback of 9% over the last month, which has been combined with a market-wide pullback to start October, we believe Amazon stock appears undervalued based on the growth prospects we have alluded to above. AWS continues to grow at a strong pace and resonate with more and more consumers as a "go-to" platform in cloud computing. The advertising business is currently the stocks most profitable and fastest growing, providing operating margins in excess of 75%. The efficiencies gained based on the overlap from the company's retail business is what keeps costs down that typical search companies, such as Google and Facebook, do not have the luxury of. As the company continues to build out their advertising platform, they should be able to continue growing at a healthy pace. With the expected growth in the advertising segment, this part of the business will soon be the company's largest source of profits.
The company has a lot going for it and run by one of the best CEO's in the world, Jeff Bezos. An investment in Amazon is an investment in Bezos, which has worked out well over the years for investors. We highlighted just two (major) items in the article above, but one could look at the positives from many different angles, such as Prime or the returns from Whole Foods, or the company's dominance in smart speakers. The company has their hands in various pots, which some investors think is a reason for concern, but not us, yet.
Currently trading at a price of $1,864.42, AMZN has a P/E of 147.8x. Let's compare how the current price relates to price targets from various analysts/firms. Here is a look at Morningstar:

Source: Morningstar
Morningstar has a fair value estimate of $2,200, which implies upside of 18%. Next, let's take a look at the price target from Argus:

Source: Argus
Argus Analyst, Jim Kelleher, assigns a price target of $2,250, implying upside of 22%. Lastly, let's take a look at the price target from CFRA:

Source: CFRA
CFRA analysts, Tuna Amobi, has a price target of $2,200, which matches that of Morningstar, implying upside of 18%. So, between the three analysts, we have an average upside potential around 20%.
Overall, we are extremely confident in the growth plan put forth by Bezos and company and have great admiration for what he has built thus far. The company has their hands in numerous sectors, which have aided to the tremendous growth over the years. Based on the current trajectory, we believe the probability of share growth in the long-term is extremely high.
As always, we ask that readers perform their due diligence before entering a position in any stock we discuss. We are here to help, so please comment below or feel free to message us.
Note: I hope you all enjoyed the article and found it informative. If you do not currently follow me and would like to be notified of future articles, please hit the "Follow" button above. As always, I look forward to reading your comments below and feel free to leave any feedback. Happy Investing!
Disclosure: I/we have no positions in any stocks mentioned, and no plans to initiate any positions within the next 72 hours.
I wrote this article myself, and it expresses my own opinions. I am not receiving compensation for it (other than from Seeking Alpha). I have no business relationship with any company whose stock is mentioned in this article.