Brazil votes, finally
Investor euphoria has Petrobras (PBR) shares on the rise in anticipation of Brazil's final electoral results. Knowing the vote count of the October 7 voting (the 1st round of Brazil's two-round presidential elections), most investors expecting Jair Bolsonaro to be elected president are now confident in a 2nd round win for the right-wing candidate on October 28. Weighing in on much of the ambiguity surrounding Bolsonaro's policies, coupled with the notion that Alckmin was thought of as being the clear market favorite, such a positive reaction by the market could be interpreted as a sign of relief for investors concerned with constant political interference by left-wing politicians in Brazil, especially in state-owned companies, such as Petrobras (PBR), whose market value hemorrhaged ever since operation "Lava Jato", brought to light in 2014 a major corruption scheme taking place within the company's operations. Now, Petrobras (PBR) retaking the lead in terms of market value among Brazilian companies (US$93 bn as of October 8), ahead of global iron ore exporter Vale (VALE), is symbolic for a revival of sorts for the state-owned company and could be indicative of an overall recovery of Brazil's stock market. With improved corporate governance based on the notion that there will be less political meddling in corporate affairs, investors can shift focus to matters such as key market developments, oil prices and company fundamentals… for now.
Less noise
Political noise seems to be a major theme that investors all over the world are currently dealing with and Brazil has followed suit. This year's elections in Brazil were highly unpredictable and polls were frequently shaking its markets, which is exemplified by the market's reaction to a stabbing – literally – of Bolsonaro on September 6.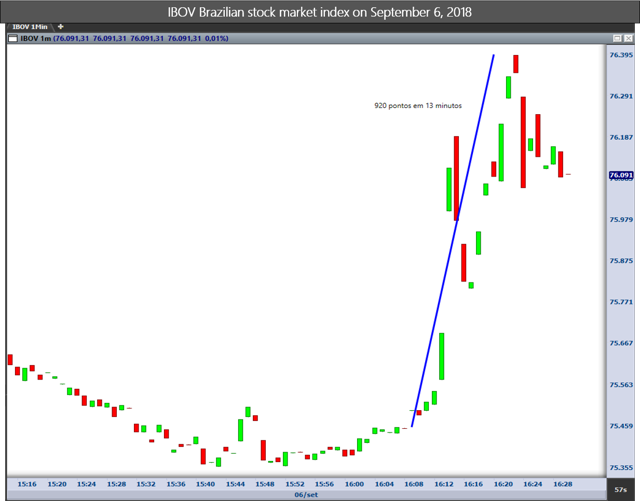 Source: InfoMoney
Political narratives are many but there seems to be some consensus on how the public life-threatening incident against the right-wing politician either strengthened his campaign or weakened left-wing candidates. The market's immediate reaction to news on this event underscores the whole "political thesis". Petrobras (PBR), a state-owned company that was the centerpiece of "Lava Jato", is the most exposed to this year's elections, along with companies such as Banco do Brasil (OTCPK:BDORY), whose stock also soared on the back of investor sentiment attached to a change in Brazil's political stage. Now, following the 1st round voting, the key takeaways seem to be i.) a Bolsonaro win is clearly being priced; and ii.) volatility from investor response to Brazil's elections might be much lower. Short-term euphoria in anticipation of a Bolsonaro win was expected but the timing wasn't too clear. He is within short striking distance of winning the election – he only needs +4% in the 2nd round (he had 46% of 1st round votes) and holds a comfortable lead over opponent Fernando Haddad of PT (the left-wing party), who obtained 29% of votes. If the gap separating both candidates were narrower, investors could expect markets to swing up and down and quite frequently as we approach the 2nd round. However, investors are clearly pricing a Bolsonaro win (which, more importantly for the market in the near-term, means a loss for the left-wing opposition) – Petrobras (PBR) is trading at ~29x P/E; JP Morgan sees a quick rise of the IBOV Brazilian index towards 90,000 from roughly 86,000 early following the election. Ironically, a Brazilian politician is stabbed and investors rejoice.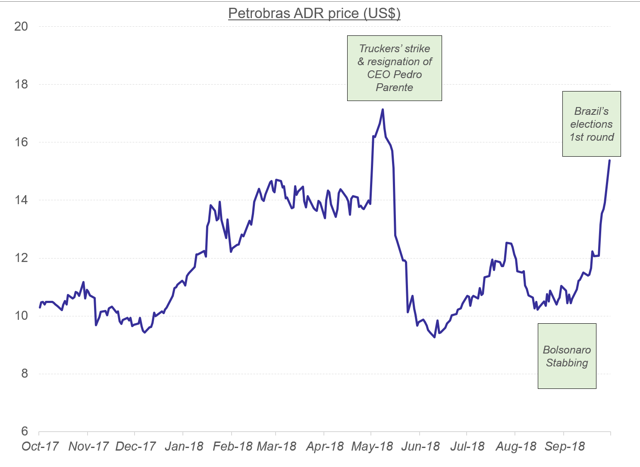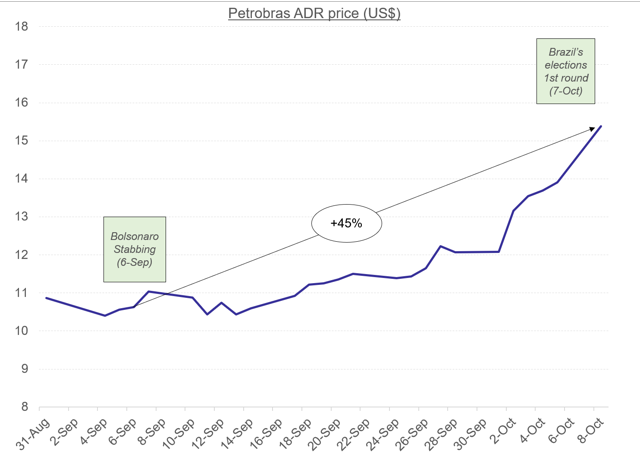 Petrobras (PBR) stock rose +45% from September 6, the day Bolsonaro was stabbed, to October 8, the first trading day following the 1st round of voting on Sunday. Leading to the 2nd round, an ugly battle between both sides, at opposite ends of the political spectrum, is expected but the market seems to be confident in betting its chips on a Bolsonaro win.
Positive company developments and oil prices on the rise
Now that the company's coffers seem to be safe from any major assault by corrupt politicians and that much of the noise seems to be over, Petrobras (PBR) can be quite appealing for investors looking to ride an upswing in the commodities cycle. On September 10, Ivan Monteiro made his first presentation to investors as the company's new CEO following Pedro Parente's resignation after a major truckers' strike back in May. He presented a company that was forced into restructuring after taking a beating and now seems well-positioned: its corporate governance is clearly improving and so is its cash generation.
| | | | | | | | | | |
| --- | --- | --- | --- | --- | --- | --- | --- | --- | --- |
| | 2010 | 2011 | 2012 | 2013 | 2014 | 2015 | 2016 | 2017 | 2018E* |
| Net Debt (US$ bn) | 37 | 55 | 72 | 95 | 106 | 100 | 96 | 85 | 69 |
| FCF (US$ bn) | -15.2 | -7.6 | -12.8 | -18.9 | -8.1 | 4.5 | 12.4 | 13.9 | 15 |
| EBITDA margin** | 28% | 25% | 19% | 21% | 18% | 24% | 31% | 27% | 35% |
Source: Petrobras; *EBITDA margin as of 1H18; **Adjusted EBITDA
FCF is steadily improving while the company aggressively pushes for deleveraging (Net Debt/EBITDA ~3.2x in 2Q18 from ~5.1x in 4Q15; aiming at 2.5x in line with peers). It announced on September 6 the approval of a hedge policy to its pricing which is perceived by investors as positive in bringing much needed stability to the company's financials. It also announced some positive one-offs such as +R$2.5 bn in cash recovered in a Class Action settlement agreement, in connection with US investors lawsuit over "Lava Jato" losses – perhaps also representative of the company's revival as the major corruption scandal is put in the past.
Petrobras (PBR) strengthens its position at an opportune moment given a seemingly recovering global commodities market with oil prices trending up.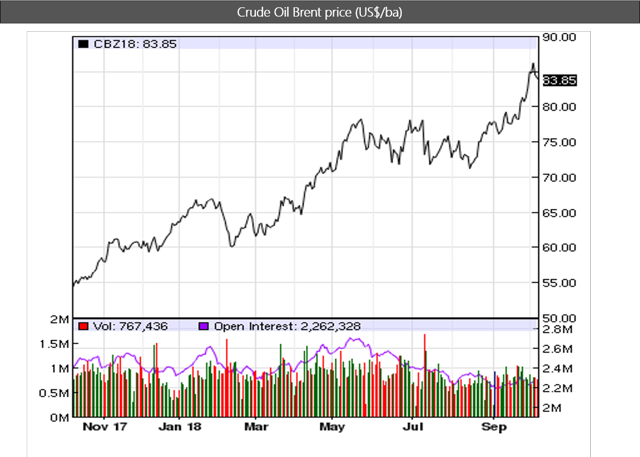 Source: Nasdaq
In my opinion, Petrobras (PBR) could be a compelling case for investors, especially in the near-term. It is close to recovering most of the market value lost following a bizarre nationwide truckers' strike and an even more bizarre election in Brazil. There are, however, some concerns for the medium-to-long term, especially on how the likely new Bolsonaro government might steer Petrobras (PBR) pricing policies and subsidies in a Brazil that is expected to deal with a fragile macroeconomy and political instability, following a potential shift to the opposite end of the political spectrum. Brazil will deal with several critical reforms and Petrobras (PBR) plays a key role (ex: privatization could be considered).
Disclosure: I/we have no positions in any stocks mentioned, and no plans to initiate any positions within the next 72 hours.
I wrote this article myself, and it expresses my own opinions. I am not receiving compensation for it (other than from Seeking Alpha). I have no business relationship with any company whose stock is mentioned in this article.