Recently, Aston Martin Lagonda Global Holdings plc (in the following referred to as plain "Aston Martin") went public on the London Stock Exchange. The company's owners sold about a quarter of it cashing in a splendid return on their initial investment. Since Monday (October 8th 2018) the stock can be traded by individual investors as well. After already being priced at the lower end of the narrowed pricing range the lost quite some ground in its first days of trading, closing at 1,600 pence on Monday evening.
Still the company's valuation is extraordinarily expensive for a company selling cars. But of course Aston Martin does not produce just any cars. The company builds luxurious high performance sports- and GT-vehicles. The Britons count among their loyal customers not only numerous car collectors and enthusiasts from around the world -at least the wealthier parts of it- but also fellow British icon James Bond himself, a man who's exquisite taste is beyond doubt. However 007 is not particularly known for financially responsible behaviour, especially when it comes to cars – just ask poor Q.
So how about Aston Martin as a company?
Who Exactly Are Aston Martin's Peers?
To determine wether the valuation of Aston Martin is too high, too low or indeed at a fair level one should have a look at its peers. It would however be a mistake to compare the company with mass market car manufacturers the likes of General Motors (GM) or Toyota (TM). While one could think about luxury good manufacturers like LVMH (OTCPK:LVMHF), Hermes (OTCPK:HESAF) or Kering (OTCPK:PPRUF). None of those companies however has cars in their respective portfolio. Hence while they can certainly be helpful in determining the appropriate valuation for Aston Martin, it would be better to compare the company to other luxury manufacturers that happen to be in the business of cars. On the other hand companies producing only a few vehicles annually (such as Pagani or Koenigsegg for instance) should be excluded due to the incomparably smaller scale of their respective operations. This leaves a number of brands to consider which are both luxury producers and big enough to be relevant. Aston Martin itself names Bentley, McLaren, Ferrari, Rolls Royce and Lamborghini as its main competitors. I would add to those some select high-end Porsche and Mercedes AMG cars (notably, Mercedes AMG supplies Aston Martin with engines). Herein, however, lies one major problem: Many of the mentioned competitors are either parts of larger automotive groups (Bentley and Lamborghini of Volkswagen AG (OTCPK:VLKAF); Rolls Royce of BMW AG (OTCPK:BMWYY)) or closely held (such as McLaren). This leaves investors with only Ferrari NV (NYSE:RACE) as a suitable benchmark. In the following, I will therefore compare the two companies and their respective valuations. If you are interested, you can read my in-depth take at Ferrari here.
Brand
Both companies have strong brands. This enables them among other things to command high prices for their cars, especially for limited edition objects. The strength of the respective brands is further underlined by auction prices for historic vehicles. For instance at RM Sotheby's 2018 Monterrey auction a Ferrari set a new auction record, an Aston Martin being the runner-up.
The Ferrari brand-name clearly draws its strength from the company's racing background (Ferrari is the most successful team in Formula One history among numerous other achievements) and its founder, Enzo Ferrari. Nonetheless Ferrari is also renowned for its GT-cars.
On the other hand, while the company has some racing merits (such as a victory at the 1959 Le Mans 24h race) as well -though admittedly less than Ferrari- Aston Martin's most important brand ambassador is arguably the world's most famous spy: James Bond. Aston Martin even christened its customization program "Q" after the eponymous quartermaster from the movie franchise. People who are not really car nuts might not know who Lionel Martin and Robert Bamford are (if you count yourself among this group: the founders of Aston Martin). Many however will know that the company founded by them is 007's automotive brand of choice.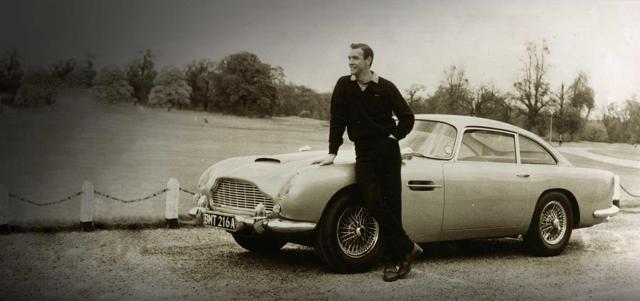 James Bond (Sean Connery) and his Aston Martin DB5 (source: Aston Martin)
In recent years Aston Martin has been positioning itself as more sportive (especially with its new Vantage lineup). To underline their ambitions they have also entered into a partnership with F1's Red Bull Racing. Not only is the team competing in the Formula One championship under the name of "Aston Martin Red Bull Racing" but there is also a development and innovation partnership.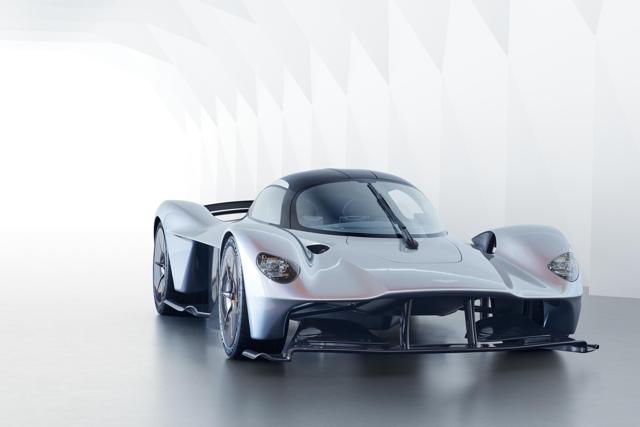 The Aston Martin Valkyrie supercar, developed in partnership with Red Bull (source: Aston Martin)
Aston Martin and Ferrari alike are able to sell limited edition models for high prices. Aston Martin also produces limited so called continuation models of the brand's classics. When it comes to their "regular" range, Ferraris sell at a higher average price. Ferraris also generally tend to have the higher resale value.
All in all, while both companies have strong brands, I see Ferrari having an advantage in this regard.
Financials
Ferrari has the highest margins in the automotive world (EBITDA margin of 30.3 percent for the full year 2017) and plans to further increase those. Aston Martin's EBITDA margin, while certainly admirable for a car maker at 23.6 percent, are considerably below those levels. Not only the margins are below those of Ferrari, the Britons do also sell a lower number of cars (8,398 Ferrari units in 2017 compared with 5,117 Aston Martins). Naturally the net profit does reflect this. Ferraris net profit for Q2 2018 (€160m) as well as for Q2 2017 (€136m) is significantly above Aston Martin's £76.8m net profit for the entire year 2017, notably a record year in its corporate history.
As of June 30th2018, Aston Martin had a net debt of £822.4m compared to Ferrari's €1203m. For the year 2017 Aston Martin reported a net profit of £76.8m while Ferrari reported a net profit of €537m. Being a British company Aston Martin reports in Sterling while Ferrari reports in Euro. Thus, the development of currency prices could shift the balance in one or another direction. At current exchange rates, however, those numbers show that Aston Martin has very roughly speaking three quarters the absolute debt but only round about one sixt of its net profit.
Aston Martins disadvantage against Ferrari is furthermore reflected by its bonds (the financial instrument, not Her Majesty's secret agent obviously). Aston Martin has to offer a coupon of 6.5 percent for bonds due in April 2022. Ferrari is able to issue bonds at considerably more favorable conditions (0.25 percent coupon rate for bonds due January 2021; 1.5 percent for bonds due March 2023).
Notably, the company has not itself profited from the IPO financially. On the contrary: the listing produced costs close to £50m in cash. An instant improvement of the financial situation through the IPO is therefore not to be expected.
Aston Martins financials are certainly not a catastrophe. Yet they do by no means equal those of Ferrari.
Outlook
Aston Martin will launch production of its yet to be named SUV (the name "Varekai" has already been reserved, a concept car was called "DBX") in 2019. This gives it a head start on Ferrari whose "Purosangue" crossover will debut in 2022. The expansion into new segments like SUVs and full-electric vehicles (under the to be reintroduced Lagonda brand name) offers the chance for Aston Martin to increase its volumes.
If done right, the company might also be able to generate additional revenue from further brand collaborations and licensing (for example there already is an Aston Martin co-branded submarine on offer). Such collaborations would only have limited capital expenditure resulting in potentially high margins. A positive side-effect could be that new customers may be attracted to the Aston Martin brand via non-car products.
Another point that could turn out to be advantageous for Aston Martin is the cooperation with minority shareholder Daimler AG which supplies the British manufacturer with engines and electronics. This partnership potentially saves Aston Martin a great deal of R&D cost. As Daimler intends to stay onboard as a shareholder the cooperation does not seem very likely to end anytime soon.
Risk
While there is certainly a growth perspective for Aston Martin, investors should also consider risks associated with the company.
For a company that is producing exclusively in the UK Brexit obviously is a major risk factor. I am, however, inclined to believe, that as a producer of luxury goods Aston Martin will be more able to pass higher costs on to its customers than other businesses producing in Britain. Nonetheless, a hard no-deal-Brexit could negatively affect the company in a number of ways. Given the insecurity about the actual final shape of Brexit procedings I do believe that as of now it is near impossible to predict in how far Aston Martin will be affected by it. Still investors should feel urged to bear in mind that there are indeed unpredictable downside risks.
Furthermore, Aston Martin uses upfront customer deposits as a means of effectively financing the company's expenses. The amount of such deposits is considerable, especially in the case of limited edition vehicles. An effective interest-free loan is of course rather good news. On the other hand this does affect future cash flows in a negative way, as the actual production of the cars will cost money but less cash will be generated. Investors should keep in mind that Aston Martin may not increase the number of limited edition vehicles at will -after all that's the point of limited editions, isn't it?- if it does not want to risk diluting its exclusivity and thus future pricing power. This Bloomberg article deals with this problematic more in-depth. Please note that Aston Martin does not disclose the actual amount of customer deposits it currently holds.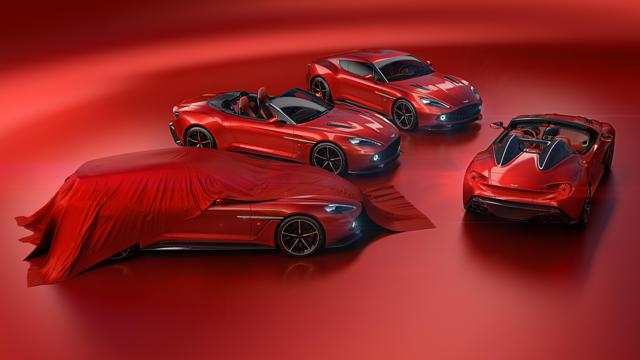 Aston Martin's limited edition Vanquish Zagato models (source: Aston Martin)
Another risk that I believe investors should be aware of arises from the 12-cylinder engines, more precisely their assembly: While developed by Aston Martin, the V-12 engines used in certain cars are assembled in Germany by former parent Ford. If Ford would decide to stop the assembly of engines, this could result in severe impairments for Aston Martin's production.
Finally, I would advise investors to consider that the Lagonda brand is by far not as strong or well-known as the Aston Martin brand (not to speak of the likes of Ferrari) is. Should the brand fail to attract high-end customers following its relaunch, it could turn out to be a rather costly endeavor.
Conclusion
All in all Aston Martin is certainly a business of some quality. As a luxury brand I believe that a valuation at considerably higher multiples than mass market car manufacturers is justified. I do, however, by far not see it on the same level with Ferrari. Even at the by now lower valuation I still think there should be more distance between the two companies if it is taken into consideration that not only Ferrari is still a stronger brand but also outpaces Aston Martin in nearly all relevant financial measures significantly.
Also I see Aston Martin as the riskier bet in direct comparison. While it is a strong brand and has finally become splendidly profitable, at the current (as of October 8th 2018) price I would not necessarily recommend Aston Martin given there is a company like Ferrari at a similar price point (regardless wether due to Aston Martin being over- or Ferrari being undervalued).
My advice regarding Aston Martin -if you can afford it, that is- would be to rather purchase the car and wait for cheaper prices where the stock is concerned. If you can get your hands on one of the limited edition pieces this might even turn out as the better investment.
Disclosure: I am/we are long RACE, LVMHF.
I wrote this article myself, and it expresses my own opinions. I am not receiving compensation for it (other than from Seeking Alpha). I have no business relationship with any company whose stock is mentioned in this article.