The economy is doing well. The unemployment rate is at the multi decade low, inflation is tamed, wages are growing - somewhat - and there is no apparent reason (except for elevated debt leverage) why the current market shouldn't continue higher, at least in the short term.
The recent SPY correction and VIX spike is only healthy and was occurring quire regularly since the beginning of current cycle up till 2017. Then, something changed and markets and investors became accustomed to having a smooth ride. Risk parity quant strategies used to buy any dip that occurred, and champagnes were popping as Trump's tax cut went forward. This time, however, markets are more cautious about the rising interest rate. As Jerome Powell's Thursday's remarks saying the market is off from neutral rate and the Fed will keep pushing the interest rate above the neutral rate, which triggered a 20 bps treasury runoff, the market reaction is only healthy and shouldn't be unexpected.
For instance, in December/January a few months ago, treasuries rose roughly 45 bps in a span of 6 weeks, yet the equity market noticed only at the beginning of February and had to adjust accordingly in quite a dramatic fashion. This time, the relation of rates-to-equities is inverse - as it should be. One reason can be that the rates spiked quickly this time.

GDP is still growing, and all kinds of soft data are still indicative of strong growth. Remember, in 2007, a whole bunch of signs and warnings were surrounding lax housing rates and the never-ending housing increase. This time, there isn't such potentially damaging development taking place. We can talk about the trade war with China, which would impact $800 versus $200 billion of Chinese versus US goods. That's peanuts compared to the housing market that boomed up till 2007. Not mentioning that the US is better equipped at transferring or hedging supply chains from other countries, even the US itself. China is not a cheap manufacturing country anymore, and with advances in production, the manufacturing bunch of the impacted output can be produced domestically. And in the worst case, tariffs can be dodged.
Then, there is shadow banking, rising oil, EU bottlenecks, and Brexit, but none of those necessarily present such a dramatic implication as to completely stop the motor of the US economy.

GDP growth doesn't tend to just disappear suddenly. What happened in 2000 and 2006-07 was a visible hiccup in the activity before GDP went into decline. These events don't happen from a quarter to quarter and take time. So do the markets that precede the GDP by several months.
When talking about the economy, there is no a greater driver than unemployment. In past recessions, the unemployment started to decelerate and creep higher well before the GDP and markets declined. It was visible in the data quite early in the process. This time there is no evident deceleration, and hence, the probability of wide decline and market crash is still limited in the short term.

In 2000, the dot-com bubble popped, however the economy was doing relatively okay - until it didn't in 2001. There are certain similarities with that era nowadays, namely FANGs and actually broad Nasdaq (NASDAQ:QQQ) kind of stocks. They went up tremendously, and I wouldn't be that surprised if they started to cool off a lot before the general market and economy. FANGs are already down a large chunk, and I think people should be just glad that it happened. In the worst case the cycle had already caught up with them, in the best case it's just a healthy correction. However, Tech stocks don't represent the broad market, which is way more fairly priced nowadays and can keep going.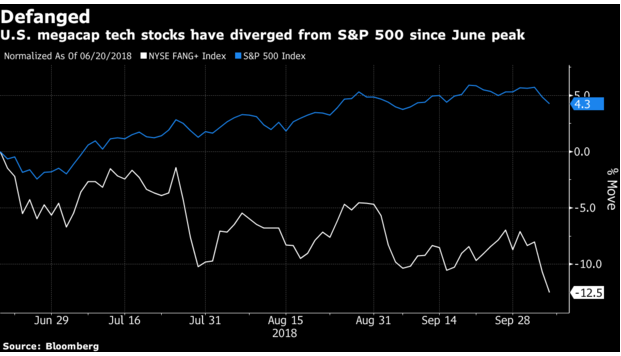 The biggest caveat is, in my opinion, overall negativity and doomsday pundits that predict the economy will go south soon. The thing is, they are usually wrong and bubbles tend to pop during extreme euphoria, when errors seem to be impossible. Two-thirds of economists predict a crisis in 2020. But how good are economists at predicting any kind of economic event anyway? Furthermore, hedge funds are closing down at record speed amid making virtually no returns for their investors for the last couple of years. When these guys turn bullish at the end, I would start to feel anxious about where we're heading.
I'm not expecting the markets will be smooth from now on, but an occasional dip is only healthy and I am buying this one.
Disclosure: I/we have no positions in any stocks mentioned, and no plans to initiate any positions within the next 72 hours.
I wrote this article myself, and it expresses my own opinions. I am not receiving compensation for it (other than from Seeking Alpha). I have no business relationship with any company whose stock is mentioned in this article.