I first started writing about VEREIT (VER) in February of 2017. In that article, I focused on the increasing drag of legal expenses, concluding,
VEREIT is a speculative bet and 6.4% yield is not enough for me to make that bet. At the very minimum, investors can expect an increase in news as developments happen regarding the Vanguard lawsuit. A lot of that news is not going to be encouraging and could be potentially devastating to the stock price.

Even those who are confident that the lawsuit will end with little real impact on VEREIT will likely have opportunities at better entry points later in the year as the lawsuit generates more headlines.
At the time, VER was trading around $9. In the comments, I hypothesized the stock going down to $7. For the record, that was pure luck.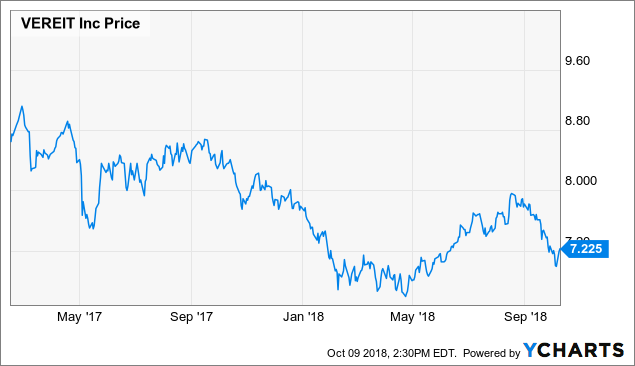 Today, VER is quite a bit further down the road. They have settled the Vanguard case and just recently announced the settling of 8 "opt-out" cases. VER has now settled claims representing approximately 24% of outstanding shares during the class period.
As I noted in my most recent article, VER has made a number of steps over the last 3 years that have improved their risk profile and their portfolio. While there are still some warts, VER is a much more attractive company today than when Rufrano first took the helm.
There remain some risks, but I have decided to dip my toe in.
Settling
The settlements help remove an important overhang. The litigation VER has faced over the actions of Schorsch and company has not only been a real expense but has also introduced a significant level of uncertainty.
So far VER has settled 24% of shares outstanding for $175 million. If the remaining lawsuits settle for a similar amount per share, that implies approximately $730 million for the total bill.
In their second quarter 10-Q, VER reported that there were 12 opt-out lawsuits and the class action. So VER has another 4 opt-out cases and the big one. The class action can be followed here. Depositions have been ongoing and there has not been a significant amount of activity.
The class action is scheduled for trial on September 9th, 2019. This suggests that a settlement will likely occur at some point next year. Thanks to their deleveraging efforts, VER is well positioned to absorb the settlement costs. The increase in interest expense will be offset by decreased legal expenses.
VER should start benefiting from decreased legal expenses as early as Q4.
There is still some risk here. The market has barely blinked at the recent settlements, but the class action will be a much larger number that might be payable in either cash or equity. It is difficult to determine what Mr. Market is pricing in as a reasonable settlement.
The other unknown is what the SEC will do. In the 10-Q it says,
The United States Attorney's Office has indicated that it does not intend to bring criminal charges against the Company arising from its investigation. In March 2018, investigative staff of the SEC's enforcement division inquired whether the Company wishes to discuss a resolution of potential civil charges the SEC may bring with respect to certain matters investigated by the staff stemming from the announcement made on October 29, 2014. The Company has been cooperating with the SEC staff's investigation since its inception and is engaged in such discussions with the staff. The timing and substance of the ultimate resolution of these discussions is unknown.
It remains to be seen whether any settlement with the SEC will be a material amount.
The settlement of the class-action will remove a significant amount of the remaining uncertainty. I tend to believe it will be a positive catalyst for the share-price although it cannot be ruled out that a larger than expected settlement could create another downdraft.
Returning Growth
At the end of Q2, VER invested $254 million in acquisitions and received $232 million from dispositions. The original guidance called for $200-$300 million in acquisitions above dispositions. VER is finally returning to growth mode, and for the second half, investors can expect acquisitions to exceed dispositions.
It is likely that acquisitions are slightly lower than the original guidance due to VER buying back stock. Since stock prices have remained in the $7 range, I suspect that VER has continued buying through the 3rd quarter.
Either way, whether through increased acquisitions or buying back stock, there should be healthy upward pressure on AFFO/share. After 3 years of mostly declining revenues and AFFO, VER should be able to put together consecutive quarters of growth in 2019.
While I do not expect VER to really get the growth engine going until the litigation is in the rearview mirror, even minimal consistent quarter over quarter growth should have a positive psychological impact.
The Dividend
VER's AFFO payout ratio over the trailing 12-months is approximately 75%. That provides excellent dividend coverage for a REIT that is yielding over 7.5%. I predicted that management would remain conservative with the dividend until after the litigation issues are resolved. Once they are resolved, a dividend increase becomes a strong possibility.
2019 could be shaping up to be a great year for VER shareholders. If the litigation settles and increased acquisitions lead to rising AFFO, it is very likely that VER raises their dividend by the end of the year.
Given how conservative VER has been with their balance sheet and in setting the dividend, it is very unlikely that even a large settlement would put the dividend at risk.
The Warts
While VER is referred to as a "NNN REIT", less than 60% of their properties are NNN leases.

Source
NN leases mean that the landlord is taking on more expenses than a NNN lease and is, therefore, more exposed to inflation.

Source
VER also has over 1,000 leases which are flat for the entire lease term. Such a high percentage of flat leases will limit growth in same-store rents and exposes VER to inflation risk.
Compare VER to National Retail Properties (NNN),

Source
As you can see, NNN receives 92% of base rent from NNN leases and 78% of their rent increases are based on CPI. Only 5% are flat. When it comes to inflation, NNN is better protected on the expense side because they are responsible for fewer property operating expenses, and they are better protected on the revenue side since most of their leases are tied to CPI.
These two issues are the main reason why VER will never trade at as high a multiple as premium NNN REITs like Realty Income (O) or NNN. It is also a reason why I believe it is very unlikely that either O or NNN would make a bid to acquire VER.
VER will have to live with the poor decisions of their ARCP predecessors for a long time.
Conclusion
VER has been making solid progress on their turnaround and now it appears that there is light at the end of the tunnel for the legal situation. 9 cases are settled and 5 cases plus the SEC remain.
The class-action will be the largest and with a trial date set for next September, there is a decent chance that it settles next year. Though the legal system operates at its own pace and delays are always possible.
Another positive catalyst I expect to appear next year will be more consistent revenue and AFFO growth after adjusting any legal settlements out. VER has been deleveraging and selling properties for 3 years and has seen shrinking cash-flow as a result.
The possible combination of settling the litigation, growing AFFO and maybe even a dividend increase should instill significant optimism in VER.
VER still has plenty of legacy headaches from the ARCP days. Their high percentage of NN and flat leases puts them at a disadvantage to the premium peers in their sector. It also makes an acquisition from O or NNN as some have speculated very unlikely in my opinion.
Due to those issues, VER should trade at a discount. I continue to believe a fair trading range for VER would be 12-14x AFFO. With shares currently trading under 10x AFFO and several potential catalysts likely to appear in the next 12 months or less, the current discount is enough to interest me.
Disclosure: I am/we are long O, NNN, VER.
I wrote this article myself, and it expresses my own opinions. I am not receiving compensation for it (other than from Seeking Alpha). I have no business relationship with any company whose stock is mentioned in this article.