Alibaba (BABA) and fellow Chinese stocks continue to feel the brunt of heavy selling. Not only is the U.S. - China trade war weighing on the stock but to make matters worse, general sector rotation from tech and other growth names into bonds, REITs and utilities is further escalating the situation.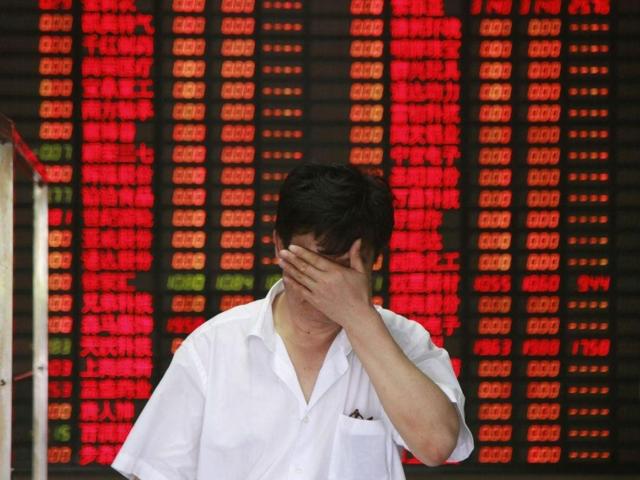 Source: newscult.com
For a stock trading at 27 times earnings but growing earnings above 50% Y/Y, slumping 30% from its all-time high looks like a big thing. But history has taught us that in the short term, valuation means little if emotions of fear and anxiety dominate the markets.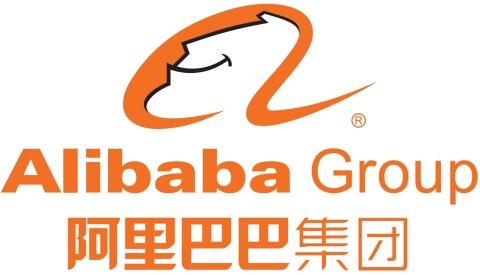 Source: Alibaba Investor Relations
Having bought into Alibaba at distinctly higher prices, the question is whether it makes sense to start adding to your investment now or wait for even stronger declines.
What is going on at Alibaba?
For a company the size of Alibaba with a market cap of almost $400B, a 30% decline could be considered "free fall." At first, it is shocking to see that this behemoth of Chinese e-commerce has lost 30% of its market cap within 3 months despite the company continuing to grow at a rapid pace.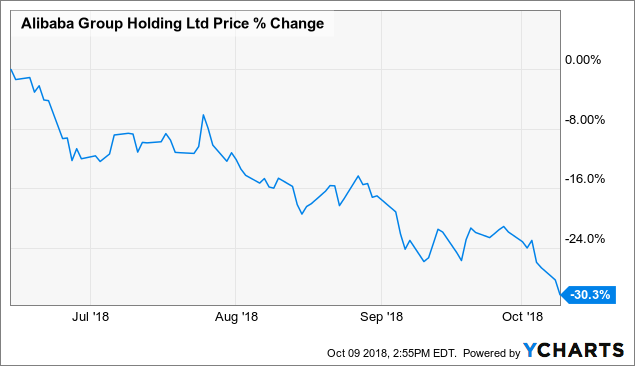 Equally shocking though are investors rushing in, trying to catch a falling knife, myself included. When I added to Alibaba in September in the $160s I felt like I am going shopping, but 30 days later the price is even lower and does not seem to find any hold or take a breath.
But does that alter my investment thesis? Shall investors feel bad that they snapped a high-growth stock in a substantial downtrend before a bottom was formed?
Although U.S. markets have hit all-time highs in October, these gains have evaporated now that the danger of higher interest rates is dominating market activity. Technology stocks and Chinese ones in particular got hammered.
Such a massive bear market in which select Chinese stocks are trapped is always reason for me to challenge how to invest in down markets. The best strategy is really to take advantage of market overreactions and buy top-quality, high-growth companies such as Alibaba, JD (JD), Baozun (BZUN), Huya (HUYA), iQIYI (IQ) at ever cheaper prices.
Certainly, this strategy could end up in buying a falling knife but provided the long-term investment thesis and business case is intact, even the longest knife will finally hit the ground. I am not investing with the intention and belief that I am able to invest right at the bottom. I am investing in companies with long-term prospects provided the overall macro-economic environment is supportive. In case of a Black Swan event though, none of this has any meaning in the short term and declines of 50% and more are not an exception but rather the rule.
What assures me to continue doing what I am doing is that no matter how catastrophic and devastating the crisis had been in the past, years later the economy and markets always came back stronger and while it already feels like "darkest before dawn" for some investors, I believe that we are still relatively close to the top of the cycle of investor emotions at least as far as the overall markets are concerned.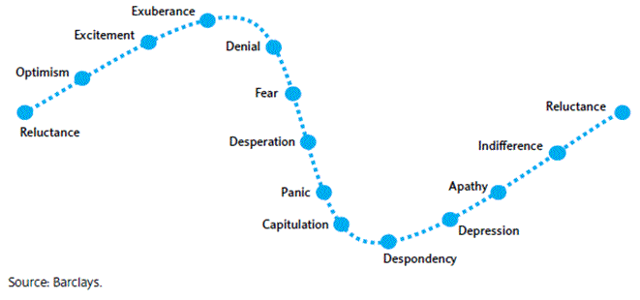 For Alibaba, a lot of potential calamities have already been priced into the stock but we are nowhere near "panic" or "capitulation" mode. For some it may look like denial, a phase I found myself in September, believing that this "firesale" is just utterly ridiculous, while others are already in "fear" mode. I am somewhere in between now, but of course that does not mean that I am right.
And even though I can detect my personal state of emotion, this does not mean that I stop buying Alibaba. And the reason is as simple as it gets: I could be wrong and if I am wrong I'd regret far more to have let slip such an entry point than see the price decline another 20%. And the only reason for that is that in the very long run where I see Alibaba expanding and growing its business in Greater Asia and Europe in cloud, AI and e-commerce, even a 50% decline today has little meaning.
Certainly, if I knew with absolute certainty that Alibaba will hit its bottom at $104, I would sell all my shares now and back up the track at this price. That's not possible as we all know.
Alibaba, to me, looks to be a great stock which exactly fits that purpose. Its valuation has been pushed down to around 27 times forward earnings despite the company continuing to grow at a rapid pace across many divisions.
For the most recently reported Q2, top-line growth came in at a whopping 67.8% whereas EPS contracted by $0.05, negatively impacted by a "one-time increase in share-based compensation expense related to Ant Financial's awards to our employees." Disregarding that item, net income would have increased 33% Y/Y. As with every large-cap e-commerce or tech company, the cloud segment was clearly the highlight almost doubling Y/Y (+93%) driven by more customers and a favorable shift in the revenue mix towards higher value-added products and services. Although bottom line, the "Cloud computing" segment has widened losses from RMB(103M) to RMB(488M), this is solely driven by Alibaba's massive investments into future technologies and its technology infrastructure. Global megatrends such as big data analytics, artificial intelligence, security and IoT applications are cornerstones in Alibaba's investment focus.
Consumers hit record highs with more than 634M mobile MAUs and more than half a billion annual active consumers. Mobile MAUs on China retail marketplaces grew 17M sequentially. The long-term growth trend for both metrics is still very intact and shows ongoing year double-digit growth and lesser sequential increases.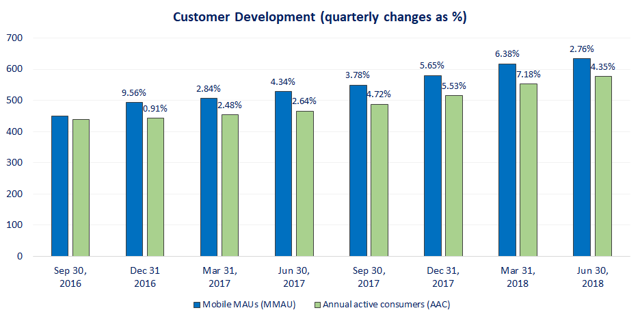 Sep 30,
2016
Dec 31
2016
Mar 31,
2017
Jun 30,
2017
Sep 30,
2017
Dec 31,
2017
Mar 31,
2018
Jun 30,
2018
Mobile MAUs (MMAU)
450
493
507
529
549
580
617
634
Annual active consumers (AAC)
439
443
454
466
488
515
552
576
quarterly increase MAUs
9.56%
2.84%
4.34%
3.78%
5.65%
6.38%
2.76%
quarterly increase AAC
0.91%
2.48%
2.64%
4.72%
5.53%
7.18%
4.35%
Y/Y change MAUs
22%
18%
22%
20%
Y/Y change AAC
11%
16%
22%
24%
Source: Alibaba Q2/2018 Earnings Release
Investor Takeaway
Overall, while Alibaba continues its strong growth which is in some areas even accelerating, the market is totally obsessed with trade war and sector rotation. Alibaba's exposure and leverage to growing consumption in China are phenomenal, just as Tencent's (OTCPK:TCEHY) is as well. It is building new businesses while growing existing ones and tapping new markets. Alibaba is in prime position to benefit from and excel at global megatrends in big data analytics, artificial intelligence, migration to the cloud, security and IoT applications; even though tariffs may and likely will hurt in the short term, they do not impact the underlying trends themselves.
However, as bright as the fundamental side may appear, markets do currently not care about that at all and in such an environment it is important to know your emotions. You may not be able to change them but at least you should have awareness and if your plan is to hold Alibaba long term as you are as convinced as I am about its business model and potential, you should make your own plan at which prices you are willing to buy and then stick to it. Psychologically, if you see a $100 price as a tremendous entry point right now, just imagine how despondent and desperate you may feel if the stock were really to trade that low. You could be in panic mode as the headlines would certainly be massively negative or even capitulate but it is these moments which shape you as an investor and contribute massively to your overall investment returns. You do not want to miss that train and I prefer jumping aboard too early but with only a few tickets, rather than missing the train entirely and then buy hundreds of tickets for another train at much higher prices later on.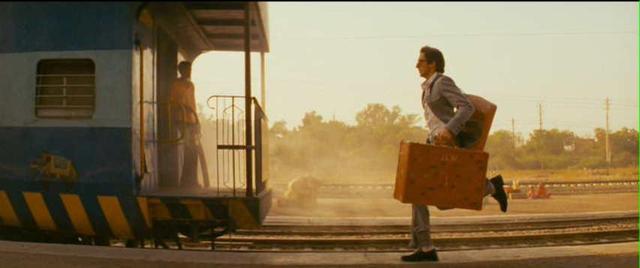 Source: Image Courtesy of the faceless book blog
Even when the stock dropped precipitously, the headlines have certainly been not that bad:
It is certainly very difficult to assess the impact of the trade war, as everything could turn out to be much worse or, the involved parties could suddenly realize that no-one really benefits from the current situation. I cannot speculate on this, but only invest in businesses I have long-term faith and belief in. Alibaba perfectly fits that bill.
One passage from bestseller book The Black Swan by Nassim Nicholas Taleb argued that "missing a train is only painful if you run after it!" I couldn't agree more!
Disclosure: I am/we are long BABA, JD, HUYA, IQ.
I wrote this article myself, and it expresses my own opinions. I am not receiving compensation for it (other than from Seeking Alpha). I have no business relationship with any company whose stock is mentioned in this article.
Editor's Note: This article discusses one or more securities that do not trade on a major U.S. exchange. Please be aware of the risks associated with these stocks.