Ebix Inc. (NASDAQ:EBIX) has had quite a week. Shares fell close to 20% on Monday, before recovering and gaining back around 8% at the time of this writing. Despite their bounceback, there is still quite a bit of room for growth if Ebix is to return to its $80 share price (before a planned stock split).
Ebix is not the same company it was two years ago. Below, I'll review its growth drivers and revenue breakdown to cover how the business has changed, along with the new risks associated with these changes. Then, I'll review how this ties to its valuation and the recent sell-off.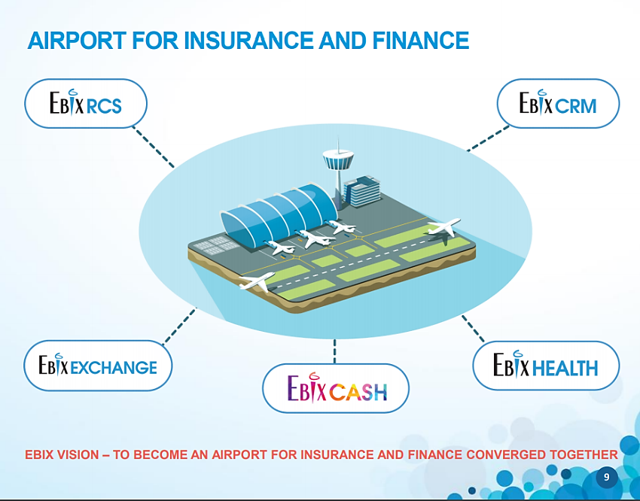 Source: Ebix IR
Growth Drivers - Investments and Acquisitions
Ebix offers several services that range from SaaS, middleware implementation, and exchange platform provider. However, Ebix has been redirecting its internal investments and acquisitions to change its business focus, which the company calls Ebix 2.0.
One of these new focus areas is BCE Ebix, a joint venture between the Bombay Stock Exchange and Ebix, which is designed to create an insurance exchange in India. Part of this would be serving as an exchange for insurance products and insurance distribution, allowing financial institutions to sell different kinds of insurance products. BCE Ebix also wants to expand towards an insurance sale platform for small businesses, as explained by CEO Robin Raina:
"It intends to take the process of insurance sale to a grocery shop, a watch shop, a battery shop, basically any last mile outlet of franchise that has footfalls in their store and have a relationship-oriented business. We intend to provide these outlets with Wi-Fi-enabled handheld tablets loaded with a simple idiot proof solution that mandates a step-by-step insurance sales process. The outlets will be trained by a simple step-by-step, computer-based training program, followed by a self certification test."
The main strategy behind BCE Ebix was to give Ebix an entry to the financial markets of India. One of the main drivers in the company's financial strategy is Ebix Cash. India is the largest inward remittance market, and Ebix Cash has a dominant market share position.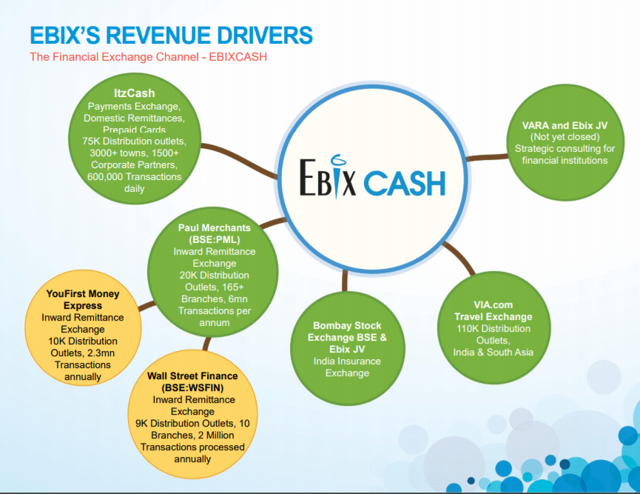 Source: Ebix IR
Returning to Ebix's future investments, its investments and acquisitions have been focused on expanding Ebix Cash, entering into the India travel business, and e-learning.
One of the main areas that Ebix Cash plans to expand to is the lending business. Already the largest financial exchange in India, Ebix believes that it can utilize Ebix Cash's platform and ecosystem to add lending capabilities. Based on its acquisition of Indus Software, the company plans to allow businesses to use their mobile devices to quickly gain access to capital, as well as create a P2P lending platform. As Raina explains:
"We have always believed that Lending is a must have functionality for any leading end-to-end Financial Exchange. Accordingly, in our vision plan for EbixCash with respect to the area of Lending, we see three opportunities: one - powering the technology for Lenders in any industry; two – creating a person-to person lending exchange that can be available over the web, e-wallets, mobile phones, white label Corporate intranets and EbixCash outlets to consumers; three – lending services for our EbixCash outlets that allows them the power to borrow and expand their business with EbixCash. The acquisition of Indus is a step in the direction of accomplishing the first step of that vision plan."
Lending activities are not currently accounted for in the company's financials. Although similar business models have been heavily scrutinized in China, the opportunity for Ebix Cash to experience rapid growth remains. India has a similar infrastructure to China, where access to technology is more common than access to banks and financial services, and this creates a very favorable environment for tech firms to expand into financials.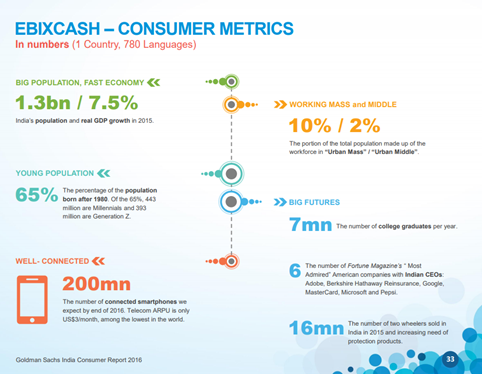 Source: Ebix IR
Also part of Ebix Cash is Ebix's recent acquisitions of travel businesses, as well as entry into e-learning. Rather than simply being a financial exchange, Ebix Cash is expanding to include other features outside of financials. Most India-related businesses are considered to be under Ebix Cash, as Ebix has been contemplating an IPO for Ebix Cash.
Regarding travel, Ebix is adding features for clients to pay for travel services through its platform. The company's acquisition of Mercury allows entry into luxury and corporate travel services, while its acquisition of Leisure Corp. allows entry into sports and events travel. This also ties into Ebix Sports, an ambassador program for professional athletes.
Ebix Cash is also offering e-learning solutions in India through Ebix Smartclass Education. This offering focuses on utilizing technology to increase the efficiency of learning and teaching, while also developing education-related products and end-to-end IT solutions for schools.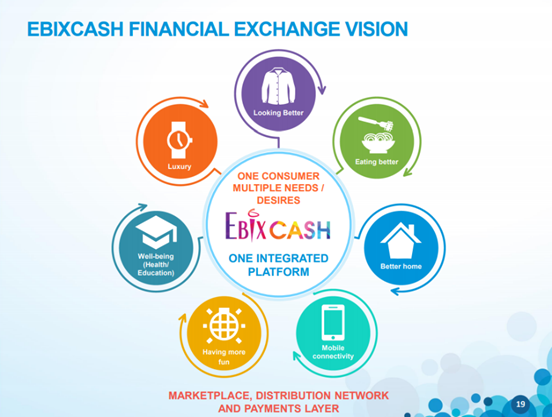 Source: Ebix IR
The main emphasis of this section is to highlight where Ebix is focusing its investments and acquisitions. As mentioned in the earnings call, none of these initiatives have made an impact on its financial statements. Ebix Cash is basically becoming a technology company dipping its toes into many different industries in India. Although a planned IPO could help streamline corporate focus, it is interesting to see a company enter so many different industries at once.
Changing Revenue Sources
In the last quarter, VP Darren Joseph explained the company's revenue growth sources...:
"The year-over-year revenues increase are the result of revenue growth from EbixCash financial exchanges, e-learning business, P&C, life exchange, annuity exchange, underwriting exchange, health e-commerce exchanges and the financial exchanges aided by revenue growth generated from the company's various inward remittance, ForEx, finance and travel businesses,"
... as well as the sources that held it back:
"... offset primarily by the declines in the area of third-party administration exchange, EHAE, CRM, RCS, continuing medical education business and the strategic consulting business."
Basically, Ebix Cash and India exchanges are powering the company's growth. Much of the detractors to its growth are based on services that were mainly focused in America and Canada. In fact, it's easy to see Ebix generate a vast majority of its revenue in India in a couple of quarters.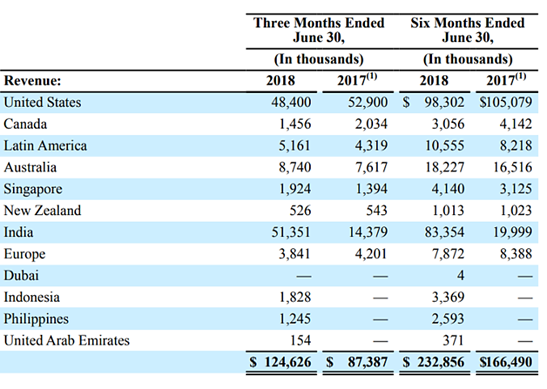 Source: Ebix IR
Revenue from India has overwhelmingly driven its growth. The company's core business outside of Ebix Cash is likely suffering due to corporate focus on Ebix Cash. Based on its strategic moves, investors shouldn't expect a rebound in the company's core business as long as Ebix Cash is still 100% owned by Ebix.
When combined, top line growth exceeds 40%, and growth in India exceeded 200%. Again, this barely takes in its new initiatives in Ebix Cash.
Regarding these initiatives, management believes that operating margins will bounce back to 30% as the acquisitions become implemented. Again, even with travel, lending, and e-learning still in their infancy, management believes the company can reach a $600 million annualized run rate in two quarters, and $450 million run rate for India by the end of next year. For comparison, 2017 revenue was $363.97 million.
New Risks
Readers and investors may have noticed the above analysis was all over the place, jumping from one area to another semi-related area. And this is the biggest risk with Ebix. This isn't a tech giant, as the company has a market cap around $2 billion. Ebix Cash is expanding to take on lending, Indian financial and insurance exchanges, travel services and educational technology, along with maintaining and growing several other services in various areas of the product life cycle. Ebix Cash's growth has likely led to declining revenue in the United States due to resources and focus shifting away from it, but it is hard to argue with the growth rate it has in India and overall.
The next risk is that Ebix is relying on India for most of its future business. Management has already mentioned that the election has influenced their IPO plans for Ebix Cash. The government has also been having a hard time regarding fiscal and economic policy. And with most of the company's revenue coming from financial transactions and services, a series of defaults and credit crises are also a concern. Oh, and India is one of the most regulated major countries in the world.
Many of these risks feed into the currency problems for Ebix. The rupee continues to fall due to credit problems, global economic slowdown, political unrest, and possible sanctions by America due to relationships with Russia and Iran.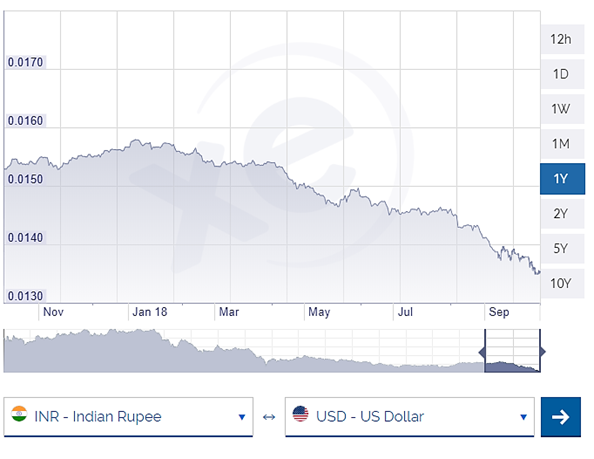 Source: XE.com
Valuation Analysis
As evident through the company's heavy investments into Ebix Cash and India, its ROIC and margins have both been declining.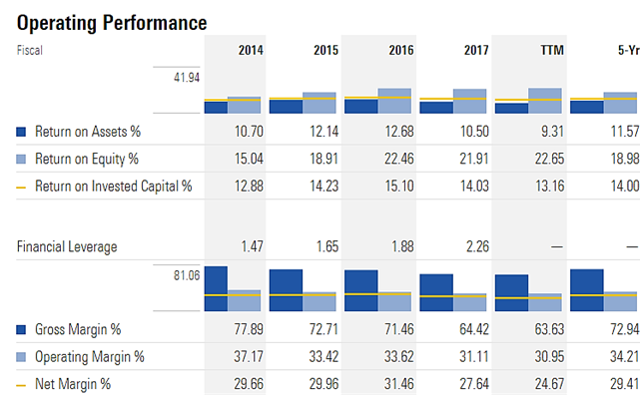 Source: Morningstar
The fall in ROIC isn't too concerning, as the real indicator for management efficiency will come in once all of these acquisitions become integrated. Net and operating margins are both decreasing rapidly, however, as Ebix may be expanding too fast. However, the company's core businesses have been able to keep margins from nose-diving, and will likely serve as a cash cow for Ebix to draw from and invest into Ebix Cash.
On the valuation side, below are relevant metrics as of Tuesday:

Source: Seeking Alpha
Revenue growth in India isn't expected to slow down, and overall revenue growth was over 40%. And as India continues to become the company's main revenue source, its 200% country revenue growth will bring the overall rate higher.
With this accounted for, a 4.25 P/S and 17.34 P/E look very attractive, even accounting for lower margins due to their very aggressive growth. For a company with this kind of growth rate, the 26.63 P/CF is especially attractive, a ratio that is substantially lower than most tech firms with similar growth rates. Ebix's CF is likely buoyed by its old services in America, which will likely supply the cash needed for new investments.
Sell-Off Concerns
There are a couple reasons for the recent sell-off. The big dip came on news that Ebix is planning on switching auditors. The company later explained that the switch was due to its business becoming more India-focused, and thus, it wanted a new auditor with more Indian familiarity. However, the company's previous auditor expressed concerns related to its controls, which may have influenced the decision.
Ebix might have been caught by the tech and market wide sell-off that occurred at the same time as this news, which might have accounted for such a large loss. Recently, Ebix also announced a stock split as well, which caused some concern regarding dilution. Despite all this, the sell-off was overdone, and so far, none of these concerns should translate to long-term problems.
Investor Takeaway
Distraction from the MLB playoffs prevented me from finishing this article before Tuesday, and it appears the bounceback for Ebix has already started. Regardless, just because the stock had an overreaction and a major dip, long-term investors should still analyze the whole situation, and there is still plenty of room left for Ebix to recover.
Ebix is heavily invested in Ebix Cash, and most of its recent acquisitions and investments support this. In addition to India quickly becoming its main revenue source, investors should note that this is basically a new business, Ebix 2.0. With the extremely high growth rate comes numerous risks, such a geographical, political, currency, and expansion risks. Ebix Cash is expanding to several new areas, and a future IPO will likely be needed to fund even more expansion. Will Ebix Cash take on more than it can chew?
Investing is based on risk/reward. Despite my concerns regarding business in India and my main concern about expanding too much, too fast, I still believe that Ebix's valuation provides a nice risk/reward investment. Its old business will be able to generate enough cash to support Ebix Cash, even though margins and ROIC will likely suffer short term. However, Ebix provides nice exposure to a growing economy and country that has high levels of technology access and low levels of infrastructure support, which are excellent conditions for a tech company to beat banks in the fintech race.
Disclaimer: The above references an opinion and is for information purposes only. This information is general in nature and has not taken into account your personal financial position or objectives. It is not intended to be investment advice. Seek a duly licensed professional for investment advice.Past performance is not an indicator of future performance.
Disclosure: I am/we are long EBIX.
I wrote this article myself, and it expresses my own opinions. I am not receiving compensation for it (other than from Seeking Alpha). I have no business relationship with any company whose stock is mentioned in this article.