With shares of Anheuser-Busch InBev (BUD) currently sitting near 52-week lows around $87 and 30% down from its highs over the past year, it is time for value investors to take a look at the company as a long-term investment. AB InBev is now currently trading at 16.8x forward P/E with a dividend yield of 4.9%.
The company owns some of the strongest beer brands in the world from Budweiser, Stella Artois, Corona, Hoegaarden, and Leffe and its operations are highly profitable with average ROE and ROIC of 15.0% and 8.8% respectively over the past decade. In my opinion, AB InBev at this price looks to fit the great quote from the Oracle from Omaha that:
"It's far better to buy a wonderful company at a fair price than a fair company at a wonderful price." - Warren Buffett
Maturing Growth?
The fact that North American organic volumes were down 4.5% in the year-to-date (YTD) first 6 months of 2018, left some investors running for the hills but North America only represents around 19.6% of volume YTD. AB InBev's largest segment (Latin America West with a share of 20.3%) more than made up for this downfall with growth of 6.5%. Consolidated organic volume across the company was essentially flat at 0.3% which paints the picture of a maturing company with offsetting markets.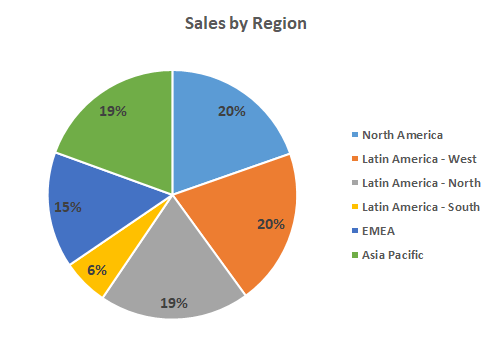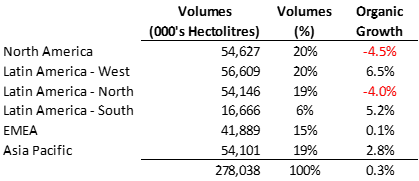 Source Unaudited Interim Report for the six-month period ended 30 June 2018
Volume only tells half the story, however, as price increases and inflation drive growth at most mature businesses. AB InBev's strong portfolio of brand name beers allowed the company to achieve very solid 4.7% organic revenue growth YTD by increasing prices. The takeaway here is that while volume might currently be flat on a consolidated basis, the company is still able to use its brand power to increase prices and revenue.
In my opinion, with potential ongoing weakness in developed countries due to an aging population and health trends and a shift away from beer, AB InBev's large exposure to emerging markets along with their pricing power should help the company grow alongside global GDP in the decades to come.
A Profitable And Stable Growth Company
The company's many brands and diverse footprint allow for steady profits. In recent years, the company's constant restructuring initiatives have been hampering total returns to shareholders. Nonetheless, AB InBev has had a profitable past decade achieving high returns on equity (ROE) and returns on invested capital (ROIC) that have averaged 15.0% and 8.8% over the past decade respectively.
This level of profitability right at my rule of thumb of 15% ROE and 9% ROIC, allowing me to be confident that, in my opinion, the company should be able to maintain its intrinsic value. That being said, returns have been lower than this level in recent years as the company digests its 2016 $107 Billion purchase of SABMiller while doing restructuring to realize the merger's proposed synergies.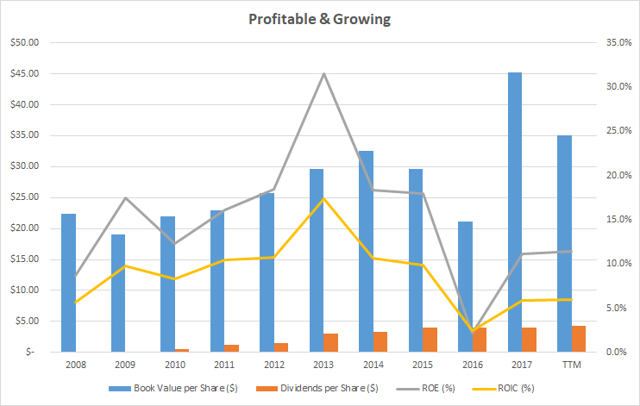 Source data from Morningstar
A critical investor has to wonder if given how important acquisitions seem to be in the business model, these restructuring costs are a normal course of business. That being said, if the company can tighten its belt and slow down on the acquisitions, then profitability could go back to more normal, or average, levels.
What About The Huge Debt Pile
AB InBev has built up a huge debt pile amounting to $108.8 billion over the past decade as it has made plenty of acquisitions to consolidate the beer industry. With financial leverage currently at 3.47x and an interest coverage ratio of 3.67x, some investors might view the company as a potentially risky investment. Management acknowledges this by stating in their financials that their net debt to normalized EBITDA of 4.87x is well above their optimal capital structure of around 2x. Because of that, management has also stated that dividend increases will be modest as the company prioritizes decreasing leverage.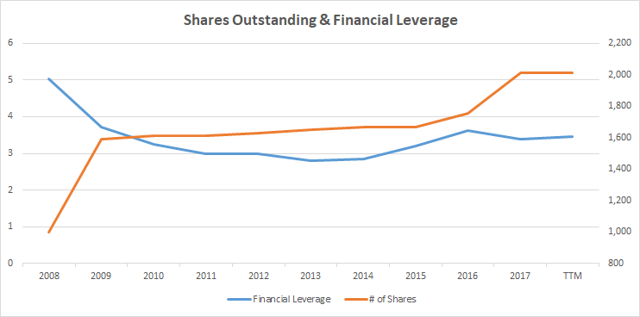 Source data from Morningstar
That being said, interest coverage of 3.67x for a consumer staples company such as AB InBev is not unheard of. The non-cyclical nature of the business allows the company to comfortably carry a significant amount of debt. This debt built up from acquisitions to consolidate the consumer sector looks to be part of 3G Capital's playbook which also owns large positions in Kraft Heinz (NASDAQ:KHC), Restaurant Brands International (NYSE:QSR) (Burger King and Tim Hortons).
Investors uncomfortable with higher debt and low interest coverage ratios might want to look elsewhere. With rising interest rates, AB InBev management is correct to start prioritizing paying down the hefty debt pile as to not be hit by higher interest expenses on the debt in the years ahead. There is a time and place for excessive leverage and that time might be passing. That being said, with the majority of debt due more than 5 years in the future, AB InBev has lots of time to continue to pay down debt or refinance at favorable rates if another recession occurs.

Source Unaudited Interim Report for the six-month period ended 30 June 2018
What is also telling from the above graph is that the company has also been using share issuance to pay for acquisitions. As readers familiar with my articles will know, I always like to see opportunistic share buybacks happening in mature companies. However, AB InBev has been pursuing large acquisitions financed in part by share equity.
Ideally, I would like to see bolt-on brands that would ideally be financed with strong cash flows from operations. Moreover, It looks like over the past decade that even when large acquisitions are not happening, share count is inching up even in those years. In fact, between 2010 and 2015, average share dilution was still -0.8%. Critical investors might want to subtract this off their dividend yield of 4.8%.
Price Ratios And Potential Shareholder Yields
To get an idea of potential returns, the forward P/E of 16.8x can also be expressed as a 5.9% earnings yield, which is below the 9% that I like to see. However, investors could also add potential long-term growth to this earnings yield for a company with such a strong history of growth and global brand portfolio such as AB InBev. Adding 3% to represent AB InBev growing alongside GDP would move potential long-term returns towards 8.9%.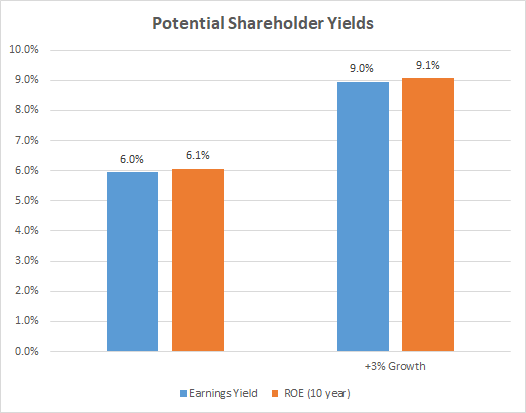 I also always like to examine the relationship of ROE and price to book value. With the company earning an average ROE of 15.0% over the past decade and the shares currently trading at a price to book value of 2.5x when the price is $86.50, this would yield an adjusted ROE of 6.0% for an investor's equity at that $86.50 purchase price, if history repeats itself.
While this is below the 9% that I like to see, adding the same 3% long-term growth rate could increase this yield to 9%. The point that these two numbers are basically the same, in my opinion, signals that analyst's forward P/E is right alongside the long-term average adjusted ROE that I usually rely on.
Conclusion
AB InBev is a global behemoth with many of the world's most recognizable beer brands. While not necessarily a high growth company, their large portfolio of consumer beer brands looks to position it well to grow alongside global growth. In spite of the acquisition and restructuring charges that have been flowing through net income over the past decade, the company has remained highly profitable with average ROE and ROIC of 15.0% and 8.8% respectively.
If management can prioritize deleveraging and stick to bolt-on acquisitions in order to keep the portfolio fresh, then shareholders might be sitting pretty once synergies are realized and one-time restructuring items drop off the income statement to yield higher normalized earnings.
If you enjoyed this article and would like to read more of my work, click the follow button at the top of the page to receive notifications when I post a new article!
Disclaimer: While the information and data presented in my articles are obtained from company documents and/or sources believed to be reliable, they have not been independently verified. The material is intended only as general information for your convenience, and should not in any way be construed as investment advice. I advise readers to conduct their own independent research to build their own independent opinions and/or consult a qualified investment advisor before making any investment decisions. I explicitly disclaim any liability that may arise from investment decisions you make based on my articles.

Disclosure: I am/we are long BUD.
I wrote this article myself, and it expresses my own opinions. I am not receiving compensation for it (other than from Seeking Alpha). I have no business relationship with any company whose stock is mentioned in this article.
Additional disclosure: I am long BUD with an average cost base of $98.97.