September 2018 is in the books, which ends the third quarter of the year as well. Quarter ending months are always exciting. Another quarter down and I was still not able to break the all-time high dividend record but I did come very close. March of this year still holds the dividend record for a single month. Missed it by a few dollars so not too bad at all.
Here is how the stats are broken down from the seven companies that paid me in. Let's see how we did.
Dividends
CVX - $50.13
TGT - $29.97
ED - $9.80
O - $6.67
LTC - $3.42
D - $26.60
SO - $14.17
September dividends, add up to $140.76 which represents a 41.6% increase from last year where I made $99.38. Here are some charts to show the comparison and progress but you can always see the full dividend income breakdown here.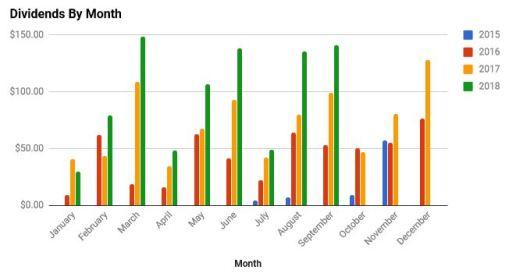 Even though I did not break the record for most dividends in a single month, this is the second time this year that I have received triple-digit dividends in two months in a row. However, the January dividend cycle usually throws me off as I have not built up those positions as much yet. I am still waiting for more capital and the right opportunity and value before making a purchase. I buy for value and not the month something pays out in, so it usually doesn't build up as fast as the other months. I am looking forward to eventually getting to the point of seeing consistent triple-digit dividend months through the entire year.
Last year at this time, I only received dividends from five companies. This year, seven paid out. The two new purchases are pulling their weight as most of the growth is coming from my two newer utility sector purchases. When that sector was way down a little while back, I was able to add D as well as SO to my portfolio. A few dividend increases since last year always helps this growth also.
Quarter Updates
2017 Q3 Dividends: $221.35
2018 Q3 Dividends: $324.98
YoY% Gain: 46.8%
I use Personal Capital to track as well as my own spreadsheets to analyze a lot of my data. Last year I was able to collect $221.35 in the third quarter of 2018. This year, with the $324.98 from Q3 2018, my growth is up 46.8%! This averages out to be about $108 a month. This is the first time I have ever gotten my monthly dividend for a quarter to be in the triple digits.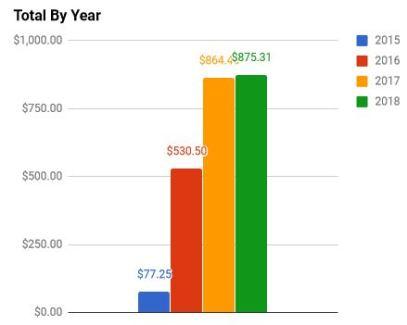 This year has been flying by. From looking at the yearly dividend chart, I have finally surpassed the amount of dividends collected from last year. In 2017, I received $864.48 and I am currently sitting at $875.31 with one quarter left to go. With a triple-digit monthly average, I should easily reach and surpass my goal of $1000 or a four-digit year. The strategy is working and I can't wait to see how the numbers look by year-end.
How did your portfolio perform in September? Did anyone break any records or post huge gains? What big accomplishments have you had this year or are still striving for? Your comments are welcome below.