Small Businesses Slightly Less Optimistic
Small business sentiment for the month of September was released earlier this morning, and while the headline index saw a modest decline (108.8 down to 107.9) and came in below consensus forecasts of 108.3, the overall level is still extremely optimistic. One of the more interesting comments in the report was that "The economy is growing faster than our ability to support that growth without inflation or significant productivity gains." It's this line of reasoning which is exactly why the FOMC is so vigilant with respect to upward moves in prices.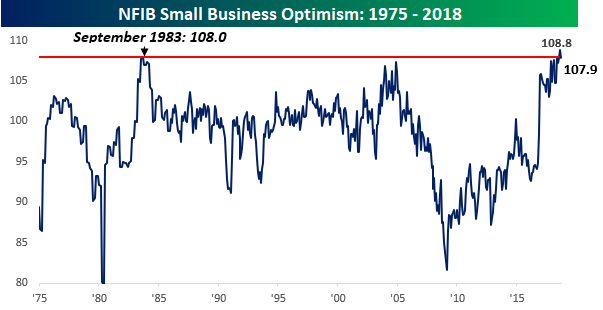 The table below summarizes the issues that small businesses currently cite as their biggest problems. Topping the list once again this month is Quality of Labor. While it could just be a one-month blip, it was a bit encouraging to see that this reading actually dropped from 25% in August to 22% in September. On the upside, the two components that saw the largest increases were Taxes (15 up to 17) and Competition (8 up to 10).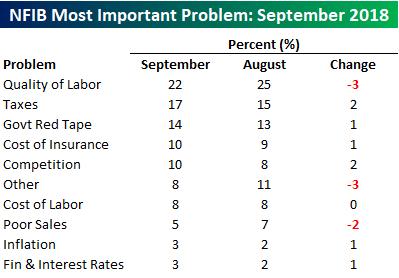 One other issue worth highlighting is the percentage of companies citing Poor Sales as their biggest problem. The percentage of companies citing this issue dropped from an already low level of 7% down to 5%. The last time the percentage was this low for the issue of Poor Sales was in January 1998, and it hasn't been lower since the early 1980s. That's a far cry from as recently as eight years ago when the percentage of small businesses citing Poor Sales as their biggest problem was more than six times higher at 34%!
When "Poor Sales" are your biggest problem as a small business, your small business is in serious trouble. It will be critical to monitor this reading going forward because it can't get much lower than this. When "Poor Sales" start to tick higher, it's highly likely that it will coincide with the end of the current expansion.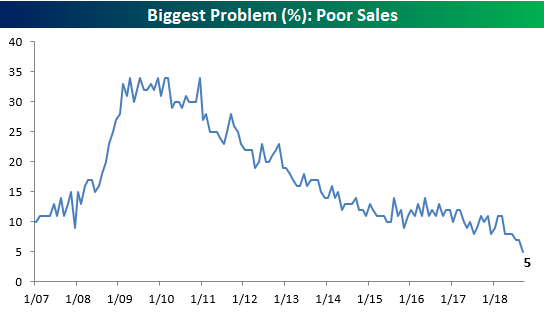 This article was written by
Bespoke Investment Group provides some of the most original content and intuitive thinking on the Street. Founded by Paul Hickey and Justin Walters, formerly of Birinyi Associates and creators of the acclaimed TickerSense blog, Bespoke offers multiple products that allow anyone, from institutions to the most modest investor, to gain the data and knowledge necessary to make intelligent and profitable investment decisions. Along with running their Think B.I.G. finance blog, Bespoke provides timely investment ideas through its Bespoke Premium (http://bespokepremium.com/) subscription service and also manages money (http://bespokepremium.com/mm) for high net worth individuals. Visit: Bespoke Investment Group (http://bespokeinvest.com/)