One of the more curious aspects of the 2018 rally is that housing and building products plays have tumbled while the broad market has gained. The S&P 500 is up almost 8% YTD as I write this, yet homebuilders, building products manufacturers, and, in particular, building products distributors have performed poorly - or outright terribly.
The divergence is unusual, but not totally illogical. There is a case, heading into year ten of an economic expansion, that at best the US is closer to the top of the cycle than the bottom. Inflation in both input costs and labor is pressuring margins - and that pressure could accelerate going forward. Add those costs to interest rate hikes and the outlook is potentially grim. New construction, in particular, already has weakened of late. And housing, on the whole, really hasn't been that strong throughout the post-crisis recovery: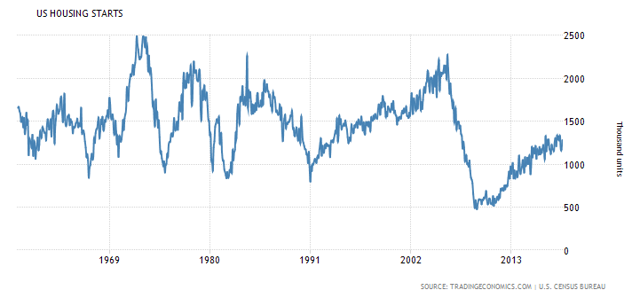 source: TradingEconomics
For investors who believe the market is underpricing the housing space, there is no shortage of options. Lennar (LEN) is at an 18-month low, and trading at less than 7x forward EPS. Smaller homebuilders M/I Homes (MHO) and William Lyons Home (WLH) are even cheaper, and there's no shortage of what look like value stocks in that sector:

source: finviz.com
Meanwhile, concerns toward housing have bled over elsewhere - including the building products distributor space:
Even BlueLinx (BXC), which more than quadrupled on the back of a transformational merger earlier this year, has pulled back about 25% in the past couple of weeks on basically zero news.
But the distributor space seems like an intriguing way to bet that the sell-off has gone too far. One key advantage is that R&R (remodeling and renovation) sales negate some of the potential pressure from secular changes in new housing demand. In that space, GMS (GMS) looks like the most attractive play.
I became incrementally more bullish on the stock last year, particularly for housing bulls. With the stock off another 25%, and a major merger that the market liked (at least initially) completed, GMS now looks too inexpensive in just about any scenario short of a collapse - and like the cheapest play in the beaten-down sector.
There are risks here, with margin concerns having hit GMS a few times, most recently in a big-time sell-off after fiscal Q4 earnings. The balance sheet is heavily leveraged after the acquisition earlier this year of Canada's WSB Titan. GMS' CFO departed on Monday, which may have contributed to another 4.3% decline. And the GMS stock chart is the Investing 101 textbook example of a "falling knife":
But after watching the stock closely of late (and very nearly buying the late June dip), I took a nibble last week, and I plan to add to my position going forward. This is an attractive business, if one with some near-term challenges, trading at a multiple suggesting that a cyclical peak is nigh. I don't believe that to be the case, and even stabilization in the business (and a market belief in that stabilization) at this point suggests something like 30% upside, easily. Long story short, GMS simply looks too cheap here.
The GMS Model
GMS distributes wallboard, ceilings, steel framing, insulation, and complementary products. The business model is to be a 'one-stop shop' for interior contractors in both the commercial and residential categories.
The industry is relatively fragmented, with only a few major distributors: GMS, Allied Building Products (part of Beacon Roofing Supply (BECN)), privately held L&W Supply, and Foundation Building Materials (FBM). Roughly half the market, per the GMS 10-K, still belongs to smaller competitors. In response, GMS has executed a roll-up strategy, acquiring distributors around the country. It ramped up its M&A in April, buying Canada's market leader, WSB Titan from a private equity firm in a deal that closed in early June. The pro forma company remains heavily exposed to wallboard, but still offers a reasonably diversified mix: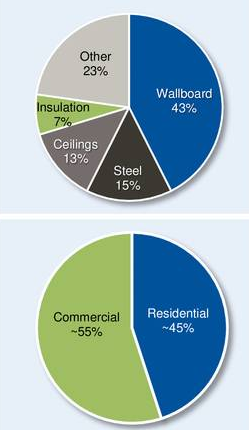 source: GMS presentation on WSB Titan acquisition
To my knowledge, the company hasn't broken out its new construction/remodel & renovation split, beyond calling the four categories (commercial R&R, residential R&R, commercial new construction, residential new construction) a "balanced mix".
GMS has contracts with all seven North American wallboard manufacturers, and a tight relationship with ceilings leader Armstrong (AWI). The company now has nearly 250 distribution centers, with growth coming not only from M&A but 'greenfield' openings, with a target of 3-5 openings per year (including two in Q1 FY19).
Competition and Pricing
One obvious concern here, apart from macro and housing sector effects on demand, is the potential for disintermediation by big-box rivals Home Depot (HD) and Lowe's (LOW). HD, in particular, has focused on attracting Pro customers - a group which has significant overlap with GMS' base.
But wallboard doesn't transport easily; it's big. GMS actually has specialized vehicles to move the product. And it's also cheap - which should in theory limit customers' focus on pricing. (That actually hasn't completely been the case in practice; more on that in a moment.) It's not worth sending an employee to Home Depot with a truck - and risking damage or weather exposure - to save 10% on a drywall order when that order on the whole might cost only a couple of hundred dollars anyhow. (Drywall costs, retail, in the range of $0.20 to $0.40 per square foot; that's in the range of 20% of the total installation cost.) Home Depot and Lowe's do have share (figures from the S-1 suggest it was about 20% in 2015; I haven't seen any data or commentary to suggest that number has changed materially) but no clear path to undercut GMS on pricing or service and ramp that share to more material levels.
Again, investors can't ignore cyclical concerns here. But underlying GMS is a safer and perhaps more stable business model than initial impressions might suggest. Given the ~45% share of residential business, new housing construction likely at most accounts for a quarter of revenue, limiting the company's exposure to that industry.
And it's a business model that has performed exceedingly well over the past few years. Revenue, pro forma for WSB Titan, has tripled since fiscal 2012 (fiscal years end April 30). Adjusted EBITDA margins have moved from 2% in FY11 to ~10% (again, pro forma) at the moment. Acquisitions and greenfield activity have been major drivers on both fronts, to be sure. But organic growth has been solid as well - and continues to be so.
Two Key Quarters
And yet GMS continues to fade, falling over 40% from an early December (an all-time) high just under $40. At Friday's close just above $21, the stock has almost completed a round-trip to its May 2016 IPO price.
With two significant exceptions, there isn't that much in terms of performance to support the decline. FY17 was an impressive year, with base revenue climbing 10%, and Adjusted EBITDA increasing 36% (and 32% pro forma). EBITDA margins rose 70 bps to 8.1%, with much of the improvement on an organic basis. FY18 looks solid, if less impressive, with base revenue growth decelerating to 4.5%, an overall top-line increase of 8.3%, and EBITDA dropping 20 bps to 7.9%.
There have been two big moves that highlighted longer-term concerns here. The stock did see a big dip coming out of Q4 FY17 results in June of last year. GMS shares touched a seven-month low, due mostly to a weaker-than-expected outlook in the release in late June of last year. Guidance for Q1 FY18 disappointed, and CEO Mike Callahan cited a "tougher market environment for pricing" on the Q4 FY17 call. GMS seemed to reset gross margin expectations, targeting a year-over-year decline to ~32.5% on a run-rate basis, which in turn suggested that the multi-year expansion in gross, and potentially EBITDA, margins might be near an end.
The obvious concern in terms of the guidance was that wallboard, in particular, was supposed to be less price-sensitive - and GMS less susceptible to being undercut by rivals. But management framed the Q1 guidance, in particular, as being impacted in part by rising and volatile prices - and projected that margins would improve and stabilize over the last three quarters of the year.
Indeed, that's exactly what happened. GMS actually rallied following stronger Q2 results in December 2017, briefly touching an all-time high. But the stock turned south under what looked like solely sector-related pressure - until the Q4 FY18 report this summer, when pricing concerns again materialized.
Q4 earnings missed badly. GMS shares fell 16%. Wallboard volume declined year-over-year by over 3%, and GMS CFO Doug Goforth estimated on the Q4 call that the company had lost 50 bps of wallboard market share in the past year. "Challenging competitive dynamics", as the company puts it, obviously had become a real problem - and management was peppered with questions on that front during the Q4 call.
The answer from GMS, essentially, was that competitors were trading price for market share - and unwilling to chase those discounts, GMS lost business as a result. With suppliers facing inflation of their own, GMS couldn't get price concessions. With fuel and labor costs rising (fuel alone added over $1 million in incremental cost in the quarter, per the Q4 presentation), margins took a hit as well. GMS did express some confidence that the market would settle back into equilibrium, but investors (literally and figuratively) didn't buy it.
There were some good reasons for that. Market share, again, was supposed to be reasonably protected by the nature of pricing and delivery in the space. 50 bps of erosion in a single year is a big number given the company cited a 13.1% figure for 2015 in its S-1/A (a figure that probably has ticked up since then, if only due to acquisitions).
The bear case for GMS is highlighted by those Q4 numbers and that commentary. If market share isn't as protected as investors thought - and if price competition isn't as mild - this can get ugly in a hurry. New construction in both residential and commercial - 55% of the business - is under pressure. The balance sheet is 4x+ leveraged. Margins are ~10% pro forma; if GMS either has to give up sales (and operating leverage), or COGS, compression there echoes down the P&L to cash flow and net income.
Qualitatively, the concerns are obvious as well. Titan's exposure to Canada is starting to look like a negative, given housing concerns in that country. Distributors, with the exception of Grainger (GWW), have had a rough year across the board, and may not be positioned to pass along rising input costs. Long story short, GMS is a highly leveraged cyclical in a rising-rate, inflationary environment and may be near the top of its cycle. That sounds not just like a bear case - but a short case.
The Case for Patience
This isn't a risk-free trade; none are. But at the same time, there's a strong contrarian case for GMS, particularly at the current price, and a solid argument that the risks are overblown.
The broad case I'd make toward GMS - looking both forward and backwards - is that there's simply a lot going on here. Inflation has made its way quickly through the supply chain, which itself causes disruption - and the ability to undercut on pricing simply through volatility and matching price to cost. Callahan noted that some jobs had been pushed out and speculated - as have many others - that labor constraints might be an issue. Freight rates have risen sharply and availability is an issue (in many industries). Labor and fuel costs are rising. As noted, demand in both residential and commercial, for new construction, appears to be falling, a key reason for the decline in homebuilder stocks.
This simply hasn't been a normalized environment. Wallboard suppliers are even raising prices in the middle of the year. According to CFO Goforth on the Q1 FY19 conference call, "it's been quite some time" since that happened.
So the idea that GMS suddenly is getting shoved out of market share seems a bit overwrought - and a determination that is premature. Goforth pointed out even on the Q4 FY18 call that rivals were starting to raise prices. Q1 FY19 results were better, with organic wallboard volume down modestly on a 3% rise in pricing, and ~flat market share per management. Admittedly, that suggests a ~flat to declining market, but that isn't necessarily a surprise in light of labor shortages and data elsewhere in the construction space.
Meanwhile, GMS showed significant strength in ceilings (base revenue +8%) and steel framing (base business +16%, including 3% volume growth). The steel framing volume growth, in particular, is important because it generally is a leading indicator for wallboard demand (there's no point in putting up framing without wallboard being attached).
And management was confident on the Q1 call. Callahan said in the Q&A that "I think markets have stabilized a bit, and everybody wants to get a return for what they're doing," and later that "prices are up and seem to be holding, but it's going to take a while to finally settle in at a set number." Goforth projected that wallboard volume would be in the 3% range over the next few quarters, with GMS volumes "right in line", along with some pricing help.
Obviously, management may be wrong. But it does look like rival pricing that has taken share of late isn't sustainable - and neither is the market share erosion that GMS has faced. And it's worth pointing out that even in the past six quarters - where performance has been choppy - the news still has been reasonably good. EBITDA still is growing and margins are reasonably intact. Guidance for Titan in the Q4 release suggested a nice year-over-year increase in EBITDA: $68-$72 million contribution in 11 months against $68.4 million for the year ending April 30, 2018.
Even considering the dual Q4 reports, there's a sense that the market is ignoring any good news and focusing solely on the risks. GMS gained 10% after the Titan deal, and quickly gave back those gains. The stock rose after the Q1 report in late August; despite good numbers and positive commentary, it's fallen almost 20% from pre-earnings levels.
The risks are real. But GMS also saw margins rise in Q1 - and gain even at the legacy business, along with contribution from Titan (who had ~14% EBITDA margins against ~8% at legacy GMS) and a reclassification of operating leases to capital leases. It's getting some pricing, and enough to keep gross margins reasonably intact. The business still is growing, and while the competitive environment is tough, there's hardly the sign of some existential threat.
GMS's results have been choppy - but in the context of external factors, that makes some sense. And yet the EV/EBITDA multiple has shrunk from 10x+ to ~7x pro forma just in CY2018. On a P/E and particularly a P/FCF basis, GMS looks almost absurdly cheap. The performance simply has not been that bad. The overall industry - particularly considering R&R demand - has not been that bad. GMS, from here, looks far too cheap.
Valuation
By any measure, GMS is cheap. Peer valuations alone suggest solid upside. Pro forma Adjusted EBITDA of $304 million suggests a 7.1x multiple; adding $20 million in run-rate cost savings on the way in Q2-Q4 gets the figure down to 6.7x.
Even amid the sell-off in the sector, those multiples are toward the bottom of the peer range. BECN is at ~7.8x pro forma figures. FBM trades a bit over 8x (albeit before its recent divestiture of its mechanical insulation business; EBITDA impact hasn't been disclosed to my knowledge). BLDR is at 8.4x. BMC Stock (BMCH) is in the ballpark at about 6.6x by my calculations; BXC is in a similar range. But both have significantly lower margins (~200 bps for BMCH, while BXC's EBITDA margins remain in the 3% range at the moment). It's also worth noting in this context that USG (USG) sold L&W for 13x EBITDA two years ago.
Simply moving GMS' pro forma EV/EBITDA multiple to 8x suggests ~50% upside for GMS equity, all else equal. Obviously, it's not as easy as all that: GMS does have more leverage than most peers, given FBM's divestiture will pay off some of its heavy debt load, and it's also possible that BECN/BLDR/FBM valuations could come down to meet those of GMS. But the example does show that a change in sentiment can have a huge impact here.
On a free cash flow basis, GMS looks even better. Goforth detailed the FCF conversion toward the end of the Q1 call:
| | | |
| --- | --- | --- |
| Metric | Figure | Notes |
| Run-Rate EBITDA | $324M | includes $20M in cost savings |
| D&A | $115M | Q1 run rate normalized for full year of Titan |
| Interest Expense | $70M | cash; per Q1 call |
| Tax Rate | 24% | guidance |
| Cash Taxes | $34M | estimate |
| Capex | $12-$17M | per Q1 call |
| Normalized FCF | $203M | EBITDA less interest, taxes, and capex |
| Working Capital Hit | $32M | 16% of incremental revenue (assumes 5-6% y/y growth, or ~$200M) |
| FCF | $171M | |
That estimate might be a bit high, particularly if market conditions remain choppy, but it's backed by Goforth's argument on the Q1 call that the company could delever to under 3x within two years based on FCF alone. A current ~$1.3 billion debt load would get under ~$1 billion in that model, with even low-single-digit EBITDA growth over two years (beyond the $20M in cost savings) getting the company to the 3x bogey.
And so there are scenarios here that result in simply tremendous upside:
| | | | |
| --- | --- | --- | --- |
| Scenario | 2 Year Target Price | Upside | Notes |
| Deleveraging | $28 | 33% | No growth, no multiple expansion; equity slice of current EV grows through ~$300M of debt reduction |
| Multiple Expansion | $32 | 50% | EV/EBITDA multiple moves to 8x |
| Growth, Delev, Multiple Expansion | $42+ | 101% | EBITDA grows 4% a year plus cost savings; deleverage to $1B in debt; multiple to 8x |
| Margin Pressure, Multiple Compression, Disappointing FCF | ~$11 | -48% | EBITDA margins compress 150 bps on -3% rev; debt reduction only $100M/year; multiple drops to 6x |
Which of these paths seems more likely? If the business turns south and the multiples drop to those below not only peers in the space, but well below those - or pretty close of those of razor-thin-margin, zero-value-add distributors, elsewhere, GMS loses half of its value. I'm hesitant to call that a 'floor' for a leveraged cyclical, but the news needs to get aggressively bad at this point to push the stock materially lower.
As far as the upside goes, investors aren't asking for a lot. Even in the 100%+ scenario, GMS still trades at 11-12x free cash flow - which is kind of the point. At this price, upside in GMS isn't a matter of housing/construction sentiment suddenly reversing and re-inflating EBITDA multiples, or freight inflation stopping, or market share being recaptured. It basically requires that recent performance - admittedly, the same performance that tanked the stock - continue. Some base revenue growth and ~stable margins is enough. Even zero EBITDA growth and zero multiple expansion still drives a ~15% CAGR for the equity simply from deleveraging. And GMS is doing better than that at the moment - even as investors dump the stock.
There are risks here, no doubt. Near-term, the stock is a falling knife. Industry sentiment can get worse. Q4 FY18 results, in particular, and the discussion about competitive challenges came out of nowhere, and it's possible another disappointing surprise could pop up (though I do trust management enough to believe that Q2 should be solid and a potential upside catalyst).
An outright recession could hit GMS hard; given that most peers and GMS itself were private during the financial crisis, it's tough to estimate exactly what the impact on profits (and multiples) might be. That said, BECN's numbers held up well through the crisis (though it has a much higher exposure to roofing repairs - which are close to non-discretionary) and GMS wrote in its S-1 that it "proactively right-sized our Company...and emerge[d] from the recession as a stronger company." It's likely that smaller distributors would feel the heat first as well.
The Titan acquisition gave the company exposure to Canada, where housing market concerns are rising. Titan's business skews more heavily residential - 61%, according to the post-acquisition presentation - and while GMS management framed the below chart as good news, investors minding the cycle might see it differently: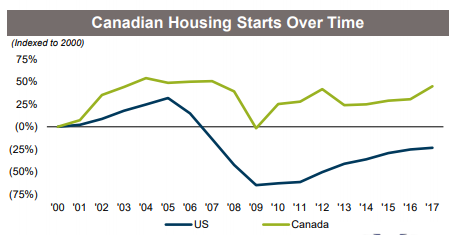 source: GMS presentation, April 2018
But those risks are manageable - and worth taking. Construction weakness is a concern - but GMS has an R&R business as well which generally is more stable. (To my knowledge, the company hasn't broken out new construction and R&R end markets, but has cited a "balanced mix" among the two categories in both commercial and residential.) US construction risks also can be hedged if need be.
Canada is a worry - but Titan represents roughly a quarter of run-rate EBITDA and GMS on the whole trades at 5-6x free cash flow at this point. Zero out Titan profits and you still get the US business for ~9x FCF. Compress legacy EBITDA margins 100 bps as well and the P/FCF multiple still is at 11x+ with deleveraging benefits ahead.
There's something close to a collapse already priced in - which seems to suggest that investors are viewing the unruly market of the last few quarters and a Canadian recession as the 'new normal'.
That's far too pessimistic. Near-term trading might be ugly, but patience, position scaling and/or option strategies (in an admittedly illquid name) can help if the underlying fundamental case is strong enough.
And I believe that it is. There are opportunities in a lot of construction-related stocks for investors who believe the sell-off is overdone - and right now GMS looks like potentially the best play on that thesis. Cash flow generation should be impressive, thanks to low capex. Valuation is below peers. R&R provides some diversification away from new construction weakness. Performance on a competitive basis can improve, and likely will if and when wallboard (and possibly steel) markets normalize.
Most importantly, not everything needs to go right. Even imperfect performance - some growth, a bit of multiple expansion, a focus on deleveraging - over the next two years can set up a double, or close. And if the sell-off in construction truly is short-sighted, and the sector reverses, GMS could be an enormous winner.
Disclosure: I am/we are long GMS. I wrote this article myself, and it expresses my own opinions. I am not receiving compensation for it (other than from Seeking Alpha). I have no business relationship with any company whose stock is mentioned in this article.