Summary
Europe's automotive industry faces several potential impediments to growth, amid escalating trade disputes, rising commodities costs, geopolitical risks and technological advances.
Germany – the euro area's leading market for vehicle production and sales – has seen some of its top producers buckle under the pressure of increased tariffs.
Slowing global and domestic growth, as well as Brexit concerns and new environmental regulations, are also among the more pressing risks faced by Germany's auto producers.
Trade Conflicts & Environmental Regulations Among Factors Driving Stocks and Fixed Income Assets Lower
Europe's automotive industry faces several potential impediments to growth, amid escalating trade disputes, rising commodities costs, geopolitical risks and technological advances.
Germany – the Euro Area's leading market for vehicle production and sales – has seen some of its top producers buckle under the pressure of increased tariffs, while compliance with environmental regulations have contributed to lackluster earnings.
Indeed, German carmakers continue to contend with an increasingly complex and volatile landscape, which has generally spurred heightened jitters among equity investors and bondholders, as well as certain company profit warnings.
Slowing global and domestic growth, as well as Brexit concerns, are also among the more pressing risks faced by Germany's auto producers, which include Daimler AG (OTCPK:DMLRY), Bayerische Motoren Werke (OTCPK:BMWYY) and Volkswagen (OTCPK:VLKAF).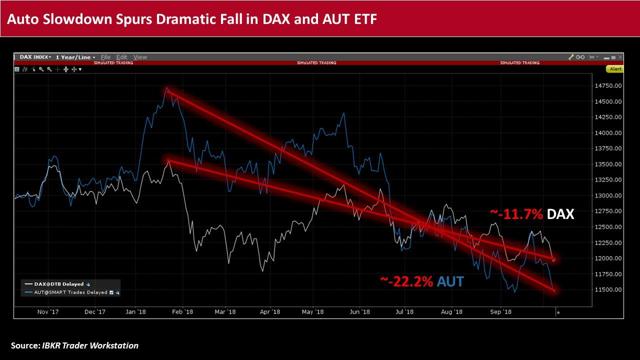 Slowdown
The International Monetary Fund said in its October World Economic Outlook (WEO) it downwardly revised its expectations for global growth by 0.2 percentage points to 3.7% for 2018, which is also set to soften over the medium-term.
Germany, in particular, is set to grow by 1.9% in 2018/19, a 0.6% slowdown from 2017, and a modest pullback in expected real GDP from earlier this year.
The IMF chalked-up some of the deceleration to trade-related tensions, and highlighted that sector-specific sentiment indicators for Germany's automakers suggest "more pessimism about the outlook than at the start of the year."
Moreover, German manufacturing orders fell by about 4% on a monthly basis in June – contributing to a 6.5% drop in the second quarter on a quarterly, annualized basis – followed by a close to 1% decline in July.
The IMF added that while the financial market impact of trade tensions has so far been contained to specific sectors, these industries include automobiles and aluminum.
Against this backdrop, some of Germany's carmakers have suffered significant earnings damage.
Daimler's Q2'18 EBIT, for example, plunged nearly 30% year-on-year to €2.64bn, with its Mercedes-Benz Cars division down around 20% over the same period.
Daimler said that against the backdrop of anticipated higher import tariffs on U.S. vehicles in China and "the burdens of the certification process," in connection with the new Worldwide Light-Duty Vehicles Test Procedure (WLTP) regulation, the firm adjusted its earnings expectations for the 2018 financial year.
Daimler's adjusted earnings outlook led to a further negative impact on its share price, which fell roughly 20% from Q1'18 to €55.13 at the end of the second quarter.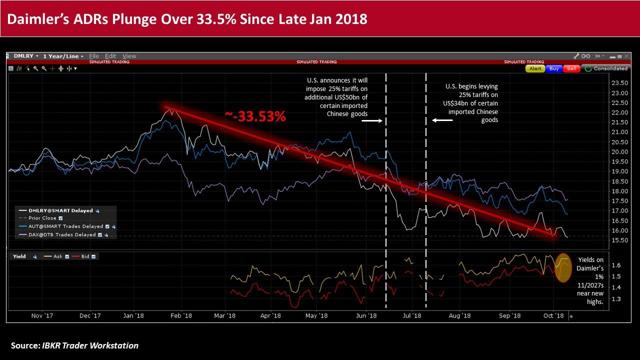 American Depositary Shares of Daimler have sunk more than 33.5% since their 52-week high set in late January. The carmaker's stock was last quoted down around 1% to US$15.54 intraday Tuesday – a new 52-week low – while the German DAX index was up 0.25% on the day, and the Lyxor STOXX Europe 600 Automobiles & Parts UCITS ETF (AUT) gained close to 0.4%. However, the DAX and AUT were each down from their late January peaks by 11.7% and 22.2%, respectively.
The yield on Daimler's 1% notes due November 2027 have also risen considerably – touching 1.66% from its 52-week low of 1.03% in December 2017 (+63bps), and perceptions about the firm's ability to repay its debt obligations have somewhat eroded. Over the past three months, the firm's 5-year credit default swaps (CDS) have widened by about 11bps.
Steady Sales but Rough Roads Ahead
Moody's Investors Service said recent profit warnings from "leading carmakers suggest that the sector will face greater risk in the year ahead. The automotive sector is still highly cyclical and the operating environment could deteriorate quite rapidly, due to factors such as new import tariffs or rising commodity costs."
Moody's added that manufacturers will also continue to face "mounting environmental policy pressures, which will likely lead to stricter emissions-reducing regulatory targets, rising pressure on margins and cash flows, changing consumer preferences and technological disruptions."
Overall, Moody's said it anticipates Western European sales to grow by 2% in 2018 before slowing to 0.5% in 2019.
However, while global and domestic growth challenges for Germany persist, Moody's said its outlook for the automotive manufacturing industry remains stable over the next 12 to 18 months, reflecting expectations for steady demand.
BMW Group's sales in August, for instance, appear to reflect the ratings agency's view.
The company's intake increased by more than 2% year-on-year, with a total of almost 174k of BMW, MINI and Rolls-Royce vehicles sold.
Despite the upbeat news, however, BMW unleashed a profit warning in late September, providing lower guidance for 2018 — in large part based on trade tensions and the WLTP regulations.
The firm said that "continuing international trade conflicts are aggravating the market situation and feeding uncertainty. These circumstances are distorting demand more than anticipated and leading to pricing pressure in several automotive markets." Furthermore, BMW noted that the industry-wide shift to the new WLTP test cycle has led to "significant supply distortions in several European markets and an unexpected intense competition."
BMW said the circumstances will have "a significant effect" on its group profit before tax, as well as the EBIT margin in its Automotive Segment in both the third and fourth quarters.
The carmaker anticipates the EBIT margin in its Automotive Segment will be at least 7% from its earlier guidance of between 8-10%, with revenues expected to come in "slightly lower" – and group profit a "moderate decrease" – from the prior year.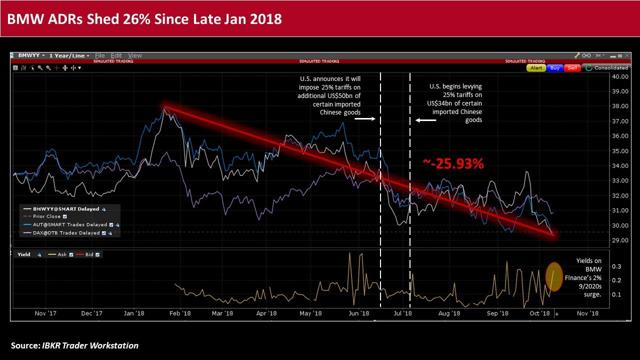 BMW's ADSs were recently quoted down around 1.25% to US$29.19 in intraday trading Tuesday, after falling almost 26% since its 52-week high set in late January. The yield on BMW Finance's 2% notes due September 2020 have also soared, while perceptions about the group's creditworthiness has waned somewhat. Over the past three months, BMW's 5-year CDS spread has widened by more than 9bps.
Meanwhile, the German Association of the Automotive Industry (VDA) also blamed September production on WLTP, as well as on fewer working days – one less working day compared to September 2017.
A total of almost 402k units were produced in September, a 24% drop year-on-year, with German-made exports totaling around 320k units – a decrease of 21%. The VDA added that in the first nine months of 2018, exports amounted to barely 3.1 million units – also below the 2017 level (-7%).
Hard Brexit
While German automakers' challenges have been mounting recently, investors have also been generally nervous about the potential departure of the UK from the EU.
Global advisory firm Deloitte recently said that in a 'hard Brexit' scenario – one which involves WTO duties and a 10% devaluation of the British pound – cumulative cost would increase by 15%, or nearly €2.0bn, for automotive manufacturers in the UK compared to no-Brexit.
Deloitte noted that when taking into account British consumer behavior, in the year of exiting the EU, price increases would lead to an overall 19% sales decline, or around 550k vehicles, in the UK. German vehicle exports would fall by 32% to 255k units. They added that based on these declines, as well as turnover, 18,000 jobs in the German automotive industry would also be directly endangered.
Elsewhere, the U.S. auto industry has also been recently beset by global trade-related tariffs, rising commodity prices, as well as weaker emerging market currencies.
U.S. auto giants Ford Motor Company (NYSE:F) and General Motors (NYSE:GM), for example, have generally blamed tariffs and adverse foreign exchange fluctuations for dents in their latest quarter's earnings results.
In the meantime, investors will be eyeing European vehicle sales Wednesday, October 17, including from Germany, France, Italy and the UK. The market will also be awaiting the outcome of the European Council's meeting Wednesday, when the group of 27 EU nations will review the state of Brexit negotiations with the UK.
European Council President Donald Tusk had said after the September summit in Salzburg that the leaders will use the talks to decide whether to call an extraordinary summit in November to finalize and formalize a deal.
Note: This material was originally published on IBKR Traders' Insight on October 9, 2018.
The analysis in this material is provided for information only and is not and should not be construed as an offer to sell or the solicitation of an offer to buy any security. To the extent that this material discusses general market activity, industry or sector trends or other broad-based economic or political conditions, it should not be construed as research or investment advice. To the extent that it includes references to specific securities, commodities, currencies, or other instruments, those references do not constitute a recommendation by IB to buy, sell or hold such investments. This material does not and is not intended to take into account the particular financial conditions, investment objectives or requirements of individual customers. Before acting on this material, you should consider whether it is suitable for your particular circumstances and, as necessary, seek professional advice.
Disclosure: I/we have no positions in any stocks mentioned, and no plans to initiate any positions within the next 72 hours. Business relationship disclosure: I am receiving compensation from my employer to produce this material.
Editor's Note: This article discusses one or more securities that do not trade on a major U.S. exchange. Please be aware of the risks associated with these stocks.