Cleveland-Cliffs (CLF) has announced that it will release 3Q 2018 earnings before the open on October 19, 2018, with the conference call being held at 10 am ET. It is expected that the CEO will be optimistic and cover a host of topics including a possible decision on the Empire Mine versus the Nashwauk, Minnesota location for producing iron ore, progress on the HBI plant, the general outlook for the US steel industry and iron ore pellet pricing/demand.
What Made Me Nervous During The Last Conference Call
This sentence from the last conference call made me nervous:
And stay with me because we are going to make a lot of money together.
Why? Great question. It is because it was heard before, back on October 28, 2014:
This is my first investor conference call at Cliffs. But it's not my first conference call with several of you. We appreciate the support of the vast majority of Cliffs' shareholders which voted for real change in this company in late July. Several of these investors have made a lot of money with Lourenco Goncalves before. And we will make money together one more time.
The price chart below indicates that Cliffs shareholders on October 28, 2014 have made 8.24% on their money, or a little more than 2% per year.
The following was said during the conference call of October 28, 2014:
Look, the buyback, you should see the – well, first of all, the buyback is in place until December of 2015. So we have plenty of time to execute on the buyback. But you should keep in mind, Timna, that the buyback is a way to reward shareholders, not the only way to reward shareholders.

&

But the buyback was put in place quickly because I had no idea what would happen with the stock price. Let's assume that anxious people will drive my stock price to a very, very low number. I would use the buyback. Well, apparently, this situation of misunderstanding is behind us. It doesn't mean that I would not use the buyback, I may use the buyback. But the buyback is kind of a loaded gun that I put in my side table at night. It doesn't mean that I'm going to shoot and it doesn't mean that I'm going to kill anybody. But the gun is there for my protection.
Not a single share of stock was repurchased under the buyback. In fact, look at when the share price bottomed. It was when the buyback authorization expired!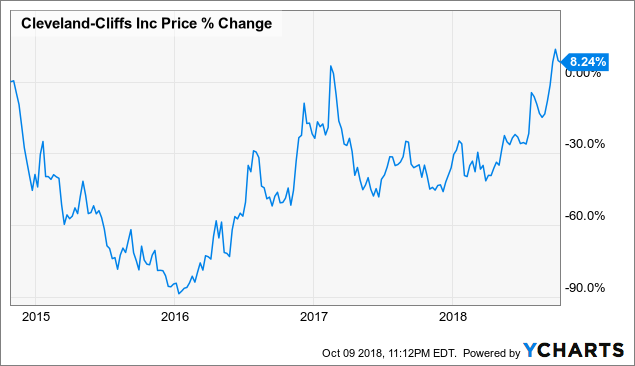 Lowered Debt Burden
It would appear that Cliffs is doing well financially as it recently redeemed roughly $211 million worth of debt; the 5.90% Notes due March 2020 and the 4.80% Notes due October 2020, on October 5, 2018. The redemption will reduce interest expense and help increase earnings. There is $400 million worth of secured debt on the balance sheet; the 4.87% Notes due 2024, as of June 30, 2018.
Reducing debt is a positive sign, but there is much more work to be done before Cliffs regains an investment grade credit rating. Given the cyclical nature of the industry, Cliffs' goal should be to have a fortress balance sheet so it could withstand a severe economic downturn.
Empire Mine: Diamond Or Dud?
The Empire mine in Michigan is currently in an indefinitely idled condition as of August 2016. Cleveland-Cliffs has a 100% interest in the mine. However, that might change as Cliffs' CEO has hinted that it could return to an active iron ore mine under the right circumstances. See the video on YouTube.
A decision on the future of the Empire mine is expected in late 2018. The year is nearly three quarters over so a decision could be coming soon. The HBI plant under construction will require iron ore. The main question is which mine will supply them, Empire or the Nashwauk, MN location or maybe Northshore.
The 2006 10-K placed reserves at the Empire mine at 116 million tons for the end of 2001, 63 million tons at the end of 2002, 29 million tons at the end of 2003 and 13 million tons at the end of 2006.
For example, we significantly decreased our ore reserve estimates for the Empire mine from 116 million tons at December 31, 2001 to 63 million tons at December 31, 2002 and further to 29 million tons at December 31, 2003. As of December 31, 2006, Empire's estimated ore reserves decreased to approximately 13 million tons, primarily as a result of production in 2004, 2005 and 2006.
The 2002 10-K mentioned the reason or rationale for the iron ore reserve reduction for the Empire mine.
Cliffs regularly evaluates its ore reserve estimates and updates them as required in accordance with SEC Industry Guide 7. Significant reductions were made to the ore reserves at Empire and Wabush Mines in the fourth quarter of 2002 due to increasing mining and processing costs.

&

As a result of increasing production costs at Empire Mine, revised economic mine-planning studies were completed in the fourth quarter of 2002. Based on the outcome of these studies, the economic ore reserves at Empire were reduced from 116 million tons at December 31, 2001 to 63 million tons of pellets at December 31, 2002.
The Empire mine had a rated capacity of 5.5 million tons a year.
The more recent 10-K had the following language.
Additionally, we finalized an agreement to distribute the net assets of the noncontrolling interest in Empire to ArcelorMittal in exchange for its interest in Empire and made the first distribution of $44.2 million. The remaining annual installments of $44.2 million each are due in August 2018 and August 2019. We also acquired the remaining 15% equity interest in Tilden owned by U.S. Steel for $105.0 million.
Cliffs will pay $44.2 million in August 2018 and August 2019.
Might the current iron ore pellet and steel pricing make the Empire mine more attractive for Cliffs to restart given the infrastructure in place versus the work required at Nashwauk, MN location?
HBI: Cliffs' Future
In previous conference calls, Cliffs' CEO has indicated or suggested that HBI and the electric arc furnaces are the future and that blast furnaces' days are numbered. It shall be interesting to learn the progress of the HBI plant. The last 10-Q reduced HBI cost by $25 million to $200 million for 2018, and the total cost was pegged at around $700 million.
The Northshore mine is undergoing an upgrade to replace 3.5 million ton of blast furnace pellets to DR grade pellets to be sold directly to customers or to feed the HBI plant.
Steel Stocks' Performance
The December 2018 Hot Rolled Steel future contract is higher than before the tariffs were announced, but off the March and June highs. See chart below.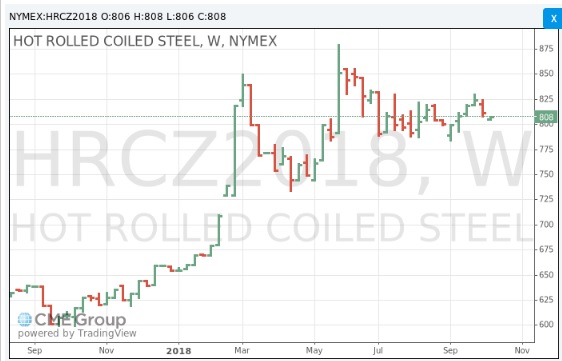 Customer supply agreements showed a fair value of $169.4 million at June 30, 2018, based on a hot-rolled steel average price of $833, per the 10-Q. This was up from $91.2 million based on a hot-rolled steel average price of $752, per March 10-Q. Given the softness in the December Hot-Rolled Steel future price the fair value for customer supply agreements might take a slight haircut in the next 10-Q.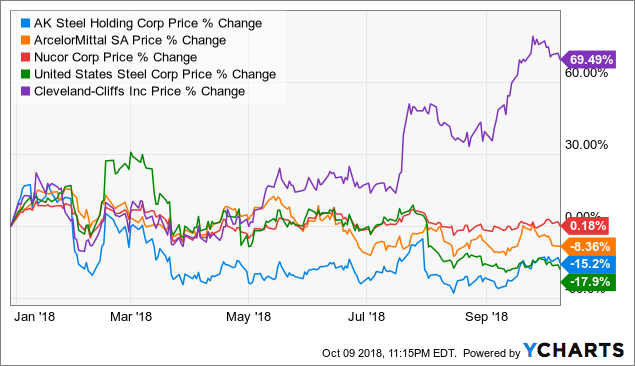 The price action of the major publicly-traded steel companies AK Steel (NYSE:AKS), ArcelorMittal (NYSE:MT), Nucor (NYSE:NUE), and US Steel (NYSE:X) appears to be a possible canary in the coal mine, as the stock prices have lagged that of Cliffs by a wide margin, see chart above. The domestic automobile makers General Motors (NYSE:GM) and Ford (NYSE:F) have been weak of late, see chart below.
This could be another sign of waning steel demand or a pause that refreshes before the next upturn. One reason for concern over the health of the steel industry was a recent ISM report that had respondents reporting the price of steel is higher and lower. Comments about the tariffs influencing business were made too.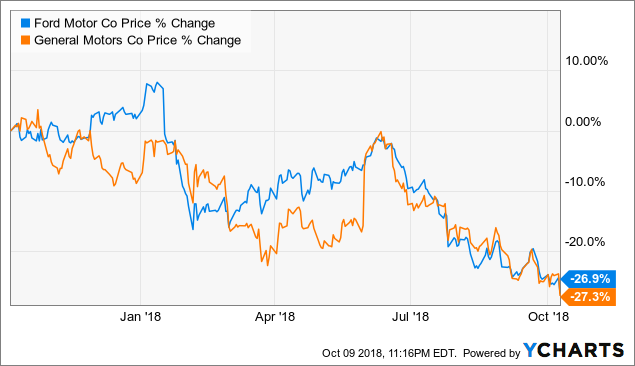 Iron Ore Pricing
The tariffs imposed by the Trump Administration have helped specific industries and hampered others. The US steel industry was able to increase prices, and a number of industries have mentioned the increased cost as a factor in reducing earnings. One major user of steel and aluminum, Ford Motor, has suggested that the tariffs have cost it $1 billion in profits, per Reuters' article.
Bottom Line
The economic numbers suggest that the economy is running on all cylinders. However, it should be noted that those figures are history, not the future. Economic figures always look good before an economic downturn takes hold. President Trump has mentioned a number of new or expanded steel plants in the US, but where is the demand for the steel going to come from?
Housing has softened as the Federal Reserve has increased short-term interest rates, and auto sales might be facing a gathering headwind from higher interest rates too. If there is a greater supply of US steel without a pickup in demand, then steel pricing might soften. This, in turn, could impact Cliff's supply agreements that reference hot-rolled steel prices.
The sharp increase in interest rates combined with uncertainty over the tariffs and a potential prolonged trade dispute could hamper business confidence. Fortune has a headline titled: Ford Prepares for Mass Layoffs After Losing $1 Billion to Trump's Trade Tariffs, Report Says. It suggests that up to 24,000 Ford workers could face the possibility of being laid off. The trickle down on economic growth and steel demand could be greater than currently expected.
Disclaimer: Return calculations exclude transaction costs, as each trader may experience different costs; however, transaction costs will reduce the realized return. Positions mentioned are of the time of publication and may change without notice for a variety of reasons. Ideas presented are for educational purposes and should not be viewed as investment recommendations or be considered investment advice.
Disclosure: I/we have no positions in any stocks mentioned, and no plans to initiate any positions within the next 72 hours.
I wrote this article myself, and it expresses my own opinions. I am not receiving compensation for it (other than from Seeking Alpha). I have no business relationship with any company whose stock is mentioned in this article.