Introduction
My loyal readers know that I have picked quite a few Chinese tech stocks over the last year. And I guess every investor and his/her little sister know that Chinese stocks are down in the hole with the back and forth game of import tariffs between China and the US. The iShares MSCI China ETF (MCHI) is down more than 27% from its 52-week high, well into bear territory: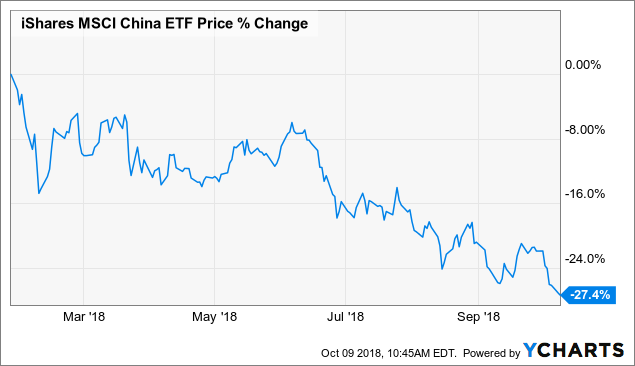 Tencent (OTCPK:TCEHY), China's second biggest company after Alibaba (BABA) has had its share of the downturn as well, falling considerably more than the index: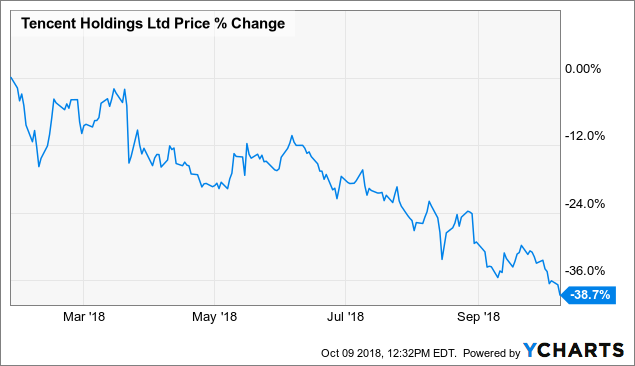 It still has a market cap of $364B, but it has lost some $140B in market cap. To put that into perspective: that is more than Nike (NKE), which trades at 'only' $129B.
But what does Tencent do? I will show in this article that it is a modern conglomerate, sometimes even compared with Berkshire Hathaway. What are the growing parts of Tencent? Does the regulatory game environment make Tencent a risky investment? And does the big drop make Tencent a good investment? Or is there still too much fat and should it fall further? These are the questions that I want to address in this article.
Before we go into that, I want to talk about investing in China at this moment. This is somewhat (but not completely) a repetition of the first part of the former articles in this series, so if you have read those installments, you might skip this part. If this is the first article about investing in China right now, I would certainly advise you to read this.
Investing in China in this environment
Before you start reading, you should know that I have the habit of scaling in into stocks over a longer period of time, typically three to five years. I invest monthly and I typically use 75% to even 100% of the money to add to existing positions, not to buy new stocks. That also means that I am grateful for the tensions that bring down the prices of so much great Chinese stocks.
In this series, I have written about Alibaba, the dating app Momo (MOMO) and that other retail giant of China, JD.com (JD). Part 4 was about the Google of China, Baidu (BIDU), part 5 about one of my favorite stocks, the smaller Baozun (BZUN). I consider them all to be great investments. But if you are a lump sum investor, this might not be the best moment to invest. On the other hand: how would you know, right?
I don't believe Jack Ma when he says that the trade war could last for twenty years.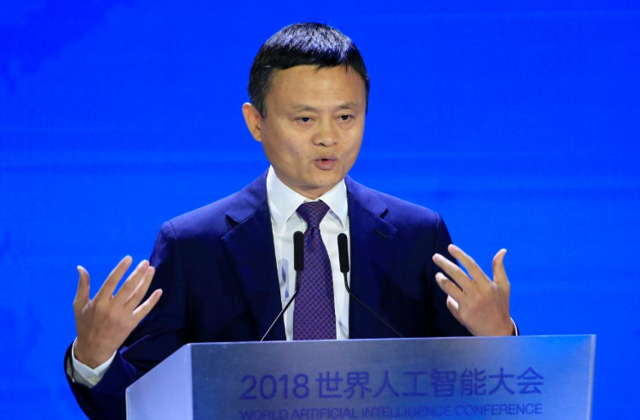 Therefore I think that this is a good opportunity to invest in Chinese quality stocks.
China: The biggest economy in the world
Twenty years of tension? Maybe, that is what happens when one economic superpower (China) takes over from the other (the US). But not twenty years of full-blown trade war. That would bring both economies to the knees.
Did I just say that China will take over the scepter of the US as the biggest economy? Yes, I did. I have written about this story in previous articles, but I think it is always very important to see the bigger picture if you tend to buy-and-hold, as I do. If you invest for the long term, you also should look at the long-term trends.
One of the trend, which is inevitable, is that China will overtake the US in the near term as the economic superpower in the world. The following chart shows the GDP growth of China compared to that of the US: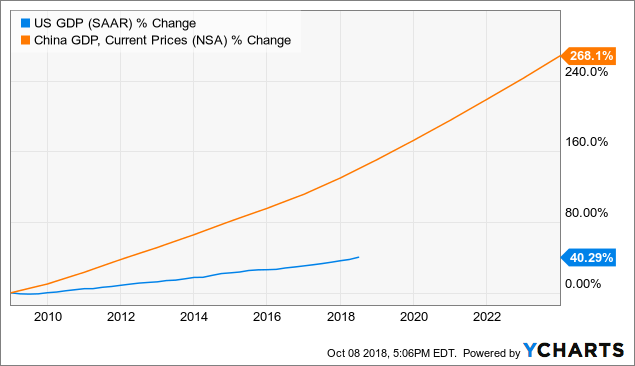 While the GDP growth of the US is considerable, that of China is much higher (and expected to keep growing at the same pace, as you see.)
It is expected that the Chinese GDP will overtake that of the US in 2025, only seven years from now. Even a trade war will not prevent that, although it can delay the takeover by a few years maybe. In 2050, the Chinese economy is expected to be 50% bigger than the second biggest economy, which will still be that of the US.
Tencent is in a sweet spot, in the middle of such a booming economy. But there is risk as well.
The falling yuan
One result of the tension is that the yuan (the Chinese currency) has fallen quite a bit over the past six months: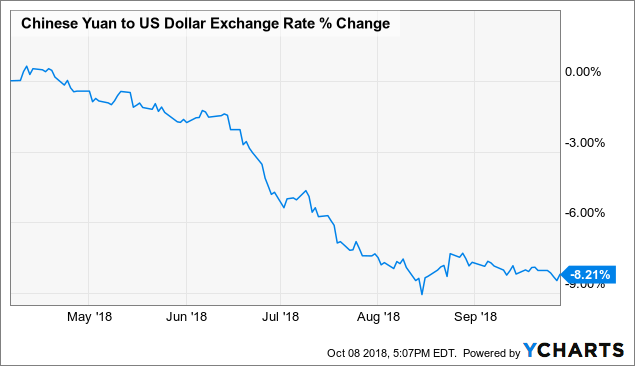 This may have an impact on Chinese stocks. The devaluation versus the dollar will be a good thing for the Chinese export, but it will have a negative impact for those Chinese companies that are available on the American stock exchanges and report in dollars, like Tencent. Those companies might miss their analysts' targets, and their stock price might fall because of the sentiment and the confirmation that the results seem to give. This mechanism can create opportunities to those who invest for the really long term.
I don't know if this is the bottom. It could be, or the trade war could become reality in full force and go on for several years - no one knows. But I am accumulating Chinese stocks now for the very long term (at least 10 years) and I am pretty confident that over that time frame the dust will settle and investors will look at earnings.
Tencent down 39% from its 52-week high

(Source)
Tencent is one of the biggest companies in the world. After Apple (AAPL), Amazon (AMZN), Alphabet (GOOG)(GOOGL), Microsoft (MSFT), Berkshire Hathaway (BRK.A) (BRK.B), Facebook (FB) and Alibaba (BABA) it is at the eight position of biggest companies in the world at the moment of writing. I add that because the market cap keeps dropping. Just as a lot of other Chinese stocks, Tencent has had a significant fall over the last few months. The 39% drop brought down its market cap from $561B to 'just' $364B.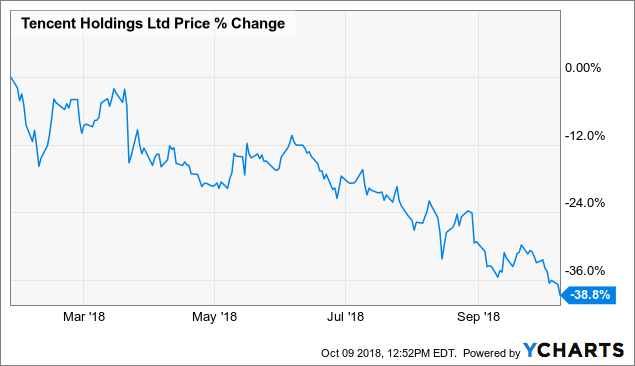 Although the stock price return seems awful, this is not the case if you zoom out. This is the return of the last decade: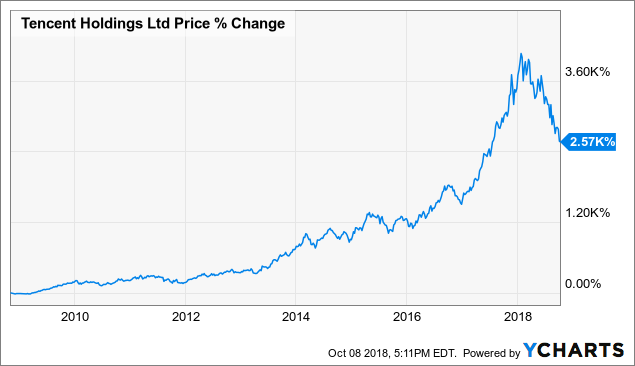 This would have turned a $10,000 investment in a $357,000 now. Not too shabby. But of course, that is just history. No level-headed investor expects these kinds of return from Tencent for the next decade. The main question today is: is Tencent a good investment right now?
Tencent: a modern conglomerate
While I get the feeling that most investors have heard about Tencent and maybe even had a short look at it, I also get the impression that they have trouble understanding the company because it is so multi-layered. Therefore I want to start with what the company does in a short overview.
1. Tencent: the investor and venture capitalist
Tencent is a huge investor and has become, together with Alibaba, the biggest VC firm in China. The Financial Times reports that 'Alibaba and Tencent account for 40-50 per cent of venture capital flows in mainland China'.
Tencent has double-digit stakes in companies like JD.com (JD), of which it holds 17.5% of the shares, 58.com (WUBA) (a 20% stake), Sogue (SOGO) (a 14% stake) and many more. Tencent has invested more than $20B in more than 600 deals. Here is a 'small' selection of its investments:

This overview is from February 2018, so it is outdated already, but it gives you a good impression, I think, of the sheer power of Tencent. There are not just a lot of investments, but they are also distributed all over the landscape of business. Tencent, by the way, also has stakes in American companies such as Snap Inc (SNAP), (of which the management has already said it was willing to exchange ideas), a $3B stake (5%) in Activision Blizzard (ATVI), Uber etc etc etc. It also has a 7.5% stake in Spotify (SPOT), which is of course Swedish, but known in America as well.
2. Tencent the social media company
But why this incredible number of investments? A quote of a Bloomberg article gives a hint:
More than two-thirds of Chinese people use its (Tencent's, FGTV) two messaging apps, WeChat and QQ, for everything from texting to shopping, flirting, dating, watching videos, playing games, and ordering food and taxis. According to venture capitalist Mary Meeker, Chinese users collectively spend 1.7 billion hours a day on Tencent apps, more than they spend on all other apps combined.
The idea is that Tencent wants to have as much time investment in the future as now. That is why they invest in autonomous car software: it's also interaction. And it is the reason why Tencent has invested in Carrefour (OTCPK:CRRFY), which will open 2,000 new stores in China over the next five years. It wants customers to pay with WeChat Pay and it knows that an important development will be the integration of online and offline retail. That is why Alibaba opens its Hema stores and JD will open 1 million convenience stores over the next five years and 1,000 7Fresh stores.
The number of hours spent on Tencent apps is incredible. WeChat and QQ are so important to Tencent, because they are the gateway by which the consumer goes to a lot of other services: paying, shopping, video, gaming etc. All you can think of doing on your mobile phone can be done on WeChat and its affiliates.
3. Tencent the gaming giant
Even if you are not a gamer, just like me, you must have heard of the games of Tencent's gaming arm.
It has 40% stake in Epic games, for example, which has made a blast with Fortnite, the most popular free game ever. It is free, but can be monetized because of in-app sales and advertisements when the games are watched. This is the most recent top 3 of most watched games on Twitch (AMZN). As you can see, Fortnite has a lot more viewers than League of Legends, but then especially the gap is huge with number three, World of Warcraft.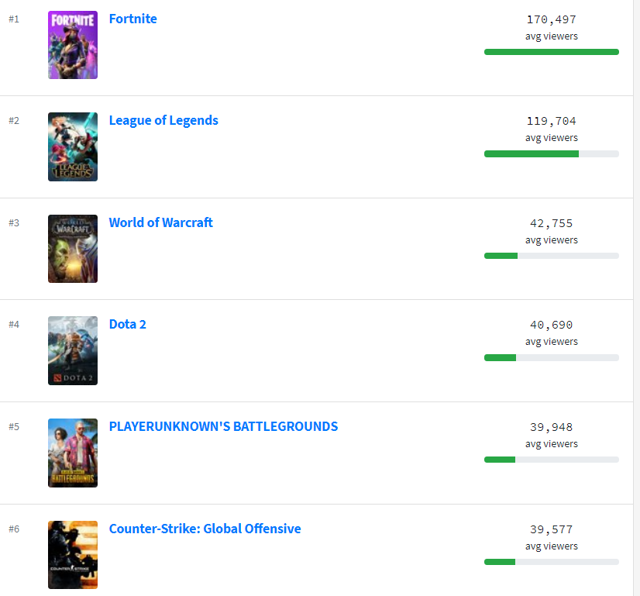 (Source)
League of Legends is made by Riot Games. And guess who owns that? Indeed, Tencent. World of Warcraft is from Activision Blizzard, of which Tencent owns 5% too. #5 on the list is PUBG: Tencent is trying to buy 10% of Bluehole, the company behind PUBG, in which it already has a stake. And it has the rights to the mobile version of the game. Do you get the picture? Tencent is colonizing the gaming industry. It has made more than 50 deals in the culture and gaming industry in total. A lot of those investments will pay off over the next years and decades.
#6 is Counter-Strike, from Valve, just as Dota2, #4 on the list. Valve has Steam, an online distribution and verification system which is very successful. But in September 2017, Tencent launched WeGame, which will go into direct competition with Steam more and more. Tencent has announced that it will launch a Hong Kong based platform of WeGame, for players outside of China, probably to compete against Valve's Steam platform.
We could go into much more detail here, and talk about PUBG mobile, other games etc. But this article's purpose is to give you a general overview. And the bottom line for Tencent's gaming branch is that it is becoming the biggest in the world, by far. If you don't join them, you will become the target of very fierce competition.
4. Tencent Cloud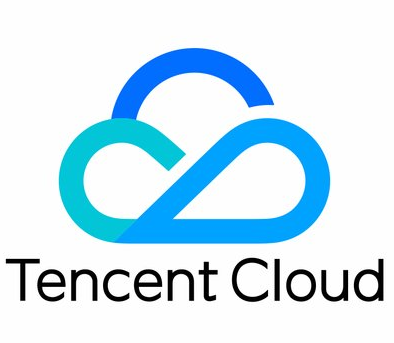 (Source: Twitter)
Tencent's cloud offering is younger than that of Alibaba and not that big yet. Motek Moyen, my fellow contributor here on Seeking Alpha, is at my side when he thinks that Tencent Cloud could be one of the contenders after Amazon's AWS, Google Cloud, Microsoft's (MSFT) Azure and Alibaba's Aliyun. It has especially an advantage in gaming, so it is logical that it focuses its energy on that part of the market first. In Q2 2018, Tencent's Cloud business was up by 100%.
5. Tencent Music
Tencent music entertainment is a part of Tencent that itself consists of four services: Q Music, Kugou Music, Kuwo Music and WeSing. These are music streaming services as we know them, but also karaoke apps and live-streaming.
Tencent Music has recently filed for IPO under the ticker TME, and it wants to raise $1B, which brings its valuation to about $25B on its own. Tencent owns 58%, Spotify (NYSE:SPOT) owns 9.1%.
A lot of western investors are not that thrilled about a music service, but unlike its western equivalents, Tencent Music actually makes a profit. In its F-1 IPO filing, Tencent Music gives numbers:
We have achieved growth and profitability at scale. In the six months ended June 30, 2018, our revenue reached RMB8,619 million (US$1,303 million) compared to RMB4,485 million in the same period in 2017. In the six months ended June 30, 2017 and 2018, our profit for the period amounted to RMB395 million and RMB1,743 million (US$263 million), respectively.
The profit comes not just from subscriptions, as with western music streamers, but for a large part from tips, virtual small presents like roses or golden coins, given over social media by fans. Those presents are virtual, but the money that has to be paid to acquire them is real.
$263M of profit may not seem that much for such a juggernaut as Tencent, but this achievement is in sharp contrast with the western music services. Pandora (P) still lost $92M in Q2 2018 and investors were so excited about this that the stock soared 21% the day after the announcement. Spotify bleeds even more money: almost $400M in Q2 2018. Although this was an outlier because of the listing, it doesn't have a profit anywhere in sight.
And even Apple Music doesn't seem to make that much money. Tim Cooke, Apple's CEO confessed:
Music is a service that we think our users want us to provide. It's a service that we worry about the humanity being drained out of. We worry about it becoming a bits-and-bytes kind of world, instead of the art and craft.

You're right, we're not in it for the money. I think it's important for artists. If we're going to continue to have a great creative community, [artists] have to be funded.
(Source: Fast Company, bold FGTV)
And there is a big market potential to grab for Tencent Music over the coming years. Again from the F-1 filing:
China's per capita spending on recorded music is expected to more than quadruple between 2017 and 2023, demonstrating tremendous growth potential
The user base of Tencent Music is huge: over 800 million unique monthly average users (MAUs) in the second quarter of 2018, with daily active users (DAUs) listening to more than 70 minutes per day on average.
Again we could dedicate a whole article to Tencent Music, but it is not the purpose of this overview. Let me finish with the way Tencent music presents itself schematically in its F-1: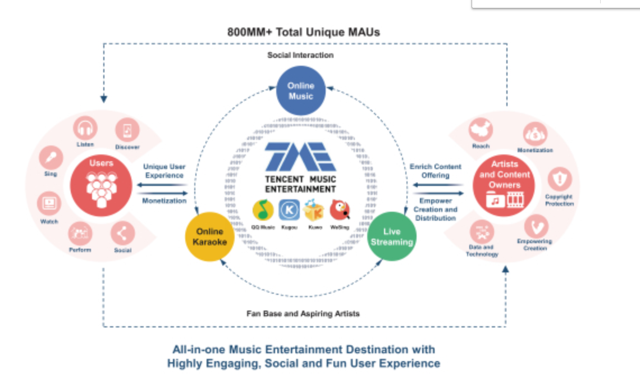 6. WeChat Pay
On the last earnings call, it was announced that WeChat Pay has surpassed 800 million MAUs. 300,000 offline stores accept it as a way of paying. And there was more good news:
The average daily transaction volume increased by over 40% year-on-year. Benefiting from our initiatives on smart retail and high-frequency low-value payment use cases solutions, our offline commercial payment volume maintained rapid growth, up 280% year-on-year. Commercial payment volume accounted for over half of our total transaction volume for the first time.
This is a giant in the making. WeChat Pay is already available in 40 countries and 13 currencies.
7. Others
Tencent is expanding in many more directions than possible to give you in this article: TenPay, advertising, property advertising, smartphone operating system, retail, more apps, artificial intelligence etc. Hell, it even provides online doctor services! Again, it is impossible to get Tencent in one article.
Intermediate conclusion
The overall conclusion is that Tencent is a very diversified company. A lot of investors just see it as a gaming and social media company, because they know it best from its games and WeChat, but there is so much more than meets the eye at first sight. Tencent has a very diversified portfolio and hundreds of streams of revenue from all parts of modern life. It is a perfect example of a conglomerate for the 21st century.
The management
The management of Tencent is one of the reasons to be optimistic about the company. It is world-class. Ma Huateng, better know for western investors as Pony Ma, is the founder, chairman and CEO.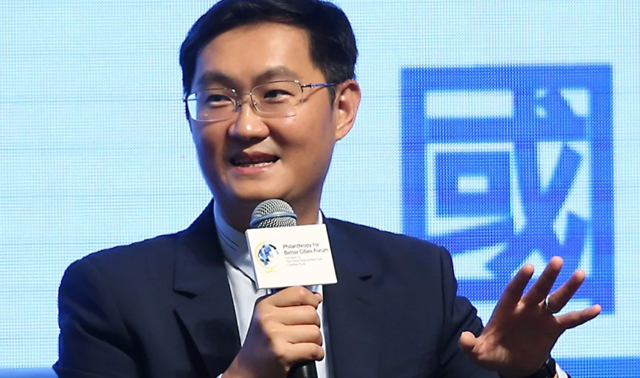 (Source)
In less than twenty years, Ma has brought Tencent from a start-up to one of the biggest companies worldwide. He is 47 years old now and is the counterpart of that other famous Chinese founder: Jack Ma of Alibaba. Where Jack Ma has outspoken opinions and loves being on the (international) stage, Pony Ma is low-profile. He is one of the richest men on earth, with a net worth of about $50B. He is sometimes compared to Warren Buffet, both for his modesty and for being very aggressive in acquiring prey for his conglomerate.
But his real strength to me is that he can really adept to new situations. Tencent's first product was OICQ (Open ICQ, for the direct messaging app that was popular then, but then adapted for the Chinese market). Pony Ma saw that the future was mobile and adapted the service in that direction. Because of a lawsuit of AOL, that had acquired the Israeli ICQ in the meantime, OICQ had to change its name. Ma chose for QQ. This legal battle was one of the reasons Ma decided to diversify and he started with games in the early 2000s. And he found an interesting way of monetizing: selling in-game features, such as weapons.
But there is also Lau Chi Ping Martin, or Martin Lau. He joined Tencent in 2005 and is the executive director and president of Tencent.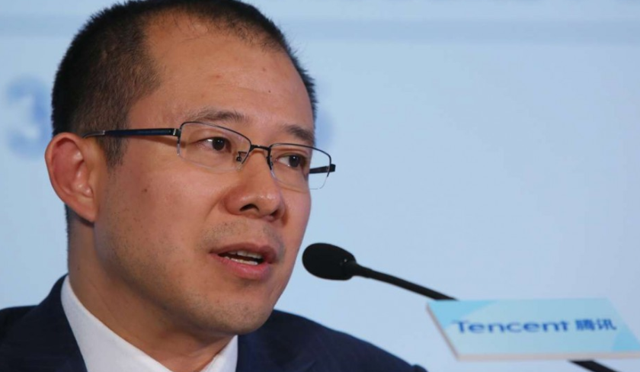 (Source)
Martin Lau is often seen as the instigator of the enormous investment program that Tencent has been executing over the last decade.
Why the drop?
If Tencent is such a diversified company, with numerous investments in parts of the economy where the future undeniably lies, why has it dropped so much?
Of course, there is the general feeling versus Chinese stocks. Since president Trump has been imposing tariffs on Chinese products, the investors' sentiments versus Chinese stocks has been cooling off considerably. And that may well continue for quite a while.
But there is more to the picture than just the American-Chinese trade tensions. Tencent fell sharply after the Q2 2018 earnings release. Tencent's revenue grew by 30% YoY, which is great by any measures, especially for such a big company. But the profitability dropped a bit QoQ. This has to do with a few items, including the cyclical nature of game releases and also the money Tencent earns from its investments. The gaming part of Tencent has become a worry for investors. The Chinese government had forbidden Monster Hunter: World just a few days before the earnings release.
So more than just the results, it was also the fear of further regulation from the Chinese government that got investors worried. And there had already been concerns: Tencent had to withdraw PUBG (PlayerUnknown Battleground) after it had been labeled 'too violent' by the government. Tencent is still waiting for a new license for that game too.
Gaming is quite important in Tencent's revenue:
VAS represents 57% of our revenue, within which online games contributed 34%; and social networks, 23%. Online advertising was 19% of our total revenue, and the other segments accounted for 24% of our total revenue.
(James Mitchell, Chief Strategy Officer on Q2 2018 earnings)
This means that gaming accounts for almost 20% of Tencent's total revenue.
I don't think that the government will be able (or wants, for that matter) to abolish all gaming, so probably this is just a temporary situation. It has happened before: virtual in-app currencies were regulated in 2009, but they came back with a vengeance. The same will probably happen for gaming. That is also Martin Lau's opinion, as he expressed it during the earnings call of Q2 2018:
Basically, what's happening now is that there's a temporary suspension on the GAPP's monetization approval so that games without that license cannot really officially start monetization. And that's mainly because of a restructuring of the officiating bodies that is going at the senior government level. So as a matter of fact, a lot of games have not been approved.

Now what's happening is that for the games that have been approved before, they can still be launched and be monetized. And as you can see, we do have a lot of games in the pipeline which have been approved for monetization, so we have been launching games with monetization. And right now, at least 15 games within our game portfolio have been approved for normal monetization.

Now with respect to new games, the administration is also aware of the fact that because of the restructuring it's now affecting the industry as a whole. So the GAPP has set up a green approval process, which means that if you can go through that green channel, then you can actually have one month monetization testing, and that's acted as a relief for the entire industry.
Even if the gaming licenses would keep being problematic, the problem is already more than reflected in the stock price. I mean: the stock has shed more than $130B over the last 9 months.
Valuation
Tencent has fallen about 37%, but does that mean that it is cheap already? Let's find out.
As you can see from this FASTGraph, Tencent seems to be fairly valued if you look at GAAP earnings: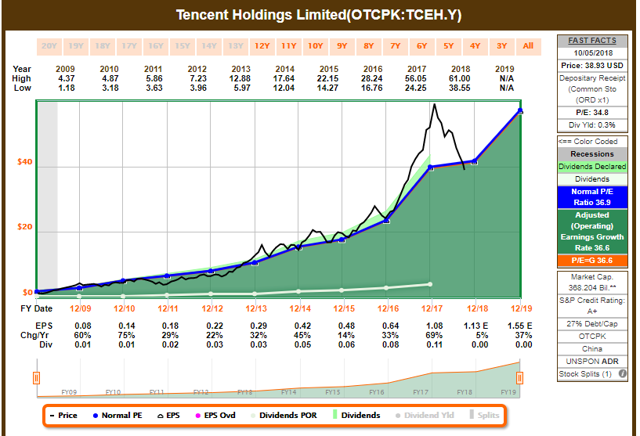 The normal P/E follows the earnings growth quite closely over the long term. And now the stock price has come down to the blue line again (even a bit under it), which suggests that Tencent is fairly valued or slightly undervalued.
But for a growth company, which Tencent still is, I always like to look at operating cash flow too: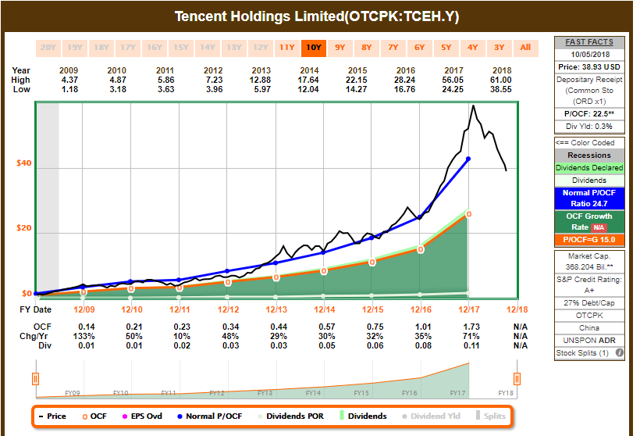 Here the picture is not complete, since there are no estimates for 2018. But I really can not imagine that the growth would turn negative, which means that from an OCF standpoint, Tencent is undervalued.
Simplywall.st has a calculation of fair value based on future cash flows, which is a very conservative tool, more suitable for value stocks.

But even here, you see the same picture again: Tencent is fairly valued, on the verge of undervaluation.
I think that Tencent is an investment to consider at these prices. It has an investment grade of A+, which is very good. It puts Tencent in the same category as for example Costco (COST) and Disney (DIS).
Conclusion
The scope of one article is just not wide enough to grasp the full exploration of the activities of Tencent. The company has reached out in so many different branches and industries that it is one of the most interesting conglomerates of this age.
After the stock has fallen by 37% from its 52-week high, it is an interesting stock to consider. Of course, just as with other Chinese stocks, there is risk that the stock falls more on trade tension and/or currency devaluation. But over the long term (meaning a decade or more) I don't think long-term investors will regret it if they would accumulate shares of this company.
Author's note: If you don't want to miss the other installments in the series "Chinese Stocks To Buy Now," feel free to hit the "Follow" button. In the meantime, keep growing!
Disclosure: I am/we are long BABA, ATVI, MOMO, DIS, FB, AMZN, BZUN, JD.
I wrote this article myself, and it expresses my own opinions. I am not receiving compensation for it (other than from Seeking Alpha). I have no business relationship with any company whose stock is mentioned in this article.
Editor's Note: This article discusses one or more securities that do not trade on a major U.S. exchange. Please be aware of the risks associated with these stocks.