Please note that I am affiliated with Avisol Capital Partners and their Total Pharma Tracker service. They have also covered the companies in this article in their writings, and I wanted to make readers aware of the potential for overlapping coverage.
Immunotherapy is easily one of the hottest fields to test in oncology right now, since it seems you can find a huge variety of ways to make the immune system do just about anything you want, allowing an enormous variety of approaches to flourish and create a market.
My article today focuses on one such entity looking to carve out a niche in immunotherapy: Alpine Immune Sciences (ALPN). The company became a publicly traded entity after Alpine acquired the struggling Nivalis Therapeutics, allowing Nivalis to focus its remaining $45 million cash coffers on Alpine's drug portfolio, bringing together a lean, fierce management team to move the needle on their projects.
But what is it that this company has in the tank?
Clinical pipeline
ALPN highlights two main products in their pipeline: ALPN-101 and ALPN-202. ALPN-101 is a dual-acting blocker of two "costimulatory" molecules called CD28 and ICOS, both of which are involved in pushing an immune response. Importantly, both are involved in the pathology of a number of autoimmune conditions, including multiple sclerosis, lupus, and several forms of arthritis.
In particular, CD28 blockade is, in itself, a very large market, with sales of Bristol-Myers Squibb's (NYSE:BMY) abatacept (branded Orencia) netting half a billion in sales each quarter.
ALPN has demonstrated that dual-blockade of CD28 and ICOS is effective against a number of autoimmune disease preclinical models, and there is evidence that ALPN-101 has the edge on other single-targeted drugs.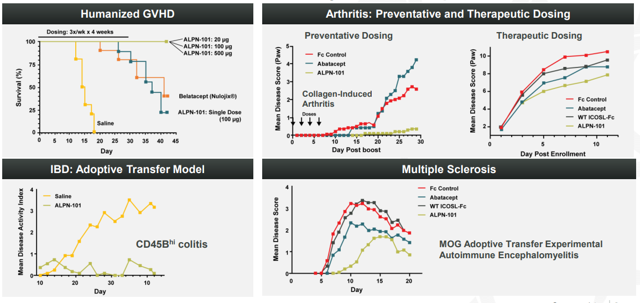 Source: ALPN's corporate presentation
ALPN feels that there are far-ranging applications for ALPN-101, if it works out as intended. However, their first targets will include psoriatic arthritis (target population 250,000 to 300,000 patients per year) and acute graft-versus-host disease (target population 4,000 patients per year).
One of those things is not like the other, you say? Targeting a huge disease like psoriatic arthritis makes perfect sense, given the potential money to be earned. What is the point in targeting an indication that has such a small number of patients per year?
In my mind, there are quite a few potential gains to be made here. First, measuring an effect against acute graft-versus-host disease is quick, because, by definition, you're talking about a disorder that, left unchecked, will kill over half of the afflicted patients within 12 months. This underscores the critical unmet need of the disease, as well as the relative rapidity until trial results can be gathered.
In addition, the preclinical evidence for ALPN-101 is striking. Here are the findings reported by ALPN on a humanized GvHD model: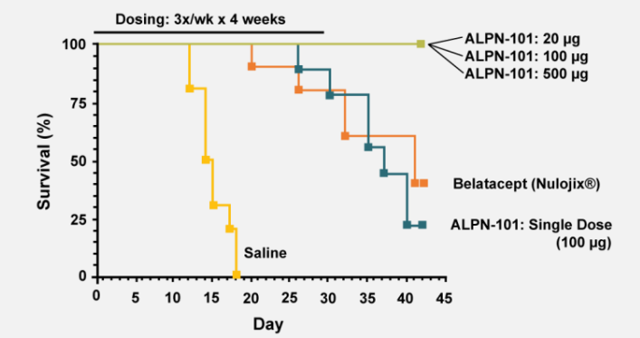 Source: ALPN's corporate presentation
Mice treated with no drug were all dead at day 18 after induction of GvHD, whereas ALPN-101 at three different dosing levels led to 100% survival of mice out to around at least day 45.
The other main drug highlighted by ALPN is ALPN-202, is a fusion protein combining an IgG1 Fc domain and a set of "variant" forms of CD80, a molecule that is important in binding molecules like CD28, PD-L1, and CTLA-4. Obviously, you'll recognize those latter two as immune checkpoint molecules, so the thinking goes that ALPN-202 has the potential to combine the costimulatory action of binding CD28 along with the "release of the brakes" provided by immune checkpoint inhibitors, leading to an enhanced immune response.
And, there is some evidence that this approach actually works against cancer, as well. In a PD-L1-expressing tumor model, the molecule that would go on to be ALPN-202 displayed striking antitumor activity: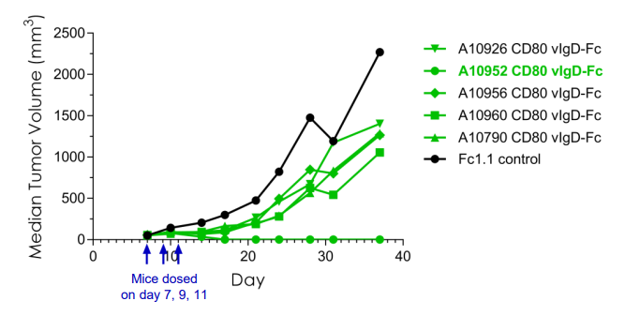 Source: ALPN's AACR 2018 presentation (Note the lack of growth in the bottom curve, indicating tumor killing)
The molecule even compared favorably with durvalumab, an approved anti-PD-L1 antibody: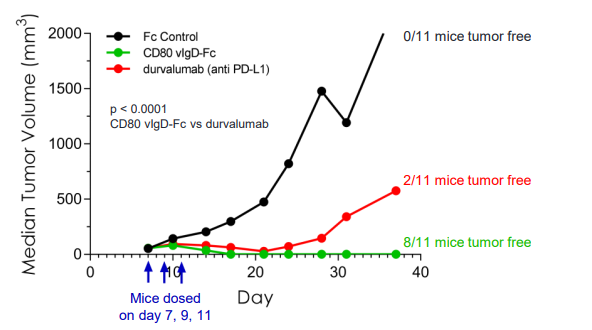 Source: ALPN's AACR 2018 presentation
Overall, these preclinical findings provide an enticing basis for clinical research, combining multiple immune checkpoint blockers with a costimulatory drug. In theory, this could very well be a much more potent approach than any of the antibodies that are currently on the market.
Clinical shots on goal for 2018/2019
From the outset, it is clear that ALPN is valued at a microcap level primarily because it remains a preclinical outlet, at least for now. Without a doubt, getting one of their drugs to the clinic is a top priority for them. Here are a few of the catalysts guided by ALPN:
SITC 2018 presentations - ALPN will present comparative findings for ALPN-202 and PD-L1 inhibition, perhaps providing a more focused look at the tumor mouse model we saw above? In addition, the company is detailing a different fusion construct with potential antitumor activity.
ASH 2018 presentation into the activity of ALPN-101 in a mouse model of GvHD
Other than this, it remains early days for the company. At one point, ALPN guided a submission of an IND to the FDA for ALPN-101 in Q4 2018, but their more recent presentations simply list the drug as being in "IND-enabling studies." So, I imagine they are pushing toward this end as quickly as they can without setting aggressive, unrealistic time points.
So, the list of potential proper "clinical" events of interest in 2019 is a bit thin, as ALPN indicates no imminent plans to submit an IND among 6 different developmental programs. Clearly, ALPN-101 is their masthead, and I like that approach (covered more in "Strengths and weaknesses" below).
Financial situation
As of its Q2 2018 financial filing, ALPN maintained cash, equivalents, and short-term investments totaling just around $70 million.
Given a cash burn rate of $7.9 million per quarter, this would indicate that ALPN has sufficient funding for up to 9 quarters, which is in line with their guidance that the cash runway is going to be able to fund operations into 2020.
The company also has a standing stock sale agreement with Piper Jaffray to sell up to $50 million in an "At the Market" arrangement, allowing the company to control the timing of its funding, and ALPN maintains around 13.9 million shares outstanding (as of August 2018, according to their corporation).
It is also worth noting that ALPN entered into a collaborative licensing agreement with Kite Pharma in 2015 to grant the CAR-T cell pioneer access to ALPN's TIP technology. In return for a worldwide license to this tech, ALPN gained a $5.5 million upfront payment, along with eligibility for up to $530 million in certain developmental milestones, along with a royalty on the sales of any product.
This has contributed some to ease the cash burn over the past several years, accounting for several hundred thousand dollars in revenue each quarter. However, ALPN guided that the deferred revenue has run its course. Aside from potential milestone payments, I don't expect that the Kite arrangement will net monetary returns. What's more, these milestone payments are likely tied to entry and progress in clinical trials, which may still be years away.
Strengths and weaknesses
The obvious elephant in the room is the cash vs. time to market situation. ALPN does not have the funding it will need to move their products through clinical trials, even if they go extraordinarily well. Under the best of circumstances, these drugs, once they get their first phase 1 trials underway, could have 4 years of development in store.
That will be if every trial goes without a hitch, and they get every accelerating designation under the sun. Even under those circumstances, ALPN definitely does not have the funding on hand to see through the programs. And, it's more likely going to be at least 6 years before we see an approval; these things take a lot of time, almost always more than you expect or hope for as a shareholder.
Of course, this is a myopic view of a company with a good bit of promise. ALPN clearly has a management team built for execution in terms of financing, as evidenced by the potentially huge partnership they were able secure with Kite. And that partnership wasn't even for one of their flagship products in development, so I imagine the company will be able to find their positions of strength and get themselves out of their future financial challenges.
So, on the cash front: ALPN holds a fair bit of money, but it's going to go faster than you'd expect. But they have the tools, and the management that is capable of getting the interest of much bigger players, and that's definitely a good sign.
Another mixed sign of strength is the sophistication of their technological platform. Developing these constructs was quite the tour-de-force, and it could pay off in a big way in terms of more potent immune regulation (down or up, depending on which disease we're fighting).
For example, clearly, they're capable of getting some very good immune responses against cancer in mice. But if there's one lesson we've learned in immunotherapy over the past few years, it's that too much of a good thing can be disastrous for patients. CAR-T cell therapy has had to deal with struggles relating to significant cytokine release syndrome. Other immunotherapies have run into potentially fatal immune complications.
While modern approved immunotherapeutics tend to be safer than the therapies they're replacing, there is always the potential for a setback, and the FDA has not been shy at all about shutting these trials down if there's even a whiff of toxicity. Here, the lauded potency of ALPN's constructs could end up working against them, and I have to count that among the risks associated with this company. Under no circumstance, am I guaranteeing, or even expecting, a major setback like that, but we should be comprehensive in our risk assessment.
Conclusions
Overall, ALPN presents a really interesting investment proposition, one that is clearly built for the long term "I got in on the ground floor" investor. They are currently building the foundation for what could be a transformational approach to immunotherapies, and this always carries the potential for massive gains in relatively short order.
But companies like this also have the potential to create bagholders, the much maligned shareholders who buy in on hype (usually tied to good news and a big rise in share price), only to see their investment languish for years. If I were you, I would take a very serious look at ALPN as a long-term investment and be prepared to take on the risk of eroding your equity through dilution as they try and set themselves up for future success.
Were I to initiate a position in ALPN, for example, my risk mitigation would proceed as follows: set aside a bit of money that I would be comfortable to lose; divide the funds into at least 2 lots; use my first lot of cash to purchase within the next few weeks, looking for a stable price point; wait with the other cash lots to see how the market views ALPN over the near term. This way, I get to have my "ground floor" position, but if things go south and I still like the scientific story, I would have capital that was set aside from the outset.
What I would NOT do with a stock like this is attempt to trade in and out, as it is going to be subject to potentially wild swings in valuation that you can't predict, at least until they have stabilized around a key developmental platform. This would amount to little more than gambling, and you can find better trading stocks out there.
In conclusion, ALPN presents a very interesting, very early opportunity for investors interested in immunotherapy. I would not expect my returns to come very quickly at all, but there is serious potential here if the technology bears out. If they're right, then even if ALPN has to dilute over the next few years, you would stand to make a strong gain in the long term.
Thank you for taking some time out of your day to read this article! If you liked what you see, I hope you'll consider becoming a follower of mine on Seeking Alpha, as this will allow you to get real-time notifications when new articles of mine go live. Also, I want to let you know that I am a regular contributor to the Total Pharma Tracker, a marketplace service run by Avisol Capital Partners. If you want to join our conversations about biotech stocks, consider taking part in a free two-week trial today!
Disclosure: I/we have no positions in any stocks mentioned, and no plans to initiate any positions within the next 72 hours.
I wrote this article myself, and it expresses my own opinions. I am not receiving compensation for it (other than from Seeking Alpha). I have no business relationship with any company whose stock is mentioned in this article.