Observations On Recent Action: Unsubstantiated Share Price Increase
Last week GE's share price spiked to $13 following the announcement of Larry Culp as the new CEO of GE. There is a lot of praise for him and I do not have an opinion on his credentials (his resume certainly looks far better than mine). The market attaches great value to an outsider becoming the CEO, which would have made more sense to do 14 month ago when John Flannery was appointed as chief. Following an intra-day softening of the spike on the day of the announcement, the stock closed around $12 and has steadily increased without looking back to $13.18 at close for the week. Meanwhile this week the stock progressed to $13.56 with the first red ink only on Tuesday 9th of October (time of writing).
In my usual transparency: I recently sold my GE position, having been a long-time investor, on the abovementioned spike shortly after the Culp appointment due to price hike in my view being an irrational move. Soon thereafter I entered into a short position by buying medium term out-of-the money put options (expiry 15 Mar 2019).
I wrote earlier (GE:Good Will Hunting) that GE lobbed in a $23bn write-off on its goodwill related to the Power segment in conjunction with Larry Culp's appointment. Utterly unprofessional to do so. Investors collectively brushed this away, one of the largest write-offs in recent years, together with a rating downgrade from S&P to BBB+ and a pending review from Moody's to revisit GE's current A2 rating. In the same statement GE commented that it will fall short of its free cash flow and EPS target for 2018. In my understanding this means GE will not meet a $6bn targeted Adjusted Industrial FCF (excluding pension funding) nor its Adjusted EPS of $1.00-1.07 per share (Culp CEO Appointment, Write-Off and Missing Targets).
My belief is that a new CEO is not a magic pill to change the DNA and culture in GE's businesses. Even with a seasoned GE executive at the helm surprises kept on popping up: GE Capital insurance technical reserves deficiency, operational issues in Power as key examples. Surprises will not reduce by changing the CEO. The CEO needs all employees to move in the same direction but the first step is a fundamental blunder: agreeing to an (for lack of a better words in not my native language) obscene compensation package with the highlight being an incentive of 2.5-7.5m shares in GE when the stock moves up 50-150%, taking the highest average closing price over 30 consecutive trading days, in the coming 4 years.
Clearly shareholders like it, it is indeed a clean and simple incentive program. I wonder how the CEO can look any GE employee (mostly hard-working engineers, operations, finance folks etc.) in the eyes and convince him/her to follow his lead without them being disgruntled about the disproportionate pay-check. The Board has thought either Mr. Culp is worth this money (I don't know) or considered the package to be an out-of-the money option that is not within reach (based on what they know, and I don't).
Recently some analysts made the pivot to more bullish standpoints in line with the share price momentum. This Monday Barclays increased its price target mostly based on the new CEO momentum and that most of the possible bad news is already priced in. I tend to believe that the risk of unknown unknowns has now materially increased due to an expected clean up by the new CEO. Adding to this is expected clarity on maintaining the dividend, free cash flow development and progress on reducing debt. Financial reality is still quite constrained, and this will sink in again when investors see GE's third quarter numbers upon which the share price may get an amplified reaction downward.
Next Level Action: 3Q18 Earnings
Based on the recent share price moves the CEO has a 'window' in which investors are likely accepting that they don't see what they are looking at. I have marked the 3Q18 earnings call day in my calendar when there will be fireworks. This is the moment I expect some other shoes to drop, some of which have been softly massaged in the heads of investors, and then realization sets in that a new leader is just as good as the material he works with. Until October 25th I don't foresee any big news coming out of GE besides any updates on transactions the previous CEO embarked on.
Now then, here are my expectations.
The dividend will be fully cut until further notice, or, the dividend will be maintained by borrowing from the net available credit lines. GE has facilities in place that they can use if need be. So optically it can be managed, based on last week, I see that optics do matter and the market moves sometimes irrational. If they use these credit lines it proves the point that 'organically' free cash flow is insufficient, and deleveraging is lower (it may well be extending the leverage). If there is no dividend this will scare off some investors who like to invest in dividend yielding investments.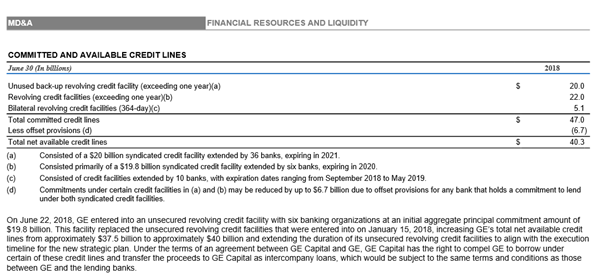 The reason that the dividend is to be cut (or paid with borrowed money) is that the free cash flow generation is insufficient to maintain this level taking into account the existing commitments GE has to pension holders ($5.1bn in 2H18), Alstom earn-out (~$3bn in 2H18) and deleverage commitments.
GE's latest Adjusted Free Cash Flow target for 2018 was $6.0bn as per the 2Q18 earnings release, being lowered from a $6.0-7.0bn target earlier in the year. The 1H18 Adjusted Free Cash Flow for GE was $(1.4)bn meaning the 2H18 should have been ~$7.4bn in Adjusted Free Cash Flow, before the Power operational issues came to light. The Power associated write-down of ~$23bn (more on that also in the 3Q18 upcoming earnings release) is a huge miss compared to the 2Q18 disclosed goodwill impairment test that GE performed. In the span of one quarter, the assigned value to the Power business has dropped $23bn. Besides everyone knowing Power is in a weak spot now it must mean that GE will disclose on the next conference call: an even lower outlook for longer for demand in the Power business and/or a less or slower cost reduction program than previously anticipated. Looking at the cash flow from operations at GE Industrial the movements seem to indicate the 4th quarter brings in ~60% of this amount compared to the yearly figure (based on 2017 for the GE Industrial segment) so a lot is riding on the operating performance in 2H18 that we know by now is seriously impacted on the Power side.

The leverage ratio within GE Capital as per 2Q18 stands at 6.6x with a target of getting this below 4.0x by year-end 2020. There have been a few asset sales since 2Q18 such as Starwood Property Trust's acquisition of GE Capital's Energy Financial Services' project finance debt business (price ~$2.5bn) and the sale of a $1bn portfolio of equity investments from GE Capital's Energy Financial Services unit to Apollo Global Management. It is unclear what the impact is on the leverage ratio, but it will be clearer that this wind-down of GE Capital takes way too long. The fact that there is no impact analysis provided by GE on each of these sales leads me to believe they are not overly positive (otherwise it would be disclosed).
The smaller GE Capital (slowly but surely) will bring to light that this unit carries too much leverage for the earning assets (meaning loans that generate income rather than other assets); in my calculation as per 2Q18 there is ~$75.3bn of earnings assets and ~$76.4bn of debt (see below amounts highlighted in blue/grey). One way (the only perhaps) is to sell GECAS which will unlock value but potentially undermine the GE Aviation franchise.
The GE Capital balance sheet at 2Q18 looks as follows: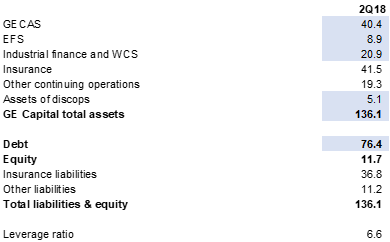 Besides the 'self-help' GE is currently progressing (divestitures leading to cash for deleveraging), there is a small probability that management may allude to a potential rights issue or accelerated book build by potentially issuing shares to a cornerstone investor that can help GE drive the turnaround and capital investments for the short to medium term. I don't see this as a critical decision now but with the coming restructuring, probably accelerated, there may be a need for cash that outstrips the current buffer. For foreign investors GE could be a terrific 'prize' asset. Middle East, Asian sovereign wealth funds would tap into GE also based on the brand equity in my view. Fresh equity capital would solidify an otherwise expensive CEO pay-package with uncertain momentum. For a turnaround of this magnitude at GE it requires time, capital and skill.
All in all, I expect 3Q18 to be the quarter where CEO's of all units have been asked to send any remaining (dirty) laundry to Boston. This is a one-time only exercise, there will be no more excuses. Almost any CEO will recognize that the first 100 days you get out all the bad news items, so your personal goodwill is not tainted later by items originating from a prior period not under your stewardship. I will look for unknown unknowns and the known issues that will come to center stage again in the 3Q18 earnings call.
Probing Questions For 3Q18 Earnings Call
My view on the disclosures from GE is that there is plenty of data but mostly it lacks the information I'd be interested in at this stage to triangulate the financials and business model. For a company with so many angles the discussion on the earnings call is too high level and should be much more detailed: start with a slide per business unit and talk about customers, products, financials (revenues/margins/operating cash flow/capex/implied leverage), outlook; discuss in more detail the debt profile (maturities, cash costs, refinancing); updates on pending transactions; 'walks' on how to get to certain financial targets with more granularity etc.
A few questions for the 3Q18 earnings call:
What is GE's Adjusted Free Cash Flow (or more clearly: operating cash flow minus maintenance capital expenditures, with a footnote for growth capex) and pro forma leverage ratio per business unit for 2018?
What are the baseline financial parameters for the new GE (EBITDA, leverage, dividend policy etc.) post restructuring (spin-off Healthcare, sale BHGE stake, Transportation deal)? Please confirm the recently announced GE strategy.
What is the impact of the lower credit rating on refinancing rates for commercial paper and longer dated instruments assuming the rating remains as per the recent downgrade from S&P?
What is the expected contribution to the GE Pension Plan in 2019-2020 based on the current economic and operating assumptions, in addition to the $6bn previously communicated for 2018?
What are the sensitivities of the GE post-retirements obligations and assets to ((i)) a 100bps upward shift in the yield curve and ((ii)) a 10% decline in equity markets?
Provide a financial walk for cash and debt for GE (Industrial side) from 3Q18 actual to year-end 2020?
Please update us on the GE Capital asset sale program, specifically on the results achieved on each asset sale, and foremost on the remaining leverage in GE Capital following these asset sales? Put differently: what does GE Capital's balance sheet look like (including the earnings assets of GE Capital) if GECAS would be 'transferred' or 'sold' to GE Aviation (respectively with leverage or price in accordance with AerCap), and the insurance portfolios sold to a third party?
(If the dividend is maintained) How much did you draw from the stand-by credit facility entered earlier in 2018?
What are the sales dynamics on the equipment side for Power and Renewables in terms of pricing, volume and mix?
Short Thesis
My view by now is highly contrarian and last week was no fun for yours' truly position. I believe the emperor's new clothes will be unmasked by the facts in the 3Q18 call showing that GE has serious financial challenges that have not changed; actually, they got worse. GE is fighting on multiple fronts (spin-off Healthcare, fixing Power, solving Insurance, dismantling GE Capital, keeping employees happy and what is not mentioned: retain customers). With a new CEO there will be additional scrutiny, and honesty to the market. I believe initially the plans will be ambitious but in the short-run challenging as the fundamental financial challenges need to be dealt with.
I may be wrong here. My view is that the share price will be hit by the reality first to deal with the financials, before it can go up. It will increase the value of my put out-of-the-money put options. Depending on the actual news flow coming out of GE I will determine to hold for longer and a potentially larger profit, or sell them for a short term gain. We will see.
Disclosure: I am/we are short GE.
I wrote this article myself, and it expresses my own opinions. I am not receiving compensation for it (other than from Seeking Alpha). I have no business relationship with any company whose stock is mentioned in this article.
Additional disclosure: Take investment ideas from anyone and investment advice from no one.