Amazon's (NASDAQ:AMZN) reign doesn't touch everything – there are still nooks and crannies of the business world it still doesn't dominate.
Hard to believe, right?
As Amazon branches off into every known and unknown crevice of the economy to excavate fresh growth drivers, it's hard to fathom where they won't be in the future.
Supermarkets are one of the most innovative parts of technology right now, and even with Amazon's grocery prize of Whole Foods, they are yet to rule over a broad-based grocer empire.
It might behoove you to discover that Kroger (KR) is on the brink of constructing a high-tech, cutting edge supermarket business that could juice up their crusade against Amazon.
In May, Kroger decided on partnering up with British-based online grocer Ocado [LON: OCDO] (OTC:OCDDY) to build out a full-fledged, automated warehouse acting as the launching pad to their high-tech supermarket aspirations.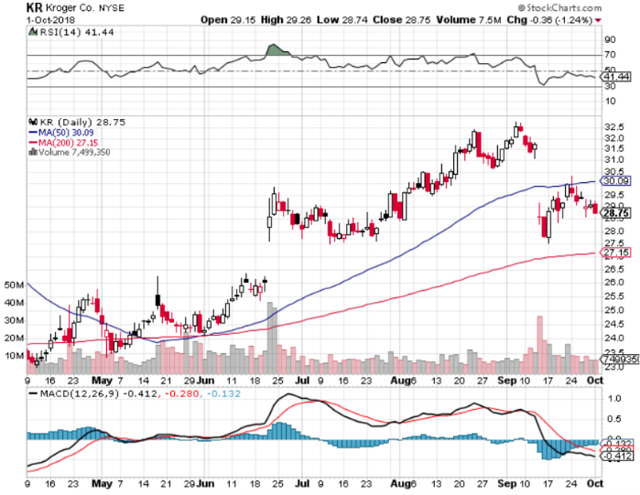 Kroger just announced they will identify 3 of the 20 new warehouse sites by the end of 2018 and the search is "making good progress." These three warehouses should be functional within a year.
This is the best investment Kroger has ever made in the history of the company.
The deal also gave Kroger a 5% stake in Ocado, which has no brick and mortar stores.
Even more brilliant, the deal bans Ocado from selling the technology to other American competitors.
Ocado has been voted the best online U.K. grocer by Consumers' Association magazine Which? every year since 2010.
The company went public on the London Stock Exchange in 2010, and its share price has had a banner year.
Shares were trading at £245 just 11 months ago.
The stock has been a battleground company with massive short interest because a contingent of investors believe this is just a simple grocer company.
Some investors value Ocado as a high-tech company, and it is obvious which group has won out as this online grocer saw shares catapult to a tad below £1,200 only to slightly retrace and consolidate.
Ocado shares are still hovering around £900, giving credence to this high-tech grocer amidst a country that is bereft of technology companies.
SoftBank's (OTCPK:SFTBY) buy of Arm Holdings was the crown jewel of British tech companies to be pocketed and taken off the public markets.
Imagination Technologies was also a blockbuster name that went private after Apple (NASDAQ:AAPL) infamously announced it would stop incorporating Imagination Technologies' system-on-a-chip accounting for over half of total revenue.
Shares cratered by 70%, and the company was picked up on the cheap like hawks swooping on prey by private equity fund Canyon Bridge, which is backed by the Chinese communist government.
Ocado is the torch bearer for Britain now, and the smorgasbord of deals signed with France, Sweden, Canada and America indicate their intent to be a major tech player.
The breathtaking short-squeeze has put bears on alert shying away from their oversized sell button as they have been epically burnt on this trade.
This love them or hate them online grocer plans to license out its industry-leading proprietary technology to revolutionize legacy supermarkets such as Kroger.
The stellar performance by Amazon has fueled its competition's ambition to up its game in any way possible, boding well for the consumer who will benefit from better services and lower prices.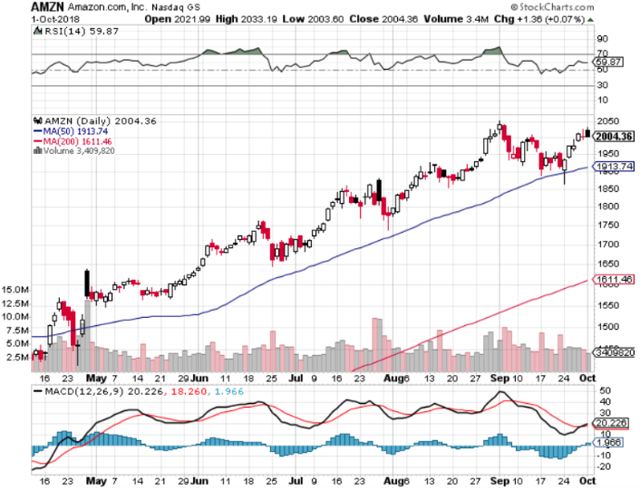 Ocado's 20 automated warehouses dotted around America will take three years to complete.
Simply put, Ocado is best in show at building these supermarket automated warehouses and could receive a windfall of revenue around the world as grocers from all corners of the world revolutionize logistical processes.
Of the 260,000 orders they receive per week in Britain, error rates have plummeted to a subterranean level of less than 1%.
The whole process is closely monitored by algorithms, scanning, identifying, and optimizing each step of the process.
Ocado's algorithms are quite masterful – they have been programmed to even sort a bag of groceries so the eggs aren't squashed at the bottom of the order by a sack of potatoes.
The insides are placed for perfection like the interior of Château de Malmaison straddling the suburbs of Paris, France.
These ideally placed items can travel up to 20 miles in Ocado's boxes.
This might be fine for a land-challenged country like Britain, but distances are grotesquely larger in America, and making sure perishables arrive fit as a fiddle offers complexities to Ocado's engineering team.
To root out any bugs, Ocado's phalanx of engineers create digital clones of a functional warehouse mimicking the location-specific conditions and operations to eradicate any faulty processes that crop up.
This has allowed Ocado to refine different models adding to the team's scope of versatility.
Each set of geographies will present unique challenges and adapting to local needs of each grocer will be a key to harness profitability.
Ultimately, Ocado is not new to this – they have been cultivating this type of technology for 15 years.
Drench Ocado's model with more technology, and it has become faster, more efficient, and systematically accurate.
Humans have been shipped out in favor of a bagging robot that separates out the orders needing to be placed in certain crates.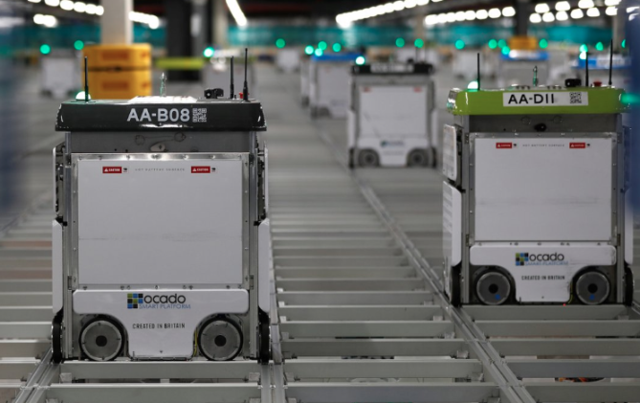 Humans are redeployed up the value chain of work and retrained as management delegates the lower grade tasks to be taken over by machines.
Ocado's delivery vehicles are tricked out with telemetry systems, an automated communications process by which measurements and other data are collected remotely in order to ameliorate the delivery time schedules.
Betting the ranch on enhancing the technology, Ocado has rolled out a freshly designed robot that can stack and sort boxes in stacks of up to 21 boxes high.
And here is the kicker – the artificially intelligence-based technology has outsized cross-over effect applicable to a myriad of industries that require warehouses as a main input in an operation which could spawn massive layers of potential profits.
The deep commitment to innovation is costly, and investors will always be anxious about the margin story, but that should not be reason to jump ship.
There is no seat at the table if a company is not armed and wielding the best technology current engineering can create.
Top-class engineers aren't cheap, and like their brethren in Silicon Valley, engineers continue to be tech firm's largest cost but their best asset.
Machine learning is also deployed across the customer service support platforms to ensure any complaints do not repeat.
Eventually, Ocado hopes to automate everything, and once self-driving technologies become customary, they will do away with the human driver, too.
They have already carried out tests showing their capabilities of functioning with this technology and did a stint of 2 weeks with little problem.
This May was the first time Ocado netted a nations big fish supermarket business with 1,300-store strong ICA Sweden.
ICA has carved out Swedish market share approaching a third.
Ocado is capitalizing on the new sense of urgency from legacy supermarkets to pivot towards technology to bolster profits.
Online supermarkets were once discarded but now seek to seize 15% of the grocery market share on the way to 20%.
Assuming that 10% is the peak is wrong especially with Ocado's supermarket warehouse technology.
Most recently, Instacart partnered with German discount supermarket Aldi to offer delivery service.
Ocado has absolutely started to spread its wings by licensing its robot-laden supermarket warehouse technology, and this is just the beginning.
More deals will be in the pipeline, and consumers will much rather shop for groceries online now.
To admire the scope of Ocado's pioneering expertise, this is their revolutionary warehouse system controlled by air traffic control technology with R2-D2-like robots careening around on a grid set-up fulfilling orders – click here to watch the video.
Disclosure: I/we have no positions in any stocks mentioned, and no plans to initiate any positions within the next 72 hours.
I wrote this article myself, and it expresses my own opinions. I am not receiving compensation for it (other than from Seeking Alpha). I have no business relationship with any company whose stock is mentioned in this article.