Editor's note: Seeking Alpha is proud to welcome Ramesh Raju as a new contributor. It's easy to become a Seeking Alpha contributor and earn money for your best investment ideas. Active contributors also get free access to the SA PRO archive. Click here to find out more »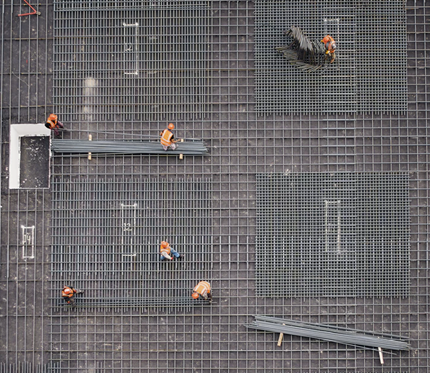 (Source: Build photo by Saad Salim (@saadx) on Unsplash)
About 50% of all the iron ore in the world is used by China. Companies like Rio Tinto (RIO) and Vale SA (VALE) and Fortescue Metals Group (OTCQX:FSUGY) ship most of the iron ore they mine to China. Hence, China iron ore demand is essential to the revenues and profits of these companies. If China reduces the amount of iron ore it buys, they will be disproportionately impacted. Hence, it is important to know if China's iron ore demand is likely to go down if one is to hold these companies. Right now, these companies have a reasonable dividend and are profitable. They have also recently reduced their cost of operations.
Of all the steel used in China, about 50%-60% is used in the construction sector in 2013, the next biggest was machinery at 20-25%. Thus, the China construction sector is very important for the iron ore industry. China has an army of construction workers. There were 52 million construction workers in China in 2016 out of a workforce of 776 million. In comparison, the United States of America had 10.3 million construction workers in 2016. All these Chinese construction workers need to be employed. They need steel in order to do their jobs. The Chinese government is determined to keep its people employed.
This helps keep the people happy and the country stable. Every time there is a downturn, the Chinese government seems to turn to infrastructure building to prop up the economy and provide employment. I think that the Chinese government is likely to double-down on infrastructure development with the ongoing trade war with the United States of America to counter the slowdown in other sectors. This seems to be happening now. Unless the number of people in the construction industry starts to decrease, they should need about the same amount of steel to keep all the construction people employed.
The intensity of steel per construction worker should also be increasing with higher, grandiose buildings and increasing urbanization. Land prices in cities in China have continued to increase significantly over the last 10 years. This is leading to taller buildings as the land area becomes more valuable. Higher buildings require more steel per unit area than lower buildings. Thus, the steel required per construction worker should increase as they work on taller buildings.
China is building more high-rise buildings than the rest of the world combined and is likely to continue doing so for the next several years. About 20 million Chinese have been urbanizing every year for the last 10 years. This trend does not seem to be changing. Urbanization requires subways, bridges, underground tunnels, and other iron intensive structures. This should keep up the demand for steel for the next few years.
By 2020, it is projected that 220mt of steel scrap will be available in China. In 2017, its consumption of steel scrap increased to 147.9 million tonnes from 90.1 million tonnes in the previous year due to the Chinese government mandate of increased scrap steel use in BOF (basic oxygen furnace) mills from 11 to 20% [9]. In spite of this, China increased its imports of iron ore to a record 1075mt in 2017. It is likely that all the available steel scrap in China is already being utilized.
There is likely to be another 70mt of scrap available by 2020 and the number of electric arc furnaces is projected to increase by 10 or 20 million tons per year. It is likely that all this steel scrap will be utilized. However, China has been increasing its iron ore imports by at least 50 million tons per year on average for the last 6 years even though increasing amounts of steel scrap was being utilized by the Chinese steel mills.
In conclusion, I think China will continue to import at least as much iron ore as it is doing now if not more in 2020. The long-term trend of increasing iron ore usage is most likely to be impacted if the number of construction workers in China starts to decrease or if the land price starts to decrease or urbanization rate decreases. As long as these factors don't change, I think that iron ore companies like Rio Tinto, Vale SA and Fortescue Metals Group will remain profitable and can be held.
Disclosure: I am/we are long VALE, RIO, FSUMF.
I wrote this article myself, and it expresses my own opinions. I am not receiving compensation for it. I have no business relationship with any company whose stock is mentioned in this article.
Additional disclosure: I am holding Rio Tinto shares and Fortescue metal group shares in the Australian stock market.
Editor's Note: This article discusses one or more securities that do not trade on a major U.S. exchange. Please be aware of the risks associated with these stocks.