Equity Armor Advisors (EAA) uses 3 different quantitative models, GARP, Dividend and Defensive Earnings in building each month's portfolios. Each model selects the top 10 stocks delivering 30 equities to each month's portfolio. EAA weights these 3 models differently in each of the 4 lifestyle portfolios shown below to provide investors with Growth, Absolute Return, Dividend and Income options. Lastly, EAA uses a proprietary volatility overlay, which is always long volatility. The exposure to volatility protects the portfolio in times of high volatility to provide better risk-adjusted returns.
October 2018 Series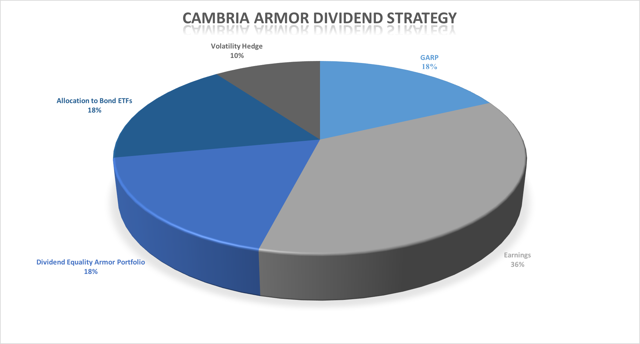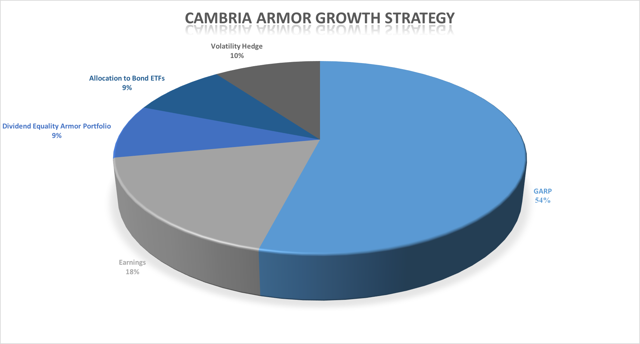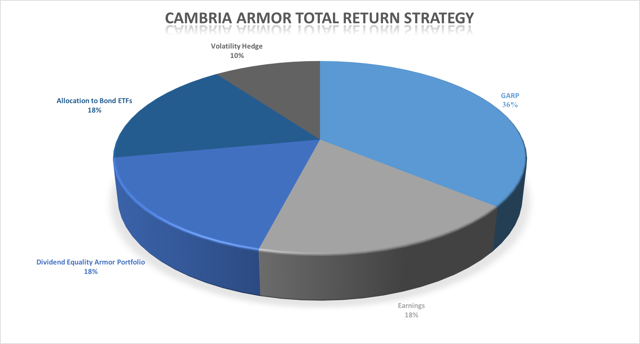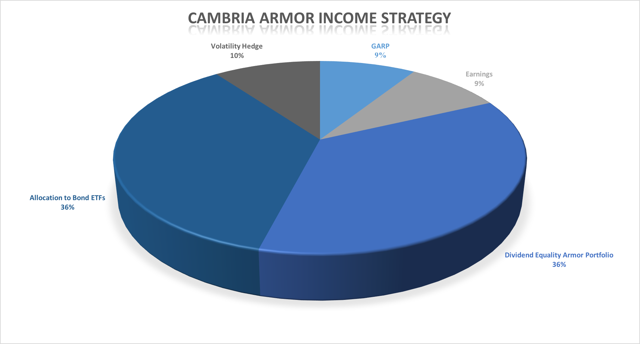 10 Dividend Stocks
Energy Transfer Equity (ETE) 6.97%
AT&T (T) 6.00%
Enterprise Prods Partners (EPD) 5.91%
Apollo Global Management (APO) 5.5%
RLJ Lodging Trust (RLJ) 5.97%
PPL Corp. (PPL) 5.41%
Valero Energy Partners (VLP) 5.56%
Altria Group (MO) 5.16%
Dominion Energy (D) 4.85%
Verizon Communications (NYSE:VZ) 4.39%
10 Defensive Earnings Stocks
Chimera Investment Corp. (CIM) 11.47%
CoreCivic Inc. (CXW) 7.35%
Ares Capital (ARCC) 9%
AVX Corp. (AVX) 2.74%
Silgan Holdings (SLGN) 1.43%
Tapestry Inc. (TPR) 2.81%
Sabre Corp. (SABR) 2.26%
Simpson Manufacturing Inc. (SSD) 1.25%
CDK Global Inc. (CDK) 1.01%
Mondelez International Inc. (MDLZ) 2.45%
10 GARP Stocks
Carpenter Technology Inc. (CRS) 1.37%
Popular Inc. (BPOP) 1.94%
Alleghany Corp. (Y) N/A
Citizens Financial (CFG) 2.78%
Universal Health Services (UHS) 0.32%
Sabra Health Care (SBRA) 8%
Applied Industrial Tech (AIT) 1.58%
Rexnord Corp. (RXN) N/A
Cabot Microelectronics Corp. (CCMP) 1.6%
Genuine Parts Co. (GPC) 2.9%
EAA is proud to share the October 2018 equities used in the 4 lifestyle portfolios overlayed with a volatility hedge. As with every month, I would like to discuss, in more detail, one stock from each category.
Dividend
This month I would like to highlight Energy Transfer Equity and its 6.97% yield. Energy Transfer Equity, L.P. provides diversified energy-related services in the United States. It owns and operates approximately 7,900 miles of natural gas transportation pipelines and three natural gas storage facilities in Texas, and approximately 11,800 miles of interstate natural gas pipelines. The company sells natural gas to electric utilities, independent power plants, local distribution companies, industrial end-users, and other marketing companies.
Natural gas has had a nice run since February 2018 and is +15.5% in the last 12 months. Analysts have been upgrading ETE since May 2017 when Bernstein upgraded it to Outperform. More recently, Bank of America upgraded ETE from Neutral to Buy on May 17, 2018 and Stephens & Co. upgraded from Equal-Weight to Overweight on August 22, 2018. Stockscouter has a 10 out of 10 rating on ETE citing strength in Valuation and recent analyst revisions for earnings much higher.
Analysts are projecting a 14.1% increase in earnings in 2019 along with a 5.6% increase in sales. These are both important catalysts to sustainability of the ETE dividend of 6.97%. I am slightly concerned about the short ratio of 7.35 as I prefer to see this under 5 but I can't ignore the many positives that have me believing the shorts have this one wrong. I believe ETE's yield is safe and if the company can meet or beat earnings (which has been an issue) the stock price could also move higher into the low $20s.
Defensive Earnings
I would like to highlight CoreCivic, Inc. The Company is a diversified government solutions company with the scale and experience needed to solve tough government challenges in flexible cost-effective ways. They provide a broad range of solutions to government partners that serve the public good through corrections and detention management, a growing network of residential reentry centers to help address America's recidivism crisis, and government real estate solutions.
What better defensive earnings play than our government's corrections real estate. Prison rates in the US are the world's highest at 724 people per 100,000. CXW has a forward yield of 7.35% and one of our key factors in Defensive Earnings stocks is levered free cash flow which is $276.4M of the $342.19M operating cash flow. After cutting the dividend in 2016 from $.54 to $.42, CXW is back to increasing the dividend in March of 2018.
As you can see in the chart, CXW has had a steady share price climb following the dramatic fall in 2016. We also can see a bullish pattern forming following the March dividend increase. CXW has beat earnings estimates by $.01 in each of the last 4 quarters. While this is nothing to get excited about, it is better than missing earnings. I like CXW for the forward yield, levered free cash flow relative to operating cash flow and industry. We hold Defensive Earnings stocks for protection in down markets and a recession would be less likely to hit the nation's corrections facilities negatively.
GAARP
This month I am highlighting Popluar, Inc. Popular, Inc., through its subsidiaries, provides various retail, mortgage, and commercial banking products and services primarily to institutional and retail customers. The company accepts various deposit products. It also offers commercial and industrial loans; commercial real estate loans; residential mortgage loans; consumer loans, including personal loans, credit cards, home equity lines of credit, and other loans to individual borrowers; construction loans; and lease financing comprising automobile loans/leases.
Stockscouter scores BPOP as an 8 of 10 and sights valuation as a key to receiving this score. Recall that GAARP stands for Growth At A Reasonable Price and valuation is a key factor in Reasonable Price. On the Growth side of GAARP, BPOP is delivering 12% sales growth and 75.19% earnings growth in 2018. 2019 is forecast to deliver sales growth of 6.4% and earnings growth of 20.98%. These are the type of earnings growth stocks we seek to find.
The trailing P/E is 18.47 and forward P/E is a mere 9.41. BPOP has also delivered 3 consecutive quarters of earnings surprises. We can also pick up 1.98% in yield on a growth stock so I really like this for the EAA portfolios and anyone looking for a GAARP stock. The 10 analysts providing earnings forecasts on BPOP project a range of $5.12-$5.91 for 2019.
This follows on the heels of a 25.3% earnings beat in the June quarter of $1.19/share. BPOP will announce earnings before the bell on October 24, 2018 with analysts expecting earnings of $1.28 on $586.1M in sales. BPOP's chart is quite bullish and has been trading in a narrow range since June. If BPOP can meet or exceed earnings expectations for the next 15 months, we should see a double-digit % move in the stock price.
As with each monthly portfolio series from Equity Armor Advisors, these 30 equities have a volatility overlay. The EAA volatility index is now available on sites using the symbol EAVOL. I have included a 1-year chart (below) of EAVOL compared to the VXX which many have attempted to use in the past for protection in times of volatility.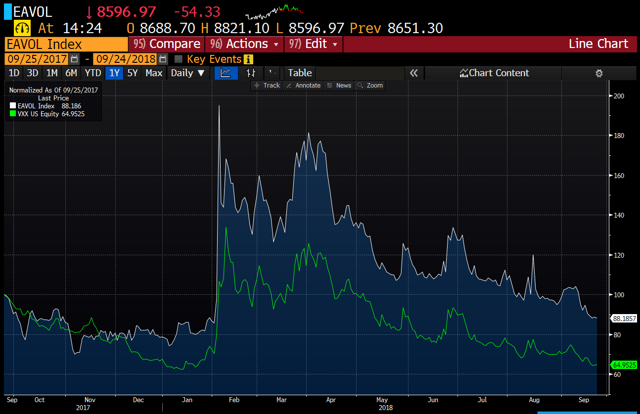 As you can see, EAVOL provides much better returns and captures more of the volatility move than VXX.
October has gotten off to a rough start and as we continue into the longest bull market in history, it is wise to consider how to protect your portfolio when the next correction comes. EAA uses EAVOL on their own portfolios but can be used on any portfolio so keep this in mind as you position your own portfolios.
Until next month, I wish all of you well in your investments.