Brookfield Renewable Partners LP (BEP) is a high-yield idea that's getting attractive. Notably, other than a big cash distribution, it also offers growth, which is essential for boosting total returns.
BEP is considered high yield as evident by the fact that its yield is +3.7 times that of the market's yield, using SPDR S&P 500 ETF Trust (SPY) as a proxy, and nearly 2 times that of the industry's yield, using Utilities SPDR (XLU) as a proxy.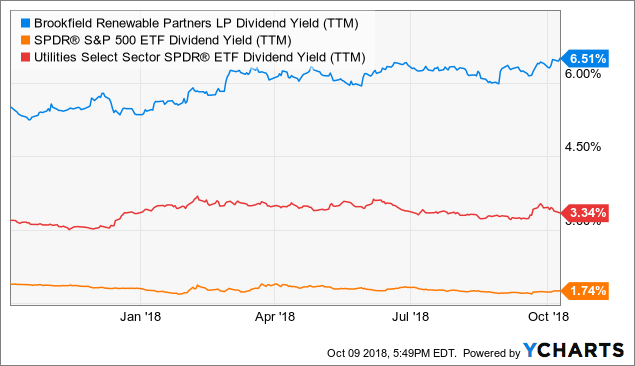 The Business
Brookfield Renewable is an owner and operator of renewable assets. It has one of the largest platforms in the world with +17,000 MW of capacity and 876 generating facilities across 25 markets and 10 countries in North America, South America, Europe, and Asia.
Its portfolio is comprised of 76% hydroelectric generation (diversified across 218 facilities on 82 river systems), 20% wind generation (with +100 wind farms across 4 continents), and 4% solar generation (with 55 utility-scale solar facilities across 4 continents). It's also one of the largest owners of distributed solar generation in the United States.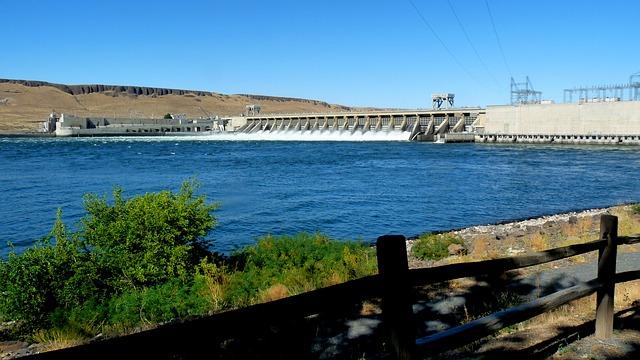 Is the 6.5% Yield Safe?
Generally, we like to see a positive trend whereby the distribution growth rate is increasing. However, that hasn't been the case for Brookfield Renewable in the last few years. In fact, it has been the opposite.
| | | |
| --- | --- | --- |
| Year | Distribution Per Unit | Distribution Growth |
| 2015 | US$1.66 | |
| 2016 | US$1.78 | +7.2% |
| 2017 | US$1.87 | +5% |
| * 2018 | US$1.96 | +4.8% |
* The 2018 distribution is annualized from the Q1 quarterly distribution per unit of US$0.49.
Management targets to increase BEP's distribution per unit by 5-9% per year, but it has been growing it at the low end of that range in the last two hikes.
That said, BEP's distribution seems to be safe. In the first half of the year, the limited partnership generated funds from operations ("FFO") per unit of $1.17, and so its payout ratio was about 84%. On a normalized basis, its FFO payout ratio would have improved to less than 82%.
Other than having a sustainable payout ratio, the fact that BEP has about 93% of contracted cash flow with credit-worthy counterparties primarily under long-term power purchase agreements also helps with maintaining a safe cash distribution.
Growing its cash flow will also lead to a safer distribution. (See "Growth Contributors" section below.)
Is Brookfield Renewable's Performance About to Improve?
Brookfield Renewable and its sister company, Brookfield Infrastructure Partners L.P. (BIP) both aim for long-term total returns of 12-15%. However, BEP has been underperforming for a number of years.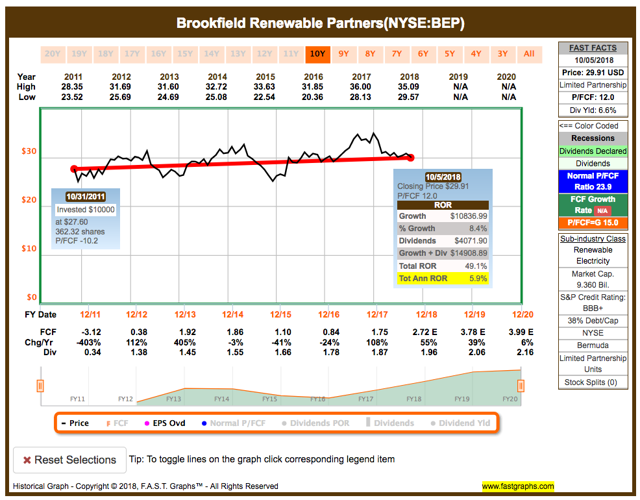 Source: FAST Graphs - BEP has delivered ~6% per year over the last ~7 years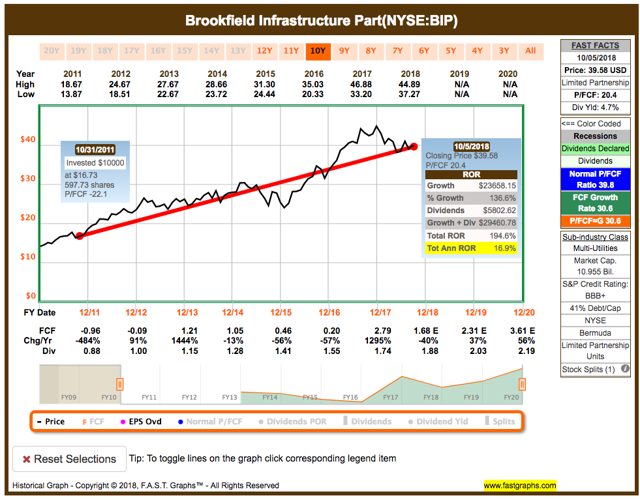 Source: FAST Graphs - BIP has delivered ~17% per year over the last ~7 years
For almost 7 years, BEP's annualized returns have only been <6%, while BIP has outperformed with annualized returns of just under 17% in the period. So, I was surprised to see in BEP's recent presentation that it has actually delivered annualized returns of ~15% since inception.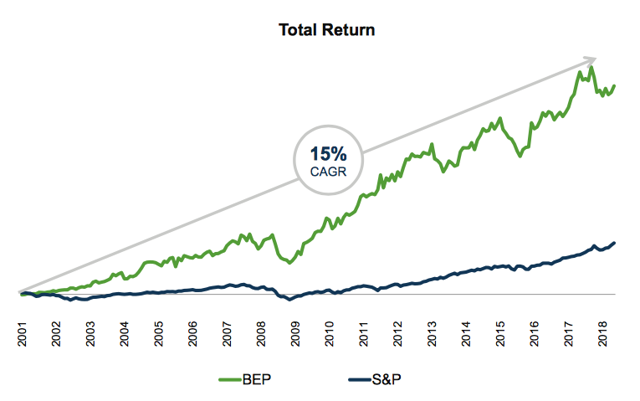 Source: BEP September presentation PDF, slide 57
Since BEP has underperformed in the last 7 years, could it be playing a game of catch up in the coming years? This could very well be the case as we discuss what will contribute to BEP's growth in the next section.
Another point to note is that BEP investments made in the last two troughs and sold in the last two peaks would have delivered annualized returns of +20%. This indicates it may be a good idea to aim to buy low and sell high for BEP or simply buy low to lock in a high yield and just hold.
Growth Contributors
Brookfield Renewable is obviously a leader. It generates a higher rate of return than its peers while maintaining an investment grade balance sheet.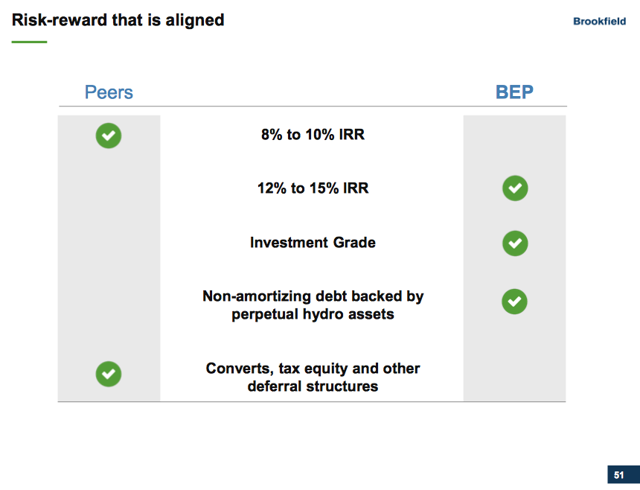 Source: BEP September presentation - Slide 51
BEP will only become better at what it does as it establishes strong operating and growth capabilities in its core markets across multiple technologies. Management sees visible growth of 6-11% for its FFO per unit from embedded inflation escalations, margin expansion, and its advanced development pipeline.
Its advanced pipeline includes 1,000 MW of global projects: wind farms in Europe, Colombia, and Brazil, small hydro facilities in Brazil, and distributed solar generation in North America and China.
In fact, BEP is a business that's set to grow for multiple decades from the global megatrend of transferring from fossil fuel usage to renewables. Here's a snippet from BEP's Q2 2018 letter to unitholders to highlight management's confidence in BEP's future prospects:
Globally, over the last five years, approximately $1 trillion of capital has been invested into renewables and over 1 million megawatts of new renewables have been added to the global power market. This is equal to replacing the entire electrical capacity in the United States with renewable power. In spite of all of this, wind and solar still account for less than 8% of global power supply and even if one assumes current annual pace of investment of approximately $300 billion continues, the level of overall renewable penetration will remain modest for many years. We are in the early stages of a transformation of the global power grid, moving from fossil fuels to renewables. This will require significant investment over multiple decades. We estimate that replacing the non-renewable capacity in our core markets with wind and solar will require over $10 trillion of investment. Accordingly, the opportunity to invest and grow our business should be substantial for many decades.
It's another positive that management estimates that FFO-per-unit growth (based on the midpoint) will be higher over the next few years compared to the last 6 years. The estimated higher growth rate will be a driver for a bigger cash distribution and a higher stock price.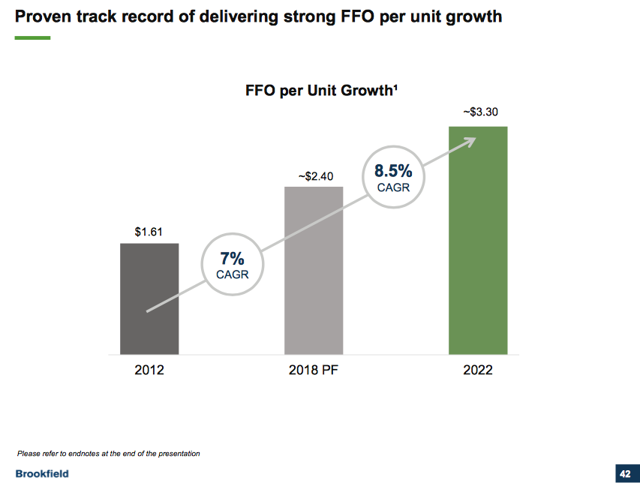 Source: BEP September presentation - Slide 42
Risks
No investment comes without risk. BEP has foreign currency risk. It may be exposed to the Canadian dollar, Brazilian real, Euro, British pound sterling, Colombian peso, Indian rupee, South African rand, Malaysian ringgit, Thai baht, and Chinese yuan – related to operations, anticipated transactions, and certain foreign currency debt. It generates about 40% of cash flow from the U.S. and 30% from Canada and Europe.
Investors often worry about the interest rate hikes' impact on debt-heavy utilities. Be rest assured that higher interest rates will have some but little impact on BEP. As of the end of Q2, only 14% of its debt had a floating rate. As well, in the quarter, the company managed to increase the average duration of its asset level debt to +10 years and lower its interest costs by 0.25%.
The weather can affect the volume of electricity generated at BEP's facilities. Changes to hydrology at its hydroelectric facilities, wind conditions at its wind energy facilities, and irradiance at its solar facilities could reduce its electric generation.
Valuation and Near-Term Upside Potential
BEP looks undervalued, but don't expect it to trade at +$40 per unit any time soon. That said, if the company does get a surge of cash flow growth from its growth initiatives, we could see a stock price of +$37 per unit over the next 12-24 months under a normal market, which would imply upside of about 11% per year over 2 years' time.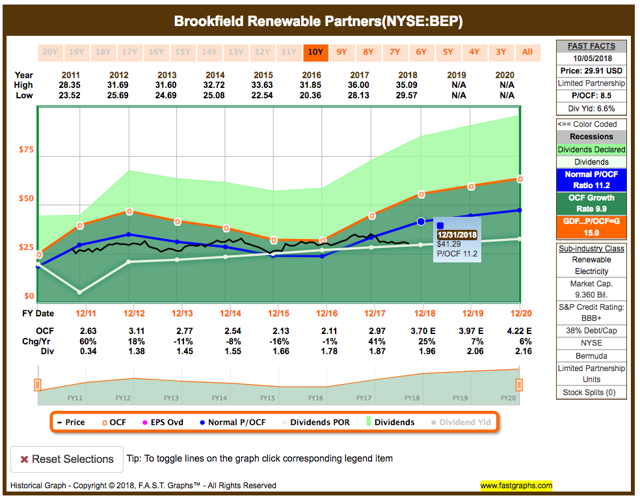 Source: FAST Graphs - BEP looks undervalued. The graph indicates a normalized forward stock price of ~$41 per unit.
Investor Takeaway
Brookfield Renewable is set to grow for multiple decades from the shift to renewables from fossil fuels around the globe. Right off the bat, investors can get BEP for a ~6.5% yield, which has passed the midpoint and is at the high end of its 5-year yield range.
Let's not forget that the company normally increases its distribution in Q1, which is coming up soon. Assuming a 5% increase, we're looking at a forward yield of almost 6.9%, which will get us really close to the high point of the yield range.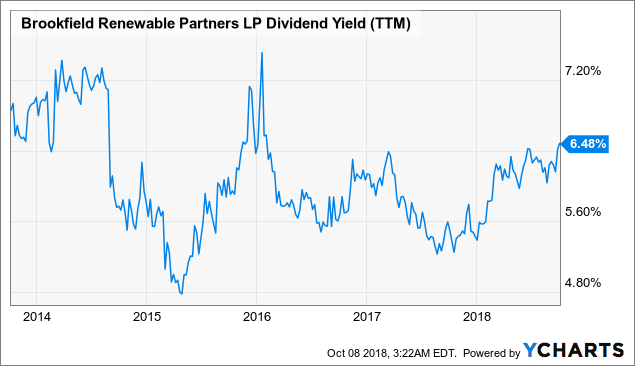 Assuming the FFO per unit grows at a compound annual growth rate of 6%, again, at the low end of the estimation, we're looking at long-term total returns of ~12.5%.
I'd like to hear your thoughts: What's your favourite renewable power stock? What are your favourite high-yield stocks?
Disclaimer: This article consists of my opinions and is for educational purposes only. Please do your own research and due diligence and consult a financial advisor and or tax professional if necessary before making any investment decisions.
DGI Across North America subscribers enjoy exclusive access to a quality list of Canadian and U.S. dividend stocks with minimum yield targets or buy range targets, updated monthly; my top stock ideas from Canada and the U.S.; and an early look at my public articles, with additional details, technical analysis, entry points (on my buy recommendations), and analyst consensus targets. Subscribers also hear from me regularly in the chat room with real-time buy and sell alerts, commentary on my stock ideas, and more. The market changes in a flash. Subscribe to DGI Across North America today, so you don't miss a beat.
Disclosure: I am/we are long BEP, BIP.
I wrote this article myself, and it expresses my own opinions. I am not receiving compensation for it (other than from Seeking Alpha). I have no business relationship with any company whose stock is mentioned in this article.
Additional disclosure: I'm long on the TSX: BEP.UN and BIP.UN.