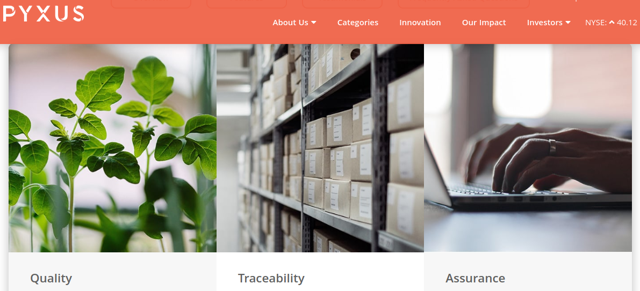 Pyxus advertises the SENTRI platform for quality control of its tobacco and cannabis crops (via Pyxus).
Another (Putative) Pot Stock Flying High
Earlier this week, I wrote about cannabis company Canopy Growth (OTC:CGC). There are few similarities between it and Pyxus (PYX) now: Both have rocketed higher this year, both have had questions raised about their upside potential by Seeking Alpha analysts, and both are too expensive to protect with put options over the next several months, but are hedgeable with collars in a cost effective way. Let's look closer at each of these points.
Pyxus Rocketing Higher
Shares of Pyxus are up more than 125% over the last month, with the most recent leg higher following its indirect Canadian subsidiary receiving a cannabis cultivation license from the Canadian government and a bullish note by Citron Investments (more on that below).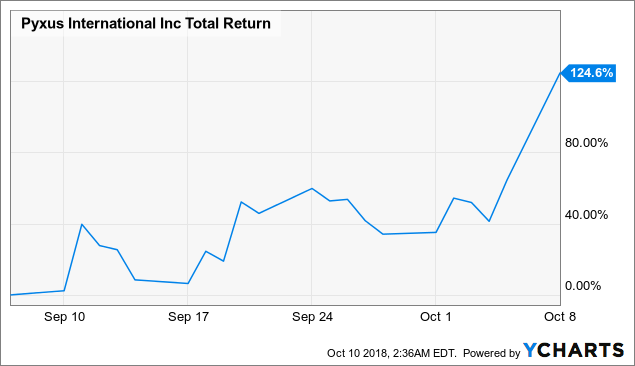 Upside Potential?
In the case of Canopy Growth, Seeking Alpha contributor Jonathan Weber warned that it could go up in smoke, due in part to its high valuation, cash burn and dilution. One difference with Pyxus is that, as Cornerstone Investments argues here, it's inexpensively valued. The catch is that its shares have been on a tear due to Pyxus' association with the cannabis boom, even though, as Cornerstone Investments points out, cannabis only comprises about 3% of its business:
Before the name change, the business was called Alliance One, and its current business is 97% tobacco. We are not using the word "legacy" here because that's simply not true. The company still relies heavily on tobacco which made up 97% of the 2017 EBITDA. The tobacco business has no growth and faces headwinds including a shrinking consumer base and declining tobacco volumes worldwide.

(Investor Presentation)

The lack of growth for the underlying tobacco business is best illustrated by the chart below which shows that Pyxus' revenue has not grown since 1996 on nominal terms!
Obviously, Pyxus wasn't the top-trending name on StockTwits on Monday because of its no-growth tobacco business. It was trending because it's thought of as a pot stock, especially after Citron Research's tweet (shown below).
Cornerstone Investments notes that, in addition to being tiny, Pyxus' pot business is currently limited to remote Prince Edward Island.

Map via Bing - You may need to expand it to make out Prince Edward Island.
It's worth reading Cornerstone Investments' article in full, but here's the key part of their conclusion for our purposes:
We are fairly confident that Pyxus' outperformance is mostly attributable to its cannabis announcements, and we think investors should stay away from this stock because it's most likely overvalued and overbought at this point.
Based on that, if you've been long Pyxus during the last month or more, the prudent thing to do might be to sell and take your gains. If you'd rather stay long in hopes for more gains, while strictly limiting your downside risk, hedging can help you do that.
Adding Downside Protection To Pyxus
For both of these examples, I assumed you had 1,000 shares of CGC and were unwilling to risk a decline of more than 20% over the next several months. When scanning for the optimal or least expensive put options to hedge against that (the uncapped hedge), I got the same type of error message from the Portfolio Armor iPhone app that I got when I tried to find a similar hedge for CGC: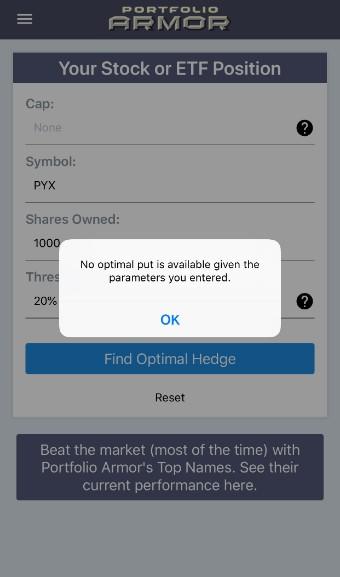 The reason I got that error message is because the cost of put protection against a >20% decline had a cost greater than 20% of position value.
However, by capping the upside at 24% in this case, not only was I able to find an optimal collar hedge, but I found one that had a negative net cost: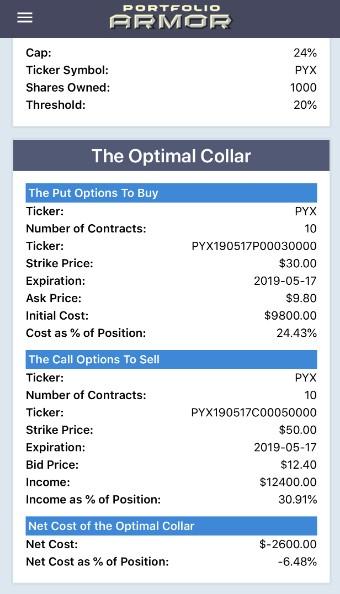 Unlike in the CGC example, it's obvious here why the put leg of this collar wouldn't have worked on its own as an optimal put hedge against a >20% decline: The cost of the put leg was $9,800, or 24.43% of position value (calculated conservatively, using the ask price of the puts). Of course, it wouldn't make sense to pay 24% of your position to protect against a >20% decline.
In this collar, however, the cost of that put leg is more than offset by the income of $12,400, or 30.91% of position value (calculated conservatively, using the bid price of the calls) generated by the call leg.
So the net cost of this hedge would have been negative, meaning you would have collected a net credit of $2,600, or 6.48% of position value, assuming you placed both trades at the worst ends of their respective spreads as of Tuesday's close.
Wrapping Up
When considering your best-case and worst-case scenarios with the hedge above, it's important to keep in mind that negative hedging cost. Recall that the upside on the hedge was capped at 24%. Subtracting the negative hedging cost gives 24% - (-6.48%) = 24% + 6.48% = 30.48%. So your best-case scenario would be a gain of a bit more than 30%, and your worst-case scenario would be a decline of 20%. Something to consider if you want to keep your chips on this one a little longer.
To be transparent and accountable, I post a performance update for my Bulletproof Investing service every week. Here's the latest one: Performance Update - Week 44.
Disclosure: I/we have no positions in any stocks mentioned, and no plans to initiate any positions within the next 72 hours.
I wrote this article myself, and it expresses my own opinions. I am not receiving compensation for it (other than from Seeking Alpha). I have no business relationship with any company whose stock is mentioned in this article.