To committed long-term gold investors, gold's poor performance in the last six months may seem to be a sure sign that the metal's longer-term outlook is perpetually bearish. As we'll examine in today's report, however, gold's percentage losses since April are far less than in the comparable six-month correction in 2016 (which was followed by a strong rebound). I'll also argue here that while gold still has the potential for a rebound this fall, the bulls will have to act quickly due to the gradual strengthening in the dollar/gold ratio.
With global equity prices and U.S. Treasuries showing weakness, gold has arguably its best opportunity to reverse its recent losses based on its potential as a safe haven asset. To date, however, that hasn't been the case. While gold prices were slightly higher on Tuesday, thanks to the continued weakness in global equities, the gold price remains mired in a two-month lateral trading range.
The tug-of-war between the buyers and sellers continues, with gold making little headway in either direction in the last few weeks. It's worth noting that the gold price hasn't confirmed an immediate-term (1-4 week) buy signal per the rules of my trading discipline in almost six months. A buy signal requires that the gold price closes two days higher above its 15-day moving average, as well as simultaneous weakness in the U.S. dollar index (DXY).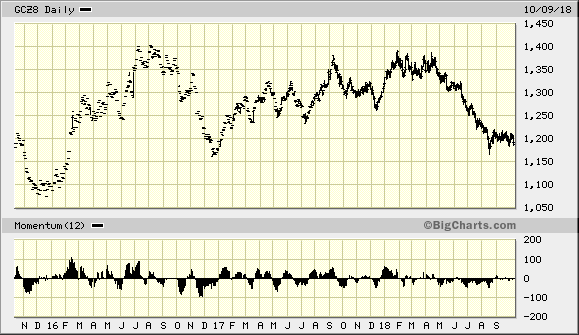 (Source: BigCharts)
To see something similar to gold's weak performance of the past six months, we must go back all the way to the July-December 2016 period. At that time, gold price experienced a decline of around 20 percent. This time around, by contrast, gold has lost about 13 percent in value after peaking in April. While gold's percentage loss this year was less than the 2016 decline, its price decline since April has been far less choppy than the 2016 correction. At that time, the gold sell-off was interrupted several times with some sharp rallies along the way. After peaking at around the $1,400 level in July 2016, gold price bottomed at about $1,170 in December that year. It was then followed by a sharp rally in the first eight months of 2017, which saw the yellow metal price peak at $1,380.
However, unlike the six months of weakness in 2016, the most recent six-month gold decline has, in some ways, been more pronounced. Gold's decline between April and August this year was virtually uninterrupted, unlike its 2016 counterpart. The reason for the lack of gold rallies in recent months is clear: the emerging markets crisis has meant that the demand for dollars has been particularly strong as investors have steadily liquidated global equities. The strong dollar demand has, in turn, placed strong pressure on gold's currency component, making it very difficult for gold to mount even a brief short-covering rally.
It would be tempting to conclude that the gold price correction of the last six months has set up a similar opportunity for value-based buyers. And while the prospects for a strong recovery for the metal in the coming months can't be dismissed, the problem which still plagues the gold market is the continued strength in the dollar index. Shown here is the dollar/gold ratio, which is still trending above its rising 50-day moving average. As I've emphasized in past reports, as long as this ratio remains above the 50-day MA, the outlook favors holding cash over gold.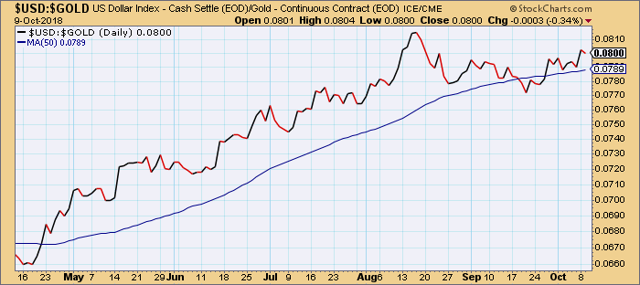 (Source: StockCharts)
Continued dollar strength will also continue to undermine gold's currency component, making it difficult for the metal to mount a strong comeback. In other words, gold investors will have to lower their expectations for its near-term upside potential until the dollar shows significant weakness. And dollar weakness will almost certainly require a strong bounce in the emerging market (EM) stocks, since much of the dollar's strength this year has been predicated on EM weakness. Shown here is the iShares MSCI Emerging Markets ETF (EEM). Until EEM can recover above its key 50-day moving average, the demand for dollars will likely remain strong.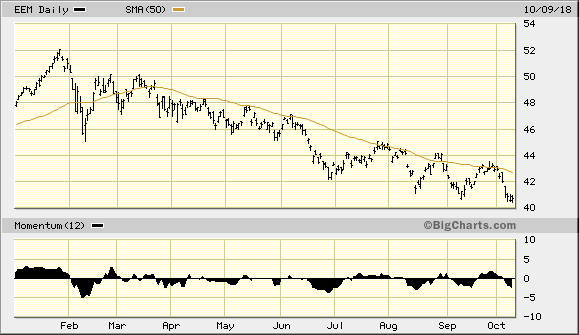 (Source: BigCharts)
In the meantime, while the gold bulls are waiting for the dollar to weaken, the iShares Gold Trust ETF (IAU) has been bottoming for the last several weeks but hasn't yet managed to confirm an immediate-term bottom per the rules of my trading discipline. Neither has it managed to decisively overcome its 50-day moving average (below). As I've emphasized in previous reports, the bulls still have a window of opportunity to push IAU above its recent range, but that window is fast closing with the dollar index threatening to strengthen further. Any move the bulls are planning to make should, therefore, be made soon.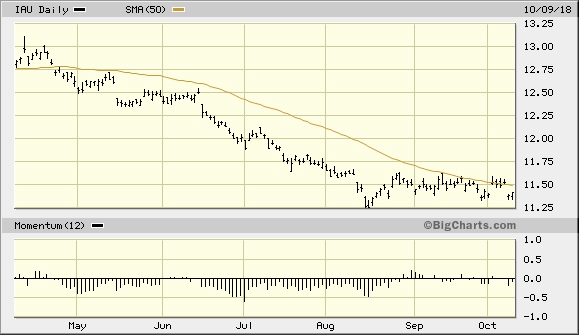 (Source: BigCharts)
On a strategic note, IAU should ideally close above the $11.60 level (the late August high) to confirm an immediate-term bottom and tell us that the bulls have finally seized control. This would complete an immediate-term bottom and allow for us to initiate a new, speculative long position. For now, I recommend that investors remain in cash.
Disclosure: I/we have no positions in any stocks mentioned, but may initiate a long position in IAU over the next 72 hours.
I wrote this article myself, and it expresses my own opinions. I am not receiving compensation for it (other than from Seeking Alpha). I have no business relationship with any company whose stock is mentioned in this article.