Zynga (ZNGA) turned from a sleepy stock into a buyout target on Tuesday. The 12% gain brings the mobile-game developer back toward the yearly highs just above $4.50. The stock is still cheap at this price, backing my previous research, but the dynamics don't exist for a likely buyout anytime soon.
New Story
Zynga is currently run by executives including the CEO, CFO and COO with decades of experience at Electronic Arts (EA). For this reason, the company has changed the corporate culture from swinging for the fences with new games to building out existing franchises with consistent growth by utilizing live services for consistent updates.
The market has generally missed that Zynga has shifted the business back into growth mode. Revenues are scheduled to jump from $854 million last year to nearly $1.1 billion next year.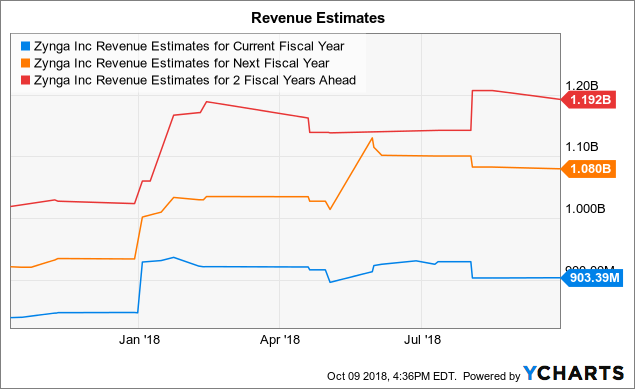 The market has unlikely caught up with this improving revenue story, hence a prime reason a deal at the current level is unlikely. The company guided to Q3 bookings jumping to $248 million partly due to the Gram Games purchase. Either way though, the stock wouldn't have been trading down below $4, if expectations were already in line with the $1 billion bookings run rate.
Legitimate Target
Zynga entered the day with a market cap of about $3.3 billion. A 50% premium offer would require the acquirer spending above $5 billion in a buyout.
The situation makes it difficult for any investor base to be happy in a Zynga buyout in this case. The acquirer's shareholder base probably doesn't understand the improvements in one of the biggest IPO flops of the last decade. Also, Zynga's investor base isn't going to jump at a deal for only $6 per share and an enterprise value in the $4.6-billion range considering $400 million in cash.
Another company could want Zynga for the Poker franchise after the partnership with the World Poker Tour to expand more into online gambling as the market climate shifts. Or the new Star Wars deal with Disney (DIS) could entice a buyer.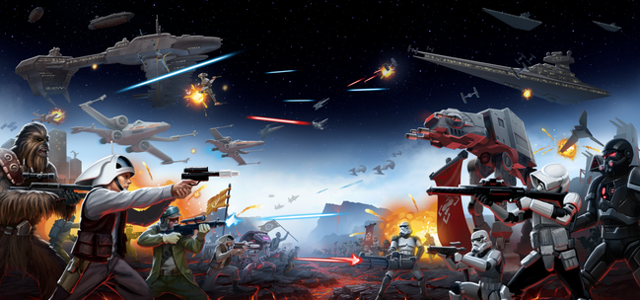 Image Source: Star Wars: Commander website
Electronic Arts saw Star Wars: Galaxy of Heroes generate $55 million in Q2 revenues. The game is still regularly a top 25 grossing game on the iPhone in the U.S. despite a release about three years ago. The new release of Star Wars: Rise to Power is expected to generate solid bookings growth for EA in FY19. Electronic Arts might not want these new Star Wars games in the hands of a competent operator.
Disney developed Star Wars: Commander and the game has struggled due to lack of support. Zynga isn't likely to generate much revenue contribution from updating the existing game. A recent update in September only pushed the top-grossing rank to the top 200 in the U.S.
The franchise has a lot of potential, but it will take a good year for Zynga to build a competitive game. A solid hit could add $100 million to $200 million in annual revenues, so an acquirer could definitely value the potential of this deal.
In comparison to EA, Zynga trades at about half the forward EV/S multiple. Remember that Zynga still has $400 million in cash following the Gram Games acquisition and this multiple doesn't include very valuable real estate in San Francisco.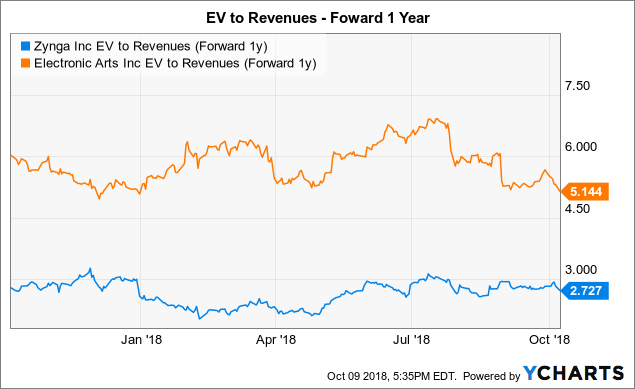 Takeaway
The key investor takeaway is that some logical reasons exist for a company like EA to look toward a buyout of Zynga. The current low valuation of the stock doesn't support a buyout and the recent deal with Disney might not even be supportive of a combination. As well, the market perception likely isn't that positive on Zynga for a management team to risk a buyout that isn't supported by its shareholder base.
The preference isn't for Zynga to pursue a buyout as the company returns to solid bookings growth and has a solid pipeline of new updates and live services that will ultimately reward shareholders possibly more than a quick buck on a buyout. Don't chase the rally, but definitely use any dips to build a long-term position.
Disclaimer: The information contained herein is for informational purposes only. Nothing in this article should be taken as a solicitation to purchase or sell securities. Before buying or selling any stock you should do your own research and reach your own conclusion or consult a financial advisor. Investing includes risks, including loss of principal.
Disclosure: I am/we are long ZNGA.
I wrote this article myself, and it expresses my own opinions. I am not receiving compensation for it (other than from Seeking Alpha). I have no business relationship with any company whose stock is mentioned in this article.