Per Bloomberg, we have what could be big news for US investors in China stocks and for the entire US and global economy and markets. The key chart: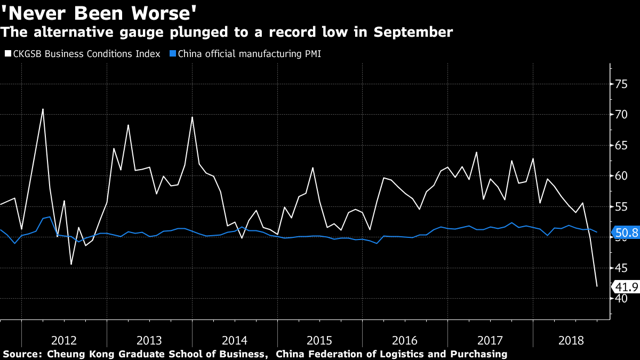 You see the header in the chart. It should be fleshed out, as the Bloomberg article is quite brief.
Here is the story from the source institution in more detail, followed by some points I'd like to share for your review and comments.
Chinese executives say the economy stinks right now
Some background. The source of the above data, CKGSB, says about itself that:
We are China's first faculty-governed independent business school. This is vital because it is the basis for academic independence and free scholarly inquiry. Without these qualities, we would not have been able to recruit and retain the world's leading business scholars who form our faculty body of more than 40 full-time professors. These scholars, in turn, guide the research efforts that have made CKGSB a global expert in China business insights.
Top business leaders attend:
We take an unconventional approach to business education by focusing on the educational needs of C-suite executives looking to develop their companies further. This top-down approach has enabled us to become the preferred choice of more than 10,000 business executives, more than half of whom are at the CEO or Chairman level of top Chinese and multinational companies.
So what is a monthly survey of about 300 execs saying (emphasis added)?
In September, the CKGSB Business Conditions Index (BCI), led by Professor of Economics Li Wei and his team, fell considerably from 49.8 to 41.9, making the situation go from bad to worse.

From a historical perspective, this month's CKGSB Business Conditions Index (BCI) shows a "substantial deterioration" in conditions. Most surveyed companies are now experiencing unprecedented difficulties and have become increasingly pessimistic about business prospects for the next six months. Below the confidence threshold, the BCI is now at its lowest point since the survey began in 2012, meaning that for most, business has never been worse.
Also relevant is that the August data were also poor:
The CKGSB Business Conditions Index registered 49.8, a clear fall from July's index of 55.6.
So the index is down about 14 points in only two months.
Some details are also ugly
Professor Li Wei provides commentary, in which he makes points that include the following about the 4 sub-components of the Business Conditions Index:
In September, the corporate sales and profit indices fell massively, with the profit index registering just 43.0, far below the confidence threshold of 50. These two indices had, up to now, remained fairly stable.

From an already low level of confidence, the corporate financing index fell yet again, this time to 24.2. Among our sample of successful Chinese companies, few are left with positive stories to tell about their financing options (Figure 2).

The deterioration of other indicators has caught us by surprise this month. The producer price index [PPI] dropped sharply, and while the relatively stable investment and recruitment indices may still register above 50, it also fell significantly. If the trend continues, it will be heading below 50 in the near future.
The professor then goes on to provide an overview. Contrasting the drop in the PPI, he is forced to comment that:
What is incredible is that the producer costs index has set a record high this month.
So: costs soaring, realized prices down. That tends to spell possible stagflation/recession, and clearly pressure on profits.
He goes on to summarize:
These indices paint a dire picture: sales have fallen, profits are sluggish, financing is hard to secure, costs are rising fast, yet these pressures cannot be relieved by rising prices to downstream firms and consumers. Sampled companies are in serious hot water and have had to curb plan,reduce investment and put a freeze on hiring...

Downward pressures on the economy have become impossible to ignore...

Structural reform has been debated for many years, but despite the noise, little has been delivered.
Clearly he is worried about recession or the Chinese equivalent of it, also saying that while the authorities are aware there is a problem and are acting:
... it may be too little, too late.
Please see the linked pages for the charts and additional commentary.
This commentary fits the market action
We have seen bear market action both from Chinese large and small caps: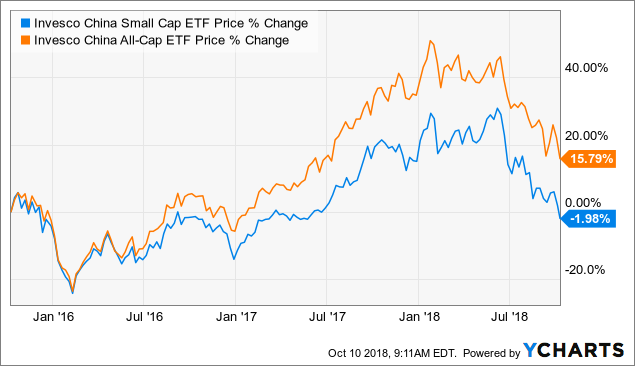 So I give some credence to Professor Li Wei and the survey here.
These results also fit with the corrective/bear market action in so many economically-sensitive US stocks. If one thinks back to the post-1982 US bull markets up to the 2001 recession, over and over there was an international crisis that forced a tightening Fed to ease and the US bond market vigilantes to worry less. (Even the dramatic end of Fed tightness in 1982 came via a financial crisis in Mexico. Absent that, Fed chair Volcker wanted to stay even tighter for even longer.)
These findings are in contrast to the official Chinese GDP data, running 6.7%, but my understanding is that this data are released as soon as a quarter ends and are not revised, and thus is quite suspect.
I think there are some analogies here to consider.
Two analogies
First, we can think of the multi-year mess in the EU beginning after our Great Recession ended. First there was the Greek crisis, then quickly it became apparent that Spain and Portugal, and Ireland, were part of it. Little Iceland had serious issues, and Italy was threatened. What all these problems did was slow the US recovery and help lead to more QE here than would otherwise have been the case.
I don't love that analogy for this time, but it's something to consider.
I think a better one is the Asian-contagion period of 1997-8. The 1998 period was ended with a financial crisis in Russia, culminating in a threatened financial implosion here from the LTCM hedge fund. This threat in turn led to a Fed-sponsored Wall Street bailout of LTCM, and the entirety of the situation led to three Fed interest rate cuts. These in turn fueled the ultimate bubble of the 1999-2000 period. Now, the key point out of the Asian contagion is that it was primarily a speculative attack on several currencies, but except for some small economies, there was no recession in Asia.The USD strengthened, which restrained inflation here by making imports cheaper (the Goldilocks scenario).
If China's economy slows but does not go into reverse, by analogy this could provide a similar Goldilocks-type nudge to the US markets by reducing Chinese demand for commodities and forcing China to reduce the prices of its exports. If, however, China actually experiences a contraction in GDP, it is tied in enough to the global economy that there could easily be more contagion to US and other markets and economies.
We should also consider non-China factors right now, including the following.
Fed tightening is hitting maximally, and other matters
For over a year, I have been talking about this period, July-October 2018, as one to target for deployment of cash reserves. The reasoning was mainly that the Fed's aggressive tightening is, in this 5th quarter of ramping up reverse QE (aka quantitative tightening), reaching its peak. $600 B per year of bank deposits are being canceled by actions the Fed is taking this quarter, up from a $480 B annual rate in Q3 and a $360 B annual rate in Q2. Note: settlement of the Fed's actions, especially the 40% of its reversal of QE that ties to mortgage-backed securities, takes weeks to months actually occur, and it is the settlement of the Fed's actions that actually drains bank deposits.
That's the biggie in my mind, but not the only potential market-moving variable.
There is a midterm election in 4 weeks, and there is angst/hope amongst different investors, many of whom simply want to be on the sidelines until they see what happens.
Also noteworthy is the last December's tax actions are being lapped soon, and that will not provide a positive for 2019 comparisons.
Finally, getting back to the Fed, the first paragraph of this section discusses its liquidity actions. But the other part of its actions involves raising rates. A factor pushing down P/E's has been recent commentary out of the Fed that it may actually move to a restrictive monetary policy. Normalization is OK, but restriction is never good for animal spirits amongst stock market participants.
Having made these points, it's time to sum up.
Summary, and thoughts on some implications
I actually like what is sometimes derided as "soft" data. Survey data is rarely if ever revised and is not heavily massaged. When an index for which 50 is neutral falls from 50 near 40, with a corporate financing sub-index all the way down to 24, we may have an explanation of why stocks that have been expecting big business from, say, greenfield semiconductor fabs in China are acting so badly. These include Lam (LRCX), which I luckily took profits in more than once this year, and ASML (ASML), which I took partial profits in but remain long. More broadly, all sorts of global businesses that are selling to China from outside, or selling within China (such as Apple (AAPL)), have to rethink their projections, whether or not China is singling them out for special treatment because they are American.
So I present this article for readers to think about. How valid is it? If so, should it affect investment strategies, and if so how?
Beyond equities and fixed income, if the survey is valid, it provides a bearish data point for commodities.
Perhaps the survey is correct, inflation has peaked, and therefore the Fed may cease its increasingly hawkish rhetoric as well as its ongoing hawkish actions. With bonds (TLT) deeply oversold, perhaps they are trading buys here; I bought a little TLT for a trade Wednesday morning. (Note, China may have been selling Treasuries lately.)
Finally, the CNN/Money Fear & Greed Index, a seemingly simple oscillator, is deep in Extreme Fear territory (it's at 16 as I complete this article). This level has marked the bottom of major corrections the past three years (see graph at bottom of link).
In summary, the CKGSB Business Index plunged in September, having also dropped sharply in August. This correlates with sell-offs in a number of economically sensitive stocks and in some commodities. This issue may also tie into the Treasury bear market, if China has been a large seller.
The CKGSB BCI survey comports with recent stock market. From 1983 until 2000, the sort of challenge to China were often seen in ex-US economies, generally leading to sell-offs that were later seen as buying opportunities in both the US stock and bond markets.
Perhaps that will be the case again in yet another turbulent October.
Thanks for reading and sharing any thoughts you wish to contribute.
Author's note: At the time of writing, Wednesday morning, the S&P 500 (SPY) is at 2834, down 1.4%; 10-year Treasury at 3.22%.
Disclosure: I am/we are long ASML,TLT.
I wrote this article myself, and it expresses my own opinions. I am not receiving compensation for it (other than from Seeking Alpha). I have no business relationship with any company whose stock is mentioned in this article.
Additional disclosure: Not investment advice. I am not an investment adviser.