Introduction
It has been approximately a year since my first article on Domino's Pizza Group PLC (OTC:DPUKF) which holds the master franchise for Domino's stores in the UK, Ireland and some countries on the European mainland. On top of that, the company also has a controlling stake in the owners of the master franchise agreements in Iceland, Norway and Sweden. So although the company's name refers to Domino's UK, the total reach is much wider than just the two islands.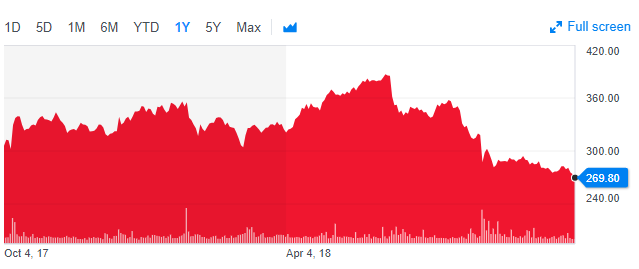 Source: Yahoo Finance
Whenever I'm talking about 'Domino's' in this article, I am referring to this specific company and not the worldwide Domino's Pizza (DPZ) listed on the NYSE. Domino's UK obviously also has a listing on the London Stock Exchange, which is actually more liquid than the OTC listing (which makes a lot of sense). The ticker symbol in the UK is DOM, and the average daily volume in London is approximately 2.9 million shares per day (but this was due to a few very high volume days over the summer). The current market capitalization is 1.29B GBP.
The share price weakness was caused by a shift in the H1 financial results
Domino's reported decent financial results, but the market appeared to be a bit spooked by the increasing labor expenses in Norway which had a negative impact on the company's financial performance as those increases could not be (fully) passed on to the customers. On top of that, the financial media also mentioned interest expenses increased compared to the first half of last year, but I don't think this 0.5M GBP interest expense increase had a meaningful impact on the market's perception. The difficult transition in Norway where Domino's is converting Dolly Dimple places into Domino's Pizza stores appears to be the main reason for the market's panic reaction, which overlooked the CEO's attempt to reassure the market as he stated the performance would improve in the second half of the year.

Source: company presentation
Despite the uncertain outlook, Domino's deserved a bit more credit as its financial results in the first half of the year were still very decent. The company reported a revenue of 259M GBP, which translated in an operating profit of approximately 40M GBP. That's lower than the operating profit in the first half of last year, but that's because Domino's result was pretty back-end loaded: the H2 revenue included the expansion into new territories, so we should actually compare H1 2018 with H2 2017 to get a better understanding of the results.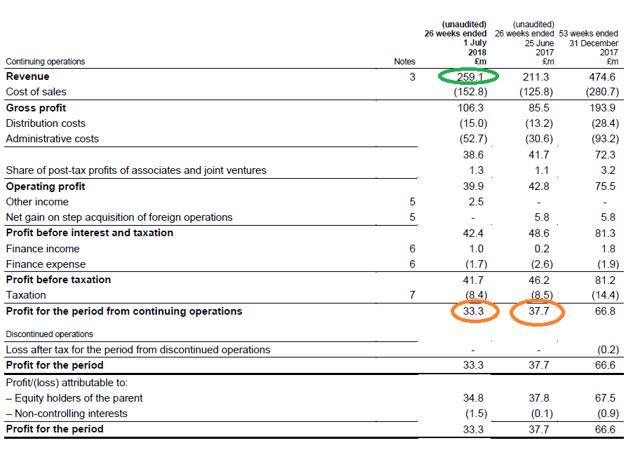 Source: financial results
The 39.9M GBP in operating profit represents an operating margin of 15.4%, compared to 15.91% in FY 2017, so there appears to be some margin pressure, but when we see how Domino's UK reported an operating profit of less than 33M GBP in the second half of last year on a similar revenue of around 260M GBP, the results of H1 2018 aren't too bad at all. That being said, the difference could perhaps be explained by the higher admin expenses in H2 2017, as that's a 'swing factor' of approximately 10M GBP.
With a pre-tax income of 33.3M GBP or 7.2 pence per share, Domino's UK is doing better than the 6.1p EPS in H2 2017, so it really is a mixed bag. The results appear to be worse compared to H1 2017, but substantially better than the second half of last year.
The 3.3% dividend yield is 100% safe
As you may remember from the original article last year, Domino's Pizza UK has never been cheap based on a PE basis, but my main argument was based on the company's cash flow results, and its capital allocation plans. Domino's operates a franchise model, so it doesn't actually 'own' the physical stores. This reduces the total amount of sustaining capex that has to be spent on the business, and usually means the free cash flow result will be similar to the net income.
Domino's operating cash flow in the first half of the year was just 30.9M GBP, but this includes a 12M GBP investment in its working capital position as well as 'other movements'. The notes attached to the financial results provide more clarity about these 'other movements':

Source: half-year report
I think it's fair to add these expenses back to the operating cash flow to figure out the sustaining OpCF which then increases to 42.9M GBP. This still excludes the 1.1M GBP in interest and dividends received from subsidiaries, but also excludes the 1M GBP in interest paid and a 0.1M GBP payment to non-controlling interests. So on an adjusted basis, the operating cash flow remains 42.9M GBP. As Domino's UK spent just 18.3M GBP on capital expenditures. Contrary to what you might think, the capex is actually front-end loaded, and the H2 capex will be just 12M GBP for a full-year capex of 30M GBP.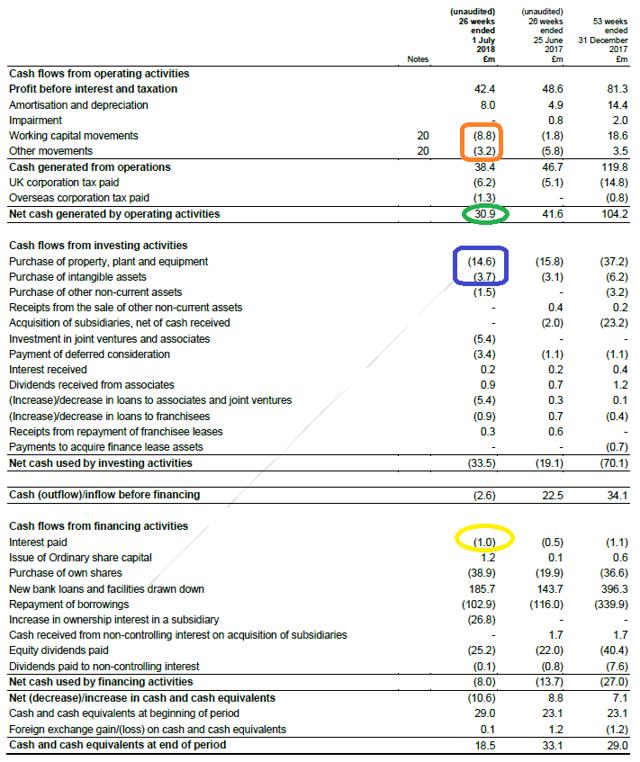 Source: financial results
This means that based on a full-year operating cash flow of 86M GBP, the free cash flow result will be approximately 56M GBP when you use the full-year capex as starting point. That's acceptable, but we once again need to make a distinction between growth capex and sustaining capex.
According to Domino's UK, the sustaining capex in the first half of this year was just 8.8M GBP and the balance of the 18.3M GBP capex number was spent on its new supply chain centre in Warrington. This indicates the adjusted sustaining free cash flow will be in the region of 68M GBP (a full year Adjusted OpCF of 86M GBP - an annualized 18M GBP in sustaining capex = 68M GBP)
Divided by the current amount of shares outstanding, this represents 14.4 pence per share, which means the current coverage ratio of the dividend is 160% (This is based on last year's dividend. The full-year dividend will very likely increase this year). But despite this excellent coverage ratio, the net debt on the balance sheet has been increasing as Domino's UK has been buying back stock for cancellation. A total of 10.95M shares were repurchased in the first half of the year, of which 10.35M have been cancelled. This results in a current net share count of 472M shares, and a FCF yield of 5.4%.
Investment thesis
Domino's Pizza UK & Ireland definitely has the financial capacity to buy back stock as its robust balance sheet allows it to add more debt to it (as of the end of June, DOM's net debt was approximately 196M GBP, and with an EBITDA of in excess of 50M GBP in the first half of the year, the leverage ratio should remain limited to approximately 2 (which is considerably higher than the maximum leverage ratio of 1.25 it mentioned last year).
While I agree a stock buyback program makes sense if there's no other way to spend the money, one could argue borrowing more cash (and thus increasing the interest expenses) to repurchase stock with a FCF yield of just over 5% isn't the best possible move. Theoretically, I would agree, but we shouldn't dismiss Domino's growth potential as the company continues to open dozens more stores in the countries it's operating in.
The growth pattern appears to be intact, and Domino's UK should be able to continue to increase its dividend over the next few years as the revenue and free cash flow results will increase. I currently have no position in Domino's Pizza UK & Ireland after selling my entire position when the share price hit my target price, but it could make sense to re-initiate this position around the 250 pence level. At that price, Domino's UK would be yielding close to 4% with additional upside potential on the dividend front (and keep in mind there's no dividend withholding tax in the UK). The main risk I now see is a decreasing consumer confidence after a chaotic Brexit, so a 'clean' Brexit (or no Brexit at all) would be best for the British companies.
Consider joining European Small-Cap Ideas to gain exclusive access to actionable research on appealing Europe-focused investment opportunities, and to the real-time chat function to discuss ideas with similar-minded investors!
Take advantage of the TWO WEEK FREE TRIAL PERIOD and kick the tires!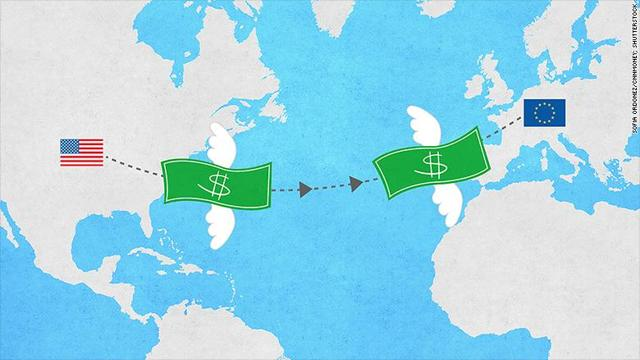 Disclosure: I/we have no positions in any stocks mentioned, and no plans to initiate any positions within the next 72 hours.
I wrote this article myself, and it expresses my own opinions. I am not receiving compensation for it (other than from Seeking Alpha). I have no business relationship with any company whose stock is mentioned in this article.
Editor's Note: This article discusses one or more securities that do not trade on a major U.S. exchange. Please be aware of the risks associated with these stocks.