Introduction
The bull case of Facebook (FB) is simple and compelling and goes like this:
It has more than 2 billion monthly active users across its products.
It is a fast-growing company that generated more than $40 billion in 2017 and is estimated to generate $55 billion and $66 billion in revenues 2018 and 2019.
It is well-positioned to benefit as advertisement dollars move from legacy companies to digital platforms.
It has a cash flow machine with more than $27 billion in operating cash flow.
It has exciting margins with an EBIT margin of 49% and a net income of 39%.
It's forward PE of 24x earnings is near its lowest level since its IPO in 2013.
It has a lot of untapped potential in monetizing WhatsApp and Facebook Messenger.
The bears argue that:
Current rate of growth will slow.
The company's margins will continue to thin as the company faces new competitors like Amazon.
The company faces new privacy problems that could lead to tougher regulations.
Each of these points have been addressed very well at Seeking Alpha and before you go long or short, I recommend that you take time to read the diverse point of views. Instead of taking a side, this article will focus on the just announced Facebook Portal and what it means for the company.
What is Facebook Portal?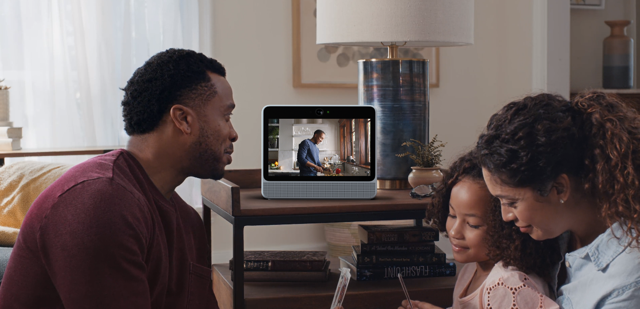 Facebook Portal is Facebook's response to the now popular Amazon Echo and Echo Show, Google's Smart Speaker and Apple's Homepod. The company is already taking pre-orders for the Facebook Portal and Facebook Portal+
The Facebook Portal will sell for $199 while the Portal+ will sell for $349. The two will have similar features with the only difference being the screen size. The latter's screen will have a 10.1" screen while the plus will have a 15.6" screen. The other difference will be the screen resolution, speakers, and microphones. They will both come with Alexa built in.
In the announcement, the company said that the two speakers will primarily be used for video calling services. The statement said:
Thanks to AI technology, Portal makes video calling easier and more like hanging out, while a widescreen display lets you enjoy every moment together. When you can't be there, Portal and Portal+ let you feel there.
The Smart Speaker Industry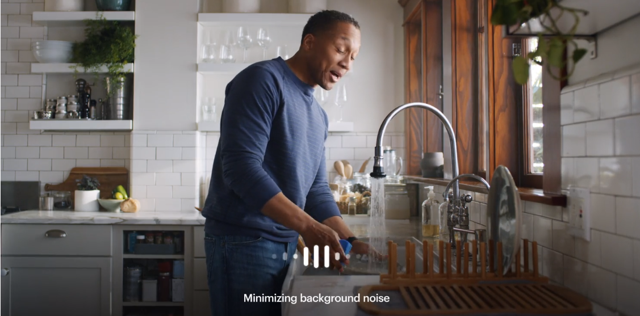 The smart speaker industry was introduced by Amazon (AMZN) when it introduced its first Amazon Echo in 2014. The first-generation echo was a 9.25 inch device that answered basic questions. At the time, many people did not understand what the echo was and why they needed it. In fact, a review by The Verge said:
Maybe it's a good thing that Amazon is so slowly rolling out the Echo to customers — you can only get it by invitation, and if you do so you should know what you're getting into. Right now, once the honeymoon ends, I suspect most people will stop using the Echo for anything other than occasional music and podcast listening. After a few days of trying to come up with things to ask Alexa just for the fun of the thing, my Echo became mostly a slightly faster way to set a timer or do quick conversions while I cook. It's great for those things, but those are small things.
Less than four years later, the smart speaker business is a booming one. One that most technology companies want to be part of. Amazon has improved its line-up of the speakers to even include the Echo Show that has a screen. In the second quarter, Amazon shipped more than 4.1 million smart speakers according to a report by Canalys. Google shipped more than 5.4 million devices. In total, more than 16 million devices were shipped in the quarter. The industry grew by more than 180% in the quarter. The chart below shows the market share of the industry.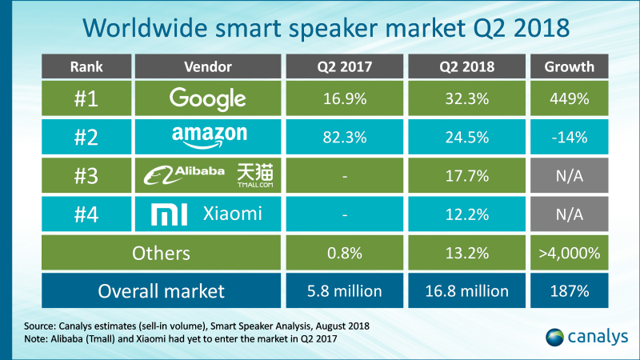 Source: Canalys
The chart above shows that Google's devices have overtaken Amazon echo devices. This is possibly because of two reasons. First, in search, people believe Google more than they do Amazon. Reviews have continued to show that Google's devices are better than Amazons. Second, Google Home is well-integrated with the other Google services like Android and maps. Third, people are turned off by the Echo Show's lack of YouTube, which is the most popular video streaming platform.
The chart also shows that Apple's (AAPL) Homepod did not have any share in the smart speaker industry. This is possibly because of the Homepod's price and the fact that people don't like Apple's AI in Siri and maps. Apple is the second-most valuable brand in the US after Google.
Portal Will Fail
Facebook Portal will not be Facebook's first foray into hardware. In 2013, Facebook entered into a partnership with HTC to produce a smartphone known as HTC First. The phone used the Android operating system with a Facebook skin. The idea flopped mostly because people were not ready to pay the $99 for the phone and that most of them found no use for it. Facebook also acquired Oculus VR for $2 billion in 2014. To date, not much is known about the acquisition.
The Portal will start at $199 while the Portal+ will start at $349. This is simply very expensive for people to buy it. Just yesterday, Amazon announced that it will start shipping the second version of Echo Show on Thursday. The Show will sell for $229. While this is a bit expensive than the Portal, people will likely go for it because they know it well.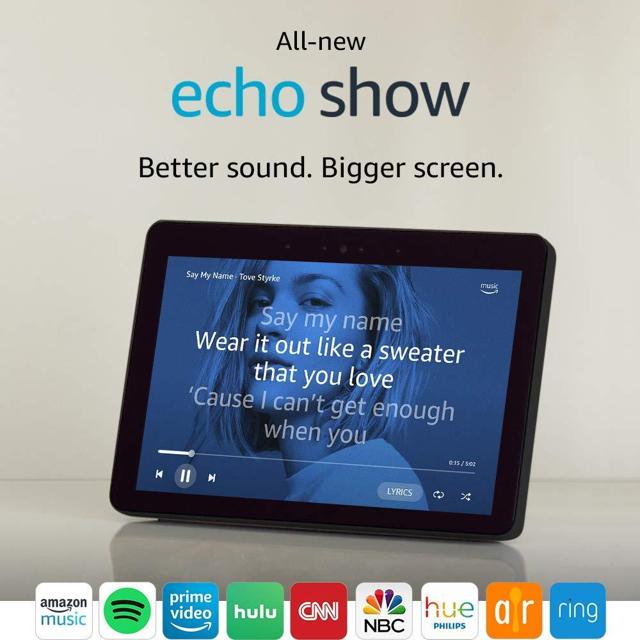 In addition, just today, Google announced the new Google Home Hub which will be an ideal alternative to Echo Show and Facebook Portal. Keep in mind that Google Home Hub is connected to other Google products like Android and Google Photos. It also allows Facebook video communications and has hundreds of skills especially for home. It will cost just $149, which is way cheaper than the cheapest Facebook Portal.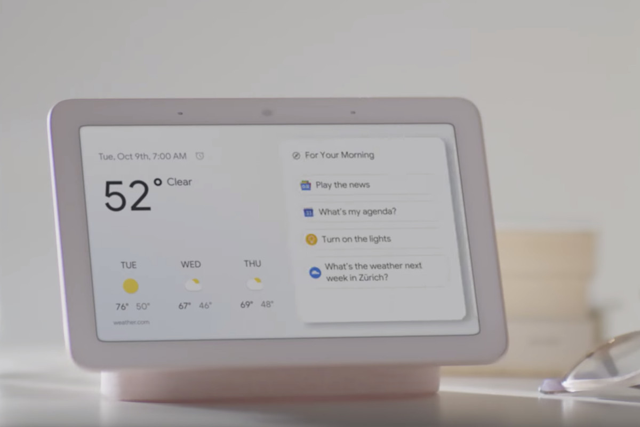 Second, Facebook Portal will have the Alexa Assistant. As described above, most people tend to trust Google's Assistant more than other assistants. It would have better for the Portal to be powered by the Google Assistant. This would have enabled it to have YouTube, which is not available in the echo speakers.
Third, is this product really necessary? While I don't have the data that drove Facebook to this product, I believe that the smart assistant industry does not need more assistants. In addition, as the market becomes more saturated, people will be unlikely to pay premium for the speakers.
Fourth, Facebook did not elaborate more about the skills that will come with the devices. Instead, it talked more about its use in the video communications space. Already, Google's and Amazon's assistants have hundreds of skills that people love. It will be difficult for them to move to the unknown with the device. In addition, it is unclear whether people need a smart speaker for video-communications.
Fifth, Facebook used the wrong strategy in modern-day product launches. In recent days, many technology companies – especially the Chinese – have mastered the art of influencer marketing. This is where companies use online influencers to review their products. Chinese companies like Oppo, OnePlus, and Xiaomi have become very popular by partnering with tech influencers like Unbox Therapy, Dave Lee, and MQBHD. A look at their pages shows that Facebook has not used their services, which is a bit weird.

Finally, and most importantly, Facebook announced the speaker at a time when many people are afraid about their security. Just last week, Bloomberg reported that Chinese-made products were exposed to hacking. In fact, a quick look at the reviews of the product shows that many enthusiasts were afraid about their security. The screen grab below from YouTube shows how people reacted to the product.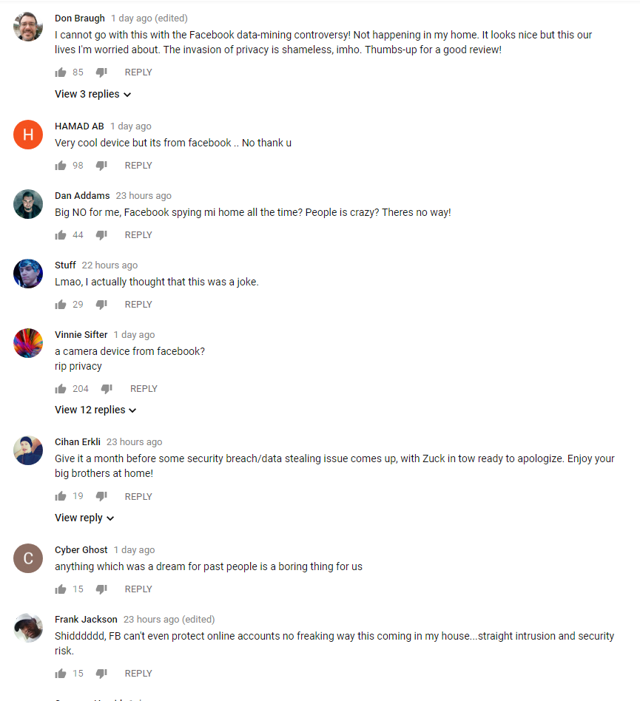 Source: YouTube
Conclusion
Facebook's foray into the smart speaker industry reminds me of Microsoft's (MSFT) entry into the smartphone industry. Like Microsoft, Facebook believes that people will pay a premium for a product they know nothing about. The new Facebook Portal is just a weaker version of the already popular Amazon Echo Show, which is unlikely to succeed. If you are long Facebook, this should not worry you. This is because even if these devises succeed, they will form a small part of Facebook's empire.
Disclosure: I am/we are long MSFT, AAPL, AMZN. I wrote this article myself, and it expresses my own opinions. I am not receiving compensation for it (other than from Seeking Alpha). I have no business relationship with any company whose stock is mentioned in this article.