As those familiar with my articles know, I forecast the value and future distributions of various oil and gas trusts. This article presents a comparison of fifteen trusts, given forecasts of their future performances.
Quarter in Review
Summer's over petrophiles. Let's get back to work and run down the numbers on all our favorites trusts.
Natty gas investors have had a rough 2018. As expected, weakness in gas prices has been a large factor for sagging gas trusts, but actions by producers have led to substantial, unanticipated pain. San Juan Basin Trust (SJT) traded producers and coughed up all its earlier gains. $5 never seemed so low. ECA Marcellus Trust I (ECT) also traded producers and has spent the summer looking up at $2. And NDRO not only has a new producer, but was renamed Permianville Royalty Trust (PVL), which sounds like an inside joke. Of course, then there's Hugoton Royalty Trust (OTCQX:HGTXU), which voluntarily delisted itself and closed recently at $0.40.
However, it's a different story for black gold. As investors have surely noticed, recent market prices for the oil trusts are exactly what 2017 longs "told you so". MV Oil Trust (MVO) is solidly above $11. BP Prudhoe Bay Trust (BPT) dropped a dog of a distribution and is still at $36. Whiting USA Trust II (OTC:WHZT) is at $2.80 after paying out two monster 30 cent distributions. Even SandRidge Permian Trust (PER) is holding at a let's-take-that-cruise-baby price of $2.72.
This Forensic Accountant wasn't as active as desired this year, but that didn't stop execution on a number of trades highlighted late last year. What started as a long position on SandRidge Mississippian Trust I (SDR) at $0.75 turned into a short on SandRidge Mississippian Trust II (SDT) over $2. Both put money in the "2019 cabana fund". BPT options at $25 turned out to be quite the bargain – though I might have spent too much time in the pool and sold at only a modest gain. And while my Pacific Coast Oil Trust (ROYT) position has kicked back a few pennies per share, selling $2.50 calls on ROYT was the winning strategy for this trust in early 2018 and staying long another winner in summer 2018.
But just because the oil trusts are up doesn't mean that the opportunities for long positions are over. There's plenty of possible action on the table – and here are some of the things I'm looking at:
If BPT can sort out it's production malaise it could leave $36 in the dust. But go long?

The ROYT fanboy network keeps dreaming of $3+. It's possible, but only if the capital program works out. Will it?

Why do the SandRidge Trusts seem to get caught up in SandRidge's management disputes? Does it matter?

Trust darling WHZT is finally moving towards overbought, but could still rock at current oil prices.

VOC Energy Trust (VOC) is beautifully volatile. My $5.30 entry hasn't hit.
Let's get to the numbers.
Two Ways to Forecast Value
I compute two different estimates of value for each trust. The first is a fundamental valuation that uses an engineering-style model and discounted cash flow (DCF) analysis. The second is an adjusted NPV-10 based on previously published reserve reports.
Model/DCF Method
The model/DCF method estimates future distributions by developing bottom-up forecasts for each revenue and cost component of a trust's distributable income statement.
Production is forecast based upon historical well depletion rates and expected future well completions and workovers; published reserves are ignored

Sales prices are forecast as NYMEX Henry Hub (HH) and West Texas Intermediate (WTI) futures, adjusted for historical spreads

Costs are forecast individually based on prior costs, revenues, production and inflation

Share subordination and unique passive income streams are explicitly considered

Termination date and terminal value is based on the specific terms in each trust's agreement, the expectation that the proprietor will act only in their own best interests over time, and forecast production and sales prices, not on the reserve report
Reserve Report Method
The reserve report method adjusts the estimate of NPV-10 in each trust's reserve reports for updated price and production information.
Production since the date of the reserve report (if any) is subtracted from published reserves

Oil and gas prices are updated to reflect current HH and WTI prices and historical spreads

Costs, as provided by the reserve report, are prorated by remaining production

Trust administrative costs are subtracted
Although both methods may appear to be similar, there are key differences that provide strengths (or weaknesses) to each approach. Trust reserve reports are, in theory, based on detailed well production data. However, their assumptions are impossible to verify and they frequently exclude key costs and other considerations. The model is based only on public information and is fully transparent - if you would like to know a trust-specific assumption, please ask.
Gas Settles in Under $3, WTI Keeps it Wild
Let's talk futures pricing. HH is teasing $3.20/mcf as we head into the heating season. But NYMEX futures suggest supply trumps demand and doesn't have gas above $3 again (ever!). WTI futures are similarly bearish, with prices declining from current highs back to a modest $58/bbl in 2023. But not to bash too hard – futures suggested oil would be at $50 by 2020 just a few months ago.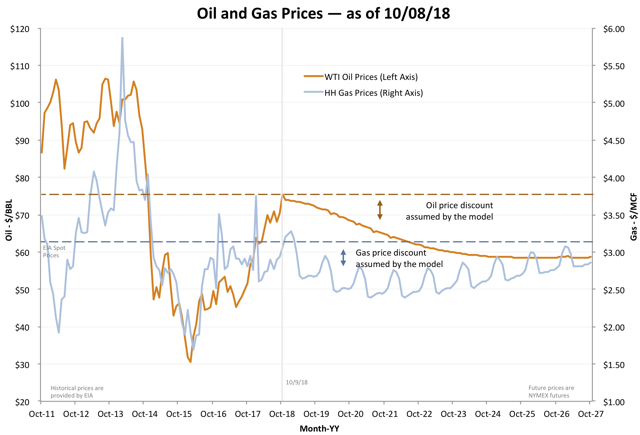 Fig. 1: Oil and gas prices used by the model and implied oil price premium. Source: NYMEX and author's analysis.
October 2018 Valuations
The table below presents a comparison of fifteen trusts based upon valuations using the two methods. The table is divided into five sections. In the first section, trusts are ranked according to the model's forecast internal rate of return (IRR). For comparison, the risk-adjusted rate of return that I use for Fair Value (FV) calculations is also shown here.
The second section presents four different valuations: a recent closing market price and three net present value (NPV) estimates, two using 10% discount rates for the model and reserve methods and the third discounting the model's valuation at FV%.
The third section of the table presents the ratios of the market price to the three NPVs. I consider trusts with FV-to-market-price-ratios (column c) of less than 1.0 to be candidates for long positions, while reserve-report-NPV-10-ratios (column e) over 4.0 are one indicator that I use to identify short candidates. The fourth section compares 12-month forward and trailing yields and the fifth provides the oil/gas revenue mix, expenses and other details.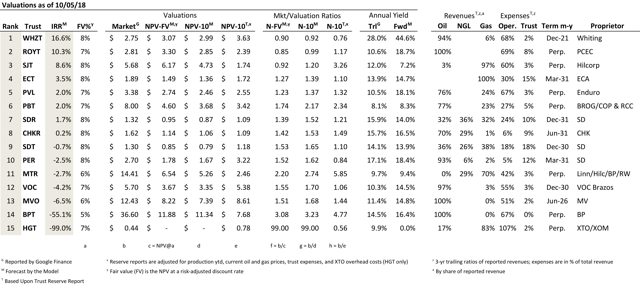 Fig 2. Trusts ranked by IRR. Source: Google Finance, Trusts' SEC filings, and author's analysis. Columns with an "M" are derived from the model's forecast; those with a "T" from the trust reserve reports.
Trust-specific comments
Predominantly Gas Trusts
Smell that? If your nose is twitching, you're either working in a swamp, or you are too dang close to one of the six trusts that derive their income primarily from natural gas.
Perpetual Oil Trusts
Four trusts have income primarily from oil production and have no fixed termination date (so-called "perpetual" trusts):
Terminal Oil Trusts
Five trusts are terminal oil trusts:
Disclosure: I am/we are long WHZT, ROYT. I wrote this article myself, and it expresses my own opinions. I am not receiving compensation for it (other than from Seeking Alpha). I have no business relationship with any company whose stock is mentioned in this article.