Qorvo Inc. (QRVO) has been a good, if unspectacular, semiconductor holding since the January 2015 merger between RF Micro Devices Inc. and TriQuint Semiconductor Inc. You can pin the blame on the company's inconsistent execution, including poor factory utilization and product mismatches that wrecked margins and led to a stagnant bottom line. Further, cutthroat competition, especially in the high-end smartphone chip market, handcuffed the company and served to highlight its overdependence on the sluggish mobile market.
This has weighed heavily on QRVO stock which, together with peer Skyworks Solutions (SWKS), has lagged the industry benchmark iShares PHLX Semiconductor ETF (SOXX) during the three-year semiconductor upcycle market.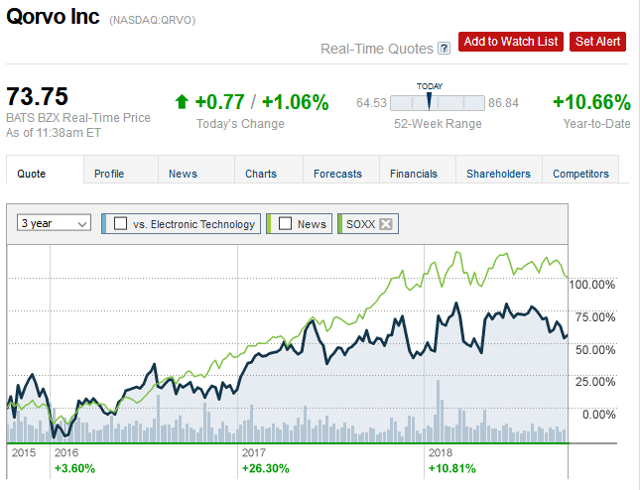 Return of mobile
But finally, the last quarter provided some evidence that Qorvo might finally have reached an inflection point.
Now, let me start by pre-empting any flak I'm likely to receive from disgruntled readers who might scoff that this is a company that has seen more false dawns than Groundhog Day by conceding that I'm not a disciple of fancy factor tilts or smart beta. Rather, my bullish thesis is buttressed on the simple premises that Qorvo seems poised at the nexus of opportunities which, I believe, have adequate potential to shuffle the decks for the company.
Last quarter (FYQ1 2019), Qorvo came in with easy beats, topping even Wall Street's high-end estimates for profits and revenues. Revenues climbed to $692.7M, good for 8.3% Y/Y growth with gross margin of 44% being a 400-basis point sequential decline. Meanwhile, non-GAAP operating income was $144.4M vs. $137.4M a year ago. Topping earnings estimates is not exactly alien to the company, having pulled off the feat in eight out of the last 10 quarters. It's the magnitude of the beat that impressed.
Readers will note that the company's gross margin suffered a worrying decline. Management did not give a reason for the contraction, though I suspect there's a method to the madness. Qorvo's mobile business roared back to life after expanding 7% to $486 million (70% of company total). Qorvo did not name names during the earnings call but admitted that a large part of it (close to 50% according to the transcript) was due to a robust Chinese market. Now, Qorvo happens to be one of the largest RF suppliers to Huawei, a company that's lately been defying the global mobile collapse. Huawei saw its Q2 handset shipments jump 41% Y/Y to 54.2 million units, and in the process leapfrogged Apple Inc. (AAPL) to become the world's second-largest smartphone vendor behind only Samsung (OTC:SSNLF). Apple's shipments grew a paltry 0.7% while the market shrunk 1.8%.
Source: IDC
Huawei specializes in manufacturing iPhone look-alikes, but at significantly lower price points. Given the fact that these budget smartphones still come packed with pretty impressive features, it's fair to suspect that the company skimps on quality elsewhere - hence, Qorvo's lower margins.
The good part for investors is that Huawei has been able to offset slower business at Apple. It's a kind of a tradeoff for investors-higher top line growth but at lower margins. The elevated growth is a trend that's likely to be around for at least a few more quarters, if not years - the company expects a 30% sequential jump in mobile revenues in the current quarter as key customers begin ramping new device production. Further, ZTE (OTCPK:ZTCOY), another Qorvo customer and a top 10 smartphone vendor, re-joined the fray after a seven-year ban on buying components from U.S. companies was overturned by president Trump in June.
At this juncture, I believe the low-margin situation is fully baked into the shares. Any margin surprises to the upside are likely to become a strong catalyst.
Future-proofed for IoT/5G growth
For chip manufacturers like Qorvo, one clear benefit of the IoT revolution has been the integration of technology ecosystems that had remained independent for decades. IoT is a super-system that moves data from edge nodes to the cloud/data center and back again thus resulting in an enormous, mostly wireless, communication system.
With billions of devices transmitting and receiving data, there is no shortage of companies clamoring for a piece of the action. What's noteworthy though is the fact that the engineering skills and expertise required to build RF systems tend to be highly specialized leading to system designers shopping for RF technology on the open market. Qorvo has a long history in Gallium Arsenide (GaAs) technology that predates the 1990s thanks to the TriQuint side of things. Meanwhile, RF Micro Devices was created by Analog Devices Inc. (ADI) employees. ADI is a pioneer in both GaAs and Gallium Nitride (GaN) technologies.
Both GaAs and GaN have historically been better than old-line silicon for fabricating RF and analog-to-digital (ADC) components that can accommodate the high frequencies demanded by modern connected devices. Although CMOS silicon-based RFICs, as well as silicon-on-insulator (SOI), have grown in popularity in recent years, they tend to be favored by manufacturers who give a higher premium to integration rather than performance. This in effect means that many applications are unlikely to integrate RF into monolithic SoC thus allowing companies like Qorvo to play a part even in the most vertically integrated ecosystems. In the event that CMOS continues to steal RF's lunch, Qorvo's acquisition of GreenPeak Technologies should take care of that.
The ongoing growth in 3G/4G, as well as expected 5G ramp, will require high-performance filters that can handle frequencies above 1.5Ghz. Bulk acoustic wave (BAW) has already become the discerner of choice, with Qorvo banking on its legacy GaN and a growing portfolio of BAW filters to tap the IoT/5G market. Qorvo is already ranked a top 5 BAW filter vendor in a market predicted to expand at a healthy 31% CAGR through 2020 to hit nearly $30 billion.
The company did not mince words regarding where it's putting its money:
Qorvo is laser focused on portfolio management in markets that value our capabilities and offer exceptional opportunities for growth. Within these markets, we bring key enabling technologies like BAW, SOI and GaN, a robust product development engine, manufacturing scale, and decades of industry know-how."
The company recorded 13% growth in the expanding IDP (Infrastructure and Defense Products) segment to $207 million (30% of total) driven by a healthy 30% growth in IDP's IoT applications and increasing investments in carrier base stations globally. 5G is expected to be a big step-up, performance-wise, to 4G. It comes with one big drawback though - 5G signals cannot travel as far as 4G, meaning 5G networks require to be powered by smaller antennas that are more densely packed.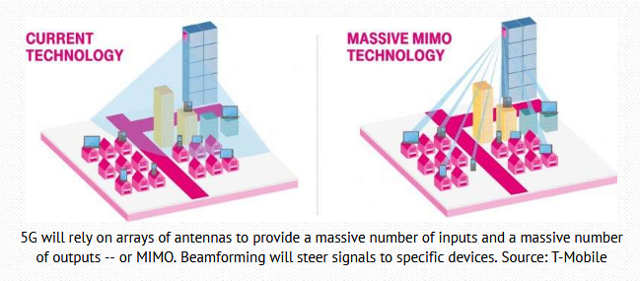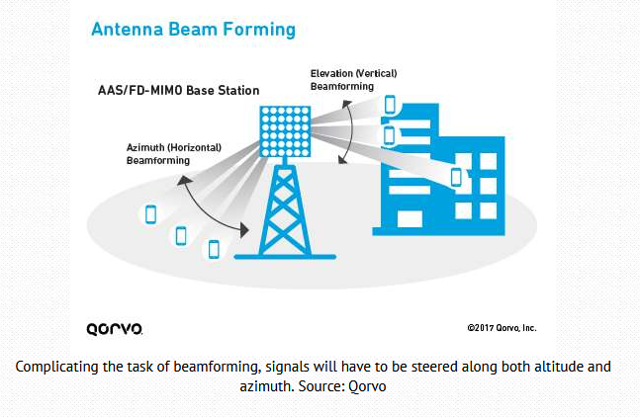 Source: EDN Networks
This is likely to expand demand for Qorvo's antenna management and tuning solutions as the company noted during its latest earnings call:
Qorvo also enjoys broad-based growth opportunities in antenna tuning and envelope tracking. We're developing our fourth generation ET technology and we see a long runway ahead, given the performance requirements of 5G and the challenges of its higher bandwidth and peak-to-average power ratio. In antenna tuning, demand for Qorvo's industry-leading solution is growing with the advent of LTE Advanced Pro, MIMO and 5G, very simply."
The good part is that this could start happening sooner rather than later - leading mobile carriers Verizon (NYSE:VZ), T-Mobile (NASDAQ:TMUS), and AT&T (NYSE:T) plan to start rolling out their 5G networks in a matter of months. Smartphone manufacturers should follow suit by packing their devices with more antennas to support 5G networks. Strategy Analytics estimates that 5G smartphone shipments will jump from 2 million in 2019 to 1.5 billion in 2025.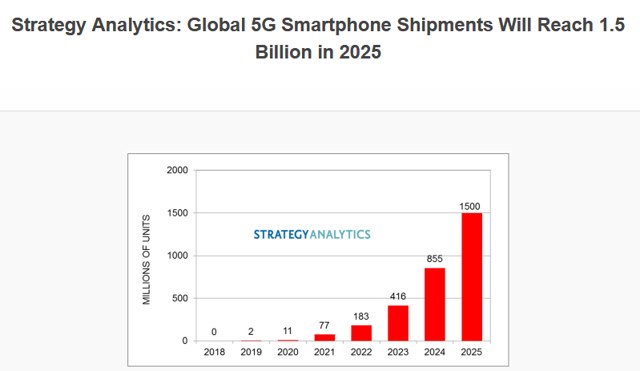 Source: Business Wire
Trade rows and execution risks
At 60%, Qorvo has one of the highest exposures to the fast-growing but volatile Chinese semi market. Trump's no-holds-barred strategy on China remains a serious overhang for companies like Qorvo if ZTE is any indication.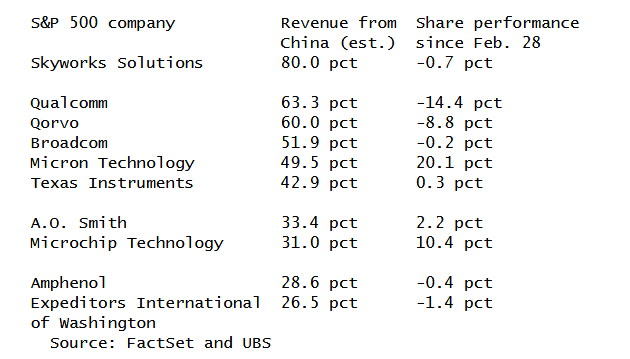 Source: Reuters
As Huawei's Eric Xu told LightReading at the Mobile World Congress in Shanghai, a Pacific trade war increases the risk of supply chain fragmentation, which is bad business for all parties involved, China included:
I think it's basically impossible for any nation to be fundamentally independent in semiconductors, to not rely on any other nation. Companies can only grow with the trust and support across the industry chain. My concern is this trust in the value chain might get broken."
Assuming the trade spats will not carry on forever, execution risk remains the biggest risk for investors. As the company outlined in the earnings report, it's mainly focused on 'markets that offer exceptional opportunities for growth' and you can bet there's going to be a couple faux pas along the way. Nevertheless, a low-teens revenue growth and an estimated 12% CAGR earnings (Wall Street) expansion appears in the ballpark, which should yield a nice mid-teens annualized return on the stock over the next 12-36 months.
Disclosure: I/we have no positions in any stocks mentioned, and no plans to initiate any positions within the next 72 hours.
I wrote this article myself, and it expresses my own opinions. I am not receiving compensation for it (other than from Seeking Alpha). I have no business relationship with any company whose stock is mentioned in this article.