Yes there's a parallel shift in the yield curve lately. Closed-end funds and fixed income are the victims these last two months, but there are some instruments that don't deserve this treatment. Now you are about to meet the ultimate preferred stock that yields like a "BBB" even though it's "AAA."
The stock in question.
AllianzGI Convertible & Income Fund II (NCZ), 5.50% Series A Cumul Preferred Shares (NCZ.PA).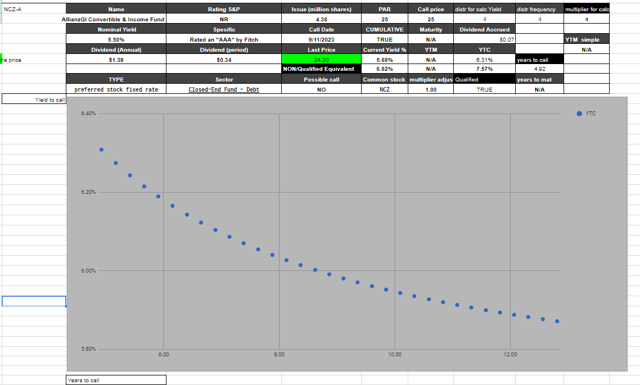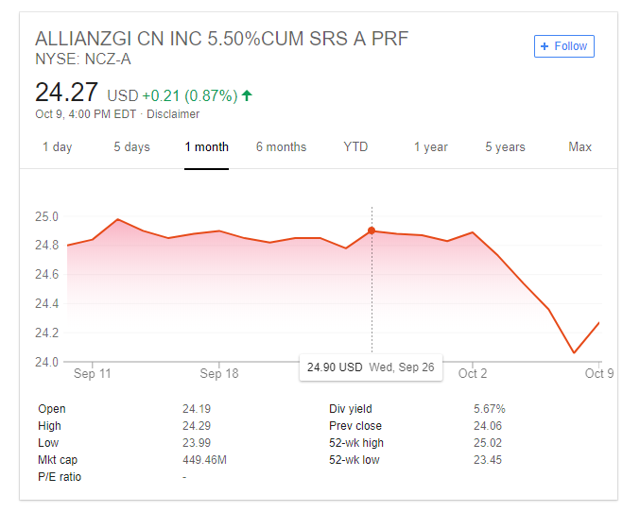 In short this is a 5.5% nominal yield preferred stock issued by a closed end fund that has a Fitch rating of "AAA" and currently trades at a price of around $24.25 and a current yield of 5.65%.
The issuer
AllianzGI Convertible & Income Fund II is a closed-end fund that seeks total return through a combination of capital appreciation and high current income. Based on the fund's website it:
Invests in a diversified portfolio of domestic convertible securities and non-convertible high-yield bonds rated below investment grade.
Seeks to invest at least 50% of its portfolio in convertibles, but determines its allocation based on changes in equity prices, changes in interest rates and other economic and market factors. For the convertible portion, Allianz Global Investors seeks to capture the upside potential of equities with potentially less volatility than a pure stock investment.
In searching for investment opportunities, the manager looks for issuers that will successfully adapt to change, exceed minimum credit statistics, and exhibit the most promising operating performance potential.
What's really important to us as preferred stock investors is the balance sheet, and you hardly get an easier to understand balance sheet than this: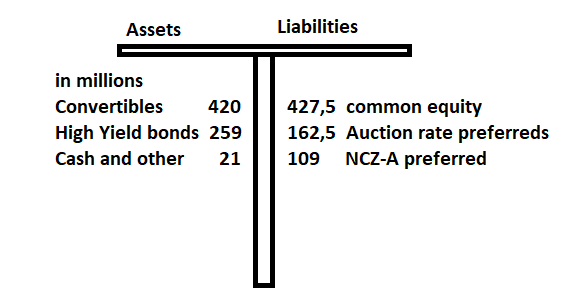 Source: Paint
So the fund basically generates income and hopefully capital gains from its assets, pays its management fee and distributes to its preferred stocks with priority to common stockholders. This is as easy as it looks and as safe as it gets for preferred stockholders. The assets are fairly liquid especially compared to a REIT or MLP for example. The fund can easily liquidate assets to meet cash needs without affecting its business (because it has no operational risk). There's almost no way for preferred shareholders to get surprised with some asset revaluation to an extent that it puts their principal at risk.
Why is this stock so special?
This is one of the two preferred stocks that trade on a primary exchange rated "AAA." Keep in mind that this time it is not an Egan Jones rating, but a regular Fitch rating. Here's the link to the announcement. This is what Fitch states about the issue:
"Fitch Ratings-New York-05 September 2018: On Sept. 4, 2018 Fitch Ratings assigned a long-term rating of 'AAA' to the $109 million Series A Cumulative Preferred Shares issued by AllianzGI Convertible & Income Fund II (NCZ).
KEY RATING DRIVERS
The rating assignment reflects:
--Sufficient asset coverage provided to the Cumulative Preferred Shares as calculated per the fund's governing documents;
--The structural protections afforded by mandatory cure and de-leveraging provisions in the event of asset coverage declines;
--The legal and regulatory parameters that govern the fund's operations;
--The capabilities of Allianz Global Investors U.S. LLC (AGIUS) as investment manager."
Let's forget about the rating agency and just dig into the prospectus:
"Asset Maintenance Requirements
The Fund is required under the Statement of Preferences to determine whether it has asset coverage, as determined in accordance with Section 18(H) of the 1940 Act, of at least 200% with respect to all outstanding senior securities constituting stock, including Cumulative Preferred Shares, ARPS and any other Preferred Shares ("Asset Coverage"). This test applies quarterly.
Mandatory Redemption
Under certain circumstances, the Series A Preferred Shares may be subject to mandatory redemption by the Fund out of funds legally available therefore in accordance with the Statement of Preferences and applicable law. If the Fund fails to have Asset Coverage as of the last Business Day of March, June, September and December of each year in which any Cumulative Preferred Shares are outstanding, and such failure is not cured as of the cure date specified in the Statement of Preferences (49 days following such Business Day)."
NCZ is not some company doing drilling business that faces operational risk. It's not a bank leveraged eight times. It's a closed-end fund that has a portfolio of liquid assets and just borrows some money to leverage the returns. If at some point the fund fails to maintain its asset coverage ratio it will be obligated to sell some of its assets and to redeem part of its debt. To assure you that the assets of the fund are not some third-grade malls for example, here's a look at last reported composition of the portfolio: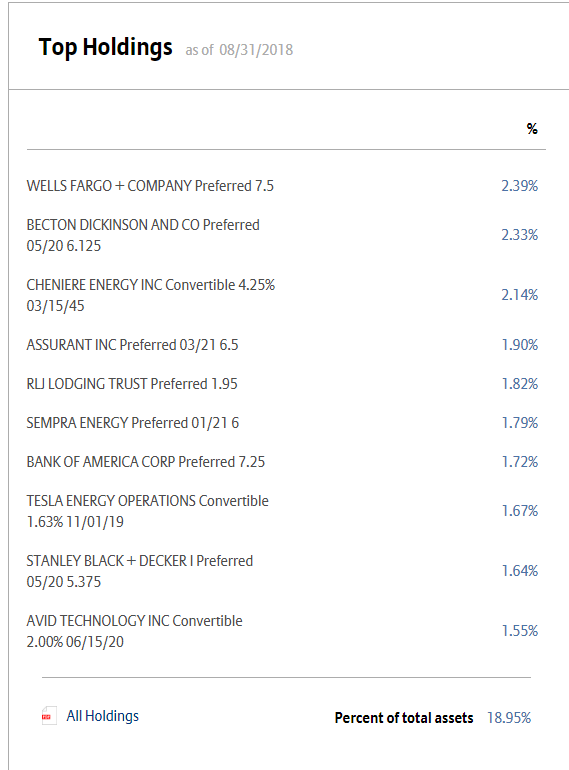 Source: Fund's website
So for this preferred stock to experience any loss of principal, the underlying portfolio would have to deteriorate. The fund sponsor has to not take any action. And on the day they have to do the mandatory redemption, there has to be so much value wiped out from the assets that NCZ-A would be your last problem seriously. Yes this is possible, but the probability is so low that Fitch assigned the highest possible rating. For example a prime financial issuer such as JPMorgan (NYSE:JPM) has its preferred stocks rated just "BBB" as seen here: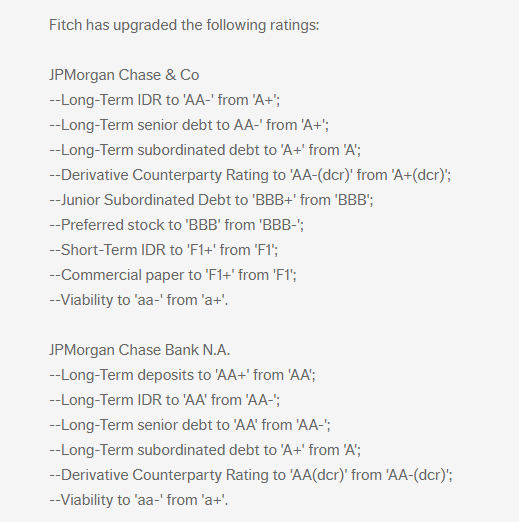 Source: Fitch website
What's really funny here is that even the long-term deposits of JPMorgan Chase Bank N.A. are rated below NCZ-A. You know how much you earn on your deposits and here this preferred stock gives you 5.65% with less risk as far as Fitch is concerned. And when you think about it banks do face a lot of risks. We all remember 2008. These risks are absent for NCZ-A. The ironic scenario here is that if there's something bad ahead for financials and for the fund's portfolio, people may even start selling NCZ-A not realizing that it will most likely get redeemed if a mandatory redemption covenant is triggered.
Trying to find a higher yielding investment grade preferred stock
In my database I have all the primary exchange traded preferred stocks so the work is easy. The criteria is as follows:
Current yield > 5.65%
YTC > Current yield so that there is no call risk
Investment grade rating
Fixed rate preferred stock
Qualified dividends
Cumulative preferred stock
This is what my database shows:

Only one stock - RenaissanceRe Holdings Ltd, 6.08% Series C Preference Shares(RNR.PC). To be honest this is one of the stocks I also hold, but it faces much more credit risk than NCZ-A. RNR-C is probably the best one can currently get out of the fixed rate preferred stocks on a relative basis. To further show the superiority of NCZ-A, I want to show how many preferred stocks there are that have a lower current yield from the fixed rate ones:

There are 15 fixed rate preferred stocks that are investment grade and have a lower yield than NCZ-A. Most of them are quite high volume for a preferred stock. And one last comparison that needs to be done is to compare NCZ-A with other preferred stocks issued from closed-end funds that have YTC > 5% to ensure there's no call risk again:

All the Gabelli ones for example have lower current yields even though Fitch rates their auction rate preferreds"only" "AA" at its last rating action: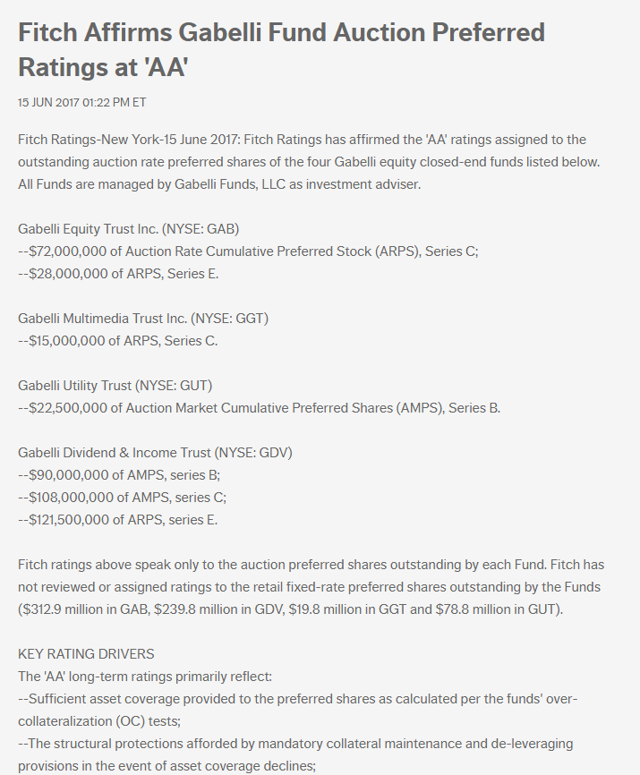 Source: Fitch website
Even in the comparison with closed-end fund preferreds, NCZ-A looks superior.
What about interest rate risk?
I would really like to say there's no interest risk in this one, but that would not be true. To examine what's the potential drawdown in NCZ-A I will use the chart of Gabelli Utility Trust, Inc., 5.625% Series A Cumulative Preferred Shares(GUT.PA) and Gabelli Healthcare & WellnessRx Trust, 5.76% Series A Cumul Preferred Shares(GRX.PA) which are very similar to NCZ-A: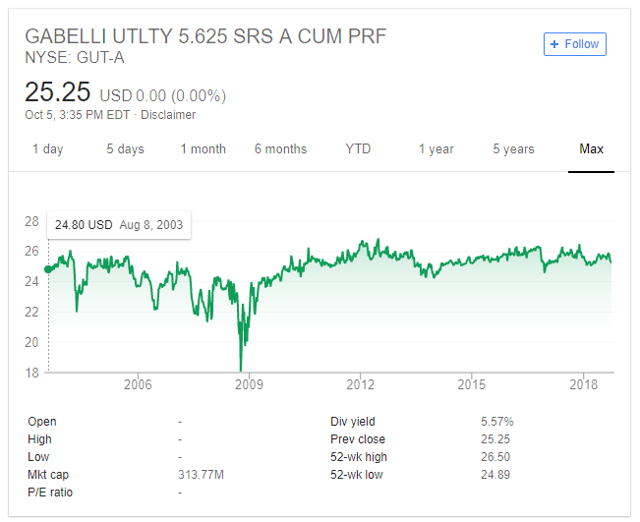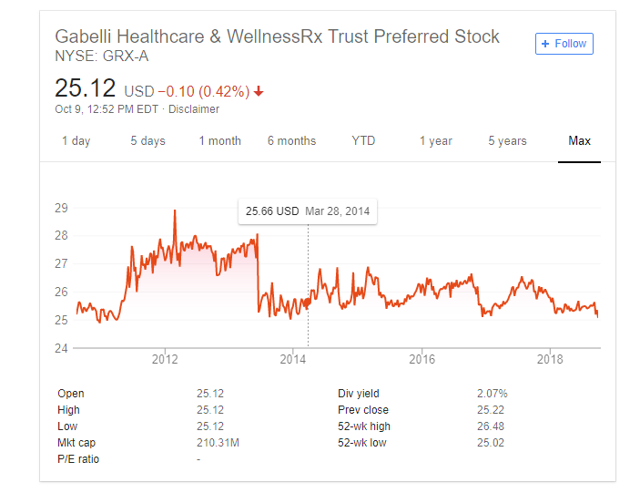 In the end of 2013 when most of the financial preferreds were really beaten down: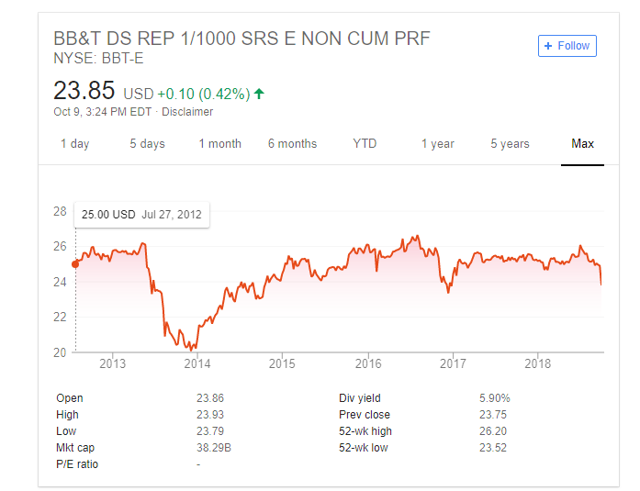 Source: Google search page
A stock like GUT-A or GRX-A held quite well and outperformed the similar nominal yield BB&T Corp., 5.625% Dep Shares Series E Non-Cumulative Perpetual Preferred Stock (NYSE:BBT.PE) as an example of a financial preferred. One never knows if this will be case in the future, but the one thing we know for sure is that NCZ-A does not have more interest rate risk than the majority of the fixed rate preferreds on the market and is superior to them in terms of credit risk and pays a higher yield than many of them. Fundamentally I don't see a reason of why such a massive spread to Treasury yields. I certainly will not be surprised if this spread narrows. By having such a large spread to the same credit risk benchmark, one can even conclude that a stock like NCZ-A faces less interest rate risk than Treasuries, because of the embedded arbitrage. I understand that this is quite a bold statement, but we already have seen this behavior. I personally do expect NCZ-A to outperform long-term Treasuries in a rising yields environment, but please don't take this for granted. This is just my personal view based on past performance and the fact that I really don't see any credit risk for NCZ-A.
Qualified dividends
Even though our favorite website Quantumonline says the dividends are qualified it is not 100% accurate. This is what prospectus states:
"TAXATION
The distributions with respect to the Series A Preferred Shares (other than distributions in redemption of Series A Preferred Shares subject to Section 302(B) of the Code) will constitute dividends to the extent of the Fund's current or accumulated earnings and profits, as calculated for federal income tax purposes. Such dividends generally will be taxable as ordinary income to holders. Distributions of net capital gains (i.e., the excess of net long-term capital gains over net short-term capital losses) that are properly reported by the Fund as capital gain dividends will be treated as long-term capital gains in the hands of holders receiving such distributions. The IRS currently requires that a RIC that has two or more classes of stock allocate to each such class proportionate amounts of each type of the RIC's income (such as ordinary income and capital gains) based upon the percentage of total dividends distributed to each class for the tax year. Accordingly, the Fund intends each year to allocate capital gain dividends between and among its Common Shares and each series of its Preferred Shares, including the Series A Preferred Shares, in proportion to the total dividends paid to each class during or with respect to such year. Ordinary income dividends and dividends qualifying for the dividends received deduction, if any, will similarly be allocated between and among such share classes. For additional information, see "Tax Matters" in the accompanying prospectus"
The way I understand this is that depending on the fund's performance some part of the dividend will be qualified and some will not be qualified. The ratio has to be very close to the proportion of qualified dividend the fund receives from its holdings vs. not qualified distributions. Taxation is really not my strong side so one has to really dig deeper or get an advice from a tax specialist on this matter, but what I think is important to note is that one can not expect the whole distribution amount to be qualified.
Price target.
My personal price target for this stock is a level at which its yield to call is not less than 2% higher than the 10-year Treasury yield, but with its current yield not being lower than the yield of the lowest yielding closed-end fund preferred stock or investment grade preferred stock in general. At the current time this puts the two parameters at a current yield of around 5.30% ( the current yield of GDV-G, GAB-G, IPL-D,ALP-Q) and a yield to call of 5.2% at minimum. This puts the price of this preferred stock at a price of $25.30. which is around 4% higher than its current price. This is not 50% upside, but this is quite a lot in the world of fixed income and especially in such a high credit rating preferred stock.
Recent developments
We were very disappointed to see that NCZ-A did not make it as an addition to the S&P US Preferred stock index on the official announcement date. In our predictions to subscribers we assured them that NCZ-A will be an addition. Lucky enough a few days after the official addition announcement S&P admitted their mistake so now NCZ-A is a proud addition to the index.
Bottom line
NCZ-A is now an addition to the S&P preferred stock index and a must-have addition to the safe income seeking individual. In terms of credit risk, this preferred stock has no match, and based on its spread to risk free yields it's poised to outperform even on interest rate risk events being credit risk free itself. It's superior to any of the fixed rate preferred stocks outstanding except to its closest relative which I will keep secret for now. From all the data I have gathered and analyzed I do think that any price below par for this one is a bargain to the income investor.
Disclosure: I am/we are long NCZ.PA.
I wrote this article myself, and it expresses my own opinions. I am not receiving compensation for it (other than from Seeking Alpha). I have no business relationship with any company whose stock is mentioned in this article.
Additional disclosure: This is my largest holding at the moment of writing the article