Summary
This Thursday, we expect EIA to report 2,956 bcf of working gas in storage for the week ending October 5.
We anticipate to see an injection of 90 bcf, which is 9 bcf larger than a year ago, but exactly in line with 5-year average.
The key now is to figure out what exactly the market hasn't priced in already.
We see very strong bearish deviations between y-o-y price difference and y-o-y supply/demand balance.
The Weather
Last week, the number of total degree-days (TDDs) increased by around 9% w-o-w, as cooling demand went up - particularly, in the Central and Southwest parts of the country - while heating demand was still too feeble across the country. We estimate that total energy demand (as measured in total degree-days - TDDs) was no less than 17% above last year's level. Please note that during this time of the year, heating degree-days (HDDs) are starting to have an effect on natural gas consumption. Cooling degree-days (CDDs) are important, but their weight is diminishing. In fact, in the latest weather models, projected CDDs have essentially disappeared.
This week, the weather conditions cooled down significantly. We estimate that the number of CDDs will plunge by 20% w-o-w in the week ending October 12, while the number of HDDs will surge by no less than 60% w-o-w. Total energy demand (measured in TDDs) should be some 12% above last year's level. Next week, the weather conditions are expected to cool down even more. The number of HDDs is currently projected to more than double in the week ending October 19. At the same time, CDDs will decline by 60% and will essentially disappear. On balance, total energy is projected to rise by a whopping 32.0% w-o-w (see the chart below).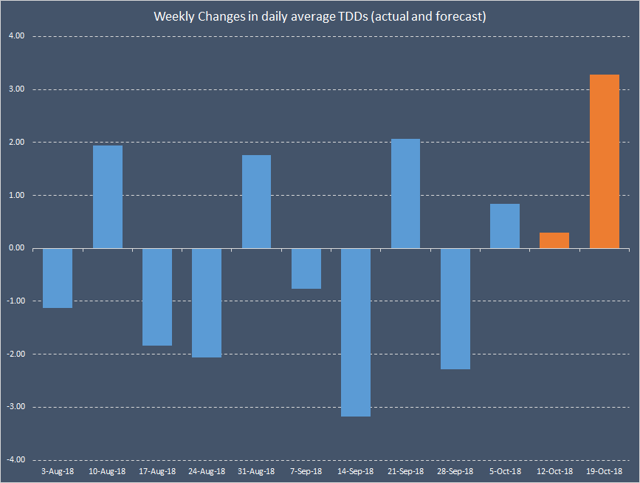 Source: Bluegold Research estimates and calculations
The latest numerical weather prediction models are showing above normal HDDs and TDDs over the next 15 days (October 10-October 25). Consumption-wise, the latest weather models are bullish in absolute terms. Total demand is expected to average 76.8 bcf/d over the next 15 days (some 25% above 5-year average). Natural gas consumption is also supported by a number of non-degree-day factors such as higher nuclear outages. As of Wednesday, there were a total of 20,900 MW of nuclear power generation offline (-100 MW from Tuesday, +18% vs 5-year average). Although the deviation of nuclear outages from the historical norm has been moderating lately, the absolute figures are still high. Our subscribers receive daily (early morning) update on all the market variables, including nuclear outages. Consider signing up, if interested (see the link below).
Storage
U.S. Energy Information Administration should report a smaller change in natural gas storage this week compared to the week prior. We anticipate to see an injection of 90 bcf (3 bcf smaller than the comparable figure in the ICE's latest report for the EIW-US EIA Financial Weekly Index, 9 bcf larger than a year ago, and just in line with 5-year average for this time of the year).
There is currently a double deficit in natural gas inventories - i.e., the amount of natural gas in the underground storage is smaller compared to previous year and also compared to 5-year average. Next two EIA reports are expected to confirm the contraction of 5-year average deficit by a total of 2 bcf and the contraction of annual deficit by a total of 35 bcf.
Yesterday, natural gas price (on the continuation chart) has retraced almost 76.4% of its decline from Jan. 29 high to Feb. 15 low. Why? Apparently, because market's EOS storage expectations turned out to be incorrect. About a month ago, the market was expecting injection season to finish with 3,325 bcf of natural gas in storage. Now it expects to see 3,250 bcf. This 75 bcf (bullish) difference was enough to drive the price up by more than 20% over the past 18 trading sessions.
Interestingly, we currently expect official injection season to finish with 3,197 bcf of natural gas in storage (53 bcf below market expectations). However, we also currently expect another two minor injections for the week ending Nov. 16 and Nov. 23. So, according to our (objective) analysis, there is still room for more downward revisions in market's EOS expectations. Does it mean that the price is going higher? Well, if the price action that we have seen since mid-September can offer any guidance, then yes, natural gas price should be going higher because market's EOS expectations are unrealistically high. But saying that price should rise is one thing. Actually going long at 8-month highs against the backdrop of expanding production is quite another.
We doubt that the bulls can continue to remain so strong for so long. We see bearish deviations between y-o-y price difference and y-o-y supply/demand balance. And we also do not think that low EOS storage will necessarily translate into critical shortage of natural gas this winter.
Thank you for reading our weekly report. We also write a daily update of our forecast for key natural gas variables: weather, production, consumption, exports, imports, and storage. Interested in getting this daily update? Sign up for Natural Gas Fundamentals, our Marketplace service, to get the most critical natural gas data. In addition, every Sunday, we publish three special reports: "Trends in the U.S. Electric Power sector", "Trends in Global LNG Market", "Global Oil Products Inventories".
Disclosure: I/we have no positions in any stocks mentioned, and no plans to initiate any positions within the next 72 hours. I wrote this article myself, and it expresses my own opinions. I am not receiving compensation for it (other than from Seeking Alpha). I have no business relationship with any company whose stock is mentioned in this article.